/ Source: Contribute Magazine
While helping a friend design his new nightclub, Serene Jewell thought it would be nice to create a quiet "doing good" corner decorated with posters and pamphlets about various nonprofits and their causes.
But when she went looking for such materials, she discovered that few groups in her community offered them – or even knew how.
Startled, she sought out a support organization called the Nonprofit Commons to see what its staff might be able to offer. Next thing she knew, she was attending weekly meetings and contributing her time and efforts to a number of community causes. Typical see-a-need, fill-a-need, right?
Not so typical when you know that Jewell is an animated character, her friend's nightclub exists only inside a computer, and the Nonprofit Commons is a complex of 32 virtual offices on a pleasant little digital island inside an ethereal place called Second Life.
Founded in 2003, this fast-growing virtual community — once largely regarded as the playground of otherwise anti-social computer nerds—has been experiencing a surge in new growth. The site now has some 9 million registered users, with most of them avatars (or virtual "selves" of humans) — though only about 40,000 "in-world" at any one time.
Newcomers tend to spend a few days flying around like gangly, featherless birds before they learn how to teleport to the entertainment and shopping areas of Second Life's virtual islands. Or they dabble in the virtual world's more lascivious offerings  (fear not, parents; a separate region called Teen Second Life steers clear of the main grid's "mature" areas). But when it comes to matters of the heart, it turns out that Second Life isn't that much different from first life. Once the novelty of it wears thin, Second Life residents — including Jewell's real-world persona, Web site producer Kathleen Watkins—begin to look for greater meaning. "I see a lot of people who are looking for something more in Second Life," Watkins says. "They want to be engaged in a different way."
Now they can be. The populist hoopla surrounding this online community in recent months has led multinational brands from Reebok to Toyota to establish beachheads on Second Life to interact with consumers and be part of the next wave in social networking. The nonprofit world is following suit: Second Life now has an office park called the Nonprofit Commons that is filled to capacity with 32 charities (there is a waiting list to get in), from the avant-garde Transgender Resource Center to the more traditional America's Second Harvest and CARE USA. There's also a place called Commonwealth Island, where a handful of real-world donors go sometimes to check out the action. It's pretty empty, for now — mostly just a smattering of technology-prone activists (including real-life philanthropists Bill Gates and AOL founder Steve Case) waiting for the party.
'Connect, meet and collaborate'
But it won't be long now, says this online virtual community's first virtual philanthropist, Anshe Chung — a real estate agent whose virtual land deals have made her the first person to earn $1 million in real money in Second Life (and, for that, to become the first avatar and Second Life resident to land on the cover of BusinessWeek, in 2006). Says Chung, aka Ailin Graef of Wuhan, China: "My long-term vision is that donors, nonprofit organizations and recipients of aid are all able to connect, meet and collaborate in virtual worlds." Graef, in a recent interview with Contribute in Second Life, says there will be a Chinese version of it, called Hipihi, released later this year. It will run on local servers, offer cheaper land, "and have content management practices that more fit the local culture," Graef says. Oh yes, and it will engage China's estimated 160 million Internet users and young intellectuals, half of whom are under the age of 30, in a new place of their own design.
Sound far-fetched? Not really. Not anymore. While nobody but Graef seems to be raising very much real money yet in "SL," interest by charities in the potential of this so-called metaverse to boost membership and funding is spiking. In April, market research firm Gartner predicted that by the end of 2011, 80 percent of active Internet users will have some sort of presence in a virtual world, with Second Life currently one of the most populous.
The emergence of philanthropic interest in this brave new world is also a sign, experts say, of its growing popularity with older professionals—and their growing interest in conceiving ways to use this virtual space to attract younger consumers and ideas to their causes.
Ditto private foundations. "This isn't just some fad or something new and interesting that we've grabbed onto," says Jonathan Fanton, president of the MacArthur Foundation, which has given the Center on Public Diplomacy of the University of Southern California $550,000 to stage events in Second Life, including discussions of how foundations can address issues like education. "Serious conversations take place in Second Life," Fanton recently told The New York Times. "People are deeply engaged and that led us to think that maybe a major foundation ought to have a presence in the virtual world, as well."
So should more charities, says Randall Moss, a technology strategist for the American Cancer Society, one of the first traditional nonprofits to raise money for a cause in Second Life. Moss established an avatar in Second Life in 2004—R.C. Mars ("it looks pretty much like me, maybe a little bit more muscular," he says) and once there, in Second Life, he met another charity-active avatar named Jade Lily, and persuaded her to organize a virtual Relay for Life, as the cancer society's annual walkathons are known. A couple hundred avatars did that walk in 2005, raising $5,100. About 1,000 avatars showed up in 2006 and raised $40,000. This year's walk in July raised $115,000 from 1,700 participating avatars. "At first, we wondered if it was possible to raise money by engaging a virtual community," Moss told Contribute. "But we've found that as long as it's a community, it's possible to engage it philanthropically."
Virtual yaks go fast
Just ask Ogilvy Worldwide's Kathryn Parsons, who helped to craft a recent campaign in Second Life for the UK-based arm of Westport, Conn.-based Save The Children. The nonprofit, with Parsons' help, created a virtual, online 3-D animal pageant in Second Life last fall, called Yak Shack, after it sold out of the real yaks being auctioned on its 2006 holiday Wish List. Hundreds participated in the online event, buying yaks for 1,000 Lindens (the currency in Second Life), or about $3.50 in real money. Each player who bought a yak for a poor family was able to milk, ride, and customize a yak avatar online and take care of it in a virtual yak barn, culminating in a December contest for Best Yak. Save The Children won't say how much the event actually raised (or lost). But it will say the event was, more importantly, about raising awareness in a community that is often hard to reach—and woo. "Engaging with young intellectuals is quite difficult, not just for charities but for everyone," says Parsons. "It seemed like an opportunity not to be missed." Adds Beth Kanter, a nonprofit consultant: "You can walk someone through an experience in Second Life or sit down with them to discuss the work you're doing in a way you can't in the real world or on the Web."
Colleen Macklin, the chair of the digital communications and design lab at Parsons, agrees. "Online, game-like environments offer not just new ways for people to connect," she says. "They also help people understand the power of community in ways they hadn't before. The significance of virtual environments is their promise as a new medium for social activism."
For Second Life's first nonprofit organizer, Susan Tenby, that promise is already being realized: Every Friday morning, Tenby's avatar — a pink, catlike creature with a tail called Glitteractica Cookie ("Glitter" to friends), meets up with a small group of other charity-minded avatars on the Nonprofit Commons in Second Life to trade war stories and share fundraising strategies. In mid-August, the Commons officially launched itself to the world with a "mixed-reality" bash conducted both in the group's Second Life space online and in the real-life, San Francisco-based headquarters of TechSoup, a technology nonprofit whose mission is to help traditional nonprofits get up to speed with the Web.
It was an unusual scene: Seventy-five avatars, participating from their human's computers, could see a large video screen broadcasting some of the speeches and presentations taking place in San Francisco, while real-world participants could watch the ongoing interactive chatter between the virtual avatars. Says Tenby, who began organizing nonprofits in Second Life in 2006 for TechSoup: "This is a way for the best and most creative minds in the nonprofit space to talk, under the radar, about how to revolutionize their strategies and their workplaces."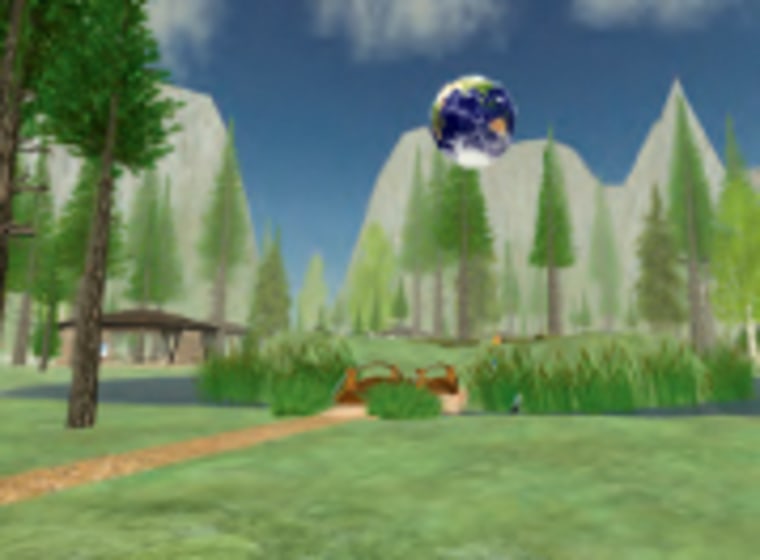 Other regions exist for nonprofits to create a virtual toehold, most notably the forested Camp David-like SIM known as Commonwealth Island, which hosts small displays for a couple dozen environmental and political activism groups. Another region known as Better World Island is home to a gathering of international aid and awareness groups. Individual efforts within Second Life have included a virtual Camp Darfur, which lets residents experience what it is like to be a refugee; a walk-through tour of a malfunctioning human heart created by the American Heart Association; a profitable "fly-a-thon" to support multiple sclerosis research.
Virtual trees have real-world impact
Plant-It 2020, a nonprofit founded by the late singer John Denver, has launched an island on Second Life on which residents can pay 300 Lindens (or $1.11) to plant a tree from among a list of endangered species. For every tree planted on Second Life, Plant-It 2020 will plant the same species of the tree in the real-world rainforest to which it is indigenous. "The island helps charities get past donor fatigue and gives people a chance to have a much deeper relationship with a charity versus simply writing a check and never seeing it again," says Paull Young, a senior account executive at Converseon, a digital  communications company working with Denver's charity to promote reforestation.
But while nonprofits have begun traveling into Second Life by the virtual dozen, this new terrain is not easy for newbies to master. Alas, doing good in the real world via a virtual one may sound like fun to newcomers — until they realize that they have to learn how to walk and talk and dress themselves first.
I'm a prime example. To report on the development of philanthropy and nonprofits in Second Life, I needed to create my own avatar persona. I was allowed to make up any first name I wanted, but I had to choose from a lengthy list of often-bizarre last names. Grappling for something familiar, I came up with "Scoop Raymaker" and selected a prefabricated, Barbie-slender avatar template with a distinctly goth fashion sense. After a few tweaks to add a splash of color to my avatar's black outfit, I launched Scoop into the virtual sky — and then promptly fell down.
There's a certain finesse required with the "page up" and "page down" keys to affect a smooth avatar landing. Once you've got your avatar's feet on virtual terra firma, it's time to learn how to walk (arrow keys) without slamming into walls or other avatars. Then it's time to chat up a virtual stranger; my first attempts at texting another newbie came to naught when I discovered he spoke only Portuguese (not counting the English profanities he flung at me when he discovered I was not also from Brazil).
If landing in Second Life for the first time can be a rude awakening for a newborn avatar, it can be flummoxing at first for a nonprofit organization. Fortunately for philanthropic and nonprofit newcomers, the smiling pink presence of Tenby's avatar arrived in-world before they did. In fact, Tenby herself arrived online before many of these organizations did when she was hired in 2000 by CompuMentor, a San Francisco-based nonprofit technology consultancy, to help launch TechSoup.org, which today serves nearly 500,000 monthly visitors from 190 countries.
While still working for CompuMentor, Tenby was invited in 2005 by Linden Lab — Second Life's owner/operator—to become a focus group participant. "I immediately saw the enormous potential of it," she remembers. "It was more of a platform than a game. But when I started looking for nonprofits in-world, there were none."
A guide for nonprofit newbies
CompuMentor, which works to help charities use technology to reach their goals, agreed to sponsor Tenby as Second Life's first-ever community manager for nonprofits. In May 2006, TechSoup Group in SL debuted to an immediate onslaught of interest. After several hundred people signed on as members in the group's first few days, Tenby quickly realized she would need some sense of virtual "place" to help nonprofits and their eager volunteers find their way in the virtual world.
Unfortunately, virtual land within Second Life costs real U.S. dollars to acquire, as well as monthly payments to maintain it on Linden Lab's servers. Tenby concluded that she would need an entire virtual island, or 16-acre "SIM," to do the job right. To get that, she would need to identify SL's first philanthropist.
Enter avatar Anshe Chung, the first Second Life entrepreneur to earn more than one million real U.S. dollars through her in-world business pursuits. Anshe, arguably as famous in Second Life as Bill Gates is in this one, gained her fortune through shrewd investment in virtual real estate development and design. Based near Beijing, Anshe Chung Studios acquires large blocks of SIMS from Linden Lab, zones them for various types of development, employs 80 artists and programmers to create virtual buildings and landscapes, then resells or leases the virtual space at a profit to Second Life residents eager to own a virtual home or operate a business from a virtual shop or office. In other words, Anshe Chung — whose real name is Ailin Graef — is the world's first virtual land baron.
After hearing about TechSoup's dilemma, she and her (real-world) husband Guntram Graef (known as Guni Greenstein in Second Life) happily stepped up to the philanthropy plate. "The idea of a nonprofit incubator in Second Life appealed to us," she said in a rare in-world interview. The idea, she said, was to help nonprofit organizations network in Second Life and to help new arrivals from the nonprofit arena integrate into the virtual world. "In the long run, I hope the metaverse will help nonprofit organizations in developed and developing countries to collaborate more easily."
Being Second Life's wealthiest resident has restricted what Anshe can do, however. In December 2006, about a month after her company issued a news release noting that she had become the first online personality to net more than one million real-world dollars, the avatar was driven from a Second Life stage by electronic heckling, known in-world as "griefing." And there are other challenges, including a capacity crunch (only 70 avatars seem to be able to gather at once in any one spot) and concerns over whether the constructs of the real world — such as taxes and copyright laws — should be applied virtually, as well. Add to that the fact that it's difficult to grow a progressive nonprofit without youth participation, yet teenagers are banned from Second Life's so-called "main grid." Instead, their virtual existence is corralled within a separate world called Teen Second Life, which has no gathering place comparable to the Nonprofit Commons.
Graef, though — as others — remain mostly unfazed by this new world's growing pains. It's more important in Second Life, says MacArthur Center director Joshua Fouts, to focus beyond the three vices commonly associated with virtual worlds — sex, gambling and commerce. "We are witness to a transformative moment in our society," he says. "It's new to all of us, experientially, this whole idea of an immersive alternate identity. We have the opportunity now to research something before it's too late, before we've missed how this technology is transforming our culture."
To be sure, Tenby and Graef are just getting started.