/ Source: The Associated Press
In a departure from its bigger rivals, CKE Restaurants said Wednesday it will continue to focus on its premium-priced burgers in a bid to attract diners fed up with higher prices at casual dining chains.
CKE, which operates the Hardee's and Carl's Jr. chains, said it will continue to promote burgers like the Portobello Mushroom Six Dollar Burger and the $3.99 Philly Cheesesteak Thickburger. Those items were heavily promoted in December when the chain boosted its same-store sales by 1.2 percent systemwide but saw sales drop at Hardee's for the first time since 2006.
Same-store sales, or sales at restaurants open at least a year, is a key indicator of performance at the chains.
The company blamed the Hardee's drop on bad weather and said the sales results were proof that their strategy was working.
"We hope to continue to see benefits from our premium quality focus, as well as our focus on superior service and cutting edge advertising, particularly as consumers trade down from more casual dining oriented brands," said Chief Executive Andrew F. Puzder in a statement.
Casual dining companies have seen traffic drop in recent months as more consumers cut back on spending to better handle higher gasoline and food prices, declining home values and rising mortgage payments.
To reel in those diners, most fast food chains have focused mainly on their value menu that offers less-expensive items.
For example, Wendy's International Inc., the nation's No. 3 burger chain, launched a 99-cent double cheeseburger called the Stack Attack at the start of the year. The launch coincided with a national TV, online, radio and outdoor advertising campaign.
Bob Bertini, director of communications, said the new offering is aimed at people "recovering from holiday spending. We're encouraged by what we're seeing but it's very early in the process."
Burger King Corp., the No. 2 burger chain, is also expanding its value menu with a new $1 double cheeseburger being tested in three markets.
Citigroup analyst Glen M. Petraglia said in a note to investors last month that CKE might have to pursue different strategies than its bigger competitors.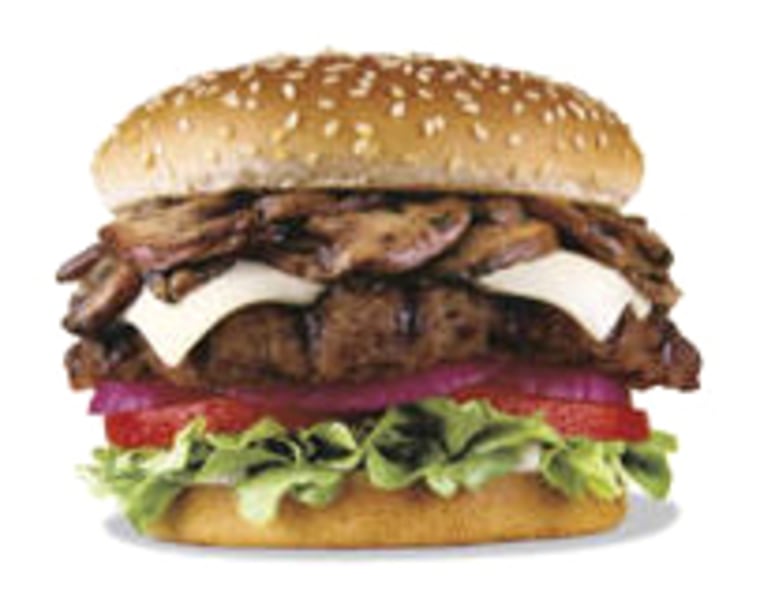 "With the big three essentially controlling the hamburger category, secondary players, such as Carl's Jr. and Hardee's, face an uphill battle for share gains," Petraglia said. "Points of differentiation will likely be critical."
Darren Tristano, executive vice president of Technomic Inc., a research and consulting company that serves the food industry, said some fast-food chains are trying to differentiate themselves by becoming more like fast-casual restaurants.
Fast casual chains like Panera Bread Co. typically offer food at higher prices in a more casual dining atmosphere.
Tristano said companies like CKE have some advantages since they can offer the same quality food but in less time.
He added that CKE's strategy may be successful, even in a difficult economic environment, since diners less sensitive to price points may still look for a fast food option for convenience.
"You're still going to have a large group of people who quite frankly don't care about the price," he added.
CKE shares rose $1.06, or 9.4 percent, to $12.40 in afternoon trading while shares of Wendy's rose 29 cents to $23.21.
Shares of Burger King fell 46 cents to $24.02, and McDonald's shares dipped 28 cents to $56.85.