/ Source: The Associated Press
A suicide bomber blew himself up among police deployed outside a court in eastern Pakistan on Thursday, killing at least 24 people and wounding more than 70, officials and witnesses said.
The blast in front of Lahore High Court was the latest in a wave of attacks targeting politicians and security forces ahead of Feb. 18 parliamentary elections. There was no immediate claim of responsibility, but suspicion will likely fall on militants linked to Taliban and al-Qaida.
It came as Scotland Yard investigators visited forensic laboratories elsewhere in Lahore, the capital of Punjab province, to examine evidence in the assassination two weeks ago of opposition leader Benazir Bhutto in Rawalpindi, a city to the north.
"There were about 60 to 70 policemen on duty when a man rammed into our ranks and soon there was a huge explosion," said police officer Syed Imtiaz Hussain, who suffered wounds to his legs and groin. "I saw the bodies of other policemen burning. It was like hell."
TV footage shows devastation
The explosion left wounded lying in pools of blood, crying for help. TV news video showed at least four mangled bodies on the ground near a destroyed motorbike and a piece of smoking debris. Ambulance workers loaded victims onto stretchers as sirens wailed.
The blast sent shrapnel flying as far as 100 yards away. It also shattered windows in the courthouse and set off volleys of tear gas shells carried by the police, preventing rescuers from getting close to the victims in the seconds after the attack, witnesses said.
Chief of police operations Aftab Cheema said the bomber had run up to a barrier manned by police and blew himself up. He said 21 policemen and three civilians were killed. More than 70 others were wounded, including civilian passers-by, officials said.
Up to 30 pounds of explosives used
An Associated Press photographer saw the severed head of a man with long hair and beard. Bomb disposal experts estimated that up to 30 pounds of explosives were used.
The police had been deployed in front of the court ahead of a weekly lawyers' protest of President Pervez Musharraf's firing of Supreme Court judges in November. The rally had been due to start about 15 minutes before the bomb went off. About 200 lawyers were inside the High Court at the time of the blast, and others were marching from a nearby district court.
"I have not heard such a big explosion in my life. We felt as if our eardrums were about to burst," said Abdul Hameed, a lawyer's assistant who was inside the court when the bomber struck.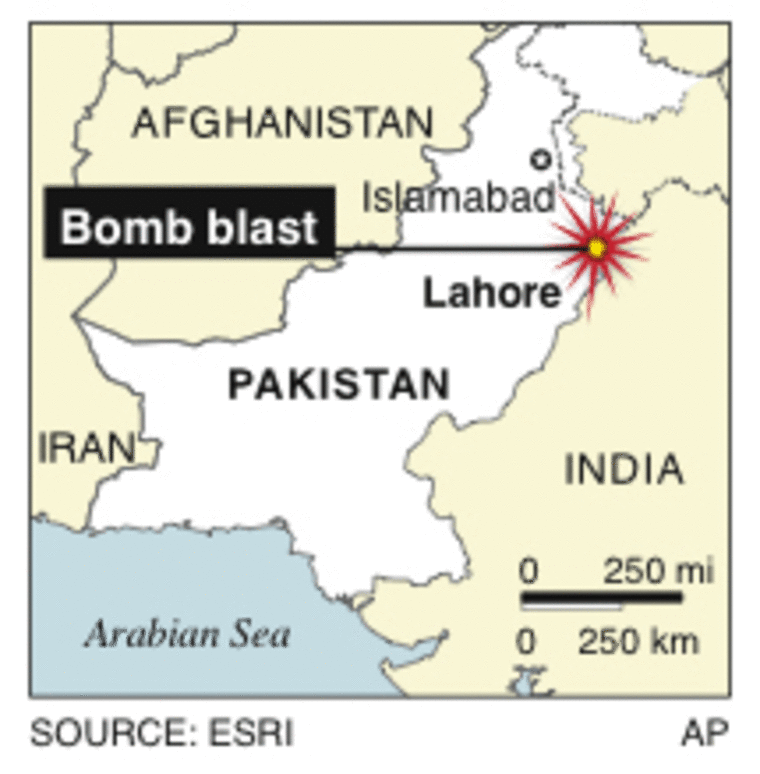 Police cordoned off the area and appealed to bystanders to rush to hospitals to donate blood instead of crowding the scene and hindering emergency services.
Ijaz Nisar, chief minister of Punjab, said paramilitary ranger troops have been deployed at strategic points in Lahore and the army was on standby.
Musharraf condemned the attack and reiterated his resolve "to continue the fight against terrorism and extremism and not to be deterred by such acts," the state Associated Press of Pakistan news agency reported.
The government of Musharraf, a key ally in the U.S.-led war on terrorism, has blamed two Taliban commanders linked to al-Qaida for a wave of about 20 suicide attacks that have killed about 400 people in the past three months, many targeting security forces.
Days of rioting after Bhutto killing
On Dec. 27, Bhutto and about 20 others were killed in a gun and suicide bomb attack after she addressed an election campaign rally.
The murder of the two-time prime minister sparked days of rioting that left dozens more dead and forced a six-week postponement of the elections, which are meant to bring a new era of democracy after eight years of military rule under Musharraf.
Her party has accused elements of the ruling pro-Musharraf party of plotting to kill Bhutto, which the government vehemently denies.
On Thursday, her Pakistan People's Party said it had written to the government urging it to request an independent U.N. inquiry. It warned that if the government failed to do so with 48 hours, the party would approach the world body directly.
Thursday's attack came ahead Islamic month of Muharram, which is often marred by bombings and fighting between Pakistan's Sunni Muslims and its Shiite minority. Authorities have already boosted security at holy sites across the country.