/ Source: The Associated Press
If anyone is looking for signs that we may be headed into a recession, look no further than the dismal December sales results turned in by the nation's retailers.
Many merchants who reported sales figures Thursday failed to meet already lowered sales projections, making this the weakest holiday season since 2002. Their performance led a string of stores to reduce earnings outlooks for the fourth quarter.
The weak results crossed all retail categories. Particularly hard hit were apparel sellers including Limited Brands Inc. and AnnTaylor Stores Corp., as well as department stores including Macy's Inc. Among the few bright spots were low-price operators like Wal-Mart Stores Inc., which posted results that exceeded Wall Street expectations, as it benefited from shoppers trading down to cheaper stores amid higher gas prices and a slumping housing market.
"Overall, the holiday season was dismal," said Ken Perkins, president of RetailMetrics LLC, a research company in Swampscott, Mass. "Consumers are definitely feeling the pain."
Such sluggish holiday results are expected to force retailers to cut inventory, reduce store personnel and shutter stores.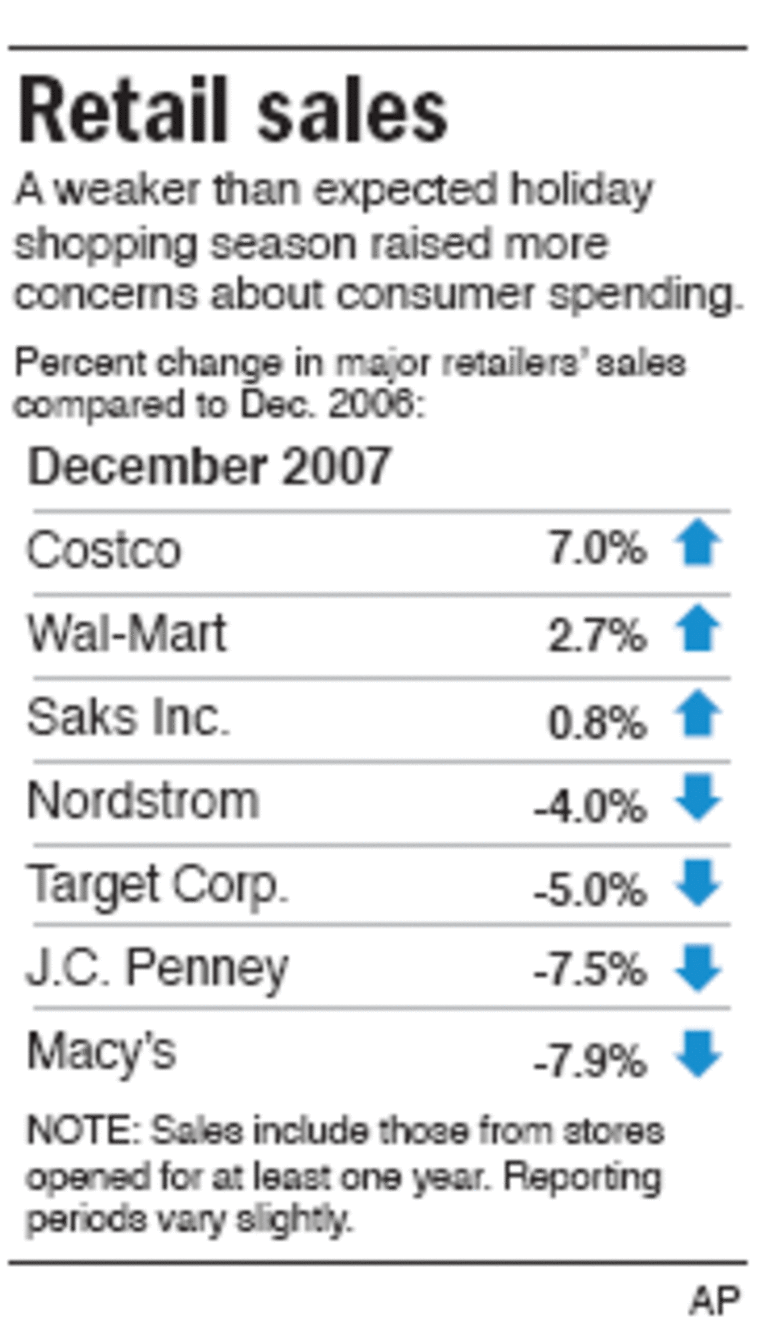 "We are in a period of atonement," said John Morris, Wachovia Capital Markets LLC. "Retailers are going to try a cleaner way of living. They are going to be on the defense." That strategy contrasts with the mood of the last few years, when stores experimented with different store concepts to try to fuel sales growth.
A number of chains including Macy's and Target Corp. saw their sales depressed in December in part by a quirk in the calendar, which pushed the post-Thanksgiving shopping week into November rather than December. Analysts say it is best to look at the combined November-December figures to get a better picture.
Still, it was clear the slowing economy made shoppers frugal during the holiday shopping season. Lured by fat discounts, shoppers jammed stores over Thanksgiving weekend, the start of the holiday shopping season, but they didn't return until the final days before Dec. 25, when stores were stepping up their promotions and the discounts were even deeper. December sales results also got some lift from post-Christmas shopping as consumers bought holiday leftovers. Such late buying cut into profits, according to analysts.
The UBS-International Council of Shopping Centers' same-store sales tally was up a meager 0.9 percent in December, worse than the original prediction of 1.5 percent. That means the November-December period was up 2.2 percent, the weakest holiday period since 2002 when holiday sales rose 0.5 percent. Same-store sales are sales at stores open at least a year and are considered a key indicator of a retailer's health.
The November-December pace was in line with the average for retailers' fiscal year, which begins in late January, but it is well below the 3.6 percent pace in the same year-ago period.
While January is expected to benefit from consumers' redeeming their gift cards, Michael P. Niemira, chief economist at the ICSC, doesn't see a big lift because he believes shoppers are being stingy even with their new found money. Retailers only record gift card sales when shoppers redeem them.
A growing concern for retailers — and, in turn, their suppliers — is the weakening of the job market, which had helped prop up spending for most of 2007. On Friday, the Labor Department's jobs report showed that hiring practically stalled in December, driving the nation's unemployment rate up to a two-year high of 5 percent. Another concern is the escalating credit crisis.
Such deterioration in housing and in the credit markets has caused some economists including Goldman Sachs' Jan Hatzius and Ed McKelvey to forecast a recession in 2008. But it will be relatively mild and the economy will recover as soon as 2009, according to the Goldman Sachs note released Wednesday.
Federal Reserve Chairman Ben Bernanke, responding to growing signs of an economic slowdown, said Thursday the central bank is ready to lower interest rates again. That should help stimulate the economy, but is unlikely to motivate consumers to start shopping with vigor.
Discount rival Target reported a 5 percent decline in same-store sales. But on a calendar-adjusted basis, same-store sales rose 0.6 percent, compared to the 2.5 percent analysts expected. The company, which appears to be struggling with internal operational issues, said it continues to believe that its fourth-quarter earnings results won't meet last year's performance.
TJX Companies Inc., which operates off-price chains including T.J. Maxx, had a 3 percent increase in same-store sales, in line with the 3.3 percent estimate. The retailer raised its fourth-quarter outlook.
But most mall-based apparel stores struggled, and analysts expect that sector to do some pruning of its operations.
Already some cleansing has already taken place. Earlier this month, Talbots Inc. announced it will close its kids' and mens' concepts by September as part of a bid to focus more on its core customer — women who are 35 years old or older. Meanwhile, teen retailer Pacific Sunwear of California Inc. said last week it will close its 154 Demo stores, which sell urban apparel, by May.
Macy's Inc. — which continues to struggle with the integration of its acquired May Co. department stores into its national brand — announced last month it will shutter nine stores that employ a total of about 900 people.
Morris estimated that inventory will be down for the spring season at the mall-based apparel stores he covers, compared to a year ago.
Still, retail analyst Jennifer Black said that apparel stores are partly to blame for the sales slump. One of the big problems is that they haven't excited shoppers with compelling fashions, she says. And right now, she's not so keen on the new spring trends like floral prints and geometric patterns.
"People are thinking twice about spending," said Black. "So it has to be fabulous."