/ Source: The Associated Press
Helicopters sent by President Hugo Chavez plucked two rebel-held hostages from the Colombian jungles on Thursday and flew the women to Venezuela in a mission that could open a new path to freedom for dozens of captives.
Beaming in a jungle clearing after about six years in captivity, the women planted kisses on the cheeks of heavily armed rebels, who disappeared in a single-file column into the brush. The women, thin but apparently in good health, flew to Caracas, where tearful relatives embraced them on the tarmac.
"We are being reborn!" Clara Rojas proclaimed.
Rojas was an aide to presidential candidate Ingrid Betancourt in February 2002 when the two were kidnapped on the campaign trail. She gave birth in captivity to a boy fathered by one of the guerrillas. Betancourt is still being held.
Consuelo Gonzalez, a former congresswoman, was abducted in September 2001. During her captivity, her husband died and a grandchild — now 2 — was born to one of her daughters. She embraced a young child after stepping off the plane, thought to be that granddaughter.
Their release was a major triumph for Chavez, whose leftist ideology helped win him a key mediation role with the rebels. It was the most important hostage release in the Colombian conflict since 2001, when the Revolutionary Armed Forces of Colombia, or FARC, freed some 300 soldiers and police officers.
Possibility of more releases raised
Chavez said the mission demonstrated that "there are possibilities" to secure the release of more FARC hostages, who include the French-Colombian Betancourt and three American defense contractors. Claudia de Jara, wife of kidnapped former governor Alan Jara, said Gonzalez told her they were carrying "proof of life" letters and videos from other hostages, some of whom haven't been heard from in years.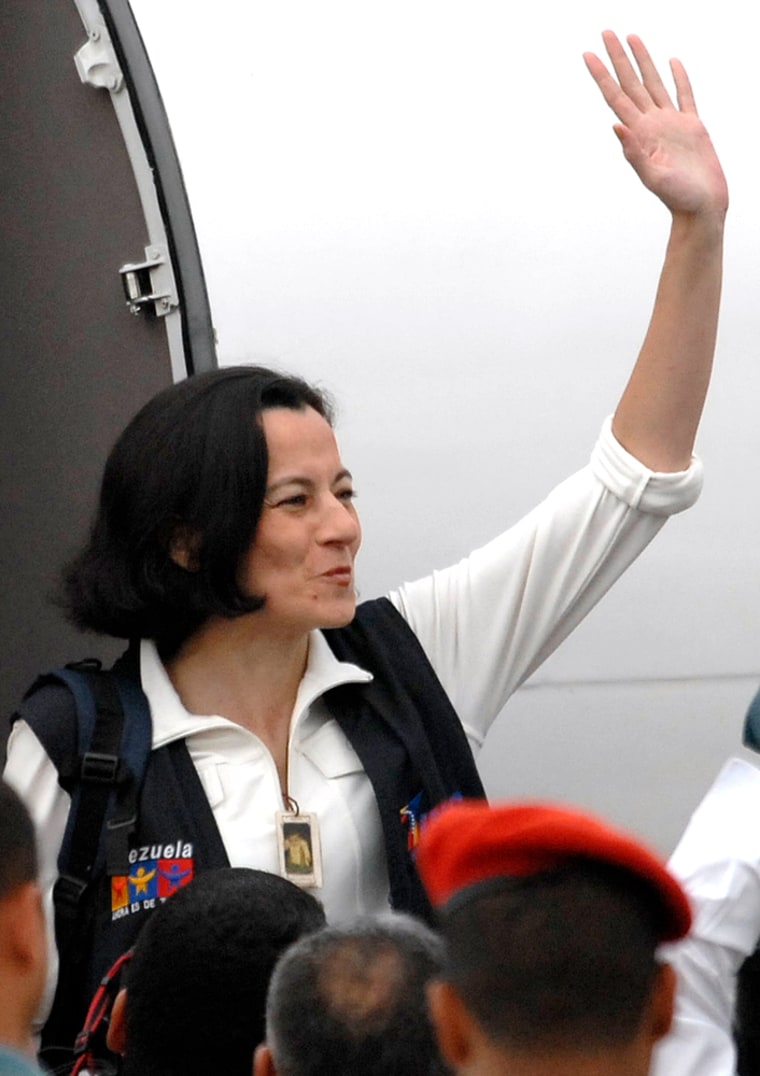 "Venezuela will continue opening the way for peace in Colombia," he said. "We are ready, and in contact with the FARC, and we hope the Colombian government understands. I'm sure they will understand."
The release could help the flamboyant Chavez take on a greater role in Latin America's longest-running conflict, in spite of increasingly hostile relations with Colombia's U.S.-allied president, Alvaro Uribe. The release puts pressure on Uribe for government concessions to secure the release of 44 other high-profile captives.
"This proves that things are moving, that the mobilization is bringing its first results," said President Nicolas Sarkozy of France, which has pushed hard for Betancourt's release. "This commits us to boosting our efforts to bring the other hostages home."
The guerrillas have offered to exchange the 44 high-profile hostages for hundreds of rebel fighters imprisoned in Colombia and the United States. Chavez was trying to negotiate such an exchange in November when Uribe called him off, saying the Venezuelan improperly made direct contact with the head of Colombia's army. Chavez responded by freezing relations with Uribe.
Tortuous path to freedom
The FARC offered last month to release the two woman directly to Chavez, along with Rojas's 3-year old son, Emmanuel. But that fell through on Dec. 31 when the FARC accused Colombia of military operations in the area. Uribe's government said the guerrillas backed out of the deal because they didn't have the child — a theory later proved by DNA tests that confirmed Emmanuel has been in a Bogota foster home for more than two years.
Rojas said she hopes to be reunited with Emmanuel soon.
"I was very worried about the boy," she told Colombia's Caracol radio.
Rojas elderly mother, Clara Gonzalez de Rojas, was overcome with emotion as she hugged her daughter for the first time since 2002.
"I'm living a dream. I don't have words to describe it," she said in a quavering voice.
Hostages thank Chavez
Chavez asked the news media to respect the released hostages' privacy, but the state-supported television network Telesur alone obtained footage of the handover, complete with gushing statements of gratitude from the hostages to Chavez.
"President, a thousand thanks for your humanitarian gesture," the cameras showed Gonzalez telling Chavez by satellite phone.
Asked when he would meet with the hostages, Chavez said: "Later, if it's possible, I'll greet them personally, we'll have a coffee together. But that has no importance at the moment."
The U.S. State Department welcomed the hostages' release and reiterated its call for the FARC to release all of its hostages. European Commission President Jose Manuel Barroso called it "an encouraging sign that all detained hostages, including Ingrid Betancourt, will be released soon."
Colombian Vice President Francisco Santos, who once was held hostage by a criminal gang for eight months, applauded the release, but added: "let's not forget the more than 750 other hostages being held by the FARC, some held for more than 10 years, about whom we know nothing."