/ Source: Forbes Traveler.com
One of the world's greatest dining experiences, the classic steakhouse belongs to an age before fad diets and worries about fat. Whether it's Peter Luger's legendary succulent porterhouse dripping in natural juices and butter or Doe's Eat Place four-pound sirloin, steakhouse cuisine is unparalleled in its simplicity. Throw in some crispy hash browns, creamed spinach, a rich dessert and a martini or three and the result is a classic meal. Jim Leff, founder of well-known dining Web site chowhound.com, says that there is nothing more evocative than a real old-fashioned steakhouse, and we're inclined to agree with him.
That, however, is just the American take on steak restaurants. Things work differently once you leave JFK or LAX. In his best-selling book "Heat", author Bill Buford traveled to Italy and apprenticed at the hands of a master butcher to learn how to make the perfect bistecca alla Florentina. At Florentine restaurants like Sostanza, the legendary steak is served up the way it has been for centuries and the only side dish is a perfunctory green salad. In Paris, pint-sized bistros like Le Severo specialize in serving up portions of steak frites as large as the restaurant is small.
Then there's the Argentinean parrilla. These South American steakhouses, offering up ojo de bife and bife de chorizo, have made their way from Buenos Aires to Dublin, Tel Aviv, Tokyo and beyond thanks to the clamoring appetites of gourmands. But Cabana Las Lilas in Buenos Aires still serves "baby" 8 oz. steaks that come with near-mandatory empanadas and sausages on the side.
Either way, steak proves that the simplest foods can constitute great dinners. In the United States, Argentina, France and Italy, the popularity of steak restaurants has everything to do with history. The railroads of the 19th century put stockyards in easy distance of the city and allowed prime cuts of beef to make their way to the gentry. In the Americas, large restaurants dedicated almost entirely to steak sprouted up both in the great cities and along the railways that brought them their meats — classic Midwestern steakhouses such as Gene & Georgetti in Chicago and Jess & Jim's in Kansas City owe their existence almost entirely to the nearby stockyards. Meanwhile, steakhouses like Moishe's in Montreal and the late Christ Cella in New York brought the bounties of the interior to coastal elites.
In Europe, steak restaurants were a sign of the times. Railroads, increased farming productivity and more wealth meant that a good steak was easier to find then ever. Parisian bistros of the 19th century tried their hand at serving steak, properly done in the French bleu style — so rare they were almost raw. It's a continental take on the American term "Pittsburgh rare." In post-unification Italy, bistecca alla Florentina became the regional pride and joy of Florence — and a meal that was no longer limited to just royalty and the high nobility.
Back in New York, the political operators of Tammany Hall served their "beefsteaks" — huge, male-only dinners serving nothing but steaks, chops and beer where deals were signed and business agreements made. The practice still survives among local police departments and fire departments.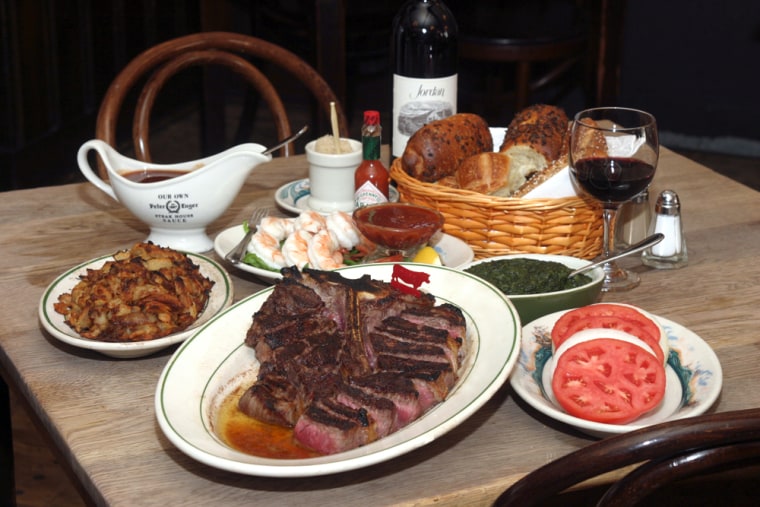 For better or worse, there's no such thing as a perfect steakhouse. Each of the greats has a unique twist. Moishe's serves top-notch steaks alongside Yiddish soul-food classics like chopped liver, while many of the steakhouses of the Midwest serve sides of spaghetti as evidence of their owners' Italian heritage. Meanwhile, you wouldn't think of asking for a martini or a black forest cake with schlag at Cabana Las Lilas in Buenos Aires.
A good steak is ultimately a matter of individual preference. Some like them rare, some medium rare, some medium well, some (God forbid) well-done. A good steak restaurant should be accommodating to one's request or, if not, be very clear on what the house style is. Either way, the last word should belong to one Bill Cosby: "Did you ever see the customers in health-food stores? They are pale, skinny people who look half dead. In a steak house, you see robust, ruddy people. They're dying, of course, but they look terrific."