/ Source: Condé Nast Traveler
One day last February, near Cairo International Airport, I saw hundreds of people gathered around a tree beside an army watchtower. The crowd spilled into the road, stopping traffic, and drivers got out of vehicles to ask one another what was happening. "Has there been an accident?" I called out from my car to a man on the curb. "No," he answered. "It's something strange. They say a tree is talking."
I was surprised but not very, for many Egyptians embrace the supernatural. A thirst for miracles first sprang from the Nile; its annual flood enabled civilization to take root in the desert. The river's gift was not entirely reliable, and years of either low or excessive flooding could lead to famine, military weakness, and the collapse of dynasties. The completion of the Aswan High Dam and Lake Nasser reservoir, in 1970, finally guaranteed Egypt year-round water, agriculture, and electricity. Yet life in the thirteen-hundred-year-old capital remains far from secure.
Sprawling east and west from the Nile's green banks, Cairo today is a city on the verge, both megalopolis and village—a patchwork of modern high-rises, nineteenth-century palaces, garbage piles, shopping malls, herds of sheep, thousands of mosques, pharaonic ruins, and mile upon mile of informal brick housing seemingly held together with wire and string. Swelled by immigrants from the countryside, Cairo's population has tripled three times in the past half century and now exceeds 16 million, the largest urban agglomeration in Africa. Cars park three deep on streets, and daily traffic jams tangle drivers of school buses, taxis, and camel-carrying pickup trucks with commuters driving SUVs from new American-style suburbs and djellaba-clad farmers who grow crops and transport them to market by painted donkey cart as they have always done in the shadow of the Pyramids.
The extremes, especially the gulf between rich and poor, appall and overwhelm. Yet Egypt has a reputation for stability, the hallmark of Hosni Mubarak's presidency, according to his supporters. Mubarak, a pharaonic figure, is now serving his 25th year in office—the third-longest reign in Egypt's 6,000-year history. The 79-year-old president has indicated that he will not seek a sixth term in 2011. He has amended the constitution to allow for multiparty elections and has positioned his 44-year-old son Gamal to run for president, if he and Mubarak's military backers should so decide. However, the coming transition is uncertain. There is no vice president, and people are nervous about the future, wondering whether change will occur because of an election, a military coup, or a heart attack. In the past year, judges, teachers, train drivers, and other union workers have been striking, an unusual occurrence and a sign that stability has regressed into stagnation and dissatisfaction in almost every aspect of life. In this climate of malaise and in jealous contrast to Dubai's futuristic rise, many Cairenes look with nostalgia toward their glorious past, though they are divided over which past: the cosmopolitan Cairo of the early twentieth century and its polyglot, Western-influenced elite or the Caliphate—the pan-Arab rule of the Prophet Muhammad's associates and relatives, whose reign of military conquest and scientific discovery (and political rivalry) now seems Islam's golden age.
In Cairo, collective yearning for miracles tends to coincide with periods of political and economic stress. Egypt's population is ten percent Christian. Not long after the country's crushing defeat in the Six-Day Arab-Israeli War of 1967, people began to see visions of the Virgin Mary nightly on the roof of a church in the neighborhood of Zaytoun, appearing first as a bright light, then as a dove. Her apparitions during the course of a year attracted millions, both Copts and Muslims, a phenomenon that drew the notice of the New York Times and which to this day remains one of the Arab world's biggest spontaneous civilian gatherings.
West of the airport, near Ain Shams University, Zaytoun is far from the city center and the tourist trail. I took the Cairo Metro, a miracle of efficiency that circumvents the city's horrendous traffic, to see St. Virgin Mary's Church, whose central dome features a huge portrait of the Blessed Mother smiling soothingly down on pews of worshippers. From there, I walked to a covered market where Muslim fruit vendors and Christian fishmongers work side by side under hand-painted murals of buxom women while cassette players broadcast tinny recordings of Koranic recitation; the market is one of Cairo's most convivial, an example of the city's famous but now diminishing miracle of tolerance.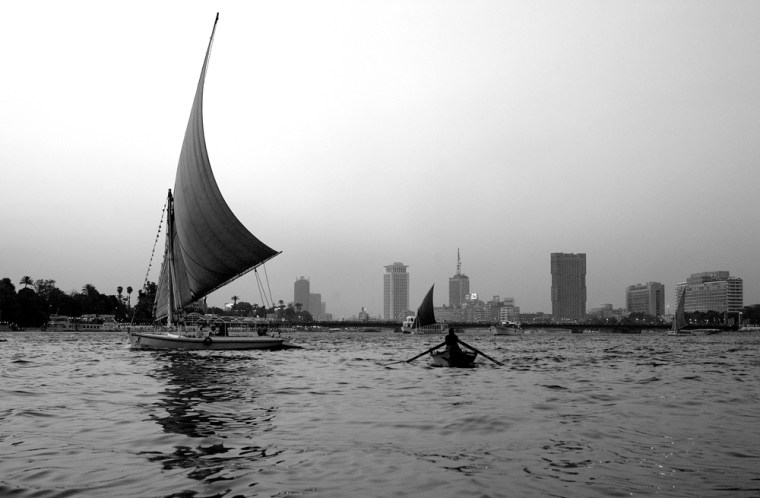 Trees and shrubs that communicate with humans are, of course, famously Egyptian. A burning bush spoke to Moses. A pharaonic love song, preserved on papyrus, refers to a talking pomegranate tree that compares a woman's breasts to its ripe fruit. In Matariyya, across the Metro track from Zaytoun, I made a pilgrimage to see an ancient sycamore fig believed to have sheltered the Holy Family on their flight into Egypt. Reputed to have healing powers, it is protected within a walled compound in a working-class neighborhood of dirt alleys and squat apartment blocks, its enormous, vinelike branches supported by wooden crutches under the watchful eye of a veiled woman, an employee of the Antiquities Department, who sits in its shade and passes time by reading the Koran. The tree is next to an old well associated with Atum, the ancient Egyptian god of genesis, and some say Mary's sycamore is the original Tree of Life, on whose leaves Atum wrote down the names of his creations after bathing. In April, fat black bees buzz in the branches, and on the day I went, an orange tabby cat curled contentedly on a bole beneath green leaves coated with fine desert dust.
In the days following the traffic jam, amid stories about Iraqi violence and Egypt's constitutional referendum, Cairo newspapers ran accounts of the talking tree on the road near the airport. Some details differed. A soldier in the watchtower had heard the tree praising Allah, and overnight, words written in fire had appeared on the trunk, accompanied by a pleasant odor of musk. A passerby heard murmuring and noticed blood dripping from the bark and saw the words Allah Muhammad Taha, one of the 99 names of God, suddenly appear. Everyone agreed that the tree was quickly becoming a place of pilgrimage, to the dismay of the authorities. The notion that a tree can vocalize "is ridiculous," the Islamic intellectual Gamal al-Banna scoffed in the Egypt Daily News. "If this was a revelation, God would tell us through the angel Gabriel." A committee of scientists sent to investigate the phenomenon inspired more curiosity and made the traffic jams worse. When the Cairo prosecutor's office was reported to have requested that the police chop down the tree to put a halt to the public disorder, more people rushed to the site to kiss the trunk, tear off leaves as souvenirs, and take pictures of the miracle with their cell phones before it disappeared. Anti-government commentators, meanwhile, accused the regime of misusing state media to propagate "irrational thinking" as part of a conspiracy to undermine the country's democratic evolution.
Whether or not it actually talks, a tree that upsets a government and its opposition is unusual, to say the least, so I drove back to investigate. The tree, a eucalyptus, was still standing, and the words Allah Muhammad were in plain sight on the right branch of its divided trunk, though it looked to me as if they had been carved years ago, for bark now bulged around them like a scar. The Arabic letters were charred, as if someone had highlighted them with a blowtorch.
The tree was silent, but not the people around it. "The words appeared overnight," a man standing next to me insisted when I said it seemed they had been there for some time. "It is a miracle. God is telling people they must pay more attention to him."
"Once I saw God when I cracked open an egg," interjected a pretty 18-year-old girl named Hind, who wore brushed blue jeans, a long-sleeved cotton blouse, and a black head scarf that framed her heart-shaped face. Hind had traveled by taxi from the delta governorate of Minoufia, and I believed her when she told me that she had seen the name Allah on one-half of a cracked eggshell. Flowing Arabic script can mimic forms in nature, and I once saw Allah "written" in two polished halves of an agate geode on display in a curiosity shop; the owner considered it a miracle and refused to sell. Hind confessed that she had come to the tree three times to find a potential husband who, like her, believed "God is in everything." Tito, an eighteen-year-old working at a Cairo photo shop, had come to make money. He was selling pictures of the miracle tree for 40 cents and had had 35 customers that morning.
When I went back a few months later, the tree had survived but the crowds had disappeared. Yet I had begun to notice a curious thing: All over Cairo, trees were "talking." When I looked for it, I saw many examples of the name Allah and its variants carved on tree trunks—including one in a driveway across from my apartment building, which I had never noticed in the years I had been living there. Sometimes the words appeared newly inscribed, but many had been there for a long time, the letters growing and distorting with the growth of the tree into which they were cut. Whether you believed in miracles or talking trees or Islam, it was obvious a message was spreading.
I've lived in Cairo for most of the past decade, have sailed up the Nile, snorkeled in the Red Sea, and camped in the desert. To me, Cairo is Egypt's ultimate adventure and enigma. After all this time, I feel I have only scratched the surface of the city that the Arabs call Umm Al-Dunya, "Mother of the World." These days, her character seems more dysfunctional than nurturing.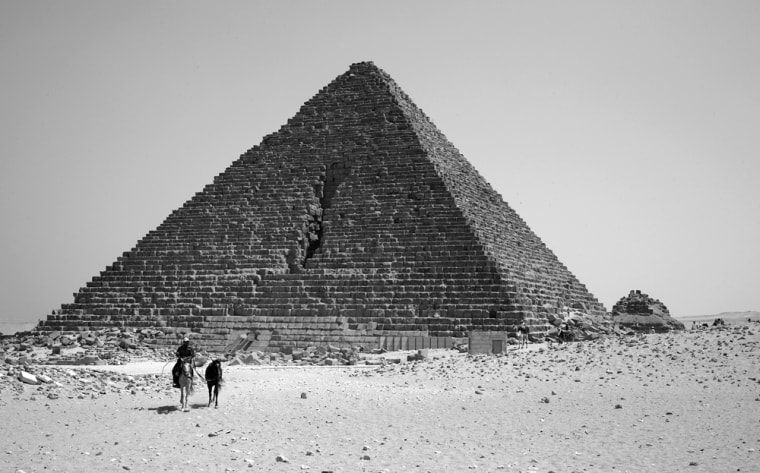 Beloved for its cinema, Cairo is the Arab world's aging movie star: seductive, repulsive, complex, and compelling. A young generation of well-traveled, well-connected entrepreneurs has commenced a face-lift, building luxury hotels, restaurants, shops, and nightclubs (the Cairo branch of Buddha Bar opened just this fall) that are adding global chic to one of the world's most layered cities; its unmatched architectural patrimony stretches from before the construction of the Pyramids through more than a thousand years of Islamic history, and its cultural and ethnic stream blends Persian, Roman, African, Arab, Ottoman, and Western influences. In anticipation of a deluge of tourists—a record 12 million projected this year—the government, for its part, is busy expanding airports and restoring and rearranging the storerooms of heritage. In the coming years, King Tut's treasures will move from the dusty century-old Egyptian Museum on Tahrir Square to a massive state-of-the-art facility on the Giza Plateau; the royal mummies will be transferred to a Museum of Civilization on the site of the Tulinid capital, Fustat, founded in A.D. 642 on a Nile promontory overlooking the earlier Coptic settlement; and a Museum of the City of Cairo will rise within Al-Azhar Park, the green lung reclaimed from a Fatimid-era garbage dump just east of Cairo's Islamic core. This year, the Museum of Islamic Art will reopen after a five-year, $15 million renovation, with the participation of curators from the Louvre and French designer Adrien Gardère.
Cairo's strata are psychological as well as physical, as exhausting as they are inspiring. Merely to cross the crowded streets requires patience, daring, and a sense of humor. For Egyptians, the trials of daily life are complicated by the need to create a personal identity from the crumbling past and half-constructed present amid centrifugal forces of secularism and religion, tradition and modernity, and the challenge of integrating a 6,000-year-old culture with 21st-century technology. "We Egyptians are masters of compromise, which has always been the source of stability and tolerance," says the writer Alaa Al Aswany. But the increasing mood is of pessimism, claustrophobia, and economic frustration, which is chipping away at civility, friendliness, and family relations.
Al Aswany, 50, is the author of "The Yacoubian Building"; published in 2002, it quickly became the Arab world's best-selling novel, outstripping the sale of works in Arabic by Egypt's Nobel laureate, Naguib Mahfouz. He is also a member of the opposition Kifaya movement, which was founded in 2004 in response to the calling of Egypt's first multiparty presidential elections but has since been crushed through government tactics, including police violence at rallies, the arrest and torture of Kifaya bloggers, and the jailing on trumped-up charges of presidential candidate Ayman Nour, who is a year younger than Gamal Mubarak and his potential rival.
Democracy is more than parliaments and political parties, however, and Al Aswany, both in his writing and his mentoring of young people, uses literature to open and excavate free space in a political society characterized by closed doors and thinking. Continuing a tradition begun in Cairo coffeehouses in the 16th century, he leads a public Thursday-night seminar in a borrowed office in the 19th-century neighborhood of Munira, in a room with high ceilings, blue-painted French shutters, fluorescent lighting, peeling yellow paint, and a long table. On the night I went, discussion ranged from "Madame Bovary" to Kafka, Gabriel García Márquez to Israel, American journalism to life under Nicolae Ceauşescu. Halfway through the evening, a young man raised his hand and began criticizing Al Aswany's latest novel, "Chicago," about Egyptians living in America, because one of the characters, a veiled and lonely student, has an affair and undergoes an abortion (a procedure banned under Islam, except when pregnancy endangers the mother's life).
"You're breaking a taboo, and it's disrespectful of Islam," he said, politely but sternly, as the gathering of students and young writers and their parents listened intently.
"Chicago" presents Egyptian emigration as both self-preservation and moral compromise, and serves as a thematic sequel to "The Yacoubian Building," which describes the dilemmas facing residents on different floors of a once grand building in Cairo's decaying downtown. An area of Italianate apartment buildings along Haussmann-style boulevards, downtown Cairo emerged in the wake of Napoleon's 1798 invasion of Egypt. After the French troops left, the Ottoman viceroy Muhammad Ali and his heirs sought to remold Egypt in the image of Europe, and by the late 19th century, the influx of foreign investors, architects, and adventurers had transformed Cairo into the Dubai of its day. Set in the 1990s during the first Gulf War and the first tremors of America's intervention in Iraq, "The Yacoubian Building" paints a Cairo in decline. A businessman running for Parliament pays corrupt officials to fix his election, while the poor inhabitants of the building's rooftop shantytown dream of love or prosperity amid the city's corrosive soup of fundamentalism, sexual exploitation, and political ennui. One of the intersecting stories follows Taha, the son of the building's doorman, who aspires to be a policeman and marry his rooftop sweetheart but who falls under the influence of a radical sheikh, is arrested, and dies attacking the police investigator who sodomized him.
Al Aswany is one of the first Cairo novelists to write explicitly about sex and religion, and his main theme is how the injustice and frustration caused by dictatorship transforms these natural and wonderful human experiences into violence and terrorism. I made an appointment to see him privately one evening at his dental clinic in Garden City, originally a Kensington-inspired district of palaces and villas along the Nile's East Bank. Al Aswany's father, also a writer, advised him to have a profession besides literature to fall back on, and he became a full-time dentist after studying at the University of Illinois in Chicago; the job not only earns him a regular salary but brings him into contact with people from all walks of life. A large man, tending to overweight, he has a warm smile and the focused gaze of someone used to diagnosing and resolving sources of pain.
"Egypt," Al Aswany told me, "is suffering from the disease of dictatorship that infects everything from elections to marital relations." But he was hopeful, mentioning that he had himself resisted the temptation to leave for good, and insisting that the democracy movement combined with turmoil in the region has pushed Egyptians to realize that they are on the brink of generational change. "Egypt is like an intelligent person who's been in a coma and woken up," he said. "He's not starting from zero, but he needs a bit of time to recover his personality and get better." Like many secularists, Al Aswany is alarmed by mounting Islamic fundamentalism, the "combat between Egyptian tolerance and civility and closed Wahhabi aggression, an everyday struggle between the two ways of seeing the world."
Islamic dynasties and sects have waxed and waned in Egypt since the Prophet Muhammad's death in A.D. 632 and the arrival of the first Arab army in 641. Today the Wahhabi interpretation of Islam, the official doctrine of Saudi Arabia, is growing more influential. Starting in the 1970s, Egyptians flocked to Saudi Arabia for jobs as teachers, construction workers, and household servants. Their remittances are now the second-biggest source of Egypt's hard currency, ahead of Suez Canal receipts and after tourism. Millions of migrants bring back not just money to build and furnish houses that are the envy of their neighbors but also the custom of veiling wives in black abayas and the habit of criticizing those less demonstrative in their faith. The Wahhabi phenomenon has dovetailed with Egyptian political Islam, which arose in the 1940s under the guidance of the Muslim Brotherhood partly as a reaction to British colonialism and centuries of foreign occupation, and which gained strength following the 1952 revolution and the failure of President Gamal Abdul Nasser's secular pan-Arab socialism to solve Egypt's problems.
To quell Islamic opposition, the Mubarak government has banned political parties based on religion. At the same time, to enhance its own religious legitimacy, it encourages social Islam through the sheikhs of Al-Azhar University, the Arab world's oldest academy, who are continually issuing fatwas on dress and behavior. Cairenes besiege their offices and Internet sites with requests for rulings on whether kidney dialysis and liposuction are "un-Islamic," and the sheikhs often find themselves in ever more convoluted arguments about the compatibility of Islam and modern life: Last spring, a scholar issued a fatwa urging female office workers to breast-feed male colleagues to make them "blood relatives" and thus circumvent Islamic rules of sexual segregation. The irony of this puritanical climate is that Cairo has a reputation throughout the Arab world for a garish joie de vivre. In summer, tens of thousands of Saudi citizens vacation here to enjoy social freedoms, and many partake in entertainments banned at home, including casinos, belly dancing clubs, alcohol-serving restaurants, movie theaters, and mixed-gender hotel swimming pools.
"The Yacoubian Building" resonated with readers who know that Cairo's rooftops constitute a parallel city. They provide alternative housing for the poor and offer space for soccer fields, pigeon coops, extra living rooms, temporary art galleries, refuse dumps, and fields of satellite dishes that turn like sunflowers to catch episodes of "Desperate Housewives," Italian porn, Al Jazeera newscasts, and a Saudi channel which, like an Islamic version of MTV, broadcasts clips of the superstars of Koranic recitation.
In Fatimid Cairo, rooftops served as pleasure gardens within the protected Islamic fortress. The Fatimids were 10th-century Shiite conquerors from Tunisia who supplanted the Baghdad-based Abbasid rulers of Egypt and gave Cairo its name, Al Qahira, or "The Triumphant." Their dynasty endured for two centuries, and their royal city became legendary for scholarly libraries, public hospitals, and opulent palaces. Buildings stood as high as 14 stories, and landlords kept banana trees on their roofs as well as bullocks to draw up water. After two glorious centuries, a cycle of poor flood years that led to famine and plague finally ushered the Fatimids out and the Ayyubid dynasty of Saladin in.
The Mubarak government has been busy restoring Cairo's most famous Fatimid thoroughfare, Sharia Al-Mu'izz Li-Din Allah, a newly declared daytime pedestrian zone stretching for a mile between the surviving stone gates of Bab Al-Fotouh and Bab Zuweila. There has been controversy, of course, about the use of cement on some of the grandest buildings, such as the mausoleum of the 13th-century Mamluk Sultan Qalawun, and about imposing a uniform patina on edifices centuries and dynasties apart. But the cymbal-clanking men carrying vats of licorice juice and the organization of markets into souks pull the past into the cell phone–carrying present.
Some of the most beautiful surviving buildings in the Islamic quarter are called sabil-kuttab, a combined public fountain and Koranic school and an architectural form of charity unique to Cairo. A room of inlaid marble with a painted timbered ceiling would stand over an underground reservoir. Thirsty passersby reached with cups through flowery wrought iron gratings as the sounds of trickling water and the chanting of young boys memorizing the Koran flowed into the street. You come across a sabil-kuttab every few blocks in old Cairo. One of my favorites is the early-19th-century sabil-kuttab built by Muhammad Ali and dedicated to the memory of his eldest son, Tusun Pasha, who contracted the plague during his military campaigns against the Wahhabis in Arabia and died in 1815 at the age of 24. Turkish poems about the beautiful gesture of giving water in death are carved in marble around the exterior and contain wonderful lines such as "The moon envies the silver cup's rim." The government has earmarked the complex for an Islamic textile museum, opening this month.
The religious and the secular intersect in the sexy underwear souk that for years ran along Sharia Muski and continued on Sharia Al-Mu'izz Li-Din Allah, between the Madrassa of the Mamluk Sultan Al-Ghuri and the sabil-kuttab of Muhammad Ali. At first I found it shocking to see abaya-clad women fingering fire engine–red teddies with nipple cutouts near two of the holiest sites in Cairo—the mosques of Al-Azhar and Sayidna Hussein. Islam condones tender sexual pleasure between man and wife, however, and the market is patronized by brides shopping for trousseaux, though as one pushcart seller told me with a wink, "Not everyone who says she is a bride really is one."
Fashion is one of Cairo's emotional frontiers. The feminist writer Safinaz Kazem, for one, sees the female body as a battleground between Islam and the West, as politicized an issue as Palestine. "I was like an occupied plot of land," she recently told the Al-Ahram weekly newspaper, describing her upbringing, in which she was taught to wear Western clothes. "The day I took up the veil was the day of my liberation." Islamic fashion has also become a ticket to social mobility. In poor areas, a woman can't go into the streets without an abaya, the long Islamic overgarment, and the hijab, or head scarf; it may seem repressive in Western eyes, but in reality the ensemble enables her to get out of the house, go to university, and work. Cairo's Islamic fashion can be militant but also as frivolous and ephemeral as Paris collections. Girls raised in the era of satellite television combine the head scarf with brightly colored Western items as a way to harmonize Egyptian identity with membership in the global community and to socialize with boys while maintaining a good-girl reputation. In Cairo's see-and-be-seen shisha bars, young women wear leg-hugging low-rise jeans, tight T-shirts or baby doll dresses, high heels, and designer-knockoff handbags—a Paris Hilton as Islamic hottie look rendered chaste by the addition of a long-sleeved leotard to cover the arms (and to highlight their slimness) and a color-coordinated head scarf sold at boutiques with names like Hippie Veil and Cyber Veil.
Since the polarizing events of 9/11, abaya stalls have been supplanting underwear stalls in the Islamic district. Yet Cairo's black abayas can be playful and sexualized, too. Last spring, I saw in the souk a filmy black abaya with gauzy spiderweb cutouts over the back and chest, the strands of web highlighted in sparkly silver thread. At Cairo International Airport, I sat next to a slip of a teen wearing a black gown with English lettering. "Dear Thomas" the back panel read in girlish pink script. "Hi!!! I'm in Paris. Everything is so beautiful. But I miss you so much! Bye! Kisses!!" I imagined Cairo mothers and fathers all over town taking the tone exasperated Americans use with their young daughters: "You're not going outside wearing that!"
Fashion, like all expressions of culture, is never frozen. And yet there are time capsules throughout the city in which Cairo epochs are fixed like scenes in a pharaoh's tomb. On weekends, Egyptian families dress up to dine on the terraces of the Greek Club and the Italian Club, vestiges of the international high society that thrived under Egypt's monarchy. Downtown, the family-owned Windsor Hotel, with its old switchboard, ancient lift, and grand suites with huge marble baths, is an unrestored ode to the days of British colonial travel. On weekends, expatriates seek out the bar for its retro chic, though one of its defining colonial characteristics was the fact that it was off-limits to "natives."
Under British occupation, which lasted from 1882 to 1952, downtown Cairo became a creative boomtown for Egyptian patricians and intellectuals who were raised amid Westerners and their institutions and who yearned to define a modern Egyptian identity. The district began its decline after the 1952 revolution, when nationalization and sequestrations led to the flight of foreigners and aristocrats alike. To glimpse what life was like in the district's heyday, I visited the white villa of Saad Zaghloul, who led anti-British protests after World War I and was elected prime minister in an early flowering of Egyptian nationalism. Now a museum, the villa contains the hero's mother-of-pearl- and ivory-inlaid furniture; his wife, Sofia's, separate bedroom suite; their Korans and silk dressing gowns; and Sofia's mink coats, ostrich feather fans, opera glasses, and black silk pumps from Lord's Cordonnerie, at 66 Qasr al-Nil Street. On the second-floor landing hang two elaborate wire cages, each with a stuffed green parrot. The guide told me the pair had died of sadness three days after the great pasha's death in 1927.
Throughout its history, Cairo, with its whirl of politics, faith, and culture, has produced personalities larger than life. Next to the Nilometer on Roda Island, where priests and tax men once measured rising Nile floodwater with relief or apprehension, I went to the Umm Kalthoum Museum to contemplate the singer's signature diamond-studded black sunglasses in their oversized glass case—a relic more charged than King Tut's golden mask. The daughter of a village imam who taught her to recite the Koran and dressed her in boys' clothing to show off her skill, Umm Kalthoum moved to Cairo at 19 and became Egypt's Edith Piaf, Ella Fitzgerald, and Maria Callas all rolled into one. Some of her songs—about Egypt, loves lost, and the inevitability of struggle—lasted three hours, and it was rumored that she concealed cocaine in her white hankie, her ever-present stage prop, to get herself through marathon concerts. When Umm Kalthoum died in 1975, 4 million people turned out for her funeral, more than for President Nasser's. The museum preserves her Order of Perfection medal from the Tunisian government and some of her gowns, and has an interactive exhibit allowing visitors to hear her most famous songs, which now compete for airtime with Arabic pop tunes on the cassette players in Cairo taxis.
The first Islamic city to have an opera house, Cairo has its own distinctive sound: the shisha pipe's burble, the calls of itinerant bean sellers and rag-and-bone men, and a cacophony of cell-phone ring tones, honking car horns, and the five-times-daily call to prayer by muezzins (amplified by loudspeakers), a few of whom have voices as powerful and melodic as La Scala tenors.
The original Opera House—erected downtown as part of the celebration surrounding the 1869 opening of the Suez Canal, for which Verdi was commissioned to compose "Aida"—burned to the ground in 1970 in an act of suspected arson. The new Cairo Opera, constructed on Gezirah Island in the 1980s in a fusion of Islamic architectural styles, mounts an annual production of "Aida" and avant-garde projects such as the staging of "Don Giovanni" in Arabic with Italian mafioso costumes. Tickets are a bargain at less than three dollars. However, the biggest crowds flock to desert stages near the Pyramids, where a Westernized, moneyed elite pays European prices to see performances by the likes of Sting, Shakira, and Ricky Martin.
In 2002, to counter the deluge of foreign pop, Ahmed El-Maghraby, a professor of Italian literature at Ain Shams University, founded the Egyptian Center for Culture and Art to showcase and record endangered forms of Egyptian music. He has tracked down the last players of the arghool, an ancient two-reeded clarinet; the kawla, a long bamboo flute; and the tamboura, a sacred six-string lyre seen in pharaonic tomb paintings. The center, nicknamed Makan, or "Place," occupies a 19th-century printing plant with exposed-brick walls, whose industrial metal mezzanine and banks of computers and mixers form the stage backdrop for live performances of Egyptian gypsies, Nubian drummers, and Coptic monks chanting liturgy.
The most popular entertainers are Zar musicians, members of Cairo's underground culture who offer traditional healing using song, drumming, and body movement to calm people troubled by unseen forces. Ethnologists believe Zar rituals were brought to Egypt by female Sudanese and Ethiopian slaves in the nineteenth century. Hypnotic and compelling even to non-Arabic-speaking listeners, the music shares qualities of oral poetry and jazz improvisation and, importantly, eases social boundaries. On the night I went with a Nubian friend, the audience included expats and wealthy Egyptian students from the American University in Cairo, taxi drivers, and neighborhood doormen in djellabas.
Cairo's rich and poor have always lived in proximity, and one of the capital's defining characteristics is fear of the mob. For all its famed stability, Cairo is spectacularly combustible. Just after Ramadan in 2006, after a movie theater unexpectedly canceled its regular Friday-afternoon showing, crowds of young men rampaged downtown, breaking shopwindows and chasing women to rip off their clothes and head scarves. The violent expression of boredom and sexual frustration shocked the nation, underscoring a generational shift—from people who had been teens in the first promise of Egypt's 1952 revolution, who view downtown with wistful pride, to restless youngsters who graduate with useless university degrees at the rate of 2 million per year and remain at home into their 30s, lacking jobs and the finances to get married. Political commentators lambasted the inability or unwillingness of the Cairo police to protect women from male harassment. Alaa Al Aswany complained in a newspaper editorial that Egyptian security focused too much on guarding political leaders and recommended that rather than shout, "Help," the most efficient way for a woman to get the attention of a policeman would be "to insult the president."
In Cairo, exasperation with urban life translates into nostalgia for the life of the countryside, especially its food. Some of the most famous and beloved Cairene dishes have peasant origins, including koshary, a dish found nowhere else in the Arab world, a hot salad of pasta, rice, lentils, and chickpeas topped with fried onions and served with either vinegar, lemony garlic sauce, or fiery-hot chili and tomato. Abou Tarek, on the corner of Marouf and Champollion streets, is the best place to eat koshary for the sweet crunch of the onion, the nutty density of lentils and chewier chickpeas. The mix of patrons is delicious, too. The three-story koshary-only fast-food outlet sits downtown in a souk for car mechanics, around the corner from the journalists and lawyers syndicates, not far from an abandoned pasha's palace and an old Jewish mansion that houses an art gallery.
During Ramadan, people come from all over Cairo to El Gahsh, on Abdel Meguid Al-Labban Street, to eat fuul medames, hot mashed broad beans. The ancient owner, Abdou, who does not know his exact age, has been making fuul on this spot for 50 years and is one of Cairo's pushcart pashas. He wears a white djellaba and a black overcoat and reigns over a two-story establishment supervising teams of his sons and grandchildren. They stew broad beans overnight in copper vats, mash them with a secret recipe of garlic and other seasonings, and dish up creamy fuul with sweet or spicy oil, served with rounds of whole wheat flatbread, fried eggs, white cheese, green onion stalks, vegetable pickles, and peppery arugula. A nationalist at heart, Abdou uses only Nile Delta beans, which he swears are tastier, if more expensive, than the imported Chinese beans used by other fuul vendors to save money.
The restaurant, grown from the single pushcart of Abdou's youth, has a rooftop patio decorated with caricatures of mules and donkeys (gahsh is Arabic for mule). In a world where frustrated drivers hurl the insult ya humar—"you donkey"—at one another, the cartoons about young wives screaming at husbands for spending too much money and older men courting equally elderly sweethearts offer jokes that lighten the day. Neighborhood kids stop to grab a fuul sandwich on the way to school, businessmen in suits pop in for breakfast meetings, and old men pass mornings reminiscing with Abdou, who sits in a wheelchair drinking tea and making change out of a tin ghee can.
The neighborhood, between the 19th-century Abdin Palace and the far older Saidna Zeinab Mosque, is considered one of Cairo's most solid, full of hardworking families with relatively little unemployment. But Abdou, from his long vantage point, is pessimistic. "Before, everyone was happy," he told me. "Now you see them crying. They have jobs but no money. Before, you could get by for a month on fifty piastres. Now that won't even buy you breakfast."
Fuul, the country's food of the past and present, provides sustenance in a city that is conspicuously failing to live up to its inhabitants' expectations. Cairo is no longer the Arab world's fulcrum. Egypt has never really regained the leadership and legitimacy lost in Arab eyes following President Anwar Sadat's peace treaty with Israel. Television production in Lebanon and the Arab Gulf is supplanting the Egyptian dialect that spread as an Arab lingua franca in the early era of radio and cinema, and the bright skyscraper worlds of Dubai and Doha have become magnets for Arab youngsters with ambition. Like Taha in "The Yacoubian Building," many Egyptian job seekers find their path at home blocked by a lack of wasta, or official connections.
The bravest stay, smile, and soldier on, trying to help Cairo survive, not collapse, as youth floods Egypt's desert of leadership and opportunity. "I've given up my dream of experiencing an Orange Revolution, because the best I can hope for is to live through a transition," Hisham Kassim, an independent newspaper publisher and human rights activist, resignedly told me over iced fruit drinks one morning, commenting on how Egyptians yearn to revive their former greatness while envying the political change in Ukraine and other once stagnant Eastern European nations. "Reform is like a dust-covered Cairo house that's been shut for many years and no one remembers the contents."
The sweetness and hope of Cairo life—felucca rides along the Nile, brides in white dresses who pose for photos on river bridges, men who tease chaste girls with such compliments as "Inti Sukkar, Inti Shurbat!" ("You're sugar, you're sherbet!")—is a nostalgic craving, quenched at the end of spring with sugarcane juice. The technology for sugarcane, grown in Upper Egypt, arrived from Persia after the seventh century, and over time sugar became a commodity affordable to all. At the beginning of summer, pickup trucks and horse carts pour into the city carrying bundles of the long cane to drinks stalls, where it is run through presses over ice blocks and sold as a frothy green elixir. In Cairo, I reflected, sweetness can at least be purchased if it cannot always be lived. In the heat of Egypt's epic city, a refreshing drink seems like a miracle.