A gentle sea breeze, a star-studded sky, billowing white sails then ... the silent Caribbean night is filled with the powerful music of Vangelis' "Conquest of Paradise," making goose bumps rise on my arms. Each time the Royal Clipper slips its mooring and sets sail for new shores, this traditional Star Clippers send-off awakens in its passengers a sense of adventure, anticipation and awe. Add the interest of islands less-traveled, a bagpipe-playing captain and a mix of European and American travelers and you have yourself a truly wonderful sailing experience.
A sailing man's vision
This goose-bump effect is precisely what Star Clippers' Swedish founder Mikael Krafft wanted to share with people from around the world when he set about building his first clipper, Star Flyer, in 1989. The identical sister ship Star Clipper followed a few years later, but Krafft's vision wasn't complete until 2000, when he launched the line's flagship, Royal Clipper. Based on the last tall ship of its kind, Preussen, which was launched in 1902, the 227-passenger Royal Clipper is the world's only five-masted, fully rigged sailing ship, and the largest in the Star Clipper fleet. With 42 sails and open teak decks, the ship is a sight to behold.
Royal Clipper won't be the largest Star Clipper for long. The company announced in September it will add a fourth clipper ship in 2011 that will be the largest — and most expensive — sailing vessel ever constructed (518 feet long; 7,400 gross tons). The new ship, which has yet to be named, is being modeled on France II, which was launched in 1912.
By launching these elegant clipper ships, Krafft has reacquainted the world with the golden era of sailing, and has established an alternative to mass-market cruises that is more in harmony with the wind and the sea.
Life on board
I appreciate Krafft's pure vision. Stretched out on the Royal Clipper's bowsprit, I experienced complete tranquility, as the sparkling ocean danced below me and the giant white sails consumed the breeze overhead. On another day, I had the thrill of donning a harness and climbing up the mainmast to the crow's nest. And every day offered the exhilarating sensation of slicing through the sea propelled by nothing but the wind. These are experiences that mainstream cruise ships just cannot offer.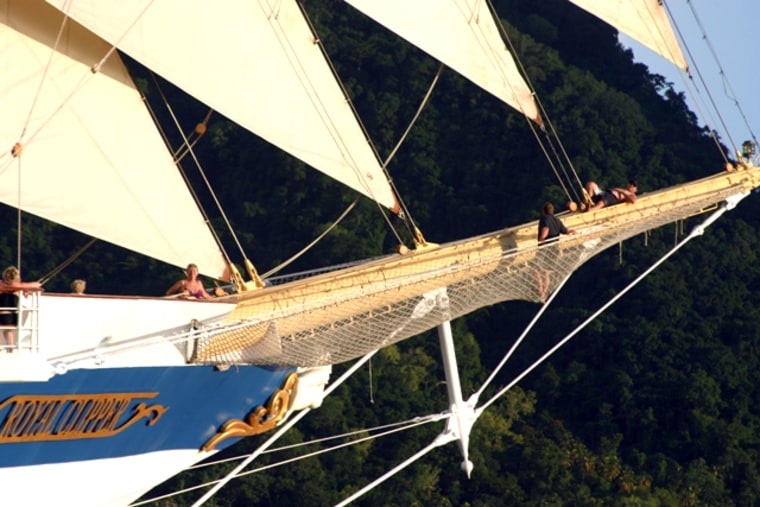 With all the beauty and excitement on deck, passengers don't spend a lot of time in their staterooms, but they are well appointed all the same. Of the 98 staterooms, all but six are outside cabins; they range in size from a mere 96 square feet for one of the six inside cabins to 355 square feet for the two "Owners' Suites." There are 14 deluxe suites with private verandas, a whirlpool tub and 24-hour room service (room service is available only for guests in suites). All staterooms are decorated in rich hardwoods and are appointed with double beds, or twin beds that can be converted to queen-size beds, and with marble-lined bathrooms, a TV and DVD player, a hair dryer and comfortable furnishings. I found my 150-square-foot stateroom cozy but challenging for my husband and me, especially the tiny closet and the lack of meandering room. We managed, but sharing such a small cabin requires ground rules. Don't be a slob or you'll kill each other.
The Royal Clipper has a laid-back, yacht-like ambience that allows passengers to settle in and mix together relatively quickly. The ship has an international following, and the many repeat customers are well-traveled, well-educated and really appreciate the simple pleasures of the relaxed, yet refined onboard atmosphere.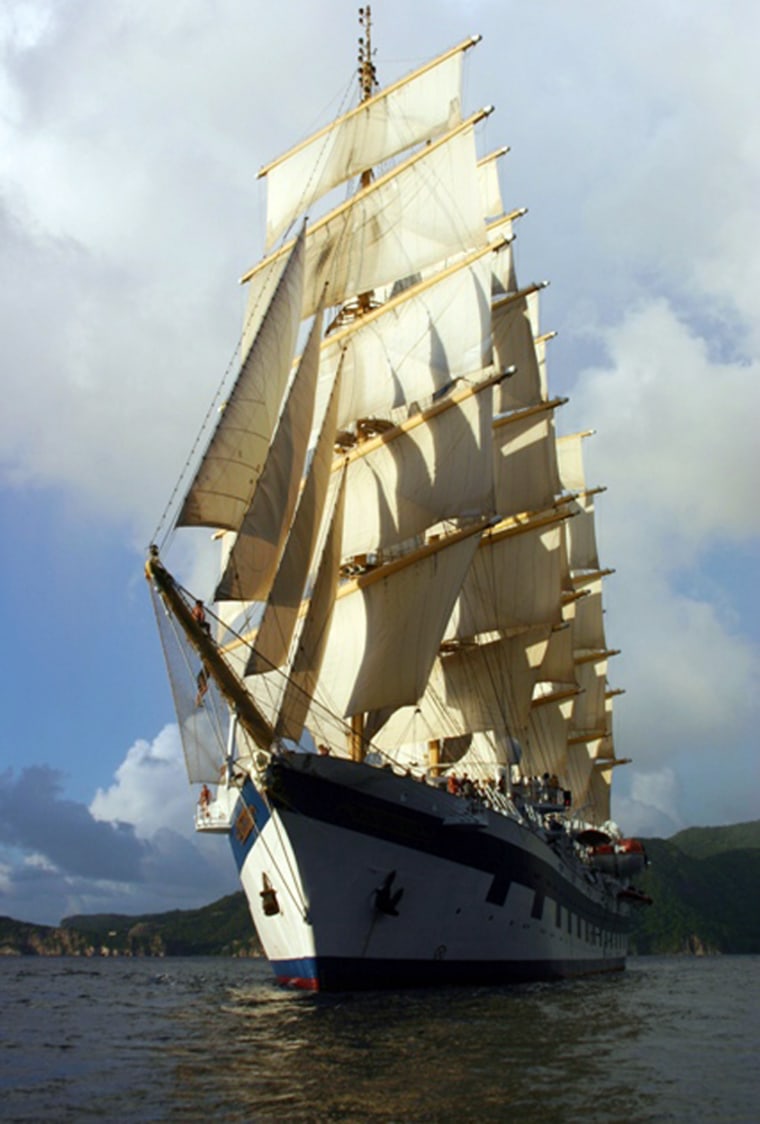 The Royal Clipper does offer all the usual accoutrements found on most modern cruise ships. There are three small pools, including a glass-bottom pool amidships that filters light down from the Sun Deck through the Piano Lounge to the Dining Room. The ship also has an indoor/outdoor bar, an observation lounge, a charming library decorated in dark woods and brass that has comfortable leather lounges and board games, an Internet area, a health club (with underwater glass portholes that let you watch marine life as you work out in the small but well-equipped gymnasium), and a spa offering the usual range of pampering treatments.
One of the most popular shipboard offerings is the retractable marina platform at the rear of the ship. When the ship is at anchor, the deck comes down and guests can take banana boat rides, sail Sunfish sailboats, kayak, water-ski and snorkel to their hearts' content — all this is included in the cruise fare. For an additional fee, two certified dive masters will teach beginners how to scuba dive and take certified divers on dive trips. The dives fill up quickly, so sign up as soon as you get on board.
Food and entertainment
Dining is another easy pleasure, as guests happily forgo tuxedos and ball gowns for more casual, but sophisticated, evening wear. Breakfast and lunch are buffet-style, while the evening meal is a la carte dining; all meals offer a good selection of well-prepared entrees. I will say some entree combinations perplexed me. For example, an amazingly large, perfectly cooked lobster was set atop a bed of mashed potatoes; it left me screaming "Nooooo" in my head.
Dining is open-seating and most guests look forward to mixing and mingling for the week for the pleasure of the company. My husband and I dined with many German passengers who were eager to practice their English. It was during these dinner conversations that I learned why there were so many Germans on board. In Germany, the Royal Clipper is the setting for a television drama called "Under the White Sails." As one guest told me, when he saw the ship on TV he knew he had to experience it.
There are no casinos, glitzy shows or nightclubs aboard the Royal Clipper. Instead there was music in the Tropic Bar provided by the crew musicians and by guest musicians including, on my trip, a great steel band from Grenada. There were some silly entertaining moments during the cruise, too, including a crab race complete with wagering and a passenger-and-crew talent show.
Guests craving edification could turn to our captain, Klaus Mueller. Every evening he held forth on the bridge, telling stories about the great windjammers of the past, naming and describing each of the ship's 42 sails, and giving learned accounts of celestial navigation. Sunsets were a big event, and passengers gathered each night near the bridge to watch and listen as Captain Mueller shouldered the bagpipes of his adopted Scotland and played tunes as the sun set over the bow. It was magical.
Adrift among the islands
The shipboard experience is wonderful, but it's drifting among the less-traveled islands of the southern Caribbean that the Royal Clipper does best. From Barbados we sailed to the Grenadines, Grenada, Bequia, Martinique and St. Lucia. A full day in the Tobago Cays gave us the run of an island to soak up the sun, try the ship's water toys, snorkel and chill out with a barbecue.
On larger islands, excursions catered to the adventurous and comfort-loving alike. On Grenada, some guests toured historic St. George's by bus while others hiked to the Seven Sisters waterfall in Grand Etang National Park. Those of us who went zip-lining in St. Lucia came back to the ship exhilarated. The unusual shore excursions in out-of-the-way destinations made this itinerary perfect for dreamers wanting to get away from it all. In fact, when we disembarked in Barbados to an overabundance of duty-free malls and cruise-ship throngs, I was dismayed. As seven large cruise ships disgorged their passengers to swarm the town and surroundings, I was already missing the Royal Clipper.
Less is certainly more in the world of cruising and, as Royal Clipper passengers quickly discover, there are few things in life better than the simple pleasures of life at sea on a sailing ship — and even fewer better ways to explore the world. I can't wait to go back.
If you go
From mid-November through the end of April, the Royal Clipper sails several itineraries from Barbados around the southern Caribbean. From May until the beginning of November, the ship sails the Mediterranean and Aegean seas. Prices for seven-day Caribbean cruises start at $1,745 per person; prices for seven-day Mediterranean cruises start at $2,095 per person. Visit the Star Clippers Web site for details.
Sound off! Do you have a comment, an idea, a complaint or a problem for Anita to solve? and you might find yourself in her next column. And check out her blog, .