Watching the movie "Sahara" last weekend reminded me why "National Treasure: Book of Secrets" is such a big hit.
In 2005's "Sahara," when Matthew McConaughey finally finds the object he's been searching for, he gets that sense of wonder and glee that comes with the satisfaction of a mystery revealed.
With the game of geocaching, there are "National Treasure" hunts going on all over the world, many of them starting from your home computer.
It entails having a GPS device, going online to a Web site to use the device to help you find a "cache" — booty, me hearties — and then recording and documenting your find in a logbook.
The hunt comes with directions, but also forces you to use some treasure-hunter intuition and good sense in unfamiliar terrain.
You can then switch out the object, or treasure, with another of your choosing, if you want.
You can set yourself on your mission at sites like Geocaching.com, Navicache.com, TerraCaching.com and Earthcache.org (for the environmentally minded who don't leave/find physical caches).
There are many more sites to choose from, including state-based geocaching to connect would-be treasure hunters near each other. Go to wikiHow's How to go Geocaching (http://www.wikihow.com/Go-Geocaching) for a thorough primer.
Tracking travel bugs
Within the game, tracking items called "Travel Bugs" and "Geocoins," are extras that can add satisfaction beyond the moment of discovery.
Travel Bugs are dogtags imprinted with specific numbers that can then in turn be attached to anything. They are made by Groundspeak, the company that runs Geocaching.com.
Geocoins, as the company describes them, are coins created by individuals or groups of geocachers as a kind of signature item or calling card.
All Geocoins and Travel Bugs have individual tracking IDs, which lets them go from geocache to geocache, to be "passed amongst friends, picking up stories along the way," according to Geocaching.com.
A look at Geocaching.com's Travel Bug Gallery (http://www.geocaching.com/track/gallery.aspx) yields all kinds of whimsy — Homer Simpson's "driver's license," a Colonial-looking statue dubbed "Soup Guy," treasured stuffed animals, SpongeBob — and an array of colorful Geocoins.
Travel Bugs "are more interesting to the owner than to the various cachers that move it around," said Art Gaudreau, a geocacher from Seymour, Conn.
"Most cachers will grab a TB from a cache and try to move it towards the goal found in its description."
I found Gaudreau through Geocaching.com's Travel Bug Gallery, where he had found the pink Bratz Seryna TB. (http://www.geocaching.com/track/details.aspx?guid=4b28a9fc-53c6-4f1a-9df5-085732e1e2ca)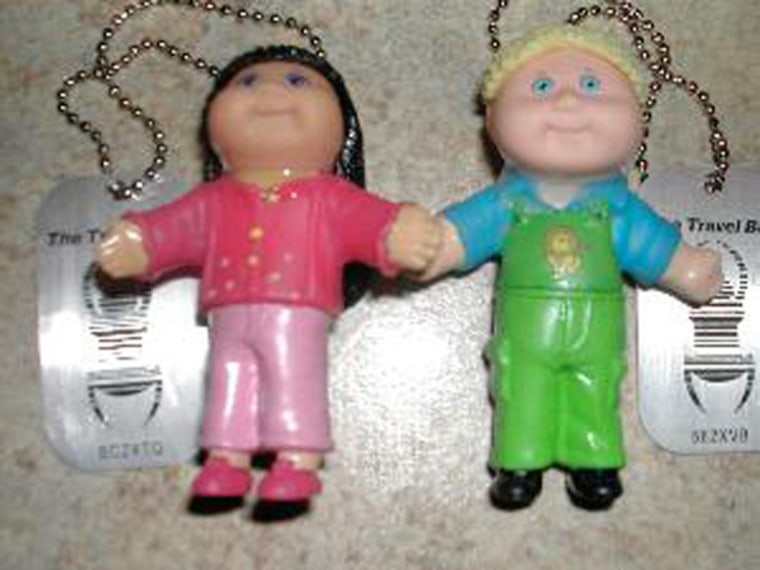 Gaudreau said the pink keychain was first placed in a cache less than 5 months ago, and has traveled just under 400 miles. 
Sometimes, the Travel Bugs with goals are very task-oriented, wanting not just to go to as many places as they can, but to specific destinations.
"I've got two TBs out that are in a race to China and back," Gaudreau said. "One is currently in British Columbia, while the other is in the Czech Republic. You can find thousands more that have been out even longer, and traveled more miles."
Another user on the site, Keith Bell, an associate professor of geography at Volunteer State Community College in Gallatin, Tenn., really appreciates the Travel Bug aspect of geocaching.
"I get to live vicariously through this little piece of plastic," he said. "I get to go again, live through it and watch it."
'Soup Guy' goes to Antartica
Bell is an avid traveler who has been to all but three continents – Antarctica, Australia and South America. So he made the destination for his "Soup Guy" the one he felt would be hardest for him to get to — Antarctica.
"My daughter was a little sad Soup Guy was going away, but I told her he's coming back home," said Bell, 38.
His childhood, plastic blue, Early American frontiersman toy had become his oldest child's favorite. She called it Soup Guy because to her, the image of the frontiersman with his musket pulled back looked like he was stirring a pot of soup.
Bell has just created a new cache for the toy and placed it in there. "We'll see where he goes," he said. "We'll see what happens."
He has been geocaching in earnest for 2 years, having discovered the activity as a way to use GPS units with his students.
Hide and seek
"When I started geocaching, it gave them a way to hide and seek stuff," he said. "It's a lot of fun if you look it as a treasure hunt and good exercise."
After traveling to Philadelphia for a 12-stop geocaching tour using the King Tut exhibit as a theme, his wife also become hooked on it. Their two young children are also burgeoning cachers.
Bell is also a fan of Earthcaching, in which pictures are taken and lessons are learned about geography. It's a slight twist on geocaching that doesn't leave a cache in place. The place is the cache.
Travel Bug 'hotels'
There also are Travel Bug "hotels," Bell said, at hotels or airports, where cachers leave their Travel Bugs to be picked up by other cachers to move them along to their destinations faster.
Geocaching.com's Travel Bug Gallery includes many characters. Among them: A Darth Vader head that's beginning its journey in Pennsylvania and hoping to hitchhike its way to Marin County, Calif.
Its first home was a Tupperware container called "The Cache Strikes Back," with other "Star Wars"-themed items.
There are also Cabbage Patch look-alikes "Beth and Dan" from Minnesota, who "have been traveling for 30 years," but have never been to Germany, the home of their "ancestors."
In other words, you create the treasure. As long as it's meaningful to you, the object will have some measure of value unique to it.
Its journeys only add to the intrigue factor, and for the owner there's a sense of satisfaction when the cache makes it to its destination.
For others, the satisfaction comes in the journey. 
"It gives me a reason to get out of the house and enjoy nature, to use my brain a little, and the satisfaction of finding something hidden where you would least expect it," said Gaudreau.