/ Source: Condé Nast Traveler
You can learn a lot about Spanish history by looking at a plate of paella. First, consider the large bowl it's often served in, shallow and a bit wok-like, as well as the larger one it's cooked in — both are derived from a Roman utensil. (The very word paella is said to come from patella, Latin for "pan.") Then there's the rice, which came to Spain in the eighth century, imported by the Moors, who planted it in the wetlands at the edge of the freshwater Albufera lagoon, south of the port of Valencia. The orangy stain on the rice comes from saffron, which the Arabs found in Persia and began cultivating in Spain in the tenth century. And finally, there are the olive oil and peppers, both native to the Iberian Peninsula, and the meat — chicken and/or rabbit — cheap and local, but elevated to succulence by the chemistry of the pan.
I tend to do a lot of reflecting with the help of gastric juices (after all, what is the point of travel if you don't salivate over the local dishes?), and this, the paella insight, came as I was enjoying a takeaway street version of the dish, lowly but adequate, from a popular joint next to the Central Market in Valencia. Paella lore is as riven with disputes about ingredients and cooking method as it is ancient, but one thing is sure: Valencia was where the concoction evolved.
There is little argument, either, that the Central Market has one of the most astonishing displays of fresh produce ever seen, more than 700 stalls selling everything from just-picked wild strawberries to some very weird specimens of marine life. However, distracted as I was by the scents and sights, it was the building itself that truly delighted. It is an exultant flourish of the vaulting cast-iron frame and glass artistry that began with Victorian railway stations, though here given an added dash of Spanish ceramics and tilework. It was the mid-nineteenth-century English architects who discovered that by marrying iron frames with glazing, they were able to take the bulk out of big public buildings, to strip them down, and — vitally — to allow light to bathe the interiors. The Central Market in Valencia, which opened in 1928, is a marvelous blend of design and purpose in the cause of the kind of daily domestic gastronomy that most of us can only dream of.
As it happens, the building's mélange of Roman, Moorish, and Iberian cultural notes, not to mention an avid personal regard for the pleasures of the kitchen, both came up in conversation with Richard Rogers, last year's winner of the Pritzker, architecture's equivalent of the Nobel Prize, when we discussed his addition to the Spanish landscape, Madrid's Barajas International Airport. I was on a quest to discover why Spain has become a magnet for architects — at least eight Pritzker winners are currently working on projects there. I wondered if Rogers could help explain this phenomenon.
"In terms of culture, Spain is the most interesting country in Europe at the moment," he said, sipping an espresso as dense as tar as we talked in his London offices, which sit on the banks of the Thames. "The craftsmanship is as good as the best anywhere."
From the Pompidou Center in Paris to the Lloyds Building in London, there's always been a strong utopian theme in Rogers's public buildings, a fresh wind of openness and transparency. And like many of us, he felt that airports had become places to loathe rather than love, and a suitable target for vigorous deconstruction. At Barajas he got the chance to do just that.
To use a British term of visceral approbation, I was gob-smacked when I flew in from London. In a sense, Barajas is already airborne. It sits on a plateau 2,000 feet above sea level, and this altitude, along with the pale hills that surround the airport, produces a light of sharp brilliance.
Terminal 4, the core of Barajas, is more than 5 million square feet in area. There are three levels aboveground and three below. Rogers wanted daylight from the roof to flood the top three floors. He did this by creating what he calls canyons — uninterrupted breaks in the structure from roof to ground level. Across the canyons, bridges connect the areas used for check-in, security, and boarding. "I wanted to get the spirit of travel back, the romance of those wonderful, lofty railway stations where you would set off for places like Istanbul," Rogers told me. "That was part of the concept of a large roof — most of all, we wanted to get the light in."
What made the most impact, though, as I moved happily through this vastness, was the novelty of the roof itself, which undulates like an arrested wave and is finished with planks of bamboo. Few people know, however, that the bamboo nearly had to be abandoned. Trial samples failed fireproofing tests. Only when a German fabricator found a way to laminate bamboo like plywood, using a flame-suppressing glue, was it cleared for use. Now, light filters between the bamboo planks and is focused through large portholes, suffusing everything in the space with a sort of weightlessness.
Barajas was completed within six years of being conceived. "Arguably," said Rogers, "in the way it was run and delivered, the most exciting job of my life." The architect, who was born in Italy, is a devoted foodie — his wife, Ruth, created the swish River Café (and wrote the cookbooks featuring its refined Italian cuisine), which is conveniently next to his offices. "I'm a great believer in food as a good way of sparking ideas. In Spain we ate very well, we drank, we went out at night, but they get the work done."
In contrast, his new British Airways Terminal 5 at Heathrow, which opens this spring, took 20 years to build. What architects call the "client body" was 450 people strong in London, every one of them with an opinion; in Madrid, it was 20.
That, I thought, could be one reason architects love working in Spain.
I've been visiting Spain since 1958, when I drove there from London to see a building then only vaguely heeded in northern Europe, the cathedral in Barcelona known as La Sagrada Familia, by an architect thought by some to be deranged and by others a genius, Antoni Gaudí. He died in 1926, leaving incomplete drawings of his cathedral, and by 1958, with Spain living in the stasis of the Franco regime, resources were scarce and the work had not progressed very far from how it looked in a 1900 postcard that I found. At the hot, dusty site on the Carrer Provença, only a few masons labored away behind a high fence. The cathedral was little more than a facade, but what a facade! I looked and looked at the four spires shaped like slender rockets, their surfaces pitted and barnacled and dripping in a decorative scrim of stone. A keen amateur student of architecture, I felt I had been punched in the eyes and forced to rethink what architecture was — and could be.
Gaudí smashed the mold. He was certainly odd, but visionary, too: His last secular building, the apartment block called Casa Mila — finished in 1910, in the infancy of the automobile — included an underground parking garage. In a real sense, no architect working in Spain today can be immune to the presence of Gaudí's astonishing imagination.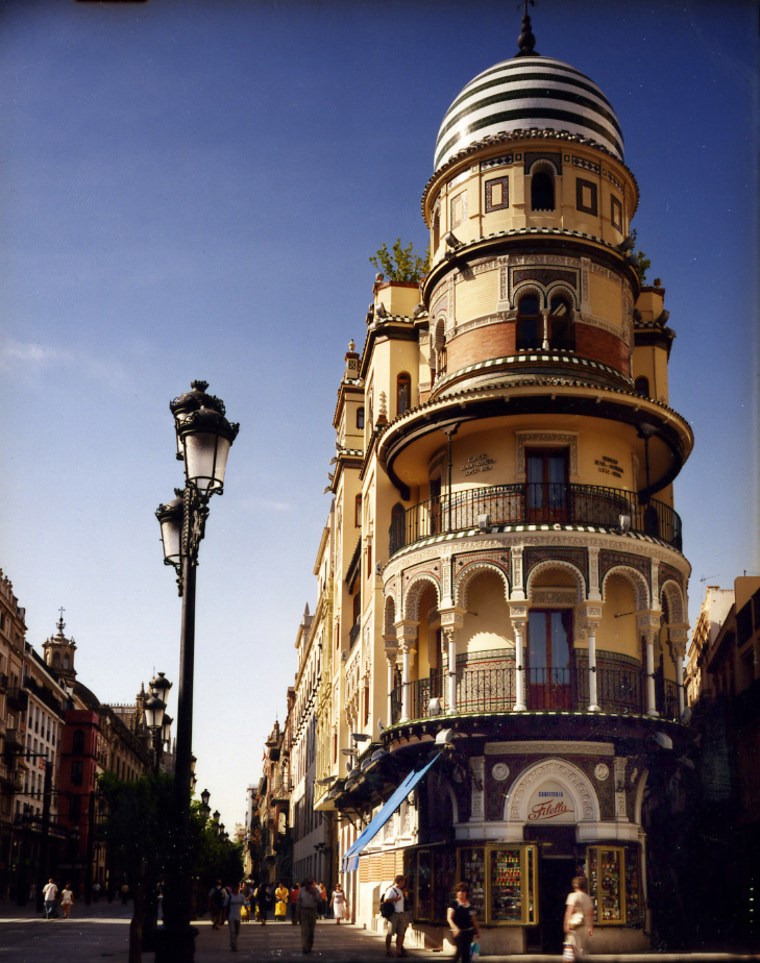 In the 1970s, when Spain sprang free, more or less overnight, from Franco's repressive 36-year grip, there was a surge of creative energy that could not be matched elsewhere in Europe — not even in those countries later blessed by release from communism. After I had traveled from southern Andalusia to the northern Atlantic coast and had seen works finished, works in progress, and works being conceived, it struck me that the Spanish have been able to do more within a couple of decades of rejoining the rest of Europe to advance the drama of their landscapes than would be possible in a country with an infrastructure put in place much earlier — not to mention one with a conservative bent for valuing the past more than the future, or with the complacency that comes from giving the world 2,000 years of classic building styles. (Think Italy.)
Right now, nowhere else in Europe has such visually rewarding travel. For example, the new highways that link the northwestern province of Galicia with Madrid involved boring tunnels through mountains and building long viaducts across valleys. This has been achieved with something more than engineering — there is a visual panache to these works, a verve that goes beyond what is required simply for function. I drove over a succession of bridges in the northwest, some of them spanning little more than streams, that were individually distinct and collectively a symphony of bridge-making art. Any country that cares that much about how one small bridge fits into a landscape shows the same love of detail that the Romans insisted upon in feats like the magnificent Pont du Gard aqueduct in southern France — a structure that's so much more than just a channel for carrying water 31 miles for the public baths in Nîmes. That's the thing about good architecture: It leaves a reputation that can last a couple of thousand years.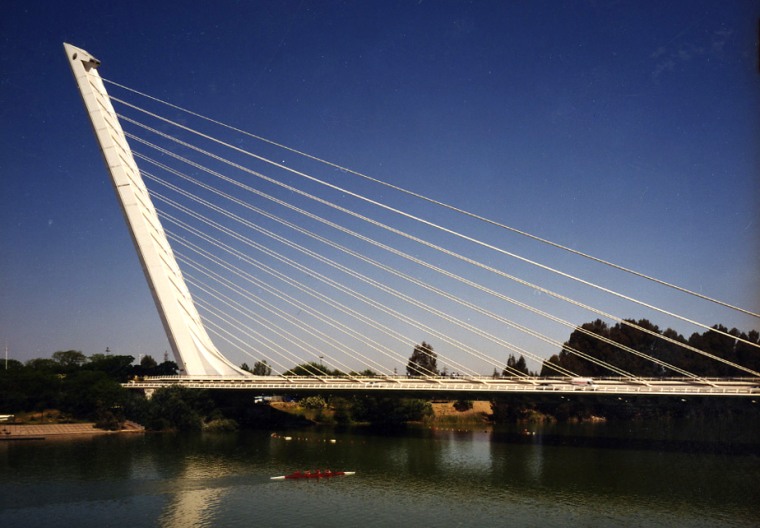 Seville, the landlocked capital of Andalusia, is a real test of whether a surge of modern building can sit well in a city with a fragile, storied past. I was last there a year before it staged the 1992 World Expo, and worried in a grumpy way that it might be too hell-bent in pursuit of the new. (The urge for renewal is more easily understood when you discover that, thanks to Franco, as late as 1982, Andalusia had not one functioning theater or orchestra.) As it worked out, the Expo left three notable landmarks: the Alamillo Bridge, by Santiago Calatrava, supported by its single, sharply angled pylon like the upended frame of a harp; the Santa Justa railroad station, a truly inspired updating of the Victorian vaulted shed, by Antonio Cruz and Antonio Ortiz; and an airport terminal by Rafael Moneo that, to this day, is a pleasure to pass through. None of these damaged the city's character.
The old core of Seville was shaped by the Arabs from 710 to 1248; Moorish architecture went with what was, by the tenth century, city planning of a very advanced order. Simple and effective climate control, conceived in the desert, came to urban living in the form of many inner courtyards where fountains were used to convect warm air upward and cool air downward for human comfort. You could have hoped that the Arab street plan, with as many twists as a souk, would defeat the car. But by 1991, I could already see that the local drivers had an insouciance able to make the most formidable obstructions seem malleable. And by the beginning of this century, cars were infesting every alley.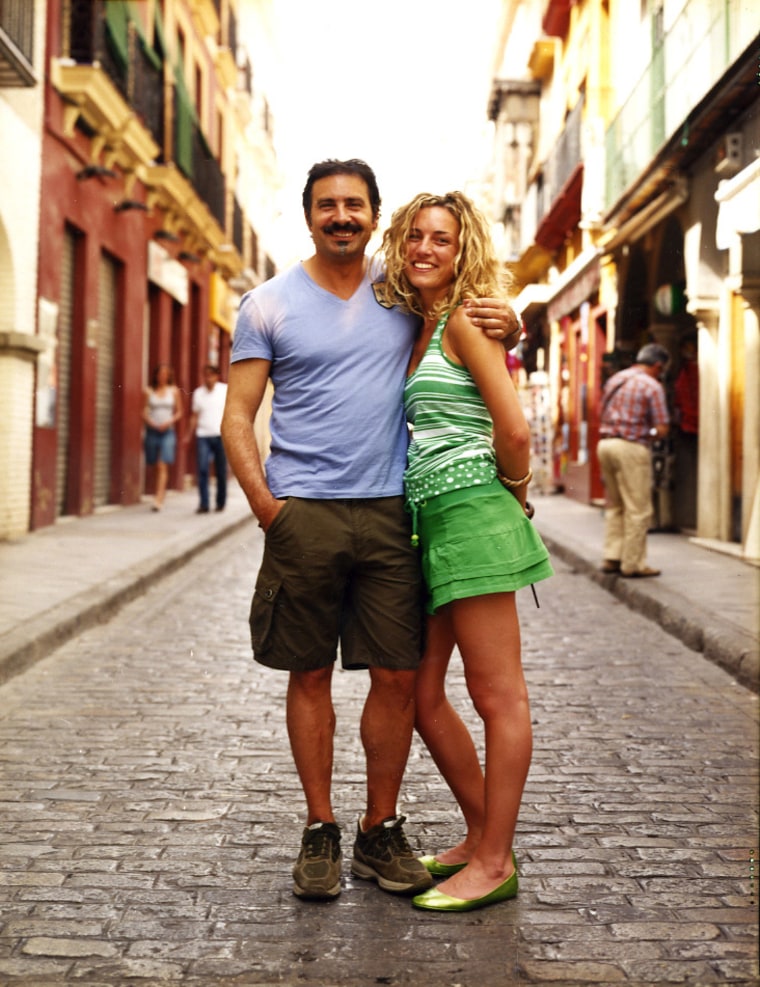 Seville was already a thriving urban center when Caesar arrived in 45 B.C. "You can't dig anywhere in this city and not find something old," said Emilio Carrillo, the deputy mayor whose remit is to shape Seville's future without further harming its extensive past, a trick that European planners never find easy. We spoke in an airless office on an island in the middle of the Guadalquivir River, a relic of the Expo site. Carrillo knows what is at stake — he's also a professor of history, as comfortable with Roman chronicles as with the grand urban scheme that he now directs, funded to the tune of $4 billion.
When we met, he had a big victory behind him. Seventy-six percent of the citizens had voted for a new plan that would, in effect, remove cars from a large part of the old city. On one condition: that a new tramway would circle the city core to make pedestrian access much easier — as historic centers go, Seville's is enormous, three square miles. The tramway, built in a year, will be a boon not simply to the more than 700,000 residents of Seville but also to the 2.2 million visitors who come each year — as will the 40 new hotels planned (many converted from convents). A high-speed rail line already brings Seville within two-and-a-half hours of Madrid, and a new line is being built from the city to the Mediterranean playground of Malaga, 90 miles away — a journey that will take just over an hour instead of three.
But perhaps the most audacious part of Seville's grand plan is an architectural phantasmagoria called the Metropol Parasol. The ambition is to redefine what that most treasured of European public spaces — the square or piazza — should be, how it works, and how it serves the urban arts. The site is the only one large enough within the boundaries of the old city that happened to be available, the Plaza de la Encarnation. Until 1973, it was a covered market; after that it was torn down, and the bare land became a parking lot. With car mania in full flood, the next idea was to build an underground garage. When the earth was being excavated, parts of Roman Seville — a colony called Hispalis — were discovered. Work stopped, and the garage was abandoned.
In 2003, the city opened an international competition for a plan to both preserve the Roman relics and revitalize the life of the square. The winning design, by the German architect Jürgen Mayer H., suggests a "War of the Worlds" touchdown by immense, straddling semivegetal beings. But the term parasol is a clue to the concept: a series of undulating, almost amorphous canopies rising nearly 92 feet above the square, supported by six fat, circular stalks, veined like sinewy old tree trunks. (When I was there, only two concrete stumps had risen.) During the course of the day, the sun and the shadows will constantly move and refract across the surfaces, changing the atmosphere of the public spaces and suggesting that the structure itself is ephemeral rather than permanent. It's a building and yet it's not, making more conventional structures seem analog in the age of digital.
Looking at the computer projections, there is something biological about the outer surfaces: They resemble the kind of organic lattice you see, for example, in the membranes inside a lung. Just how dramatic this will be in actuality is impossible to tell — the Parasol won't be finished until late 2008, and digital images cannot, obviously, convey the physical experience that remains, at the moment, in the minds of the team that created it. But whether intended or not, whether acknowledged or not, I was reminded of the organic, plastic shape-shifting style of Antoni Gaudí — particularly of his playful, sinuous Park Guell in Barcelona, which also juggles different levels. If Gaudí — who, decades before a computer existed, deployed an instinctive ability to think in three dimensions — had had access to the right software, he might well have come up with something like the Metropol Parasol.
A great city square makes tangible a platonic ideal of the intermingling of peoples; locals and visitors are at one in a space that pleases the eye in every direction, rests weary feet, and distills the character of the city to the details of gesture, voice, and style. In a real sense, the whole world flows through it and is caught, from dawn until late at night, in the best of moods. It is also where the barriers between indoors and outdoors are porous: We like the freedom to move into the café and then out to the tables, to sit in a torpor under a tree or take the rays as they enrich the bloom of a jug of sangria. But this is strictly life conducted at one level, on an even keel without access to other perspectives. The Parasol opens up four levels, or stages, for the street life to migrate within the square — some large enough for, say, a chamber music performance; some shaped for café, bar, and restaurant; some for kids at play; some for shopping and marketing. With each level open on all sides but also giving selective shelter, the attractions are flexible enough to adapt to all the Andalusian seasons and the climate.
One can see why the concept won over the city managers. Before Carillo sent me off to look at the works in the Plaza de la Encarnacion, I asked him who he thought, from his perspective as a history professor and urban czar, were the best city planners. He didn't hesitate.
"The Arabs," he said.
Valencia is a Mediterranean city but doesn't feel like one. Unlike Barcelona, whose whole disposition within a broad amphitheater is canted toward the sea — where the city is, in effect, living in a bowl that focuses the Mediterranean light on the wide boulevards — Valencia has an old city center that is one-and-a-half miles from the coast and, like any once walled city, looks inward rather than outward. When I had digested my paella, I walked off to the project that has tipped the city's gravity further toward the sea: the City of Arts and Sciences. The science and the art are powerfully apparent in the buildings themselves — they are an eye-popping sight as you approach, following the old bed of a diverted river, resembling, from a distance, a sculpture park.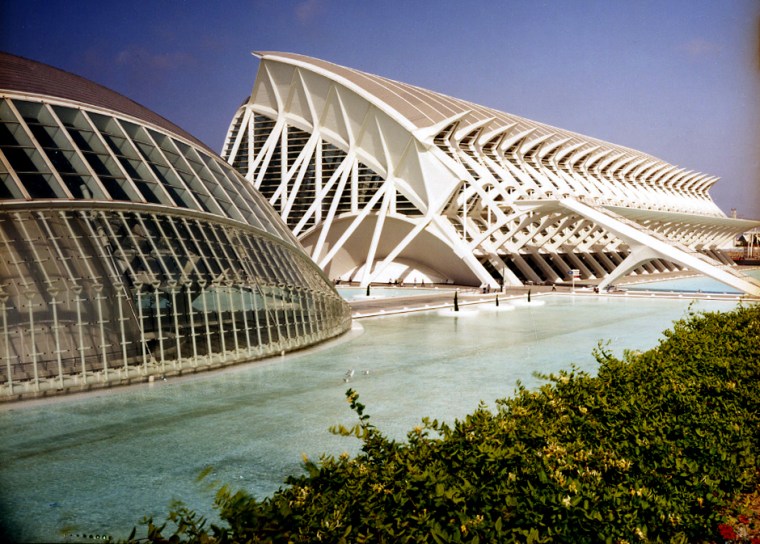 Santiago Calatrava, the hometown boy, has four buildings: the Palace of the Arts Reina Sofia, containing four theaters with a total of more than 4,000 seats; a planetarium and IMAX cinema called L'Hemisferic; the Science Museum; and a car park complex called L'Umbracle. Beyond these, somewhat out on a limb, is Europe's largest aquarium, L'Oceanographic, the last work by the renowned Spanish architect Felix Candela, who died in 1997, well before it was completed.
The Palace of the Arts, wrapped in a swooping, sharp-ended white cowl, looks like a gigantic bicycle racer's helmet fallen to earth behind palm trees. Beyond the Palace of the Arts and a soaring road bridge finished in a lapis-like mineral blue, another agent of drama is revealed: water. Two of the buildings, L'Hemisferic and the Science Museum, are placed amid three wide and shallow pools. I wasn't prepared for this — nothing I had seen or read about the site had suggested the effect of the water on the appearance and even the substance of the buildings. Valencia is known for a distinctive quality of light, called La Clara. It was near the end of winter when I was there, and the sky was arctic blue. I was reminded of Toronto's lake-reflected light, which has the same clarity — and yet it was different. Certainly the Mediterranean, although out of view, was collaborating.
An uncanny visual fusion occurs here between the sky and the ponds, creating a mirror effect in which the predominantly white and glass buildings seem to be afloat on a sea of such azure brilliance that structural features melt into a kind of shimmering plasma. I've never seen an effect quite like it: The architecture assumes a dimension utterly detached from its terrestrial purposes, and it's enough, for a while, just to sit on the edge of a pool and marvel at the achievement. There's certainly never been a better example of creating an atmosphere — almost an aura — for buildings by co-opting the natural elements and the climate, rather like the collusion at Giza of the pyramids and the desert.
Of Calatrava's works, the Science Museum is the one I found disappointing. Externally, the impression is of a massive vertebral frame, the bones blanched by the sun — of a mastodon, if you will, that spent too long sprawled on a Mediterranean beach and dehydrated to a skeleton. The effect is cleverly to eliminate any sense of bulk. As a consequence, when heading for the entrance you expect to find yourself inside a lofty space flooded with light. Instead, the facilities that stretch out along a corridor — ticket desk, gift shops, cloakrooms, and restaurants — conceal rather than reveal the scale. It's not until you take one in a bank of escalators and reach the second floor, where the exhibits begin, that you start to see natural light. One side of the building is a three-story atrium, kept for special shows and receptions, where the arching ribs are free to liberate light and space. But on the other side, each of the permanent exhibit floors is compartmentalized — the scale is lost, and you could be in a humdrum municipal museum, not a building of this ambition and art. Perversely, the museum turns its back on the magic of La Clara.
There are no Arab imprints on the northwest province of Galicia — the Moors barely gained a foothold in this corner of Spain and were ejected after only 30 years or so. Perhaps they didn't care. The climate would not have been to their taste: This is not a place in which to lounge indolently in balmy, watered courtyards. Atlantic air, gales, and rain make the region as green as Ireland, and it is as far from the Mediterranean as you can get in Iberia — the antithesis of the generally promoted picture of heliotropic Spain. Nonetheless, there are more than 700 beaches on the Atlantic coast, many of them in secluded coves, and Galicia's fishing fleet delivers a quarter of all the fish landed in Europe: Seafood underpins a regional cuisine as good as any in Spain. As climate change threatens to turn southern Spain to toast, Galicia is being touted as Green Spain.
The highway I took from Bilbao west to Galicia follows the legendary pilgrim route, the Camino de Santiago, ending at the barrel-vaulted Romanesque cathedral in Santiago de Compostela. But these days, it is not just the supposed sepulcher of the disciple Saint James (Santiago the Greater) that draws devotion here. One of the most protracted architectural endeavors in Europe is beginning to emerge on a hill outside the city. A Google Earth view of the site reveals a strange mirror image of the kidney-shaped plan of Santiago's medieval center. This was part of the vision of New York architect Peter Eisenman, who won an international competition in 1999 to create the Cultural City of Galicia.
Eisenman (who competed against ten other architects, including Daniel Libeskind and Jean Nouvel) was an unlikely avatar of this remote region's ambitions. His architecture is highly intellectual in its genesis: Eisenman's theoretical epistles are so prolix that they would have given Pythagoras a migraine, peppered as they are with allusions to the likes of Friedrich Nietzsche and Jacques Derrida. (In person, it has to be said, Eisenman, whose favorite garment is a feral sweater, is congenial and highly accessible, with eyes eager for argument.) It was not until he was in his 60s that Eisenman began to get major works built — his spectral new football stadium in Phoenix, for example, and in Berlin his bleak, haunting Holocaust memorial, a field of dissonant cubes. In Spain, however, his design was persuasive because of one surprisingly simple inspiration. Rather than build something triumphal, using the hill as a podium for a trophy that would be visible for miles, Eisenman instead proposed a series of buildings that would conform to the very shape of the hill. To put it simply (far more simply than he would be inclined to articulate), this meant scooping out the top of the hill and then replacing it, in metal and stone.
This could be, literally, the instigation of what might be called the architecture of topography — or, more catchily, of ground-scrapers — in which the earth itself becomes an organic element of a building and imposes a discipline of contours that, instead of creating a new skyline, subverts the architecture to the embrace of its site. (There are at least two similar schemes under way — or underfoot — in Spain: a park in Alicante and an athletics stadium in the Canary Islands.)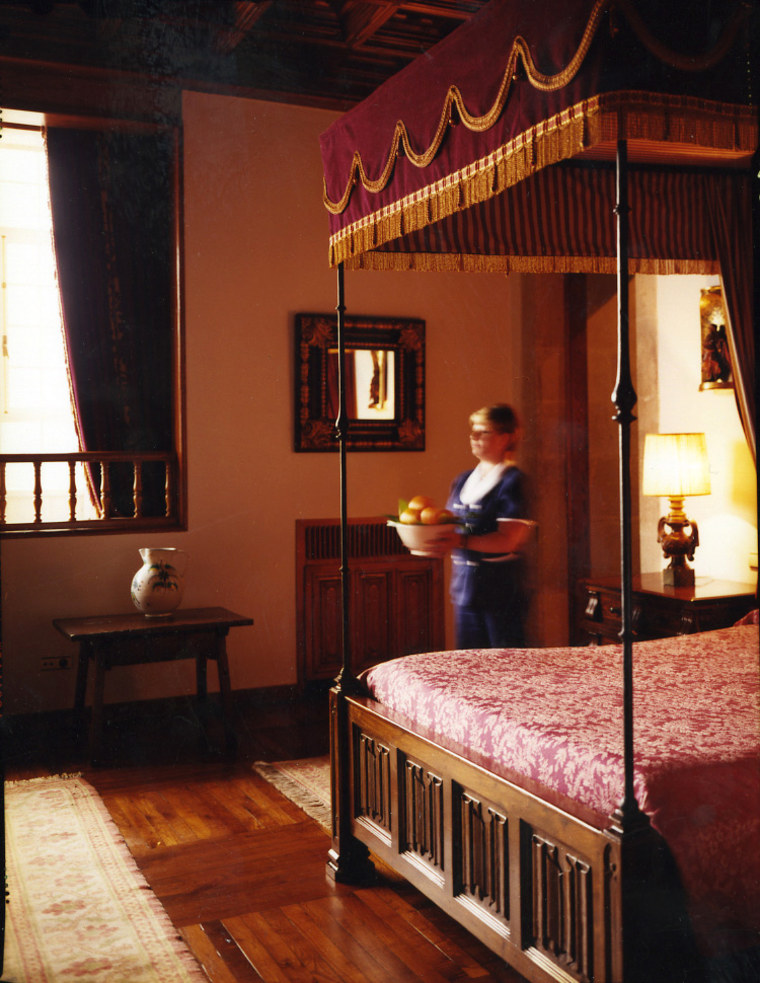 The City of Culture of Galicia, it turns out, has been constrained by more than its site. In Spain, anything that comes with a regional tag is inevitably bound up in the politics of devolution, the wish to assert a cultural independence of Madrid that would never have been tolerated by Franco. In Galicia, 60 percent of the people speak Galician, a Latin tongue that sounds a lot like Portuguese — and, as in Catalonia and the Basque Country, cultural independence is a hot-button issue. But in Galicia, things are more complicated. This was Franco's birthplace, and it has been slow to shake off the vestiges of his politics: From 1990 to 2005, the region was run by Manuel Fraga, a former minister and ambassador in the Franco regime, a Holocaust denier, and by all accounts unrepentant in the joys of absolute power. The City of Culture was to be part of a personal legacy wrapped in Galician patriotism.
Eisenman told me that once Fraga saw the model for his design — a beautifully crafted scallop-shaped cluster — the result was a slam dunk, proving that Fraga operated with the impunity of a Medici prince. As Eisenman refined his ideas (the model conveyed little more than a shape), the two of them — the aging Fascist and the radical postmodernist — bonded. It was an architect's dream: a single client with a load of money. And then, in 2005, Fraga was voted out. The regional government switched to a left wing–controlled coalition, and Eisenman's project was stalled while the new regime decided whether it fit their definition of cultural ecstasy. Finally, last year, they gave it the green light. Galicia supports two successful classical orchestras and badly needs the 1,400-seat opera house that is part of the scheme — and which, on its own, will come close to the $120 million cost of Gehry's Guggenheim in Bilbao. But like the Sydney Opera House that was notoriously late in emerging, Eisenman's vision, when it is completed, promises to be a remarkably original achievement, one that will influence a new generation of architects who will, like the pilgrims heading for saintly bones, have to take the road to Santiago — as will the rest of us for whom this idiosyncratic corner of Iberia offers a refreshing diversion.
My journeys through the country confirmed a widely held contention: In Spain, the regional distinctions are more numerous, sharper, and more ardently guarded than elsewhere in Europe. You could never confuse the cultural signatures of, say, Galicia (Celtic goes Gothic), the Basque coast (clannish obduracy), Catalonia (all blazing primary colors), and Andalusia (Moorish at heart). But, creditably, as architectural patrons, these places have not turned out to be parochial and self-regarding. Everywhere there is an openness to visual originality, an appetite for unfettered ideas that has drawn an astonishing parade of international stars.
However hard they try, though, nobody seems likely to top Bilbao's trick, where a single building, Gehry's Guggenheim, regenerated a whole city. (The museum has been extraordinarily successful as an art venue, with the attendance for some shows getting into the world's top ten.) But there is much more emerging than just the work of architectural superstars. Many of the new constructions have social purposes — city halls, schools, colleges (and in Leon, a striking mortuary!). I saw a lot of unsung felicities of design and imagination. Add to all this the infrastructure — highways, bridges, airports, railroad stations — and you get a terrific display of skills and style. Nothing seems too daring. If the spirit in Spain can be categorized at all, perhaps the best word for it would be Latin, a term used by Richard Rogers's partner, Ivan Harbour, who worked on both Barajas and Heathrow's new Terminal 5. "You could never build Barajas in London because it's Latin," Harbour said. "You could never build Terminal 5 in Spain. It wouldn't work. They're different animals."
But this idea of "Latin" is secular and singularly Iberian, and it should incorporate the hand of those who rode into Europe's southernmost peninsula from the desert, carrying with them the spore of cultures from as far off as China, Persia, and the Levant, and built cities far more sophisticated than anywhere else in Europe.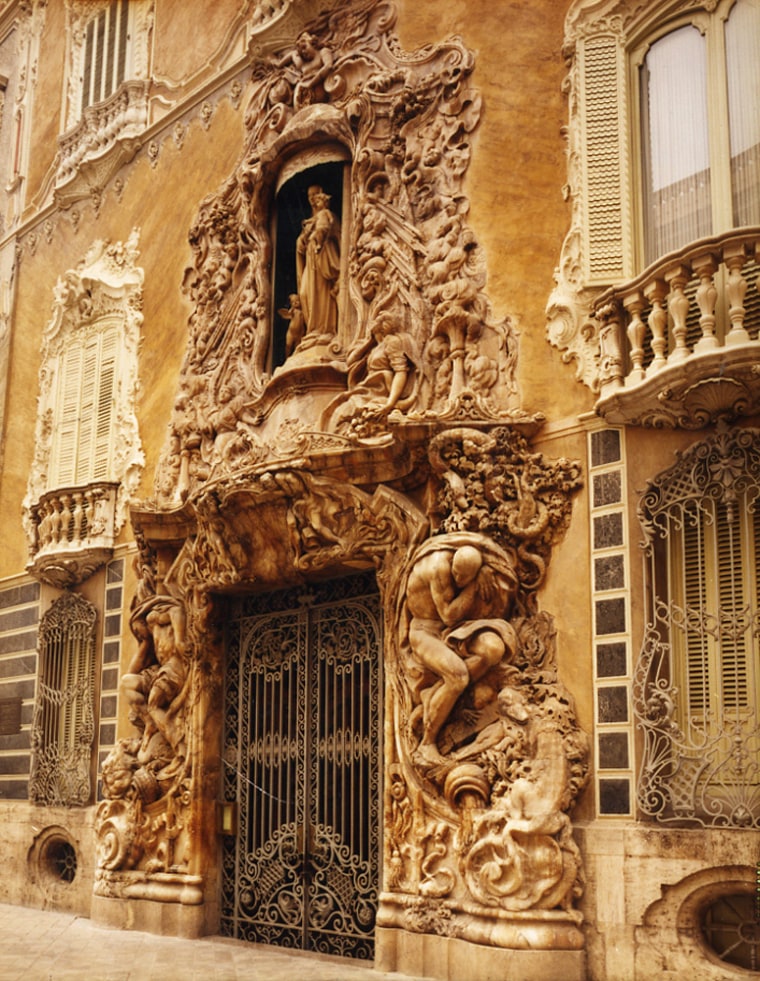 The airiness of Barajas — the rare lightness of a building this large — conveys something of the feel of a tent, or of many tents hitched together under that wavy roof, as though deflecting a searing wind. Was this, I wondered aloud to Rogers, another subconscious mutation of the architecture that began in the desert?
"One of the things that fascinates me," said Rogers, "is the whole Moorish invasion. That brought a very rich vein to the culture ... In Spain, they have learned so much from North Africa."
It is their influence you feel in his airport, too. As in those Moorish courtyards, the air in the Barajas Terminal is, once chilled, free to circulate by convection through the high, open space of the canyons.
"So the Moors do still have an influence?" I suggested.