/ Source: The Associated Press
A methamphetamine dealer who gunned down a deputy during a traffic stop in Southern California. A man in Arizona who killed his ex-girlfriend's parents and brother and snatched his children. A man who suffocated his baby daughter and left her body in a toolbag on an expressway overpass near Chicago.
Ordinarily, these would be death penalty cases. But these men fled to Mexico, thereby escaping the possibility of execution.
The reason: Mexico refuses to send anyone back to the United States unless the U.S. gives assurances it won't seek the death penalty  a 30-year-old policy that rankles some American prosecutors and enrages victims' families.
"We find it extremely disturbing that the Mexican government would dictate to us, in Arizona, how we would enforce our laws at the same time they are complaining about our immigration laws," said Barnett Lotstein, special assistant to the prosecutor in Maricopa County, Arizona, which includes Phoenix.
"Even in the most egregious cases, the Mexican authorities say, 'No way,' and that's not justice," Lotstein said. "That's an interference of Mexican authorities in our judicial process in Arizona."
Some countries want 'death assurances'
It may be about to happen again: A Marine accused of murdering a pregnant comrade in North Carolina and burning her remains in his backyard is believed to have fled to Mexico. Prosecutors said they have not decided whether to seek the death penalty. But if the Marine is captured in Mexico, capital punishment will be off the table.
Fugitives trying to escape the long arm of the law have been making a run for the border ever since frontier days, a practice romanticized in countless Hollywood Westerns.
Mexico routinely returns fugitives to the U.S. to face justice. But under a 1978 treaty with the U.S., Mexico, which has no death penalty, will not extradite anyone facing possible execution. To get their hands on a fugitive, U.S. prosecutors must agree to seek no more than life in prison.
Other countries, including France and Canada, also demand such "death assurances." But the problem is more common with Mexico.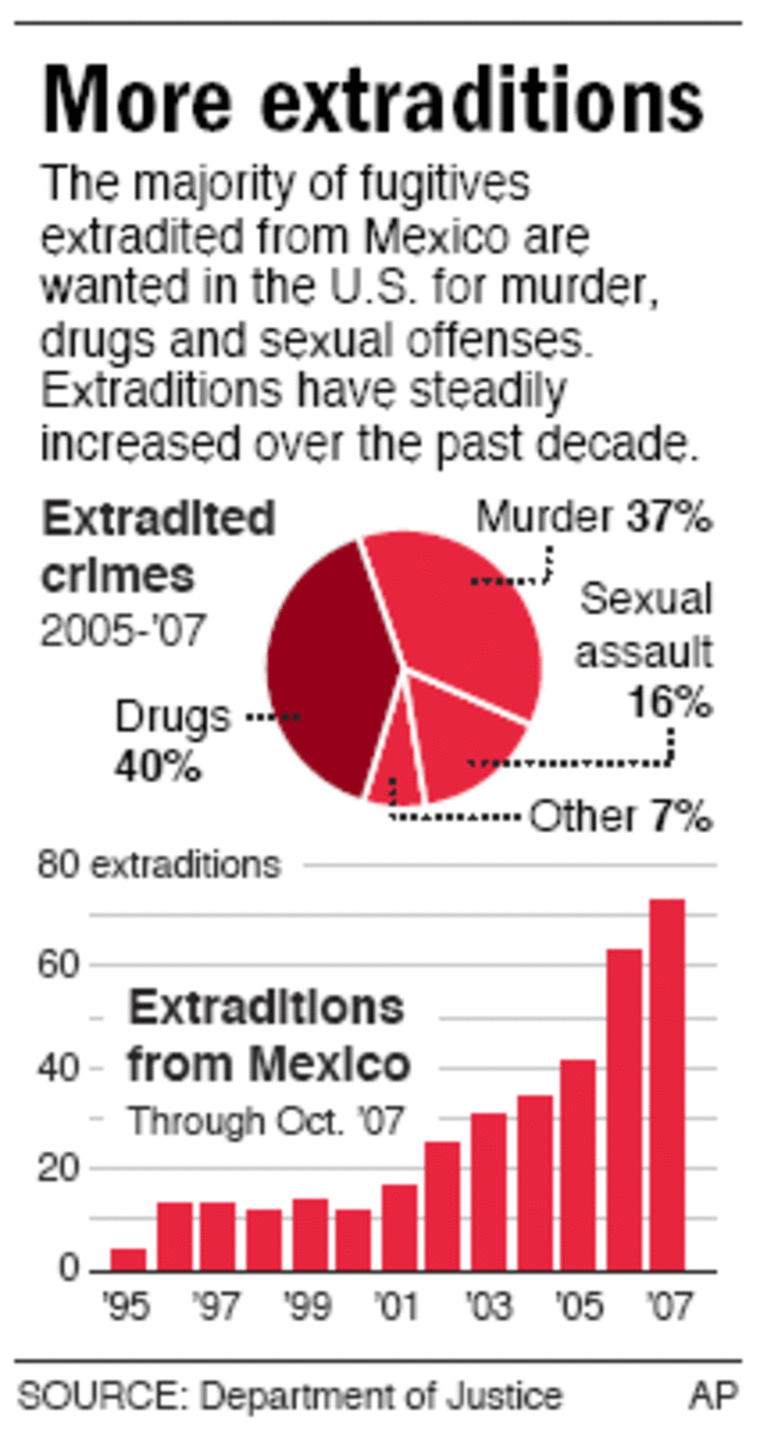 "If you can get to Mexico — if you have the means — it's a way of escaping the death penalty," said Issac Unah, a University of North Carolina political science professor.
The Justice Department said death assurances from foreign countries are fairly common, but it had no immediate numbers. State Department officials said Mexico extradited 73 suspects to the U.S. in 2007. Most were wanted on drug or murder charges.
Lolita Parkinson, a spokeswoman for the Mexican Consulate in Houston, said Mexico opposes capital punishment on human rights grounds and has a particular obligation to protect the rights of people of Mexican descent who face prosecution in the U.S.
The U.S. government typically pays more attention to those entering the country from Mexico than it does to those trying to leave the U.S. But Texas authorities have begun making checks of vehicles and drivers heading south on the 25 international bridges that connect the state to Mexico.
The initiative, announced in October, was originally intended to catch drug smugglers taking cash or stolen cars into Mexico, but "we would hope it would be a deterrent for fugitives" as well, said Allison Castle, a spokeswoman for Gov. Rick Perry.
Officials work together in Marine case
In the North Carolina case, local authorities and the FBI are working with Mexican law enforcement to hunt down Cpl. Cesar Armando Laurean, a 21-year-old naturalized U.S. citizen born in Mexico. He is accused of killing 20-year-old Lance Cpl. Maria Lauterbach in mid-December, months after she accused him of rape.
Wanted posters and information on Laurean have been distributed to the Mexican media.
Also recently, prosecutors in Dallas pledged not to seek the death penalty if Mexico extradites Ernesto Reyes, a man accused of killing and burning the body of a University of North Texas student last year. That extradition request is still pending.
Last March, Teri March, the widow of a Los Angeles County sheriff's deputy who was killed during a traffic stop in 2002, lashed out at Mexico's justice system as Jorge Arroyo Garcia was sentenced to life in prison in California after hiding out in Mexico.
"Garcia hid and hid behind a system that was very broken," she said.
Lotstein, the prosecutor's assistant in Phoenix, said the county has agreed to drop the death penalty in a number of cases: "The option we have is absolutely no justice, or partial justice."