/ Source: The Associated Press
Mikhail Saakashvili was sworn in to a second presidential term Sunday, pledging to mend fences with Russia, push Georgia closer to the West and bring prosperity to the ex-Soviet republic troubled by a divisive election that opponents claim was rigged.
Tens of thousands of opposition activists, meanwhile, rallied in another part of the Georgian capital, pressing their demands for a recount of the Jan. 5 vote and demanding Saakashvili's resignation.
After taking the oath of office in an elaborate ceremony outside parliament in the center of the Georgian capital, the 40-year-old U.S.-educated lawyer reached out to opposition leaders and called the country a unified force.
"Our strength is in our unity. We must unite and build our country together," Saakashvili told the thousands who gathered for the ceremony. "We are going down different paths, but we have a common direction."
The event was followed by a military parade along the main boulevard that featured heavy weaponry and soldiers carrying not Russian-made Kalashnikov rifles but U.S.-made weapons — a sign of Saakashvili's intention to pull the ex-Soviet nation further from Moscow's orbit toward the United States and the West.
Russia, U.S. represented
Saakashvili spoke outside the parliament building, which was draped with massive bunting in the colors of the Georgian flag, and he was flanked by dozens of guests, including Russian Foreign Minister Sergey Lavrov. The United States sent a midlevel official — Commerce Secretary Carlos Gutierrez.
In his speech, Saakashvili renewed calls to repair ties between Moscow and Tbilisi — ties strained by border disputes and increasing American influence.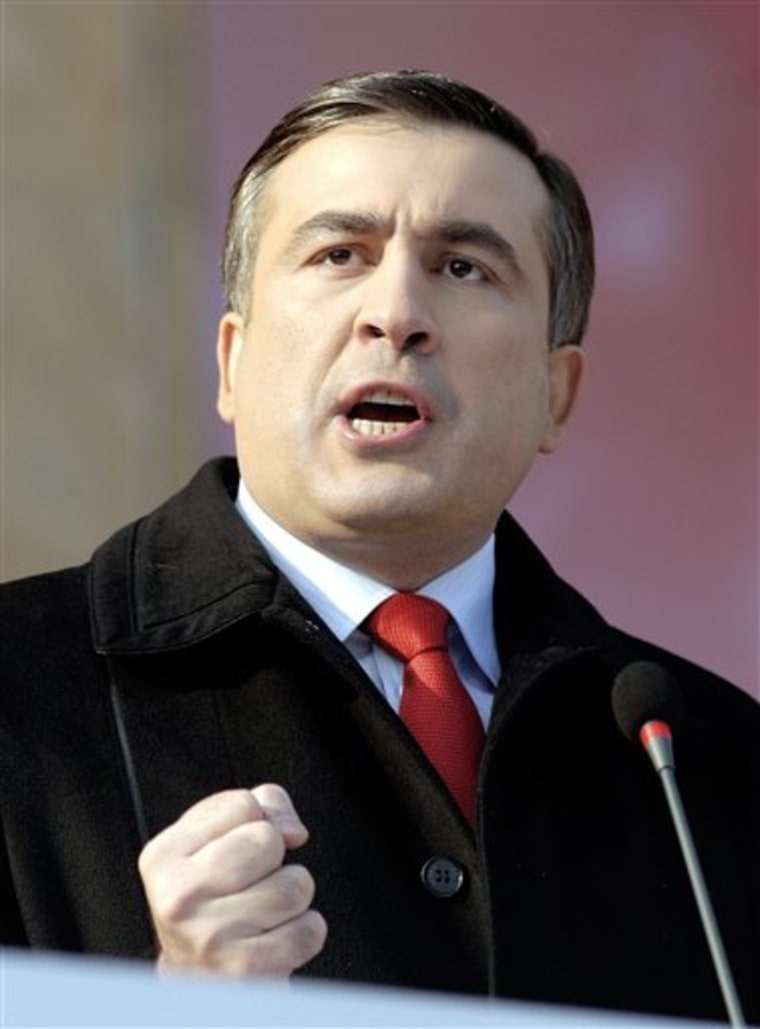 "Four years ago, we extended a hand of friendship and cooperation to Russia. Today, I want to repeat that offer," he said.
Later he met with Lavrov in a meeting that was prominently publicized on Georgian and Russian television:
"We do believe and we think that we must once again try to improve our relations," Saakashvili was quoted as saying by Russian news agencies.
The Georgian leader won more than 53 percent of the Jan. 5 vote, according to official results. The opposition claims fraud pushed him over the 50 percent threshold for an outright victory and wants a runoff with opposition candidate Levan Gachechiladze, who officially won about 25 percent.
Tens of thousands of opposition activists carrying Georgian flags and placards — some of which read in English "Rigged Elections!" — pressed their demand for a new vote, rallying at a site away from the inauguration ceremony.
Gachechiladze told the crowd that the opposition would refrain from violence, but he warned of mass protests in the campaign leading up to parliamentary elections in May.
"There is no president in Georgia, because the people did not give impostor Mikhail Saakashvili any mandate of trust," he said.
U.S. envoy meets
On the eve of the inauguration, a U.S. diplomat met with government and opposition representatives and said both should work to improve democracy in the Caucasus Mountains nation. U.S. Deputy Assistant Secretary of State Matthew J. Bryza said the government and its opponents should concentrate on ensuring a free and fair parliamentary election this spring.
While his words implied criticism of the government, they also suggested the opposition should accept Saakashvili's re-election, stressing the importance of a "culture of democracy" in the region.
Saakashvili called the election a year ahead of schedule after ordering a violent crackdown on opposition protesters in November, moves aimed to maintain his grip on power and stave off a mounting opposition challenge.
International observers expressed serious concerns about the vote but said it met most of Georgia's democratic commitments, and U.S. President George W. Bush has congratulated Saakashvili on his victory.
Russia, whose relations with Georgia are badly strained, said that the election campaign could "hardly be called free and fair," but President Vladimir Putin has also congratulated Saakashvili.
Saakashvili was elected with 96 percent of the vote in January 2004 after leading the peaceful Rose Revolution protests that ousted his predecessor. But his popularity has faded amid persistent poverty and accusations of authoritarianism, and he has been unable to bring two Russian-supported breakaway regions into the fold.