/ Source: a href="http://www.skisnowboard.com/" linktype="External" target="_blank" resizable="true" status="true" scrollbars="true" fullscreen="false" location="true" menubars="true" titlebar="true" toolbar="true">SkiSnowboard.com</a
A touch of the Old West at a ski or snowboard resort adds a distinctive flavor to any winter vacation. Imagine the scene: Snakeskin boots crunch down snow-covered sidewalks, blue jeans and cowboy hats are the dress of choice, pickup trucks outnumber luxury cars, and "Your Cheatin' Heart" wafts out into the streets — along with the aroma of beefy steaks sizzling on town grills. Skip the chardonnay, son. Pour me a tall one.
These following ski and snowboard resorts have a western flair that can make any winter-sports vacation a total change of place and culture. Bring your boots, come ready to dance, and get ready to belly up to the bar.
Jackson, Wyoming, is the definitive movie-set cowboy town. Here, the Million Dollar Cowboy Bar is packed with dancers kicking up their heels to western bands, the wooden sidewalks echo to the click-clack of cowboy boots, elk-antler arches adorn the town square, and the National Museum of Wildlife Art lies nestled in the nearby hillsides. A sleigh ride through a wintering herd of thousands of elk will not soon be forgotten.
Only 12 miles down the road from Jackson is the Jackson Hole resort, which offers skiing and snowboarding for every level of the sport. The beginner and intermediate trails of the Casper Bowl area alternate between wide-open bowls and paths through the woods. The chutes and couloirs of Rendezvous Mountain will scare the pants off skiers and riders with any sense at all, and will push all skiers and riders to their limits. And when the Hobacks are open, the powder is deep, and the skies are sunny — well, life doesn't get much better.
Stay right at the mountain or get a place downtown; frequent shuttle buses make the connection between the resort and the town easy. Those who crave early-morning snow probably want to stay in Jackson Hole. Those who want to party hard and dance with the cowboys should set up camp in town.
Sun Valley, Idaho
Sun Valley Resort, like the nearby town of Ketchum, Idaho, blends European elegance with an Old West, slab-of-beef flavor. Founded in 1936 as the first destination resort in America to encourage travel by train, Sun Valley became a magnet for Hollywood glitterati, top European ski racers and ice skaters. It was also home to one of America's most iconic writers, Ernest Hemmingway. Today the storied Sun Valley Lodge still provides luxurious accommodations, and the nearby hills serve as a retreat for celebrities like Arnold Schwarzenegger, Demi Moore, Clint Eastwood and Bruce Willis. Some visitors, like yours truly, claim to have met such stars while working out or visiting local bars.
The mountain, affectionately known as Old Baldy, claims a wonderful network of trails for intermediate and expert skiers and its slopes are punctuated with some of the most beautiful timber lodges and restaurants to be found at any resort in North America. Beginners have their own mountain, Dollar Mountain, and it is the perfect spot to learn.
Ketchum still has cowboy flair, though it has been overrun by the rich and famous and by plenty of wannabes. Head to the Pioneer Saloon for wonderful prime rib and for some of the biggest baked potatoes on any menu. Or head to the Sawtooth Club to relax in an Old West state of mind on couches in front of a roaring fire — or dine on the balcony overlooking the bar. Shoppers can find everything from upscale and authentic Western wear to rustic Rocky Mountain furnishings.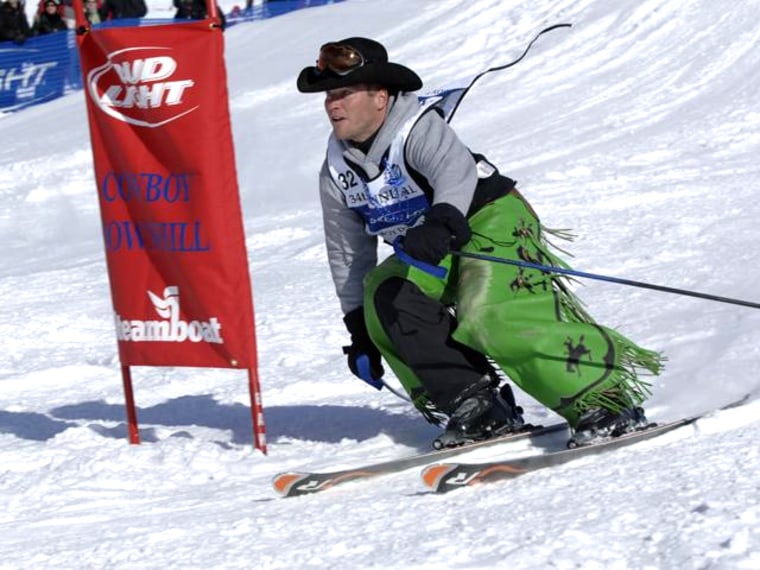 Intermediate ski and snowboard trails curl down wide and undemanding slopes, and plenty of good mellow terrain for beginners beckons at the base of the resort. Experts will find their challenge in the tree-skiing that is considered some of the best in the West. Steamboat carefully thins the aspens so that the center trails give plenty of space between the trunks; at the fringes of the tree-skiing areas, where the expert skiers head, the growth tightens up. Snowboarders are treated to terrain parks and half-pipes that are ranked among the best in the nation year after year.
Steamboat Springs' cowboy heritage can be found at the F. M. Light & Sons store, which has been selling to real cowboys for more than 100 years. Browsing the store is a hoot and a chance to pick up a pair of chaps, chinks, spurs, cowboy boots or maybe a hat. I haven't found a good place for cowboy dancing, but the Mahogany Ridge has excellent music with good blues. Head to the Steamboat Smokehouse for hickory-smoked barbecued anything — chicken, steaks, chops, sausage, ham and more. The Old West Steakhouse is guaranteed to fill up any cowboy with generous portions.
Durango, Colorado
If skiers and snowboarders can't have fun in Durango, they had better hang up their spurs and retreat to a monastery or convent. This town rocks with real Western good times and is filled with the tang of days gone by. Surrounded by ranch lands, Durango has plenty of local cowboys, and the town's residents are a nice mix of ranchers, West Coast transplants, college students and curious visitors.
Twenty-five miles north of town at Purgatory Mountain, the trails drop from the shoulders of a two-mile-long ridge into a glacial valley. The area is perfect for intermediates looking for wide-open cruising. Beginners have good learn-to-ski-or-ride trails alongside the condominiums. Experts can find good tree-skiing and some respectable steeps at the far reaches of the resort. Some of the tree-skiing stashes are surprisingly demanding.
For that Western feel, stay and dine downtown. El Rancho has been serving libations since Jack Dempsey fought his first fight there. Step back in time at the classic Diamond Belle Saloon in the historic Strater Hotel. Get ready to polka, two-step or waltz to live music with some real cowboys at the Wild Horse Saloon. The Durango and Silverton Narrow Gauge Railroad, a National Historic Landmark, winds through 46 miles of the San Juan National Forest to the old mining town of Silverton, Colorado, which is itself a National Historic Landmark District. Can't get much more historical than that.
Ruidoso, New Mexico
Ski Apache, the southernmost major ski resort in North America, is only 120 miles north of Mexico. It doesn't sound like a cowboy sort of place, but where there were Indians, there were cowboys. In the hills surrounding nearby Ruidoso, Geronimo and his Apache tribesmen waged war against the U.S. Cavalry. Here, Billy the Kid hung out and nearby, in the town of Lincoln, Pat Garrett finally cornered him. Today, real cowboys speak of Ruidoso with reverence. The Hubbard Museum of the American West displays the country's most complete collection of carriages, wagons and Western horse artifacts. Every western rancher who has ever raised a horse knows of Ruidoso Downs, whose quarter-horse races award America's biggest prizes. Starting this Memorial Day, Ruidoso will host the 50th anniversary of these races.
One of the most dramatic mountain roads in North America leads to Ski Apache. The trails drop from 11,500 feet and are split between bowl skiing and a series of runs that plunge from the peak of a forested ridge. (There is a sense of the surreal when lift attendants with long, jet-black hair help to load the chairlifts and operate the gondola. You'd think these were extras in some soon-to-be-filmed cowboy-and-Indian epic.) Beginners have a separate learning area. Intermediates have plenty of long cruising runs along the ridgeline to the west as well as all the bowl skiing and riding they can take in the huge Apache Bowl. Experts can pick out the spaces between tight trees or test themselves dropping down the steeps of the bowl.
Make sure to stop at the Cattle Baron or the Texas Club for sizzling steaks. Get in your fill of gambling at the Inn of the Mountain Gods, where a new casino sits beside a shimmering lake; its picture windows open to views of the Apache tribe's sacred mountain, Sierra Blanca. For real cowboy dancing, don't miss a night at one of my favorite dancing spots, WPS (Win Place & Show), where real western bands fiddle and strum up two-steps, cowboy waltzes and polkas until the wee hours. And, if there is a musical or dramatic performance, make sure to attend the surprising, world-class Spencer Theater.
The Old West, cowboy flavor is hard to beat and is unique to the good old United States. From the unpretentious towns of Ruidoso, Durango and Steamboat Springs to the upscale tourist towns of Jackson Hole and Ketchum/Sun Valley, the cowboy constants are locales that have great skiing and riding and also hark back, authentically, to the historic days of yore.
My guidebook, "Ski Snowboard America" (World Leisure, $24.95), is updated every year by a group of America's top ski and snowboard writers. It is the most complete resource for anyone planning a winter snow-sports vacation in North America and covers every major resort in Canada and the United States.