When it happens, there's no time to think.
Survivors have described it as being pounded, pummeled and swept away. They cannot move. Pants, jackets and shoes come flying off.
In seconds, victims could be buried under 2,000 pounds of snow.
Survival hinges on 15 minutes, the amount of time backcountry experts give to survive an avalanche.
I don't plan on going to the backcountry, areas that are outside of sanctioned trails, any time soon — or ever. I'm strictly on the greens when it comes to my sporadic snowboarding, and that's fine with me.
But I do like going snowshoeing and I know there might be a time when I wind up in territory where there could be a slide. Already this season, avalanches have killed 22 people across the American West.
So it's important to know about devices that might save your life, should you decide to go to the backcountry.
At the very least, three things need to go with you: a portable shovel, a foldable probe and an avalanche beacon/tracker/transceiver.
"You take all three or you take nothing," said Scott Schell of Backcountry Access, one of the companies that makes the life-saving devices.
He showed me how to use the company's $290 Tracker DTS avalanche beacon. It's a fat (well, at 12.8 ounces, relatively fat), but sturdy, device that has been around for more than a decade and is simple to use (http://www.backcountryaccess.com/).
For it to work, others you're trekking with need to have them, too.
Turn it on, wait for the numbers to come up on the LED screen — 99 means it's just about fully charged and will last 200 hours.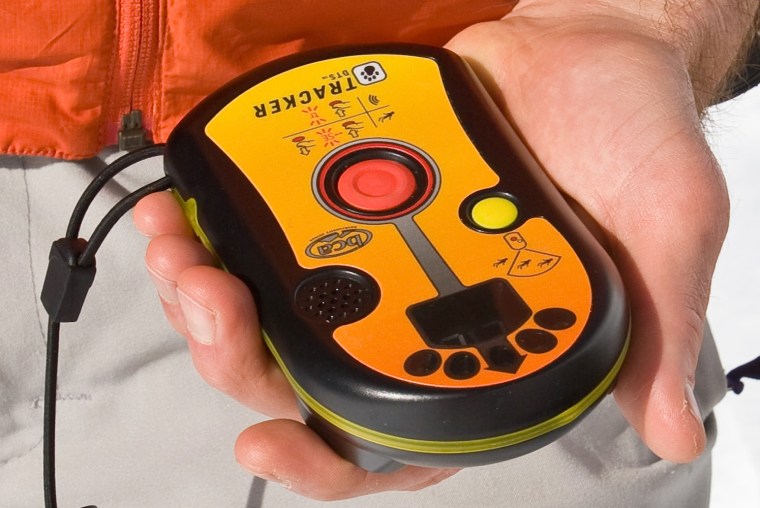 Above that readout are five directional displays that will tell you if you're on the right track. The range is 50 yards. The frequency — 457 kilohertz — it uses can penetrate snow to find another beacon.
Schell advised keeping the tracker in its harness, secured snugly over your base layer of clothing — it's the one layer that may stay on when the others fly off.
But time, time is the overriding factor.
"After 15 minutes, the chances of survival drops right off the table," said Bruce Edgerly, co-owner of Backcountry Access.
Since shoveling thousands of pounds of snow takes everything you've got — and the right techniques — that's where the minutes matter most.
The beacon cuts down the search time dramatically — as little as 2-3 minutes. Once you've hit the red button and "search" comes on the readout, you're ready.
Just move the beacon with your body until it lines up with the center; that's the direction you want to go in. The closer you are, the more intense the beeps. Once you're there, you make a grid to pinpoint the area you need to probe. Once it hits on a person, leave the probe in and start digging.
Mammut's PULSE Barryvox transceiver ($400) adds another frequency to its beacon, in addition to the locating frequency, which provides information about the buried victim.
"It's a very, very sensitive motion detector," said Chris Utzinger, the owner of Mountain Life Safety and Rescue Consulting in Montana, and a technical rep for Mammut.
"While on 'send,' the motion detector can discern major motions such as walking and riding on a chairlift."
But that stops when the carrier becomes buried, and another switch in the device activates to pick up much more subtle motion, such as respiration and circulation.
In those few, frantic moments, it is designed for prioritizing who is alive and and who has already died, so rescuers can make the most of their efforts.
Utzinger also said those who regularly visit the backcountry know all about these kinds of devices. It's the recreational skiers and snowboarders who are getting into trouble by spontaneously wandering into those areas unprepared.
Another device that has made its way through the backcountry is the Avalung ($129 to $269) by Black Diamond (http://www.avalung.com/).
It is a portable breathing apparatus that gives you the most precious chance at survival: time.
Models have evolved to spare standalones that look similar to Camelbak's hydration units, and now it's also become integrated into a backpack, making it handier for backcountry enthusiasts. But the mouthpiece must be in the mouth before a slide happens for it to work.
The device functions as an artificial air pocket that draws oxygen from the surrounding snowpack and also expels carbon dioxide into other areas of the snowpack to minimize the chances of the victim being poisoned.
"The idea is when you're dropping into potentially unstable snowpack, this is added protection," said Adam Chamberlain of Black Diamond.
"If you didn't have the mouthpiece in, you wouldn't be able to move your hands around — it's like concrete once you're in. There's not time for it."
An even more interesting — and pricey — device exists that expands that pocket of air around you: the ABS Avalanche Airbag ($949), which literally creates air pockets around you to lift you above the slide, or if you're buried, to keep a bubble around you.
The airbag (http://abssystem.com/) inflates itself like a parachute once you're caught in the avalanche, if you haven't triggered it beforehand.
"Time is life," said Chamberlain. "That's really what you're dealing with when you're buried."
Still, said Utzinger, "the fact I am taking an avalanche tracker, a probe and a shovel should not lead to the conclusion I'm taking more risks."
But because many of us have the desire to go exploring off the beaten track, if you're going to do it, remember to use the best device, the one you carry around all the time: your brain.