/ Source: The Associated Press
Gaza is a small place, and news spread quickly Wednesday that the border fence was knocked down before dawn. Pretty soon, I was caught up in a traffic jam as people raced to Rafah in buses, cars, motorcycles. Some even rode bicycles and donkey carts.
They were full of joy to get out of Gaza, after being cooped up for two years.
"Hamas has achieved a great victory to allow people to get out," declared one young man, pointing at armed members of the Islamic militant group who stood idly by as people poured over the border. The man, who is about to get married, was buying a bedroom set.
Gazans have grown accustomed to seeing borders closed off by walls and weapons, so I never thought I would see armed Egyptian security forces looking on without interfering as huge crowds ran through a breach in the wall from Gaza into Egypt.
As I walked at midmorning about 500 yards across the Israeli-built road that separates Gaza's Rafah from Egypt's Rafah, I saw people already returning, helping each other haul their purchases back into Gaza. They were carrying food, fuel, cigarettes, shoes, furniture, car parts, even generators. Several carried huge boxes of Toshiba-make TVs, ranging in price from $243 to $649.
Hamas rolls in
The big operators drove their 4-wheel-drive vehicles across the border and loaded up with building materials like cement, which are in short supply in Gaza. They drove the loads back to Gaza, then turned around and filled up again.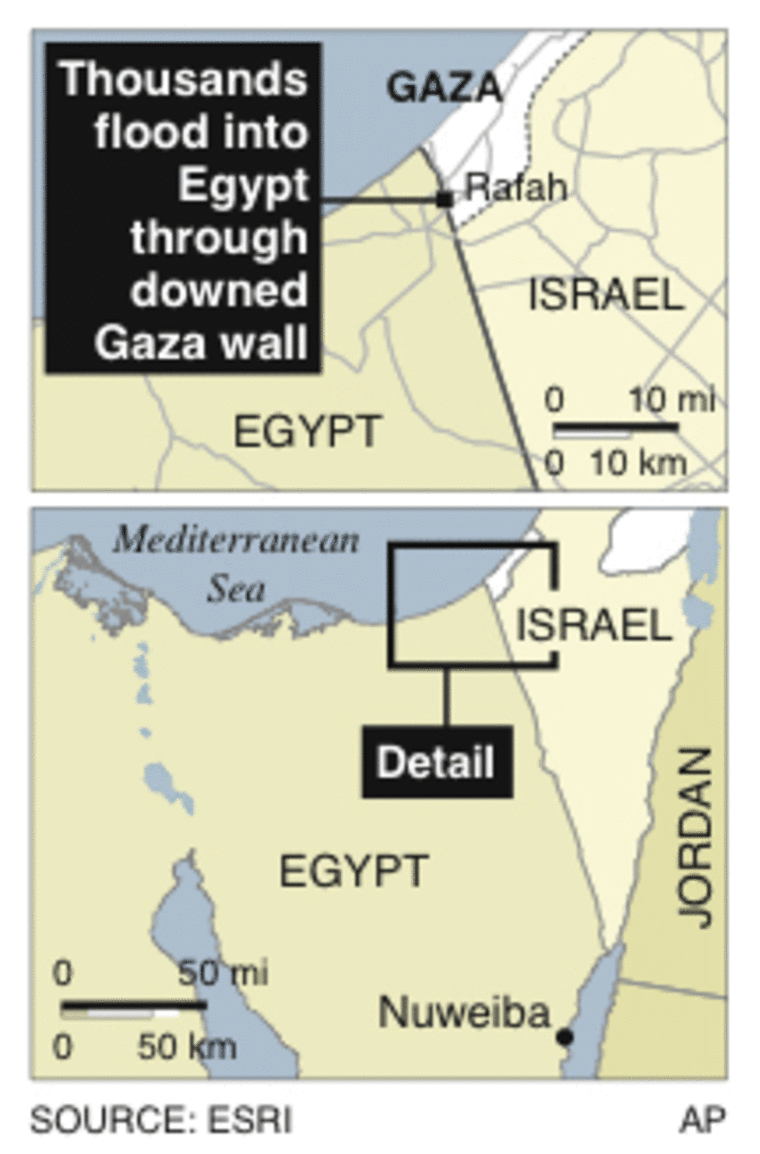 Hamas was in control. Even though there were several breaches in the border wall, the militants were allowing people to go through only two of them. Plainclothes security officers watched the crowd, stopping anyone they thought looked suspicious. They confiscated drugs and weapons that people tried to take back to Gaza.
Even men I recognized as former Fatah security officers before Fatah was defeated by the Hamas militants who overran Gaza in June praised Hamas for forcing open the border.
The merchants in Rafah couldn't believe their good luck. At one small grocery, where maybe 10 or 20 people shop on most days, there were long lines of hundreds of people fighting to get in, stripping everything off the shelves.
The shopkeepers were accepting all kinds of currency — Israeli shekels, U.S. dollars, euros, Egyptian pounds.
Price soar, fights break out 
Prices started rising, and just went up and up until things were running out and the merchants in Egypt began charging prices higher than in Gaza.
Cigarettes, which ordinarily sell for about $1.90 a pack in Gaza City, soared from an initial 80 cents on the Egyptian side of Rafah to $2.70 at their peak. As demand spiked, cartons of milk were selling for $9.50 in Rafah compared to $8.10 in Gaza.
Then people got angry.
I saw a fight between a farmer who bought two sheep and the man who sold them for twice the normal price.
It didn't take long until all the stores were empty, but people kept coming from Gaza, even those who didn't need to buy anything. They just sat around drinking tea and smoking water pipes, saying they were enjoying the first feeling of freedom in memory.
They were there to prove to their relatives — and possibly even themselves — that it was possible to get out.