/ Source: Forbes Traveler.com
Few cities in history have seen a transformation as rapid or as extreme as Moscow's in the last decade. In 1998, the Russian capital was shorthand for social and economic chaos, symbolized by a worthless ruble and gangland assassinations carried out in broad daylight. No one could have predicted that the New York Times would—ever?—name Moscow "Luxury Destination of the Year." Or that it would top Mercer Consulting's "most expensive cities in the world" list—two years running.
But that's exactly what happened. Fueled by high oil and gas prices, the economy bounced back strong, and the new glittering Moscow is resurgent Russia's showcase. The city in recent years has found its legs as a chic travel destination for high-end travelers; it is now home to multiple five-star hotels, diverse world-class cuisine and a profusion of showrooms that display everything from Ferraris to the latest Rolexes. This past December, Moscow played confident host to Supreme Luxury 2007, the annual industry powwow sponsored by the International Herald Tribune. Legendary IHT fashion editor Suzy Menkes marveled at the country's "speedy switch from drab conformity to superluxury" and concluded that "luxe [is] in the bloodline in Russia."
Few familiar with the new Russian taste for luxury would disagree. But according to some local observers, the race to reclaim lost luxury reached a Putin-era pitch that may have even been a little too feverish even by Russian standards.
"Until recently, there was a complete obsession with the idea of luxury," says Alex Shifrin, director and CEO of The Creative Factory, a Moscow boutique advertising agency. "Every new construction project, chocolate bar, restaurant, vodka brand and fruit juice was being marketed as a 'luxury' item. The term luxury became so commonplace that finding something simply above average became near to impossible. Things have recently settled a bit and there's more of a sense of proportion."
According to Merrill Lynch, Russia is among the fastest-growing emerging markets for luxury goods—and the evidence is abundant. More than 120 Italian and French luxury companies have a footprint in Russia, sized at more than 360 boutiques and growing. Many of these are collected in the famous GUM Department Store on Red Square, which Stalin converted into offices in the 1920s. Just outside the city is Barvikha Luxury Village, featuring Gucci and Armani outlets as well as a Lamborghini dealership.
The most fashionable downtown outdoors shopping strip is clustered around Bolshaya Dmitrovka, home to showrooms for everything from Crocus shoes to Hummer SUVs. It's in this quarter that you'll find work from Moscow's most of-the-moment international designer, Denis Simachev. The Simachev Boutique and club are located in the same building on Stoleshnikov pereulok. Shop for one of Simachev's latest Soviet Kitsch designs by day; hit the club downstairs at night.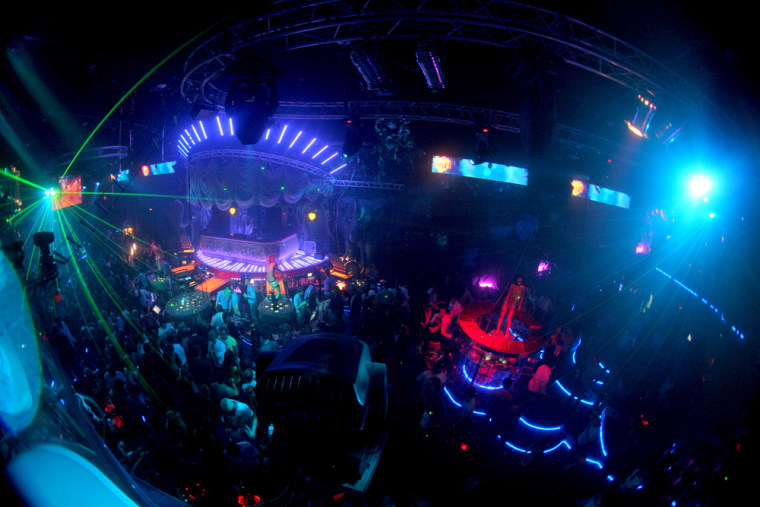 One institution warranting the luxe moniker is the Moscow Ritz Carlton, which opened its doors this July on Tverskaya street, the city's main shopping boulevard. (Across the street, a Four Seasons Hotel is under construction behind enormous billboards advertising diamond-encrusted Rolex watches.) Nightly room rates start at $1,000 and offer some of the city's best views of Red Square and the Kremlin. Its ground-level restaurant abuts a wine tasting room lined with one of the world's largest displays of vintage Petrus, and boasts three-star Michelin chef, Heinz Winkler. One of his better-known creations is the Tsar's Breakfast, which includes Kobe beef steak, foie gras, Beluga caviar and a truffle omelet, served with champagne. It rings in at $750.
The hotel's rooftop 02 Lounge, meanwhile, features a sushi bar considered among the best in a sushi-crazed city. (Sushi's exploding popularity in the Russian capital has so closely mirrored Russia's economic recovery that one Moscow newspaper last month dubbed Vladimir Putin's reign "The Sushi Years.") Like the newly opened Yoko restaurant, O2 flies in fresh seafood from Tokyo's Tsukiji fish market twice weekly.
Those interested in a cozier Moscow visit are directed to the chic Golden Apple, Moscow's first and (at present) only boutique hotel. Located just off historic Pushkin Square, The Golden Apple offers basic rooms starting at $450 per night; two ultra-modern deluxe suites are available for around $2,000 a night.
No aspect of the new glittering Moscow has received as much attention as the famously decadent and highly exclusive clubbing scene. The most storied of these "elitny" nightclubs is Diaghilev Project, which is basically off-limits to all but the most moneyed and glamorous Russians and foreigners. Everyone else can test the velvet ropes at Rai ("Heaven"). Those who get past "face control" at either venue will be greeted by scenes out of a futuristic cabaret sex-fantasy set to throbbing house music. Think Studio 54 in its heyday, minus the disco and the New York City eccentrics. Table reservations start in the low four-figures and easily run to five-figures for a night in a VIP booth.
Another newcomer to the Moscow club scene that has been making waves is GQ Bar, a restaurant and club housed in a 17th-century building on Ulitsa Baltschug.
No trip to Moscow would be complete without a night at the Bolshoi. But while the main theater is closed for reconstruction until 2009, a full schedule is being held in the smaller New Stage nearby. According to critics, the current dance troupe has returned the Bolshoi to the top of the international heap after losing its way somewhat in the troubled '90s.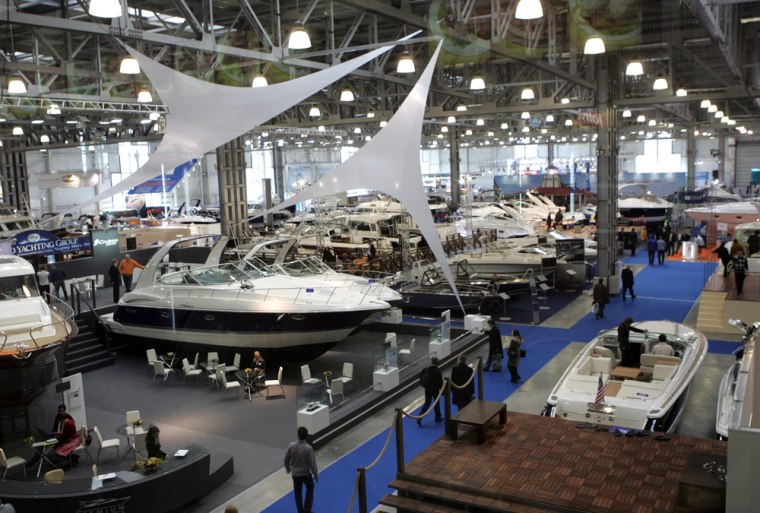 Those eager to see how Russia's new super rich spend their money might consider a visit to Moscow during the annual Millionaire's Fair, where you can buy everything from a piece of modern art to a set of million-dollar diamond-encrusted rubber tires for your Bentley. There's also the annual Moscow Yacht Festival, held every June and now one of the largest luxury boat shows in the world. To see Russia beyond the capital, consider a luxurious train ride aboard the legendary Trans-Siberian railroad, from Moscow to Vladivostok. Cox and King's offers a two-week trip starting at around $16,000 that takes you in comfort and style through eight time zones and 80 towns and cities.