/ Source: Condé Nast Traveler
St. Vincent on an early Sunday morning. The streets of Kingstown are filled with elegantly dressed men and women headed for church. The windshields of most of the taxis boast GOD IS GREAT decals. But my guide, Rafton "Tall Boy" Cordice, is headed for a different kind of worship, involving an afternoon of rice and beans, rum and Hairoun beer, sunshine and blue seas.
Thanks to an impending hurricane and airline incompetence, I've been stranded here and missing my bags — including my folding kayak — for several days. Tall Boy, who seems to know every last soul on St. Vincent, has turned out to be a godsend, escorting me to the highlights and regaling me with island trivia. The father of 20 — with a full head of black hair that belies his 72 years — has been driving me up and down the coast and to the base of the 4,000-foot La Soufrière volcano, which last erupted in 1979.
St. Vincent is to be my jumping-off point for a kayaking tour of the Grenadines, the 32-island chain at the confluence of the Caribbean Sea and the Atlantic Ocean just north of Grenada. It's a diverse bunch: St. Vincent is home to 100,000 of the chain's 119,000 population and feels like a mini Jamaica; Mustique is renowned as a playground of the rich and discourages mass tourism; Mayreau is the tiniest of inhabited islands, home to fewer than 200 people, a single unnamed village, and one of the most beautiful beaches in the Caribbean; and Tobago Cays' five uninhabited islands are protected as a marine reserve and are famous for having been a location for Johnny Depp and his pirate gang.
Like the tightly bunched British Virgin Islands, the Grenadines — stretching just 45 miles north to south — are the ideal place for the kayaking adventure I envision: short crossings in the morning, luxuriating on wide powdery beaches in the afternoon, sleeping in air-conditioned comfort. Traveling by kayak requires endurance, patience, and spontaneity. But I regard sea level as the best perspective from which to comprehend island life, and the kayak as the most ingratiating of vessels.
After all the hurricane hullabaloo, Dean passes to the north, ripping through St. Lucia. But still I have no bags, so I leave Tall Boy and board the ferry to nearby Bequia (pronounced BECK-way). Seated under an awning in the back of the boat on an 85-degree day, I am delighted to be out on the water — with or without a kayak.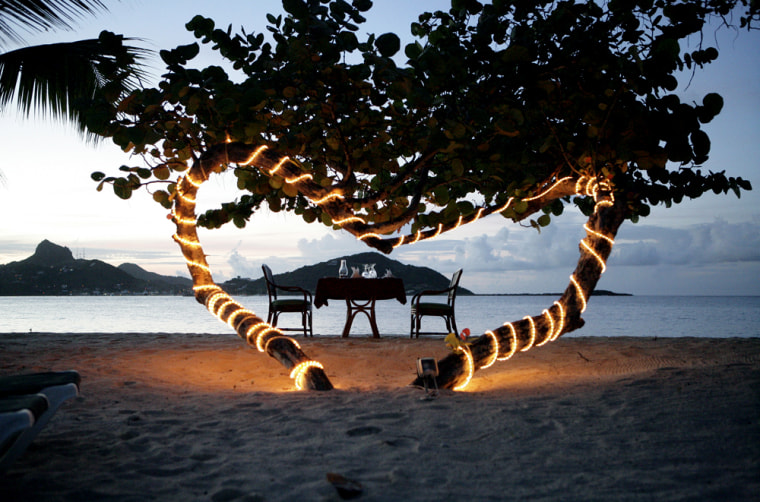 Bequia is compact, hilly, and covered with bougainvillea, cactuses, frangipani, and oleander. Historically, its industries were boatbuilding, fishing, and whaling, all of which persist to this day. The island's proximity to a migratory path of the humpback made it an important whaling station throughout the 19th and 20th centuries. Today, by agreement with the International Whaling Commission, locals can cull a total of four whales a year, although few hunters possess the necessary skills, which include throwing harpoons by hand from small open boats. On those rare occasions when a hunter is successful, the whale is towed to Semplers Cay for butchering.
"No hate. No crime," says Elson Hackshaw, who meets me at the dock and offers to show me around. "That's why I like it here. I haven't left the island in four years." Hackshaw, who has coal-black skin and pale-blue eyes, wears a striped polo shirt pulled (barely) over an expansive belly, yellow sweatpants, and sandals; his ride is a pickup truck with a CB radio, which he uses to chat with his wife as we drive.
Like most natives of Bequia, Hackshaw is a mélange of Norwegian, Portuguese, and Scottish, mixed with African as a result of the slave trade. I've asked him to drive me to Park Bay, on the Atlantic side of the island, site of Orton "Brother" King's Old Hegg Turtle Sanctuary, started in 1995 to raise endangered hawksbill hatchlings rescued from neighboring islands. The turtles are nurtured at Old Hegg until they are three years old and then are released into the sea.
The sanctuary sits at the edge of an old coconut plantation. As we pull in, an elderly woman is burning coconut husks in a small grill, readying coals to bake breadfruit. Under a nearby metal roof, several hundred endangered hawksbills live in neat man-made ponds. The wild Atlantic pounds the coast just 50 feet away.
Brother King comes out of his adjoining house wearing a frayed cap, a worn blue-and-white flowered flannel shirt, and sun-faded khakis. He is patrician handsome, tan, and leathery. "These are the most intelligent migratory animals on the planet," says King. "Put the babies into the ocean and even if they travel a thousand miles they'll swim back here to the beach where they were born to lay their eggs. Incredible, don't you think?"
King is frustrated that he can't get more help protecting the turtles. "I've had the prime ministers of Antigua and Dominica come here and tell me how important my work is, but I can't get a government anywhere to help protect them, either with laws or with money. All I can do is try to change the attitude of the kids. We bring all the schoolchildren here on field trips. We talk to them about returning the turtles to the wild so that the population can grow again, and we hope that they won't turn out to be turtle hunters. But it's hard. Once I had a magistrate visiting whose job it was to enforce the laws of the land, and he asked me if he could buy one of my turtles for soup. I joked with the policeman who'd driven him here, 'Arrest this man!' But I was serious. How am I going to change attitudes, and laws, if the lawmakers and law enforcers don't take this seriously?"
I spend the rest of the afternoon camped out under some palm trees at the Frangipani Hotel, on Admiralty Bay. The Frangipani is owned by a former prime minister and has been in the same family for more than a hundred years. Talk at the bar is of the weather (hurricanes) and politics ("you know what that Bush mon need, mon ... he needs to smoke a big spliff!"). A water taxi named Phat Shag pulls up, and its driver orders a glass of chilled red wine. Dive boats are returning from their day-trips. A bikinied woman dives off the back of a catamaran. A heavyset woman walks by under an umbrella, its hot-pink nylon contrasting sharply with the sea.
At day's end, I go for a swim. Lying on the dock afterward, I roll over and see a turtle swimming toward me, its elongated neck protruding above the placid surface. I wonder if it too is returning from a day-trip, or whether it's just back from having seen something of the world.
The MV Barracuda was once the Grenadines' mail boat. Correspondence is delivered by air these days, but the Barracuda still works the islands, carrying passengers and small goods. My folding kayak has finally arrived, and in order to make up for lost time, I board the Barracuda for the three-and-a-half-hour trip south to Union Island.
Originally one giant cotton plantation, the island rises to two peaks: Mount Olympus and Mount Parnassus, whose audacious names belie their relatively modest size. I book a room on the far side of the island at the Big Sand Hotel, on Belmont Bay, a mile from the rustic main town of Clifton.
I quickly scout the island by pickup truck and on foot. From its shores, I can see several of the chain's other islands: Mayreau and Palm, Petit St. Vincent and the Tobago Cays. I make the executive decision, simple when traveling solo, to use Big Sand — with its large air-conditioned rooms (necessary in the late-summer heat) and excellent restaurant — as my base, paddling to a different island each day.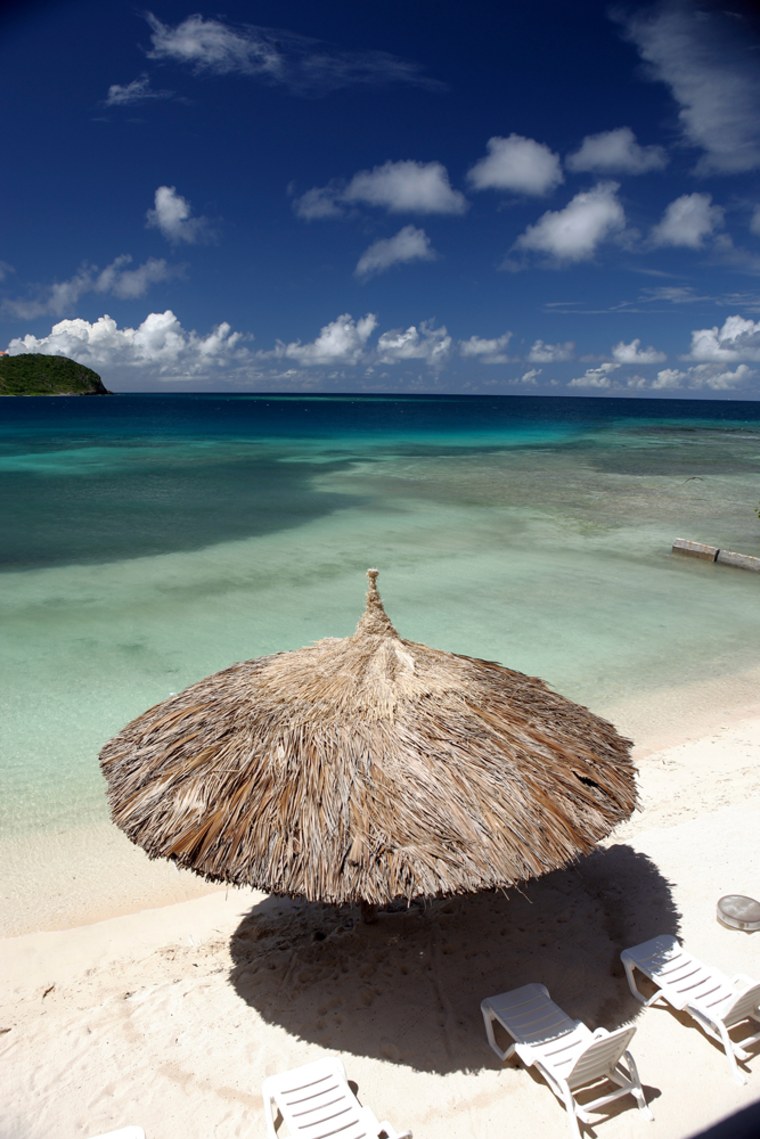 Finally, I'm ready to let the boat out of the bag. The folding Feathercraft K1 Expedition is brand-new, and assembling its aluminum frame and Duratek skin is a bit of a wrestling match. Even in the shade of the veranda outside my room, I'm sweating profusely as I struggle with the 17-foot vessel.
After 90 minutes, I carry the teal blue kayak down to the curve of beach for my first paddle — a circumnavigation of Union Island that should take about four hours. As I push off into the clear green Caribbean, I notice roiling whitecaps separating Union from nearby Mayreau. The winds typically hold off until after noon, but this morning they are up and blowing early.
The lure of kayaking is powerful, especially when traveling alone. You can go where you want, when you want. Of course, paddling solo also comes with risks: If you get into trouble, there's no one to help you. But for me the privilege of cruising along at sea level under my own steam makes it all worthwhile, especially when the occasional manta ray swims alongside as I stroke half a mile off Union's coast.
There is a long history of exploration by small boat in these islands. The Ciboney people were the first to journey from South America to St. Vincent, which they named Hairoun ("Land of the Blessed"). They would eventually continue on to Cuba and Haiti, leaving these islands to the agrarian Arawak, who had also arrived by small boat. (Columbus sailed by in 1492, although there is no record that he even saw the island, much less stopped.)
It grows windier as I slowly circle Union. Though I've been in the kayak less than an hour, my legs are cramped, so I come ashore on a deserted beach at Bloody Bay and swim in the shallow cove. Another hour's paddle along the western edge of the island brings me to the small village of Ashton, where I duck under a low bridge and follow a man-made channel to the main town of Clifton. A big thunderhead is growing to the north, toward Mayreau, and heading in my direction. Within half an hour, big drops are splattering off the sea, the kayak, and my head. When I finally return to the beach fronting Big Sand, the restaurant's boss, a slight man named Geoffrey, in pressed shirt and pants, is there to greet me with a cold beer as I step creakily out of my kayak.
These dichotomies define the Grenadines. Luxury resorts abut plywood beach bars. Sixteen-foot wooden water taxis zip among million-dollar yachts. The people on these islands seem genuinely happy, protected somehow from the inequities common to more touristed locales, the have-and-have-not nastiness that tends to muck up paradise.
The day after my circumnavigation of Union, I paddle to Mayreau, a privately owned islet of just one and a half square miles. I come ashore on a long beach called Saline and walk up the steep hill to the island's no-name village. Except for the reggae booming from one house and entertaining the whole valley, the hillside town is quiet. Modernity is a relative newcomer here. Until a few years ago, donkeys were used to carry supplies up from the bay, and a small power station brought round-the-clock electricity only in 2002. Tourists outnumber locals on most days; catamarans arrive daily from Bequia, water taxis run continuously from Union, and a Spanish cruise ship visits weekly — in anticipation of which the poisonous manchineel trees are marked with red flags, and Mayreau women sweep the beach.
From the village, a steep asphalt road wends past a handful of bars and a coral-and-stone Catholic church, to the far side of Mayreau and the sublime Saltwhistle Bay. Families pepper the beach of the protected cove, and a pair of souvenir hawkers have set up shop, offering shell necklaces and tie-dyed T-shirts. The only other presence is the elegant eight-room Saltwhistle Bay Resort, which, with its stone-and-wood bungalows scattered among neatly manicured palms, feels more like a residential enclave than a resort.
The bar at Saltwhistle Bay is open-air, with views of the Tobago Cays, where I'm headed next. The bartender whistles when I tell him of my plans. "Maybe I come with you. But ... why you don't have a motor on that thing?"
Just a mile off Union Island's port town of Clifton is 135-acre Palm Island. Not so long ago, Palm was a swampy, mosquito-infested spit named Prune Island — until veteran sailors John and Mary Caldwell happened by and in 1966 arranged to lease it from the government. (Similar arrangements have seen other Grenadine islands — including Mustique, Young Island, and Petit St. Vincent — refashioned into private playgrounds.) The Caldwells irrigated the swamp with salt water (to rid it of mosquitoes) and built bungalows; John Caldwell became known as "Johnny Coconut" because of his affection for planting palms.
Elite Island Resorts bought out the Caldwells in 1999 and turned Palm Island into the all-inclusive property it is today. When I kayak up to the beach, its phalanx of chaise longues are filled with hard bodies in skimpy bikinis and Speedos. I nurse an expensive ($12.50) rum punch at its Sunset Grill while examining a stunning turquoise conch shell I picked up on the beach. I ask for help identifying it, but even the locals are stumped as to the exact species.
Despite the punch of the rum cocktail and the lure of the beautiful resort and its private bungalows, I'm determined to paddle back to my base on Union Island before nightfall. Pocketing the shell, I head to my kayak. Fifteen minutes later, a pair of tall, bare-chested, dreadlocked men welcome me to a much different isle.
Happy Island is minuscule and man-made from rocks, Portland cement, and huge pink conch shells. It's late on a Caribbean afternoon, the sun starting to slip toward the horizon, but Janti, the island's owner, and his co-worker Roderick are still hard at work. Between puffs on a giant yellow-papered fatty, they are mixing cement, completing a half-moon wall surrounding a saltwater fish and lobster tank.
Taking a break, Janti reaches behind the bar and brings out a stack of photographs showing the six-year history of the island, a little tax-free paradise that is both his home and business, within striking distance of Union Island's yachties and main town. He is not explicit about how he's managed to build an island in the heart of the busy bay. "I didn't ask anyone," he says. "I just started one day, and no one's ever asked me to stop."
Teetering on the edge of the island is a two-room building made of wood and cinder block, its sole structure. One room is a combination kitchen and bedroom; the other is the bar: Its floor is sand, its chairs are plastic, and the bar itself is covered with half-filled Coke, rum, and Fanta bottles. Reggae issues forth from a pair of giant speakers stuck into the sand, and a welcome late-afternoon breeze rustles the recently planted palms, just six feet tall.
This is my kind of place. For an hour I help the two men mix cement, and pay $4 for a rum punch the equal of the one I had for thrice the price back on Palm Island, though I imagine that Happy's overhead is much, much less.
So far, the island has been hit just twice by hurricane-force winds, but it seems a statistical certainty that Janti will one day have to deal with the big one. For now, though, he's content to spend his days collecting conch shells and mixing cement.
As I climb back into my kayak, I'm glad to know that Happy Island exists; it smacks of rebelliousness. I ask Janti if he envisions being here for many more years. "I really don't look much further than tomorrow," he says.
After nine days and six islands, the marine reserve at Tobago Cays is my last stop in the Grenadines. Protected by Horseshoe Reef, the marine park comprises five uninhabited islands. From my kayak I see sponges, colorful coral, parrot fish, grouper, trunkfish, and a six-foot nurse shark.
I go slow, my eyes peeled for the reserve's green turtles. Buoy markers carve out a sanctuary within the sanctuary for the turtles; a Union Island taxi man named Taffa told me that they also serve as markers for poachers. "Sometimes the bad boys come over, dive in, and take the turtles anyway," he said.
Taffa also pointed out the unnamed spit of sand on the southern edge of the cay where Depp, Bloom, and Knightley fought over a box of treasure in the first "Pirates" movie. The cay is tiny, thick with green undergrowth and a smattering of palms.
As I paddle toward it, the late-afternoon light is setting the reserve aglow, and I think about something I am often asked: "What is the most beautiful place you've ever been?" I usually avoid answering, suggesting that it's far too subjective — as much about timing and whom you're with as it is about geography. Antarctica under dusky 24/7 light can be just as spectacular as a South Pacific atoll.
I walk the beach of what I have dubbed Pirate Island, hoping to find a skeleton key, a locket, or a map left behind by the movie­makers. A steady breeze sweeps the island, but it remains hot and humid, and so I go for a swim in the clear blue sea.
The island is only a third of a mile across and half a mile long, and ends with a distinctive sandy point — the Caribbean on one side, the Atlantic on the other. As I walk toward the tip, waves rush at me from two directions. It feels as if I'm walking both on the water and off the end of the earth. In the near distance, the setting sun silhouettes the mountainous islands. At that moment, a thought runs through my head that I almost never have: This spot, this pirate's island, is most definitely in the running — it might just be the most beautiful place I've ever been.