/ Source: The Associated Press
The chaotic scenes on the Gaza-Egypt border are forcing Israel, Egypt and the international community to rethink a two-year policy of trying to weaken Gaza's Hamas rulers by keeping the territory sealed.
The Hamas-engineered border breach, in which hundreds of thousands of Palestinians broke out of blockaded Gaza this week, highlighted the movement's resilience and ability to stir up trouble. It also reminded the world that 1.5 million Gazans, many already bitterly poor, cannot remain locked up indefinitely.
Any easing of the Gaza closure could well stabilize Hamas' militant government in the coastal strip, something the West would be loath to see. It's also unlikely all those with conflicting interests in Gaza, including Israel, Hamas and pro-Western Palestinian President Mahmoud Abbas, could agree on a solution.
Yet, a more relaxed Gaza border regime could entice Hamas to halt rocket fire, and this in turn could buy Abbas and Israel the necessary calm to make progress in U.S.-backed peace deal.
The current border crisis developed at breathtaking speed, typical of Gaza's volatility.
Buildup to border blast began a week ago
It started with what Israel says was the inadvertent killing of a son of Gaza strongman Mahmoud Zahar in an Israeli arrest raid last week. Hamas retaliated with rocket barrages on Israel, and Israel struck back by sealing Gaza hermetically and cutting off fuel shipments. Several days later, Gaza militants blew down the border wall with Egypt, effectively ending the Israeli blockade, which had been tacitly backed by Egypt.
Since Wednesday, hundreds of thousands of Palestinian, largely cooped up after the Hamas election victory two years ago, have flooded Egypt, roaming the border area to shop and visit relatives.
Egyptian President Hosni Mubarak's hands have been tied.
Under popular pressure in the Arab world to help the embattled Gazans, he couldn't send his border guards to confront huge crowds. In a previous major breach, after Israel's pullout from Gaza in 2005, Egypt gradually restored control after four days, but a similar effort Friday was met by Hamas resistance.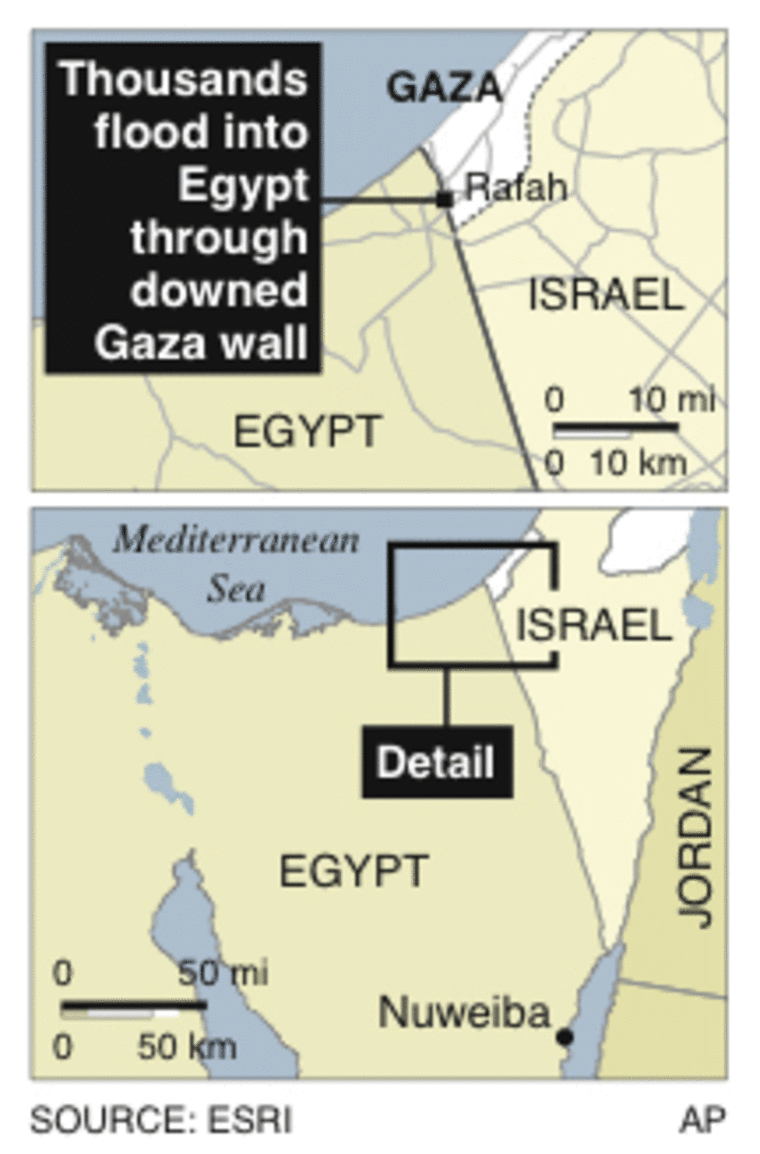 Hamas militants driving bulldozers tore down more border fortifications, sending a brazen message to Egypt that Hamas expects to negotiate a new border deal. Egyptian forces pulled out and Hamas hardliner Sami Abu Zuhri confidently declared the border would have to remain open.
Relatively unhindered movement of people and goods between Gaza and Egypt would solve many of Hamas' problems. The almost complete closure of Gaza by Israel and Egypt in June, following the violent Hamas takeover, had made it difficult for Hamas to provide even basic services, and dissatisfaction among Gazans was rising. Freedom of movement and a secure flow of supplies could turn that around quickly.
Egypt would likely not be eager to strike a deal with Hamas — the Islamic militants form a Gaza offshoot of the pan-Arab Muslim Brotherhood, which leads opposition to Mubarak in Egypt. A closed border with Gaza for the last two years had been a convenient way for Egypt to keep out Hamas-style militancy.
It's unclear whether Mubarak will now be forced to accept some border traffic with Gaza.
Israel, meanwhile, has been watching from the sidelines, not entirely opposed to the turn of events.
A strong Gaza-Egypt link would play into Israel's long-term goal — affirmed by Deputy Defense Minister Matan Vilnai — to cut all ties with Gaza, a territory it occupied for 38 years, before withdrawing in 2005.
Israel is still considered by the U.N. to be largely responsible for Gaza since it controls most access, as well as Gaza's airspace and coastline. If supplies for Gaza were to come through Egypt, Israel could try to unload such responsibilities. After the border breach, Israel quickly halted emergency fuel shipments, pointing out that there was no longer a need for them because of the new opening to Egypt.
Yet, Israel is worried about traffic of militants and weapons between Gaza and Egypt, including the influx of Iranian-trained or al-Qaida-linked terrorists to the region.
Israel on Thursday warned its citizens against visiting Egypt's Sinai Peninsula, a popular vacation destination, amid concerns that Gaza militants slipped out and would now try to target Israeli travelers.
Reflecting Israel's concerns, Defense Minister Ehud Barak said he's still considering — but is in no rush — to launch a large-scale military operation in Gaza to counter rocket attacks from Gaza.
Abbas, meanwhile, is pushing a plan to have his forces take over the Palestinian side of the Gaza crossings. Details are sketchy, except that Abbas' men would serve as buffers on the border.
The "Quartet" of Mideast mediators — the U.S., the United Nations, the EU and Russia — said in December it's an idea worth studying. Following the border chaos, "the idea of the (Abbas) government controlling the borders in Gaza is getting more credibility," Abbas' prime minister, Salam Fayyad, said Friday. "The international community and many countries are supporting it."
With such an arrangement, Abbas could regain a foothold in Gaza, after his troops were routed by Hamas in June. However, the Palestinian president has not explained how his men could operate in Hamas-run territory, let alone run border traffic effectively.
Abbas' plan would also amount to tacit recognition of Hamas rule in Gaza, something he has adamantly refused to do since the takeover.
Israeli defense officials quickly shot down the idea Friday as impractical, though Barak was careful not to reject it outright in public, possibly because of international interest in the plan. However, without Israeli blessing, it's unlikely the arrangement could get off the ground.