Starbucks brought us the Italian coffee experience, teaching us to sip fancy espresso drinks in quaint cafes. Now the trendsetter is falling out of vogue — and some question whether the ubiquitous coffee chain can be cool again or will sink to a commodity.
That's the conundrum facing Howard Schultz who's returning as head of Seattle-based Starbucks, which for years was hailed by customers, investors and business professors, alike. That changed recently: The company's stock price was slashed almost in half this past year. And store traffic slipped last quarter for the first time since the company went public.
Many trust, though, that Schultz can do something to help Starbucks — but what? He's expected to spill further details about the turnaround agenda Wednesday, when the company reports first-quarter earnings. So far, Shultz' plan involves closing some slacking stores, retarding growth here and amplifying it abroad.
"They have a big challenge in front of them," said Marian Salzman, a trendspotter at advertising firm JWT Worldwide. "And I think they've lost their way."
United States of Starbucks
But Starbucks clearly knows its way around America. Its coffeehouses dot each of our 50 states and our nation's capitol. (The most Starbucksized — street speak for containing coffee shops operated by the chain — include California, Texas, New York, Washington and Florida, in descending order.) A few years ago, Starbucks die-hards got their fix 18 times a month, on average.
"You loved it for its ubiquity and newness," Salzman said. "And today we hate it just for that."
Schultz raised concerns a year ago that the company's hasty growth hurt the global giant's authenticity in a famous leaked memo addressed to employees. "We have had to make a series of decisions that, in retrospect, have lead to the watering down of the Starbucks experience, and, what some might call the commoditization of our brand."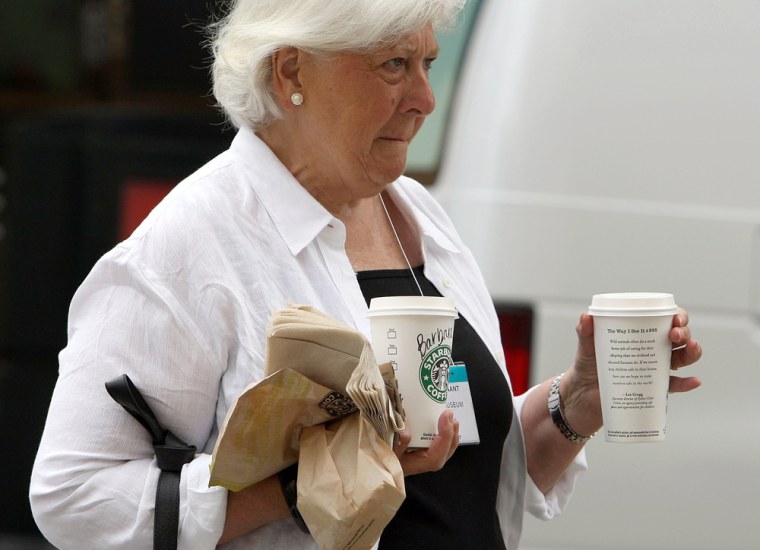 At first, the company was anything but. Now the world's largest coffee chain, the company started in the '70s as a lone Starbucks Coffee, Tea, and Spice store in Seattle's Pike Place Market. Schultz joined in 1982 — and after a trip to Milan, Italy, enchanted him with bustling coffee bars, he prodded the company to sell espresso drinks, besides beans. The strategy seemed risky at first because — by golly — coffee was to be brewed and guzzled at home.
Trendsetter falls behind
Eventually, Starbucks conceived the "third place," after home and work, where one could indulge hot coffee in a soothing setting, including cozy chairs and eclectic music. Today, about 80 percent of purchases, though, are consumed elsewhere.
"They're not the only third place," Salzman said. "They're kind of a generic third place."
Starbucks laid the foundation for a burgeoning industry of specialty coffee shops. Local chains, which initially feared the behemoth, now can actually benefit from its presence. Independents might even offer superior coffee, vibe — and even free Wi-Fi.
"We've helped create and spawn an industry and a way of life," said Howard Behar, the former president of Starbucks International and current board director, in a phone interview.
"Now, you can go in. You can sit," he said. "You don't buy anything — and nobody cares."
Author Alex Frankel, who worked undercover at Starbucks while writing "Punching In," explains how the trendsetter fell behind.
"That authenticity had been imitated and copied to a point where it was sadly lost and replaced with a new faux authenticity," he wrote.
Try, try again
Starbucks has tried to stay up on the trends, though. It recently concocted the skinny drink, a nonfat latte with sugar-free syrup, for health fashionistas. And the company just announced it's testing $1 coffee and free refills in its hometown for the economically pinched, who maybe can't afford themselves the $4 Starbucks latte.
"It was a luxe product and we're moving into an un-luxe world," Salzman, the trendspotter, said.
Starbucks' Behar, who wrote the book "It's Not About the Coffee: Leadership Principles from a Life at Starbucks," explains that trial and error goes into discovering a hit beverage like the Frappuccino, which Schultz resisted at first. Generally, though, he encouraged persistence even if he didn't support the idea initially, Behar wrote in his book.
"If we have an idea, he insists that we pursue it until it does work," he wrote.
But some just don't. Enter the joint Pepsi and Starbucks creation — a sparkling coffee drink called Mazagran (Maybe the name had something to do with it?).
"Customers will tell you if they want it or not — if they give you the permission to sell it," he said in a phone interview.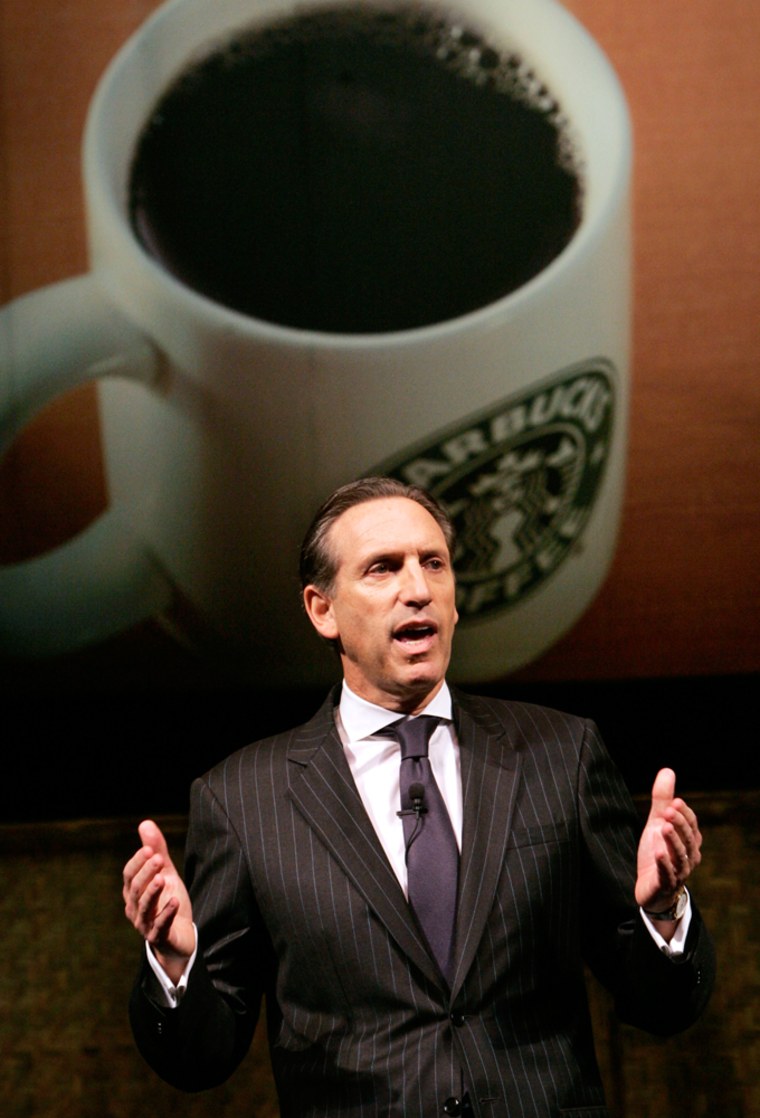 Schultz' "re-energizing" mission includes jazzing up Starbucks' drinks and store designs — and training employees harder, he announced earlier this month.
But really, Schultz needs to set apart the coffeehouses' one-of-a-kind experience from an ordinary coffee service, said Joseph Michelli, author of "The Starbucks Experience."
"Otherwise, he's going to be competing against a discounter," he said.
The McDonald's threat?
Enter McDonald's. Its baristas will soon craft and sell cappuccinos, lattes and the whole Italian menu at all of its U.S. stores. Embarrassingly, McDonald's cheaper regular coffee beat Starbucks' in a taste test conducted by Consumer Reports.
How great is the McDonald's threat? Not a biggie — yet. People who seek out places like Starbucks still want the ambience that's missing at McDonald's, said John Owens, an analyst with Morningstar.
"McDonald's poses more a threat to Dunkin' Donuts," he said. "Both those chains are keeping more on price."
But people are more price conscious now amid our economic downturn.
That's likely to hurt Starbucks' earnings Wednesday. Schultz must give investors a delicious plan to digest to distract from the expected bad results, Owens said.
"McDonald's introduced a plan to win: Focus on being better, not bigger," he said. "That's an enormous success."
Maybe, Starbucks will follow suit.