As the White House and Congress work to head off a recession, fresh data out Tuesday points to further trouble ahead for the main cause of the downturn — a housing market that shows no signs of hitting bottom.
Home prices plunged by a record 8.4 percent in November, according to a composite index based on 10 U.S. cities tracked by Standard & Poor's. It was the eleventh straight monthly decline for the so-called Case-Shiller index.
"Nothing in these numbers suggest a bottoming out. The numbers universally are disappointing," said David Blitzer, S&P's managing director and chairman of the index committee. "Maybe when we get into the spring/summer home-buying season and with lower interest rates, maybe it will all come together."
A separate report showed that mortgage foreclosures surged in 2007 as many homeowners found themselves unable to keep up with sharp increases in mortgage payments and unable to refinance because their homes had lost too much value. Some 1.3 million homes were the subject of a foreclosure filing, up about 80 percent from 2006, according to RealtyTrac, a Web site that tracks foreclosures nationwide. More than 1 percent of all U.S. households were in some phase of the foreclosure process last year, up from about half a percent in 2006.
Lenders are also feeling the pain. On Tuesday, Countrywide Financial, the largest U.S. mortgage lender, posted a larger-than-expected loss of $422 million for the latest quarter, as more homeowners fell behind on payments. Adding its name to a long list of mortgage lenders that have gone out of business or been sold, Countrywide agreed this month to be acquired by Bank of America for roughly $4.3 billion.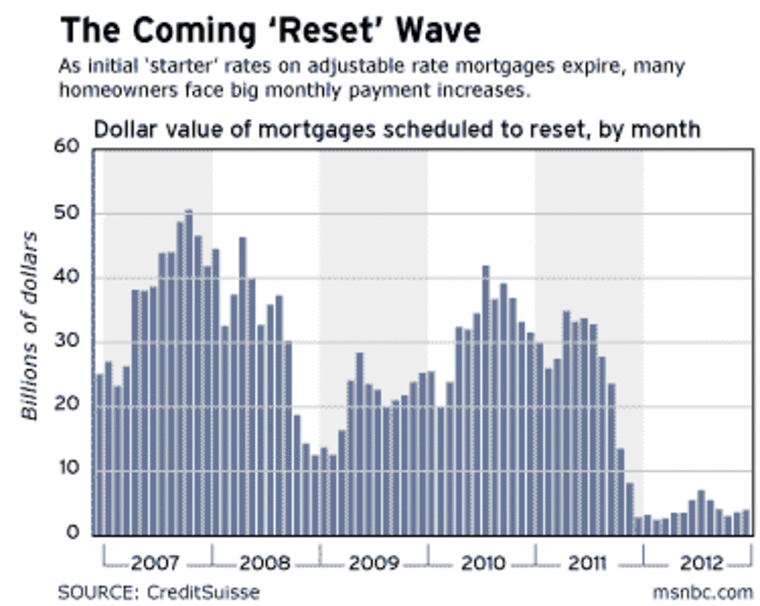 Despite falling interest rates and some $100 billion in cash pumped into the global banking system by the Fed, credit remains tight as lenders worry about the risk of further losses from bad mortgage debts. Unless the tide can be turned to stop a coming wave of mortgage foreclosures, rising loan defaults this year will dump more empty houses on a market already glutted with too many. So far, tumbling mortgage rates have done little to revive the housing market.
New home sales plummeted last year by the biggest amount on record — down 26.4 percent to 774,000, the Commerce Department reported Monday. The median price of a new home edged up only 0.2 percent in 2007 to $246,900, the worst performance since prices slipped by 2.4 percent in the 1991 housing downturn.
With more than 1.8 million mortgages scheduled to reset to higher rates this year and next, the outlook for the housing market remains bleak as more foreclosed homes are put up for sale. A late-year surge in foreclosure filings suggests that many are in the initial stages of the foreclosure process, RealtyTrac said.
"It does appear that we're seeing a new batch of properties enter the process," said Rick Sharga, RealtyTrac's vice president of marketing.
About a quarter of all subprime mortgages are in default, resulting in billions of dollars in losses for buyers of securities backed by them. Lenders and investors already have written off some $100 billion in losses, and it's not clear how high the final tally will go.
The mortgage business boomed from 2002 to 2006, generating lucrative fees for mortgage brokers, lenders, appraisers, credit rating firms, investment banks and investors who bought shares in pools of loans bought from lenders.
At the height of the boom, lenders offered easy terms that included mortgages approved with  little or no documentation of the borrowers' savings or income.  In some cases, these so-called "liar loans" inflated a borrower's financial abilities to make their mortgage payments. Loans were also approved at owner-occupied interest rates to homebuyers who had no intention of moving in.
Many of the loans now headed for default were sold with low "teaser" rates that jumped to much higher levels after two or three years; while home prices were rising, mortgage holders were able to refinance before the resets hit. Now, with home prices flat or falling, many borrowers face sharply higher payments on a mortgage with an outstanding balance larger that value of their home.
The resulting wave of defaults has touched off a round of lawsuits among borrowers, lenders and investors. State and federal investigators have also found that some loans were approved based on fraudulent information, and investigations into lending practices are ongoing.
One such investigation, led by New York Attorney General Andrew Cuomo, is looking into disclosures made by Wall Street firms that sold shares in loan pools to investors. At issue is whether investment bankers adequately disclosed the credit risks to rating agencies and investors.
Cuomo recently reached an agreement with Clayton Holdings of Shelton, Conn.,  which analyzes such loans and has agreed to cooperate. Clayton was given immunity from civil and criminal prosecution, although there was no evidence of its wrongdoing.
Clayton reportedly has told prosecutors that beginning in 2005 it saw a significant deterioration of lending standards and a parallel jump in lending exceptions. At issue is what information was given to investment banks and rating agencies about the quality and risk of the loans that were reviewed.