/ Source: a href="http://www.washingtonpost.com/wp-srv/front.htm" linktype="External" resizable="true" status="true" scrollbars="true">The Washington Post</a
In this Brussels suburb, where neat houses on twisting lanes stand a few streets away from NATO headquarters and the glassy towers of multinationals, Jean-Ren¿ Delval is packing up his home of 32 years and moving with his wife to Spain.
Delval, a French speaker from the country's south married to a Dutch speaker from the north, long ago grew accustomed to relying on his wife to fill out the strictly Dutch-only paperwork from the local mayor's office. Like many people raised in Wallonia, the country's French-speaking region, Delval's Dutch is at best rudimentary, a relic of weekly classes in school.
But in recent months, the linguistic obstacles have accumulated beyond the merely niggling. New regulations stipulate that public land in Delval's municipality can be sold only to people who speak Dutch or demonstrate a willingness to learn it. Teachers in his granddaughter's kindergarten are now forbidden to speak French on school premises. And one recent night, Delval said, police failed to respond to his French-language call asking them to investigate a strange noise outside his front door.
"I am a Belgian above all," said the 58-year-old retiree, who jokes that pretty soon passports will be needed to pass across the country's linguistic fault lines. "But I'm fed up with the state of this country."
Delval's frustration grows from a new flare-up of old tensions in this country, where French- and Dutch-speaking populations were thrown together by border redrawings after the Napoleonic wars.
Following national elections last June 10, the country limped along with no federal government for a record 195 days. Flemish Prime Minister-elect Yves Leterme failed three times to form a coalition that would represent the interests of both communities.
The impasse turned largely on Flemish demands for greater autonomy and precipitated a country-wide identity crisis. Many people began contemplating Belgium's dissolving into a very loose confederation or even splitting entirely, as the Czechs and Slovaks did in Czechoslovakia in their bloodless divorce of 1993.
Instability resonates across Europe
The instability resonates beyond the country's borders. Political analysts worry that if Belgium, seat of the European Union and long a symbol of pragmatic unity between antagonistic communities, ceases to exist, Western Europe's many breakaway groups in Spain, Northern Ireland, France and northern Italy might be emboldened.
As secessionist movements go, this one has been relatively civil. At most, Flemish protesters last fall slashed street signs bearing names in French and Dutch and paraded with coffins symbolizing Belgium's demise. The issue continues to simmer, with near-daily debates in each of the country's six parliaments and animated discussion in the news media, business clubs and cafes.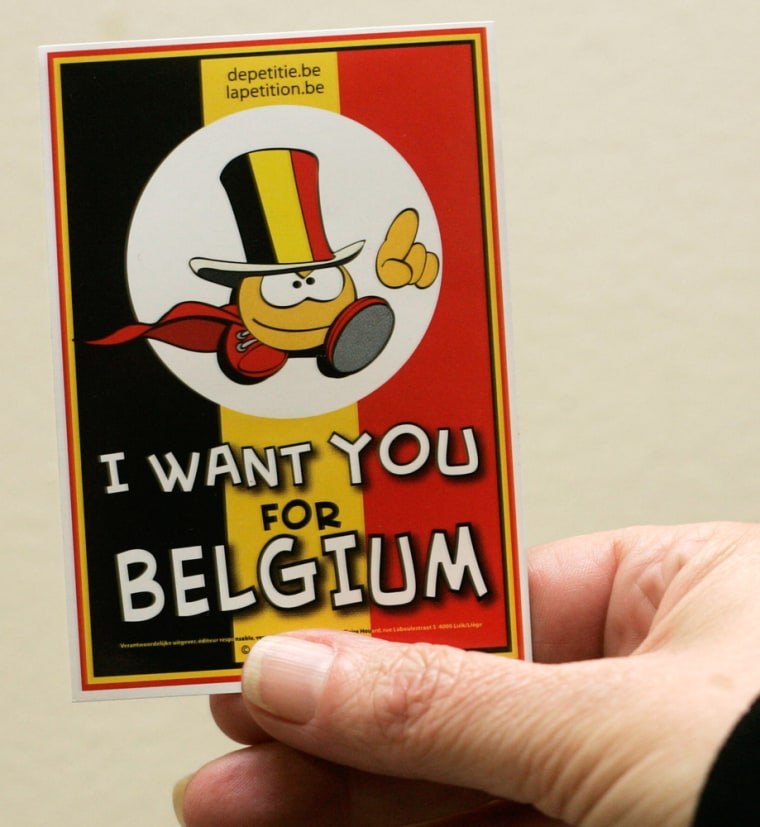 Some of the talk is characteristically self-mocking. In September, one Belgian posted the country for sale on eBay as a "kingdom in three parts." The listing was pulled after attracting an offer of $13 million.
Even the Miss Belgium 2008 pageant, held in the Flemish city of Antwerp last month, degenerated into controversy when the newly crowned beauty drew boos from the crowd after she proved unable to answer a question in Dutch.
Other Belgians, though, have responded with a commitment to unity. On Nov. 18, 35,000 people marched through Brussels in a sea of red, black and yellow, the colors of the national flag. Hundreds of flags hung for weeks afterward from wrought-iron balconies and windows across the city.
So for now Belgium remains one, officially at least -- Dutch-speaking Flanders and French-speaking Wallonia, with the officially bilingual and thriving cosmopolitan capital, Brussels, in the middle. But Dutch and French speakers live largely separate lives, governed by parallel officialdoms. They watch separate television stations, attend distinct schools and universities and vote for Dutch and French wings of the same political parties.
'We are two opinions, two peoples'
Meanwhile, a caretaker government runs day-to-day affairs; Leterme has been given until March 23 to form a coalition.
But politicians are skeptical that the underlying points of disagreement can be addressed in the remaining two months. "We are two opinions, two peoples, with two different democracies, really," said Geert Bourgeois, the Flemish minister of administrative affairs and founder of the separatist New Flemish Alliance. "Our visions are different, and our problems are different."
Chief among Flemish grievances is the economy. Flemings resent the southward transfer of massive subsidies from the prosperous north. They also disagree with Wallonia's more socialized, welfare-model approach. Once the coal and steel powerhouse of the country, the French-speaking zone now has approximately double the unemployment of the north.
Many Flemings see the safeguarding of Flemish culture and language as a reversal of a historic injustice. French was the language of public official life until the 1960s, when the country settled on its current system of linguistic zones.
But that delicate system is being tested as Brussels grows and its French-speaking population fans out into Flemish zones. Peter Dejaeghar, spokesman for the Flemish minister responsible for language decrees, sees in this population spread an "imperial" tendency to "Gallicize" Flanders.
Flemings must stand their ground, said Francis Vermeiren, mayor of Zaventem. "If I went into the Washington, D.C., town hall and asked for my ID card in Dutch, wouldn't they look at me as if I were from the moon?" he said. "It's the same here. We respect each culture . . . but we ask for respect in return. Flemish culture must be defended." His town, he notes, is only about six miles from Wallonia.
Though most of the separatist sentiment comes from Flanders, Flemings who live in Wallonia sometimes also feel friction from authorities. One of the few Dutch-speaking schools there had to turn to Flemish authorities after the Walloon government declined to fund it, on the grounds that it had too few Flemish students, said Tom Vandermeulen, its principal.
'A stranger in my own country'
For many, though, who see themselves as Belgians rather than Walloons or Flemings, the language barriers between places that are often fractional distances apart can border on the absurd.
Rachida Hadgit, 44, a French-speaking house cleaner, recently moved from Brussels to a Flemish suburb five minutes away, where she could afford a house rather than a cramped apartment.
But her Dutch, she said, was too scanty to deal with the police or with the bureaucrats in the town hall, who sometimes answer her when she speaks French and sometimes don't. The headache was enough, she said, to lead her to scale back her workload for six months and enroll in three hours of Dutch classes a week.
"I felt like my parents" -- immigrants from Algeria, she said -- "a stranger in my own country, unable to read and write."
In three of the six municipalities of Flanders around Brussels that officially permit use of both languages, mayors who were elected in October 2006 have been denied official acceptance by the Flemish parliament because they circulated electoral notices in French to their French-majority constituencies. The mayors contend this violates the government's own rules.
"Ideally, Belgium should become completely bilingual," said Hadelin del Marmol, 48, a consultant and reserve officer in the army, who proudly cites two generations of relatives who fought and died for Belgium. "But what I'm saying is utterly utopian. Flemings are afraid that their culture will disappear." And Walloons, he added, haven't much desire to learn a language they can't use outside the country or the Netherlands.
Marmol, a Walloon by birth, recently moved to the picturesque Flemish town of Overijse outside Brussels after his wife inherited property there. Now he fumes over the town's lack of a French-speaking school, the dearth of French books in the public library and the lack of French-speaking officials in the town's sports organizations.
"We have in common the long road of history we've traveled together," he said. "And one of the country's great strengths is its multiculturalism. But that's a richness we're in danger of losing."
"I'm a Belgian," he added. "But I'm not a Belgian at any price."