/ Source: The Associated Press
Here's a sign of how shaky the economy has become: Wal-Mart says its shoppers are redeeming their holiday gift cards for basic items — pasta sauce, diapers, laundry detergent — instead of iPods or DVDs.
Merchants had hoped shoppers armed with gift cards would provide a lift after a dismal holiday shopping season — partly because shoppers tend to spend even more than the value of the card. But that didn't seem to happen last month, and retailers are feeling the pain.
On Thursday, the nation's retailers turned in their worst January in almost four decades as high gas and food prices, a slumping housing market, tighter credit and a tougher job market pushed consumers to the edge.
Sales at 43 retailers surveyed by the UBS-International Council of Shopping Centers rose just 0.5 percent in January, well below the original 1.5 percent forecast.

The results — based on sales at stores open at least a year — followed an anemic 0.7 percent pace in December and were below the 2.1 percent gain for all of last year.

Jill Panell, a 26-year-old homemaker from Sterling Heights, Mich., was using a $20 Wal-Mart gift card on Thursday to stock up on groceries and pet supplies. She wasn't in the market for a present for herself.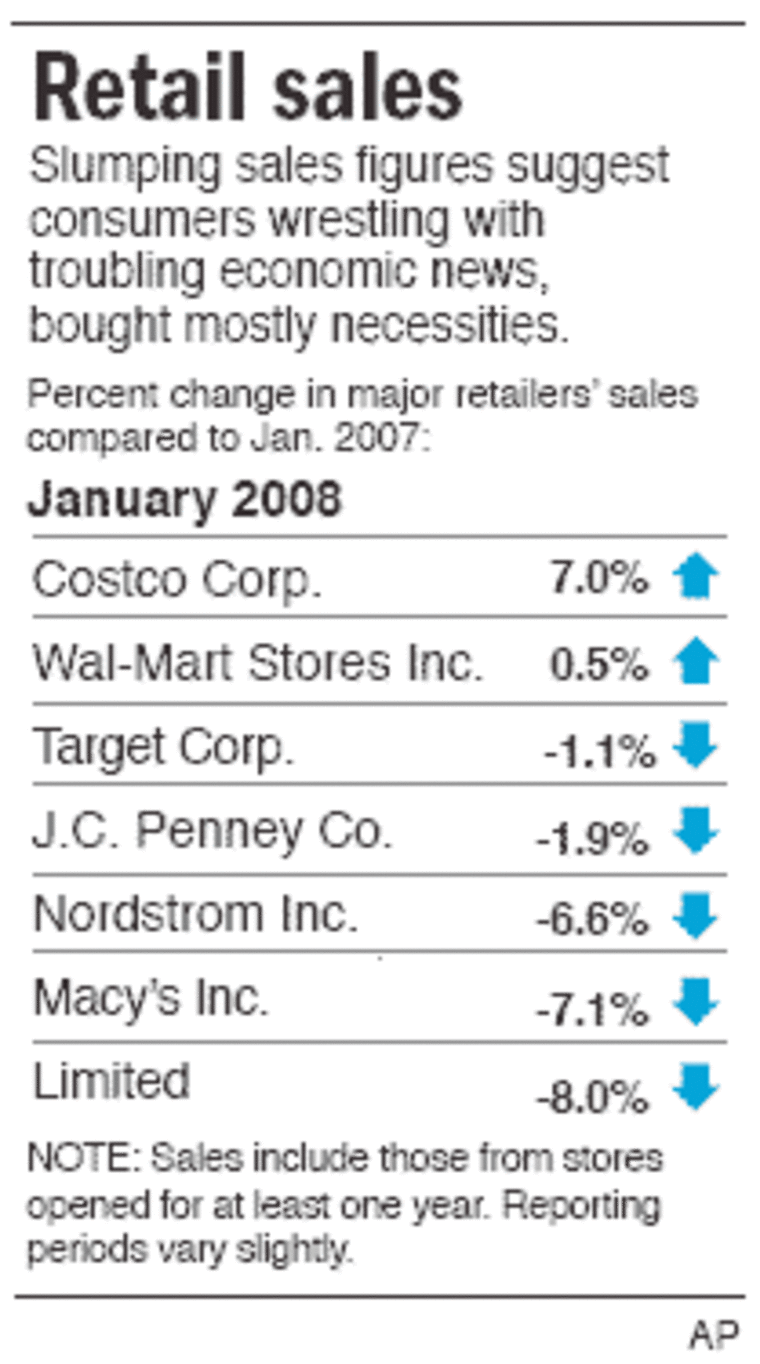 "Twenty dollars at Wal-Mart is easy to spend," she said.

Analysts think it's happening in other stores, too.

"Gift cards are being used as a secondary way to save," said Burt P. Flickinger III, managing director of the New York-based retail consulting firm Strategic Resource Group.

Even at department stores, he said, consumers are using gift cards to buy basic apparel such as socks and lingerie.

The assessment by Wal-Mart Stores Inc., the world's largest retailer, that gift card redemptions were below expectations and people were buying only necessities shook up industry observers. Retailers record gift-card revenue only as cards are redeemed.
"It shows you the level of worry. Even with free money in your hand, (consumers) aren't willing to spend on anything more than necessities," said Michael P. Niemira, chief economist at International Council of Shopping Centers.

Niemira said January's retail sales performance was the weakest for that month since at least 1970, when comparable records started.
Shoppers appear to be looking at gift cards not as "free money" but rather as their "own personal cash," said C. Britt Beemer, chairman of America's Research Group, citing his recent surveys with consumers.
They're also holding on to the gift cards longer this year than last year, he said — 15 percent of the 1,000 consumers his group interviewed said they redeemed their gift cards in December, compared with 33 percent who did so last year.
The retail sales results extended a streak of news that showed more signs of consumer strain. Consumer spending accounts for two-thirds of the nation's economic activity, and it appears to have stalled from an already slowing pace seen over the past year.
Shoppers have had to contend with rising gas and food prices and a slumping housing market, and there are signs that the job market is becoming a concern as well.

The Labor Department reported Friday that U.S. employers sliced payrolls by 17,000 in January, the first decline in more than four years. The department said Thursday that jobless claims fell last week by 22,000, but that was a decline was smaller than expected.

And if the job market continues to deteriorate, "all bets are off," said Ken Perkins, president of RetailMetrics LLC, a research company in Swampsott, Mass.

While investors are hoping the Federal Reserve can avert a recession with a series of rate cuts, some economists say the moves may be too little, too late.

Analysts also say that while the government's proposed economic stimulus package, which would send rebate checks to more than 100 million Americans, could help re-ignite spending, the lift would be only temporary.

Nonetheless, shares of several retailers rose Thursday as many either confirmed their earnings forecasts or raised them, signaling they were able to control their inventories.

Hot Topic Inc. and Wal-Mart stuck with their outlooks, while Pacific Sunwear, Wet Seal and Gap Inc. raised their profit guidance despite lower sales.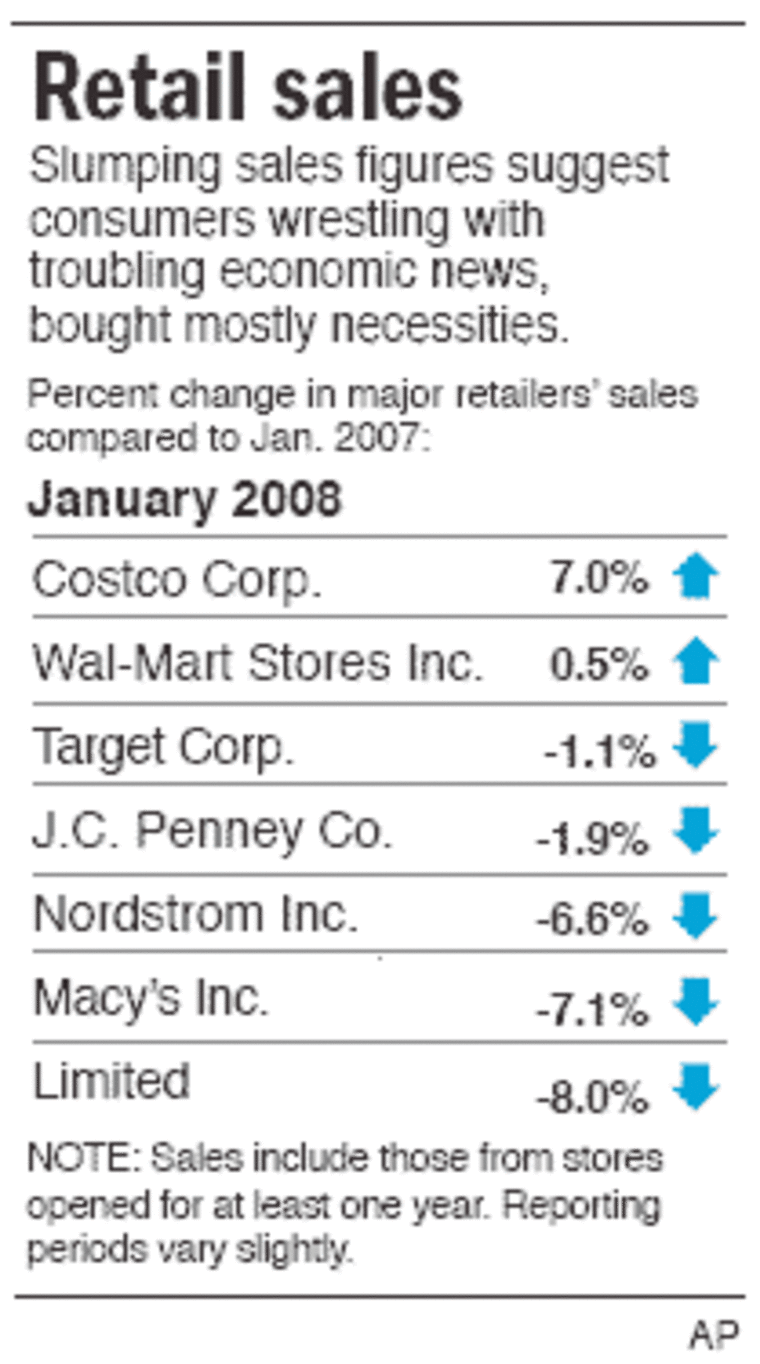 Retailers are expected to offer a better picture of the impact of slower sales and may shed light on gift card redemptions when they report fourth-quarter earnings over the next few weeks.

Department stores and mall-based apparel retailers posted some of the steepest sales declines Thursday. J.C. Penney Co. saw same-store sales at its department stores drop 1.9 percent, though that was better than the 6.3 percent decline expected by analysts polled by Thomson Financial.

Upscale department store Nordstrom suffered a 6.6 percent decline in same-store sales, much worse than the 0.7 percent decrease expected.

Macy's Inc. had already reported a 7.1 percent decrease in same-store sales on Wednesday, worse than expected. Spokesman Jim Sluzewski acknowledged that gift card sales and redemptions were weaker than last year, reflecting the overall slower sales trend. He noted that Macy's doesn't track how shoppers use their gift cards.
Saks Inc. fared better, saying same-store sales rose 4.1 percent, better than the 2.2 percent estimate. But the luxury retailer said shoppers are still shifting more of their spending to sale merchandise.

Discount retailers have held up better as higher-income shoppers shift their spending to less expensive stores. But their traditional customers are cutting back as well. Target Corp. reported a 1.1 percent decline in same-store sales in January, worse than the 0.6 percent decline analysts expected.

Wal-Mart reported a 0.5 percent gain in same-store sales, far below the 2.0 percent increase expected. The company said it continues to do well with basics like groceries but home furnishings remain weak.

At a Wal-Mart in Cheektowaga, N.Y., near Buffalo, shopper LaShari Jackson, 37, said she was "just getting the basics, household stuff." She said she had no plans to look at electronics, CDs or other splurges: "Can't afford it."