/ Source: Forbes Traveler.com
The ski hills in Aspen are so crowded you can hardly make a turn. Finding a reasonable slice of sand in St. Lucia is like parking at the Superbowl. Even the port of Monaco is so hideously jammed with luxury yachts, it resembles a Russian naval base. Many of the world's wealthiest vacationers are rightly asking themselves whether any truly exclusive locations exist at all.
Enter the age of the undersea vacation. Spurred by the imaginations of Jules Verne's 20,000 Leagues Under the Sea, and financed by eager dreamers, many entrepreneurs are unleashing a world of refined relaxation below the sea's surface. And unlike the cumbersome activity of scuba diving, these aquatic immersions don't even require you to get wet.
"Luxury travelers, like adventure travelers, often want to be the first person on their block to do something," says Bruce Wallin, group editorial director of Robb Report, a luxury lifestyle magazine. "With underwater venues, it's like going somewhere where no one's been before, then coming back and telling a great story."
The move to full-fledged underwater tourism has been a long time coming. Submarine tours of coral reefs in places like Hawaii and Aruba have been around for several decades, but these are basically the equivalent of a public tour bus 60 feet below sea level: quick, cheap, crowded and hardly exclusive. In recent years, improved technology has pushed the limits of what's possible for travelers underwater.
The pioneer in this field was Jules' Undersea Lodge, a former oceanographic research station in Key Largo Florida, which was converted more than 20 years ago into the sunken equivalent of a two-bedroom Winnebago. Scuba-diving guests swim 21 feet down into the lodge, where they watch films like The Abyss and gaze out the portals at passing angelfish or the lodge's "mer-chef" descending with dinner.
In the years since, undersea tours have grown, especially for the adventure set. Military-grade personal submersibles allow wannabe Cousteaus to dive thousands of feet down to see rare six-gill sharks in the black depths of the Caribbean. Or, they can visit the awe inspiring wrecks of the Bismarck or Titanic. Still, most of these trips involve long, bumpy days atop the frigid North Atlantic and cramped hours in tight subs.
By comparison, the next generation of underwater escapes tend to resemble the well-appointed lairs of James Bond's nemeses. At the Huvafen Fushi resort in the Maldives, you can completely surrender to a private aromatherapy massage while submerged in the glass-enclosed underwater spa. Nearby, at the Conrad Maldives Rangali Island's Ithaa Undersea Restaurant, diners can enjoy lobster cooked in the local style, while stingrays press themselves against the restaurant's domed roof, trying to mooch a bite from the tasting menu.
Several underwater luxury hotels are slated to open in the next two years, bringing lucky guests an exclusive chance to sleep with the fishes in style. The first will likely be the Poseidon Undersea Resort, just off a private Fijian island. Guests will spend a third of their weeklong stay in one of 24 underwater suites, connected by an elevator to the surface 40 feet above. (The other four nights are spent in beachfront cabanas.) There is also an adjoining restaurant, spa and lounge.
"A lot of kids grew up watching Sea Hunt or Voyage to the Bottom of the Sea and now they have the ability to live it," says Bruce Jones, president of Poseidon Undersea Resorts LLC, which is developing the resort. So far, Poseidon has more than 30,000 people interested in booking stays at the resort—at $15,000 a pop. Says Jones, they're split between the jet-set and true marine-life aficionados willing to save up for this unique retreat.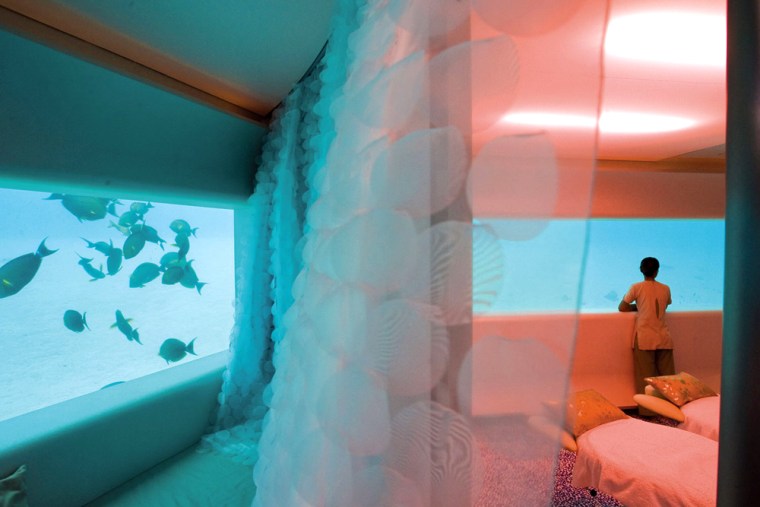 "It's the opportunity of a lifetime to spend a lot of time underwater," he says. Jones is also the head of US Submarines, a Florida-based company that custom-builds luxury submarines for discerning—and confidential—clientele. These range from two- and three-person miniature explorer subs designed to dock on the back of yachts, to the Phoenix 1000, which is more than 200-feet-long and can submerge to 1000 feet. The latter features handsomely appointed staterooms, guest rooms, kitchens, lounges and viewing portals. It may cost an eye-popping $78 million, but it makes the Red October look like a baseball bat with beds.
"Most of my clients are accomplished divers in love with marine life," says Jones, who will provide experienced submarine pilots and crew training to those purchasing his submersibles. While mostly used to escape rough seas when cruising between ports, his clients have been known to take their sunken palaces underwater for days at a time, relaxing in an attractive lagoon, where they can launch the submarine's detachable mini-sub and poke around even deeper.
"We have the odd guy who is a treasure-hunting aficionado," Jones says, "and he wants to fish around the bottom for gold. So we can outfit the sub with equipment to track shipwrecks. It's becoming tremendously popular. In the first four days of 2008, I somehow sold three submarines."