Golf gets stereotyped as a guys' trip thing so often that there are golf course owners who seem surprised when every group doesn't roll in touting coolers full of cheap beer and an endless roll call of junior high school jokes.
In Hawaii they know better, though. Here, you're more likely to come across newlyweds who are all but snuggling in the golf carts and older weds who still love to be around each other than bands of would-be Vince Vaughns and Owen Wilsons. Local golf pros call them the "Newlywed Gang," and they are a significant force in determining a course's success or failure.
Midwest visitor Dan Harlan is one of them, and he planned to play three or four rounds with his new bride over the course of a 10-day trip.
"You have to do something when you're not in bed," Harlan said. "Even if you're in bed a lot."
So much for putting the romance into golf travel. Yet as Valentine's Day approaches and everyone looks for something more original than the same old flowers, candy or pajamas to give their beloved, golf is actually turning into an option.
A romantic trip that includes a belch of "Fore!" and talk of ocean holes rather than candlelight dinners? Believe it.
"I'm seeing more couples and pairs of couples booking golf trips," said Tim Hurja, of PalmSpringsGolfCentral.com, a company that books golf trips to Palm Springs, San Diego and Hawaii. "For someplace like Hawaii, it's almost all couples."
Everyone is still not down with idea, of course. "If my husband suggested we golf on Valentine's Day or an anniversary trip, he'd better already have an attorney on retainer," Scottsdale's Andrea Nichols said, laughing. "A good one too."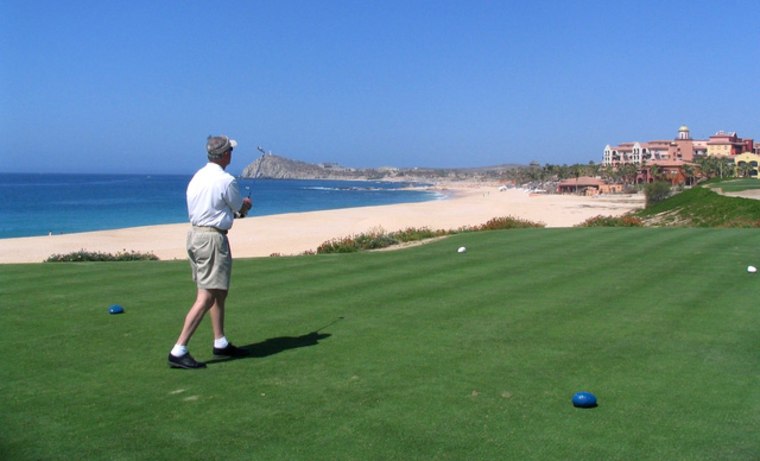 Skeptics aside, it's easy to see why golf is suddenly being linked with romance, a connection that would have been considered as absurd as romance and monster trucks only 20 years ago. Where are most of the best new courses built these days though? At pampering resorts where spas get as much attention as the fairways (sometimes more) and meals are required to go far beyond a burger and a Bud.
"As people find themselves with less and less leisure time, they try to work more things into the vacations they do have," said John Adams, general manager of the JW Marriott Star Pass Resort & Spa in Tucson, Arizona. "It can't just be a golf trip. Or just a romantic getaway. Or just a kids' vacation.
"A lot of times, it has to be all of things at once in the same place."
Making sure the romance happens has even become part of company directives. Sandals Resorts and Couples Resorts both have a Chief Romance Officer. No word on whether the guys come with wings and their own arrows. But they will give you tips on how to sprinkle a bed with flower petals and advice on whether or not popping the question on the 18th green is a good idea.
"Whatever your decision may be to show your partner how much you care, make sure it's heartfelt and sincere," advises Randy Russell, chief romance officer at Couples Resorts.
And wait until everyone putts out.
Romantic golf trip rules
Whether you're looking to combine birdies with breakfast in bed or just find some time to golf with your beloved (or beloved of the moment), there are some simple rules to follow. Things that a chief romance officer could never tell you, the kind of RULES that someone with a slick publicist could go on "Oprah" with, wax poetic over and suddenly become friends with Dr. Phil.
1. Make sure they're into it
The biggest mistake in trying to introduce golf into your romantic getaway comes when a golf-obsessed vacationer assumes their partner is enraptured with the prospect of hours spent chasing that white ball around too.
"It only really works if you both like golf the same or almost the same," said Theola Kirschbaum, who's taken many happy golf vacations with her husband. "If your husband loves to play, and you could take it or leave it, there's going to be some resentment if you're playing all the time."
Now is the time to find balance. Play the great courses you always wanted to play in your vacation spot. But don't try to play every course or every day.
Thirty-six holes a day is not the new foreplay.
2. Choose the golf destination with more care than the flower bouquet
Sure, you've always wanted to play the hidden-find golf courses in Ireland, deep in the countryside where few besides sheep roam. But when you're trying to maintain a romantic vibe, those kind of trying treks may not be ideal.
Remember how much you fight over directions in your home state? Multiply that by 10 on the road.
Then again, some spots might surprise you. The Lodge at Torrey Pines sounds about as romantic as the Motel in the Swamp to some. The hotel's right on the golf course honey?
Only this resort right at the famous site that will be host to the U.S. Open later this summer happens to be five-star rated with the type of spa that socialites go gaga over. Even better, it's close to charming downtown La Jolla and its cozy restaurants heavy on candlelight.
Likewise, many people (even golfers) do not associate Myrtle Beach with romance. But you can have a secluded getaway here, far from any spring breakers, on a spot like Pawleys Island. Or stay just across a bridge from the heart of the bustle at Barefoot Resort in North Mytrle Beach.
You'll find four different golf courses designed by Tom Fazio, Pete Dye, Greg Norman and Davis Love III here and the chance to stare across the water while dining with your favorite date.
3. Add a special non-golf activity
One of the best ways to turn a golf trip romantic is to make sure it's about more than just the golf.
If you're in Cabo, play Jack Nicklaus' Cabo del Sol Ocean Course and snorkel near ancient ruins.

Or turn that trip to play great Western Canadian golf courses like Banff Springs and Chateau Whistler unforgettable by adding a two-day ride on the Rocky Mountaineer RailTour. Look out the train window and see black bears snacking on fruit off a tree.
Golf Canada's West — a hotel and golf trip packaging company — has been booking these golf train trips through the Canadian Rockies for years.
Romance is only limited by your imagination after all. At least that's what Chief Romance Officers are paid to say.