/ Source: Forbes Traveler.com
It's one of the most hallowed traditions in American travel. With snow on the ground in Cleveland, Chicago, and Boston, hardcore baseball fans from across the country make the annual pilgrimage to Florida and Arizona for spring training. But what was once the preserve of scorebook-toting seamheads and snowbirds has in recent years transformed into a popular getaway for casual fans and their families. Spring training travel has gone mainstream.
"Before, you could just pay $5 and sit anywhere you wanted to," says Lisa Goularte, director of marketing for Spring Training USA, a travel company that partners with Major League Baseball. "But not anymore. The craze has caught on."
Caught on indeed. In each of the last few years, spring training attendance has broken previous records. In the Florida Grapefruit League alone, more than 1.7 million fans attended games in 2007. Where once teams played in front of a smattering of retirees, baseball fanatics and scouts, today's clubs routinely sell out stadiums of five, seven and even nine thousand seats.
The appeal is simple: sun and the national pastime in a party atmosphere. Pre-season tickets are cheap (usually between $5 and $12) and offer a chance to watch major league clubs up-close as they work out kinks and hone their final rosters. Spring training games feature first peeks at tomorrow's stars—as well as last peeks at beloved journeyman free agents looking for one last go-around. Add-ons to some tours include batting practice with the team and post-game barbecues with the players. Spring Training USA's exclusive packages range from luxury hotel suites with spa packages to the more modestly priced family tours for those who just want to watch the game and eat hot dogs. Not surprisingly, the better the team, the more popular the official tour. The Red Sox package—which includes a three-night stay at the Hyatt Regency Coconut Point at $1,213 per night per person—sold out almost immediately.
It's not just about baseball. Both the Cactus League and Grapefruit League are set in states that draw tourists year round, even without baseball: Arizona and Florida. One of Goularte's favorite getaways is the Atlanta Braves package, smack dab in the middle of Disney World. Then there's the spring playground for the San Francisco Giants in Scottsdale, Arizona—home to some of the world's most sought-after golf courses and spas.
"For the baseball fan, it's the ideal vacation," says Goularte. In an effort to court a bigger piece of the growing spring training pie, cities and towns that host teams are building up their tourist infrastructure. This is true even of the traditionally more stodgy towns on the circuit.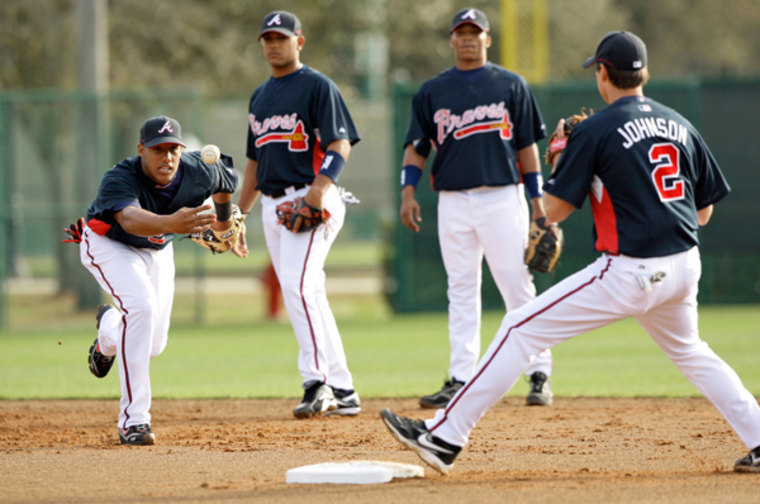 Case in point is Port St. Lucie, Fla., the New York Mets' second home. The Mets have always drawn March crowds, but as those crowds have grown in size, the town has made sure vacationers have something to do after the game besides wander around Publix. In an attempt to keep fans from spending their nighttime dollars in nearby Palm Beach, recent years have seen the appearance of more upscale restaurants. This year, Port St. Lucie also debuted a cigar bar, Elements, that'll be ready to handle the hordes of 30-something guys with disposable incomes. The Hilton Garden Inn offers classier accommodations.
"The city is definitely becoming more mindful of catering to the uptick in visitors the Mets bring each year," says Odaly Victorio, of St. Lucie Vacations.
The first step to planning your spring training trip is to locate your team. For the latest news and schedule information, see SpringTrainingMagazine.com or SpringTrainingOnline.com, where you can also purchase "The Complete Guide to Spring Training". Tours can be arranged through local travel bureaus, local hotels and private agencies like the MLB-affiliated Spring Training USA. The spring training season runs from February 26 to March 29. All of the games are played in the afternoon. Where's your team this March? We've rounded up information on some of the spring training hot spots in 2008.
Additional reporting by A.J. Daulerio