/ Source: a href="http://www.skisnowboard.com/" linktype="External" target="_blank" resizable="true" status="true" scrollbars="true" fullscreen="false" location="true" menubars="true" titlebar="true" toolbar="true">SkiSnowboard.com</a
As we kicked and glided along the frozen, snow-covered fjord, we weren't really watching where our skis were going. The surrounding 2,500-foot snowy mountains, set against a cloudless blue sky with their ice-speckled cliff faces plunging into the fjord, kept our attention focused upward. We heard melt-water pouring off a snowfield high in a glacial cirque to our left and a raven cawing in a stubby spruce forest to our right. Far ahead, the fjord narrowed and vanished around a bend.
We stopped to drink from our water bottles and apply more sunscreen. Wearing two shirts, a fleece top, and a jacket, I was sweltering in the late February sun in a mountain landscape I thought only existed in the Alps or Alaska. Who knew Newfoundland was so warm? And so stunning? Where was the fog? The frigid arctic temperatures? The feeling that we were at the end of the earth, or at least close to it?
My perception of Newfoundland—garnered from reading "The Shipping News" by Anne Proulx(who called the island "six thousand miles of coast blind-wrapped in fog"), "The Boat Who Wouldn't Float" by Canadian author Farley Mowat (who wrote, "most Southern Shore Newfoundlanders acquire a taste for rum soon after abandoning their mothers' breasts"), a few Newfie jokes remembered from junior high school, and just looking at a map—was that it was a desolate, desperate, windswept place somewhere near Greenland and populated by drunken misfits. I half expected to be served Screech, the province's unique form of rum, and cod tongue at every meal.
The reality of Newfoundland is far different than my misguided perceptions. The province is farther south in latitude than England, and the climate is fairly temperate. The average winter temperature is minus-5 degrees Celsius (about 23 degrees Fahrenheit), and in late February and March, sunny days often outnumber any other climatic pattern. Even more welcome news: Without the winter rains that often plague New England, Newfoundland's prodigious snow-pack stays soft, similar to the snow in the Rockies. All this makes Newfoundland an ideal place for winter sports—from skiing to snowmobiling.
Our trip began with two beautiful days backcountry skiing in Gros Morne National Park, an isolated stretch of wilderness punctuated by dramatic land-locked fjords and tree-less mountains. The map had labeled the large land-locked fjords (which became land-locked after the glaciers retreated thousands of years ago) as "ponds"—and we soon learned that Newfoundlanders are prone to understatement. We kicked and glided for three hours until we reached Bakers Brook Pond, which was at least five miles long. After spending the night in park-service-maintained hut, we explored the stunning "pond," making the only ski tracks that day across its snowy surface.
After our backcountry adventure, we headed south to Marble Mountain, Newfoundland's major ski resort. Situated on an escarpment that plunges 1,700 vertical feet down to the shores of the salmon-filled Humber River, Marble has some serious skiing on gloriously soft snow. Locals claim that the lack of winter rain and freeze-thaw cycles keeps the snow softer than at Eastern ski resorts in the U.S. And with so few skiers and snowboarders, even on weekends, the place felt like our own.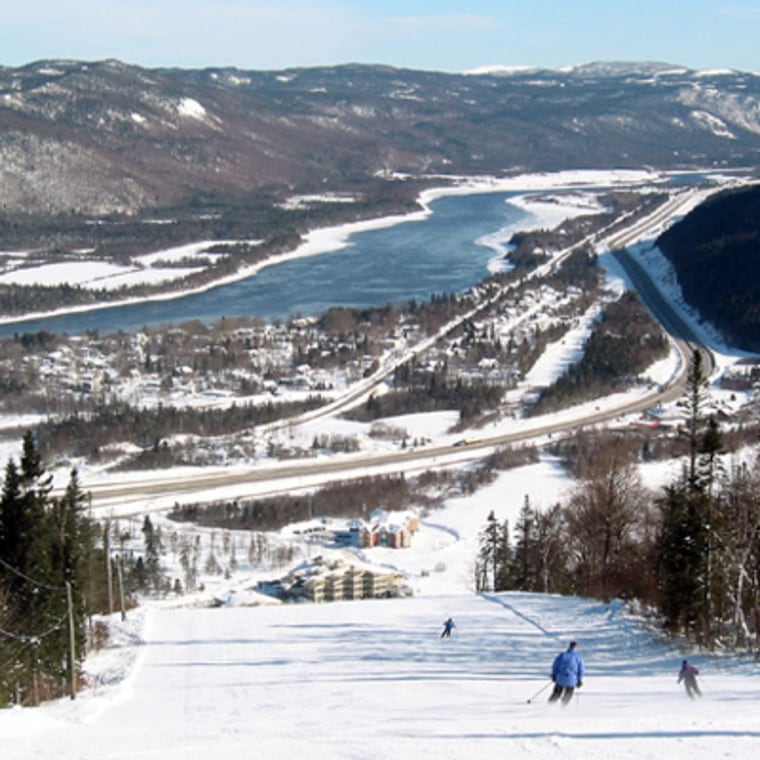 Although Marble, with its 1,700 vertical feet and 35 trails, is small by destination resort standards, the entire region—Newfoundland's central west coast—has a surprising number of amenities and activities. The resort itself has a modern 54,000-square-foot post-and-beam base lodge, and a small collection of ski-in/ski-out condominiums called Marble Villa. Ten minutes up the Trans Canada Highway, the Humber Valley Resort rents truly luxury homes. Families and friends can rent well-appointed 2,200-8,000 square-foot homes for the week for a fraction of the cost in the States or Europe. Three British friends sharing a Humber Valley chalet, as the homes are called, paid 1,200 Euros for the entire week. And they each had their own bedroom and bathroom.
The resort also offers a cruise-ship-style menu of activities—snowmobile tours, snowshoeing treks, helicopter skiing expeditions, or any other activity ever tried on snow. Humber Valley even has its own full-service spa. Yes, a pedicure in Newfoundland. Who would have thought?
Perhaps one of the best places to soak in the splendor of this remote island province is in the Blomidon (literally blow-me-down) Mountains, a 20-minute drive southwest of Marble Mountain. Blomidon Cat Skiing —the only snowcat skiing operation in the East—takes up to eight people and two guides in a Bombardier BR400 snowcat from the spruce and birch forests surrounding the Humber River Valley up to the treeless bowls and pistes of the Blomidons. From here, the views of the Gulf of St. Lawrence set against the barren Alpine slopes are worth the price of admission.
As we sat near an Alpine brook eating a picnic lunch, I picked up a rust-colored rock, one of many littering the brook's bed. "That's part of the earth's mantle," said our guide and Blomidon Cat Skiing owner Glenn Noel. He went on to say that this is one of the few places on earth where the mantle was thrust to the surface eons ago.
I looked up at the piste we had skied before lunch—a 25- to 30-degree face delineated by more rust-colored rock outcroppings. How many people can say they have skied the earth's mantle, I wondered. Not many, I guessed. The Blomidons probably see as many skiers and snowboarders in a decade as more popular backcountry ski operations on the mainland see in a month.
Then it dawned on me. Maybe Newfoundlanders don't want their secret out. Maybe they like the fact that mainlanders perceive the island as a desolate wasteland, that it's not yet "found" by many people, except for them. For then they can keep the splendor all to themselves.
But I quickly backpedaled. Newfoundlanders not share? No way. They are far too generous not to share. They are the kind of folks who personally call you if your flight is delayed or share their stash of caribou sausage. As for the Screech and cod tongues, they shared those, too. But only when we asked.