/ Source: The Associated Press
One disconcerting thing about sightseeing on these frozen Arctic islands at the edge of the polar ice pack: the biggest tourist attractions might be returning your stare. And to them, you're a potential meal.
There are an estimated 4,000-5,000 polar bears on or around Svalbard, an Arctic archipelago as far north as you can fly on a commercial flight. At about 78 degrees north latitude, it is less than 1,000 kilometers (620 miles) from the North Pole.
Polar bears are so elusive that British researcher Tony van Eyken, a two-year resident of Spitsbergen, the largest island, cited a local joke: "You can either carry a rifle or a camera, because if you have a camera, you'll never see a bear."
Later, apparently worried, he sent an SMS warning that polar bears should not be taken lightly. "Don't seriously encourage anyone to carry only a camera and not a gun," he wrote.
Tourists and residents venturing outside Longyearbyen, the main settlement of 2,000 people, are urged to carry rifles. The bears can weigh 465 kilograms (1,000 pounds), fear nothing and, though they prefer seals, see anything that moves as food. A bear last killed a human here in 1995, local officials said, and they do sometimes approach or enter town.
The Svalbard experience is also the sting of minus 40 degree winds on a pinpoint of skin left uncovered while snowmobiling across a glacier; wrestling boisterous sled dogs into harnesses; crawling like clumsy seals into an ice grotto; or hearing disturbing creaking of the overhead rocks deep in a coal mine.
But you don't need to be as fit as polar explorer.
"We get all kinds of people, from all over the world," said Sigurd Daniel Nerhus, a local dogsled guide.
The vistas, like the cold, are stunning: icy glaciers, snowy mountains that seem to burst from the frosty sea, spectacular Northern Lights displays in the darkness of winter's Nov. 11 to Jan. 30 polar night. During summer, the Midnight Sun rises on April 20 and doesn't set until Aug. 23.
"We thought we would try something different from going (to the warm beaches) of southern climes," said Odd Gunnar Haug, of Oslo, on a bitter cold March day with his wife and two sons. "I'm not sure the boys knew what they were getting into."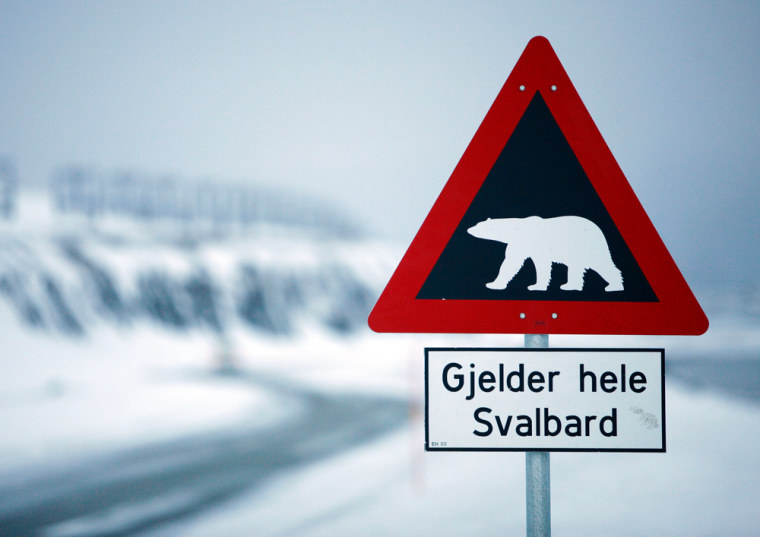 Many attractions on the 61,000 square kilometers (23,550 square miles) of islands are as wild as the bears: whales, walruses, seals, reindeer, Arctic foxes and birds. In addition, coal mines can be visited all year.
Winter activities include dogsledding, snowmobile, ice-caving, cross-country skiing, or an overnight stay aboard the sailing ship Noorderlicht, which is frozen into the polar ice.
In summer, adventures include cruises to see glaciers calving into the sea, kayaking, trekking, and visits to other settlements. The scenery bursts into life as wildflowers and animals rush to make use of a few mild summer months and the sparse vegetation that covers less than 7 percent of the islands' rocky surface.
You can travel to Russia without leaving Norway by visiting the Soviet-era outpost of Barentsburg, by boat in summer and snowmobile in winter. The 1920 treaty giving Norway sovereignty over Svalbard allows nonmilitary activity by other countries. That includes the Russian coal mining town of about 400 people, where a bust of Soviet founder Vladimir Lenin still stands.
On a mountain near Longyearbyen is the Svalbard Global Seed Vault, often called the "doomsday" seed bank, which opened on Feb. 26 to house millions of the world's agricultural in case of catastrophe.
Visitors unwilling to wait for days on the ice for polar bears are more likely to photograph stuffed ones on display or roadside "polar bear warning" signs. The bears have been totally protected since 1973, and cannot even be tracked for sightseeing.
People have been coming to Svalbard ever since Dutch explorer William Barents charted the treeless islands in 1596. It was first used as a base by whalers and walrus hunters, then coal was discovered in the late 1800s, and in 1906, John Longyear of Boston opened the American Mine.
However, tourism is relatively new. Until 1990, these dazzling scenes 500 kilometers (300 miles) north of the Norwegian mainland were off-limits to sightseers, including cruise ships.
Tourists are now welcome. And they are coming. Official figures say overnight stays nearly doubled in a decade to about 83,000 in 2006, as did the number of passengers on cruise ships, to 43,000.
The United Nations warns that the Arctic is heating up faster than the rest of the planet, so Svalbard's attractions could start melting due to global warming.
But the Svalbard tourism officer, Stein Tore Pedersen, said there does not yet seem to be a climate change rush.
"It's still too theoretical. There isn't a sense of people coming here because they think the glaciers are going to be gone next year," he said. Rather, he said, with interest in the Arctic peaking, "Svalbard has become a hot spot,"
Svalbard seemed anything but "hot" when harnessing a dogsled team in the bitter early morning cold. Nor did the glaciers seem an oasis of silence, with 80 or so excited Huskies baying in their compound for their daily trek. Novice mushers wrestled the big, friendly, exuberant dogs into harnesses and into six-dog teams.
Once on the glacier, silence did reign. Just the whisper of sled runners on snow and dogs seeming to float at a sprint out front. At times, visitors had to jog behind the sled as the dogs slogged uphill.
At the top of the Scott-Turner Glacier, dogsled guide Nerhus led the way into an ice-cave under the glacier. Crawling under icicles and sliding on the ice paid off was rewarded by the stunning ice formations inside.
"I froze a bit," 18-year-old Ole Kristian Haug of Oslo said. "But it was completely different. It was great."
There are nosier and faster ways to travel: snowmobiles.
On a trip to Russian Barentsburg, about 60 kilometers (37 miles) each way, buzzing snowmobiles were joined by a reindeer herd and stopped to avoid stressing the wild animals. Once in Barentsburg, some tourists were stunned. The moldering town, once of 800 people, seemed stuck in Soviet times.
"It's like the 1970s," said Thomas Honnemyr, 23, from southern Norway's Vennesla.
Modern and expensive Longyearbyen, by contrast, could be any prosperous Norwegian village, except for the snowmobile traffic and pilings driven into the permafrost replacing foundations for buildings.
Signs outside local businesses remind customers to check their guns at the door. And local tradition, from coal-mining days, demand that you take off your shoes before entering buildings.