Two rookie cosmonauts and South Korea's first spaceflyer are poised to ride a Russian rocket into orbit early Tuesday on a mission to the international space station.
The Soyuz TMA-12 spacecraft carrying cosmonauts Sergei Volkov, Oleg Kononenko and South Korean engineer So-Yeon Yi is set to lift off atop a Russian booster at 7:16 a.m. ET from the Central Asian spaceport of Baikonur Cosmodrome in Kazakhstan. The spaceflyers are due to dock at the station on Thursday during a 10-day crew change.
"Actually, we are ready for all the scheduled events of our flight," said Volkov, who is the first second-generation spaceflyer to launch and will command the station's Expedition 17 mission, in an interview.
Volkov and Kononenko, a flight engineer, plan to spend six months aboard the space station during their mission, which will feature the addition of a tour bus-sized Japanese laboratory and at least one spacewalk. The cosmonauts will relieve the station's current core crew — Expedition 16 commander Peggy Whitson of NASA and Russian flight engineer Yuri Malenchenko — and join their third crewmate, U.S. astronaut Garrett Reisman, who is already aboard the station.
Yi, South Korea's first astronaut, is flying a 10-day spaceflight under a commercial agreement between her country and Russia's Federal Space Agency. She will join Whitson and Malenchenko when they return to Earth on April 19.
Like father, like son
For Volkov, 35, rockets and space stations are all in the family. His father is Alexander Volkov, 59, a veteran cosmonaut who spent 391 days in space during three spaceflights, one to Russia's Salyut 7 station and two to the subsequent Mir Space Station, during the late 1980s and early 1990s.
"I think I'm (a) cosmonaut of another generation," Volkov said in a NASA interview. "For me, spaceflights were sort of a common thing."
It wasn't until attending summer camp in his youth, when those around him peppered him about his father — who was named a Hero of the Soviet Union and awarded the Order of Lenin — that he realized there might be more to life as a cosmonaut.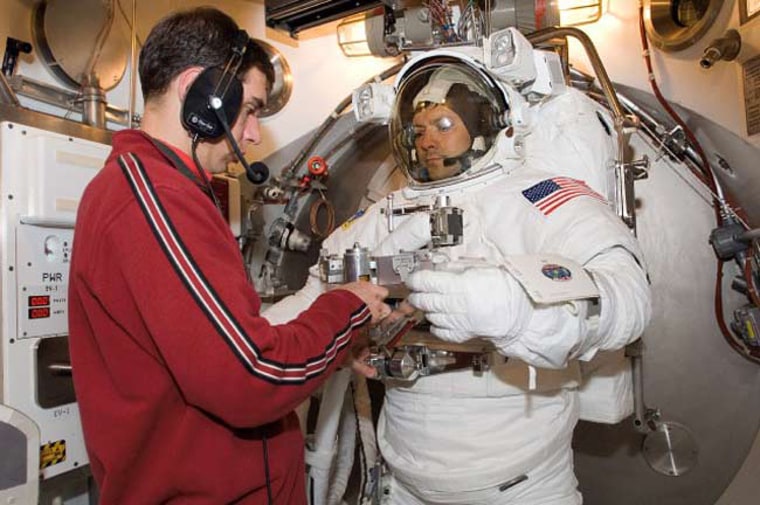 Born in Chuguyev in the Kharkov region of Ukraine, the younger Volkov is married to wife Natalia and has a seven-year-old son. Unlike some other cosmonauts, he grew up in Star City — home of Russia's Gagarin Cosmonaut Training Center — and served as a pilot and engineer in the Russian Air Force before qualifying as a test cosmonaut in 1999.
"To be a cosmonaut was my personal decision," Volkov said, adding that his father was unaware of the fact until he was told. Like his father, Volkov trained for long-duration spaceflights and was named Soyuz and Expedition 17 commander in 2006.
Volkov has since discussed his coming spaceflight with his father, who gave him tips for life in Earth orbit and on the finer points of spacewalking.
"For me personally, to be a second generation astronaut it's pretty hard and there's a lot of pressure," Volkov said, adding that he expects comparisons between his first spaceflight and his father's legacy. "My goal is to be at least as (good) as my father."
A born cosmonaut
Unlike his commander, Kononenko has no family ties with Russia's cosmonaut corps, but he did get hooked on spaceflight early.
"It seems to me that I was born thinking that I must become a cosmonaut," Kononenko, 43, said in a NASA interview. "As far back as I can remember myself, I always wanted to become a cosmonaut."
Born in Chardzhow, Turkmenistan, Kononenko is married to wife Tatiana and has 4 1/2-year-old twins, Alisa and Andrey. He joined Russian Space Agency's Central Specialized Design Bureau as a mechanical engineer in 1988, worked his way up to a lead design engineer position and was selected for cosmonaut training in 1996.
Kononenko said he is looking forward to the frenetic pace of traffic at the space station during Expedition 17, which includes a brief Soyuz flight to swap docking ports, the arrival of several cargo ships, a NASA shuttle and Japanese laboratory, and the departure of Europe's cargo ship Jules Verne.
"I think what I am looking forward to the most is acquiring that experience that will make part of all the real cosmonauts," he said in an interview, adding that it's time to put his rigorous training into practice. "I'm looking forward to my next flight after this, and perhaps even to future missions to the moon and on to Mars."
South Korea's first in space
Originally selected as South Korea's backup astronaut, Yi moved to the prime crew last month when Russia pulled her crewmate San Ko, 31, from flight status due to reading rule violations. Ko, an artificial intelligence expert, is now serving as her backup, Russian spaceflight officials have said.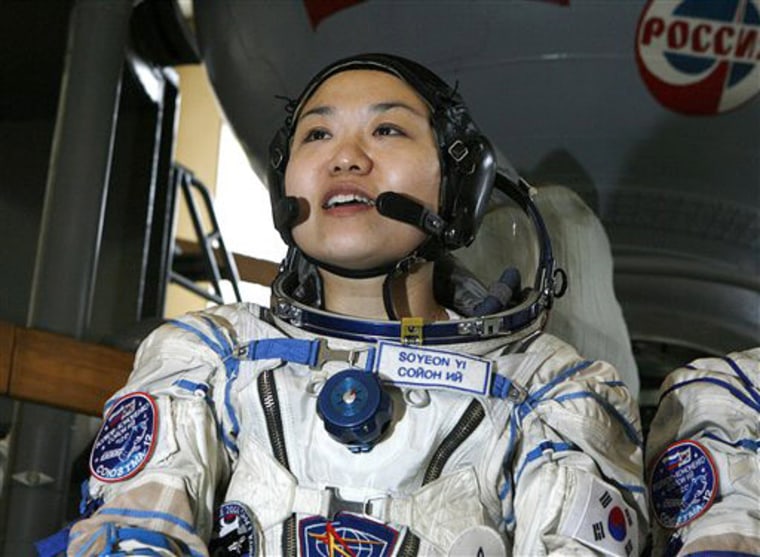 According to press reports, Yi, 29, hails from Kwangju and is a mechanical engineer by training, with bachelor's and master's degrees in the field, as well as a Ph.D. in bioengineering from the state-run Korea Advanced Institute for Science and Technology. She and Ko joined the Korea Aerospace Research Institute once they were selected from a field of 36,000 applicants to become their nation's first astronaut.
Yi's 10-day spaceflight stems from a reported $25 million deal between South Korea and Russia. She is expected to perform 14 experiments aboard the space station that include cell and crystal growth studies, as well as educational events.
In a March 19 press briefing with reporters in Star City, Russia, Yi reportedly said that she had more than pure science in store for her crewmates aboard the ISS. She will also take traditional Korean food for the station astronauts and may even sing, The Associated Press reported.
Russia's Interfax News Agency reported that Yi said she also hoped to promote interest in science among her nation's youth, as well as help ease long-standing tensions between North and South Korea.
"As a citizen of my country, as the first Korean astronaut, I will promote the development of relations between our two countries, if anything depends on me," Interfax quoted Yi as saying.