/ Source: The Associated Press
Police banned all political rallies Friday as the southern African nation's political crisis deepened 13 days after a presidential election that produced no official winner.
Opposition leader Morgan Tsvangirai says he won the vote outright and has been traveling the region to try to persuade neighboring leaders to pressure President Robert Mugabe to step down. Southern Africa's leaders were to meet in Zambia on Saturday to discuss the crisis, though it was not clear if Mugabe would attend.
Zimbabwean police announced Friday they were banning political rallies for the immediate future.
"All political parties are warned against creating mayhem, as we know there are many people who wish Zimbabwe to lose its peace," Senior Assistant Police Commissioner Faustino Mazango said. "Surely those who want to provoke a breach of peace, whoever they are and whatever office they hold, will be dealt with severely."
The opposition has accused the security forces and ruling party militants of engaging in a wave of violence against perceived Mugabe opponents since the vote and of clamping down on the opposition Movement for Democratic Change.
However, Mazango accused the MDC of "spoiling for a fight." He said the party had sent 350 young activists to bases across the country "to ignite violence" and warned them to return home, "otherwise the law will descend on the them."
'This is unacceptable'
Opposition spokesman Nelson Chamisa said the MDC had planned a rally for Sunday, but was now not sure how to proceed.
"You can't be a political organization and not hold a rally, that is what makes us who we are, how we communicate with our supporters," he said.
The party leadership also will consider calling a general strike when they meet Sunday, he said.
"We cannot accept a declaration of a police state. People have just voted for change, for democracy and what do they get? This is unacceptable. This is ridiculous," he said.
Official results from the March 29 election have yet to be released. Independent observer tallies suggest Mugabe, the nation's ruler for the past 28 years, lost the vote, but that a runoff would be necessary because no candidate won the majority needed for outright victory.
The High Court was to rule Monday on an opposition request demanding the release of the results. The electoral commission said in a statement Friday that it will not comment on the status of the results until the court rules.
"The long wait for the release of the official result of the presidential election is a distraction. We know the results of the election," Tsvangirai said in a statement Friday. "We are tired of waiting. Not for some official announcement but for Mugabe to accept the result that he knows."
Tsvangirai met with South African President Thabo Mbeki on Thursday to press his case, opposition spokesman Nqobizitha Mlilo said.
"The meeting went well," Mlilo said. "We're cautiously optimistic about the outcome." Mbeki's spokesmen could not be reached for comment.
Zambia calls emergency summit
The opposition party accuses Mugabe of delaying the results to orchestrate a runoff and give ruling party militants time to intimidate voters and ensure he wins a second round.
Mbeki has been the chief regional mediator in Zimbabwe's economic and political crisis, and other African leaders have deferred to his strategy of "quiet diplomacy." But that strategy has been criticized by some in the region and the West.
Zambian President Levy Mwanawasa, the only southern African leader to publicly criticize Mugabe's policies, called an emergency summit of regional leaders for Saturday to discuss the crisis.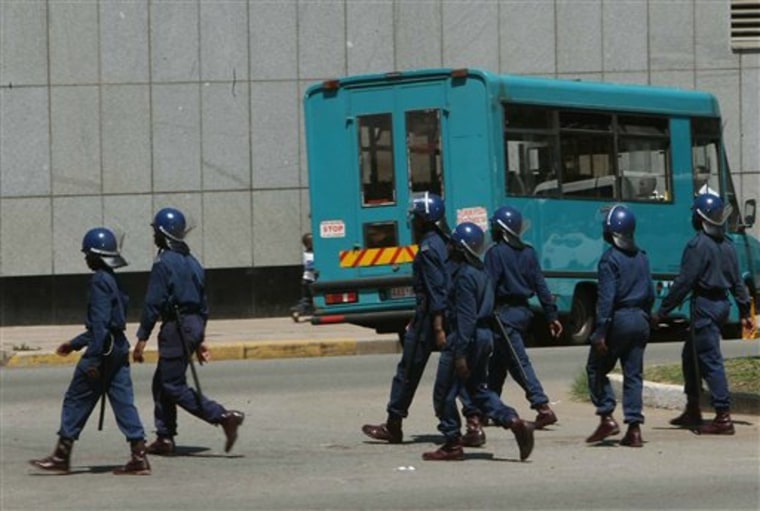 Zimbabwe state radio said the country would be represented by three senior ministers from its recently dissolved Cabinet. It did not say whether Mugabe himself would attend.
Deputy Information Minister Bright Matonga said no firm decision had been made on whether Mugabe would accept the invitation to the summit: "The request is now being considered."
Mlilo said Tsvangirai received a direct invitation to the meeting and that he would be a full participant in the summit, claiming the election outcome meant the opposition leader was now a "head of state."
Mugabe has traditionally enjoyed the support of other African leaders, using past meetings of the Southern African Development Community — at which he had been expected to be criticized — as platforms to denounce his opposition and Western leaders he accuses of plotting to topple him.
Tsvangirai appealed to the neighboring leaders "to ensure that democracy prevails in Zimbabwe."
"This is a historic moment for SADC and a defining moment for Africa. We can show the world that we, Africa, can solve our own problems and safeguard democracy and the rule of law," he said in a statement.
Matonga said he saw little reason for the summit, given that the election results had not been released. Matonga said that it would be appropriate for Zimbabwe's neighbors to step in if the results were released and then were disputed.
"I'm surprised by this whole emergency meeting," Matonga told The Associated Press.
Angolan Foreign Minister Joao Miranda on Friday also cautioned against jumping to conclusions about the delay in releasing results.
"There's a certain clamor about this (but) we have to respect authority in our states," Miranda told Angolan state radio.
Namibia's government said it has sent its foreign affairs minister to Zimbabwe to evaluate the situation.
International human rights groups reported widespread attacks on opposition activists.
Amnesty International said its contacts reported violence in the capital and in the provinces of Mashonaland East, Midlands, Matabeland North and Manicaland. The group said the attacks suggested a program of "coordinated retribution against known and suspected opposition supporters."
Human Rights Watch said it had received "credible information of dozens" of such attacks over the past week. Police have been "seemingly unable or unwilling to arrest the perpetrators," the group said.