First there were violent anti-Chinese riots in Tibet, then a harsh government crackdown on dissent followed by noisy anti-Beijing protests along the path of the Olympic torch relay. Then in Seattle, hundreds of angry Chinese showed up to protest appearances by the Dalai Lama, deriding the Tibetan spiritual leader as a liar and a "CIA-funded militant" responsible for violence in Tibet.
Lost amid the conflict was a quiet announcement that offered a glimmer of hope for accommodation in the long-running dispute arising from China's 1950 occupation of Tibet: One of the most important figures in the world of Tibetan Buddhism — Ugyen Trinley Dorje, a 22-year-old lama, or teacher — had scheduled a teaching tour in the United States.
Known as the 17th Karmapa, Ugyen Trinley Dorje is widely believed to be the reincarnation of previous leaders of the Kagyu or Black Hat sect, one of the four major schools of Tibetan Buddhism. But unlike other Tibetan religious leaders, including the far more famous and revered Dalai Lama, the Karmapa is uniquely positioned to play a role in easing tensions between his homeland and Beijing.
The young monk, who stunned his followers and embarrassed Beijing when he fled to exile in India in 2000 at the age of 14, has long been the source of diplomatic tension between Beijing and New Delhi. Until now, Delhi has papered over the conflict by barring the Karmapa from traveling overseas.
The lifting of restrictions on his travel suggests a possible shift in the sensitive geopolitics surrounding Tibet. And the May 15-June 2 trip to the U.S., during which he will make appearances in New York, Boulder, Colo., and Seattle, while billed as purely religious in nature, provides an international forum for a potentially pivotal political figure.
'Being groomed for ... leadership role'
"The general consensus is that the Karmapa is being groomed for some kind of leadership role in the future," says Ben Carrdus, senior researcher at the International Campaign for Tibet. "He is in a unique position to build a bridge between Beijing and the Tibetan people."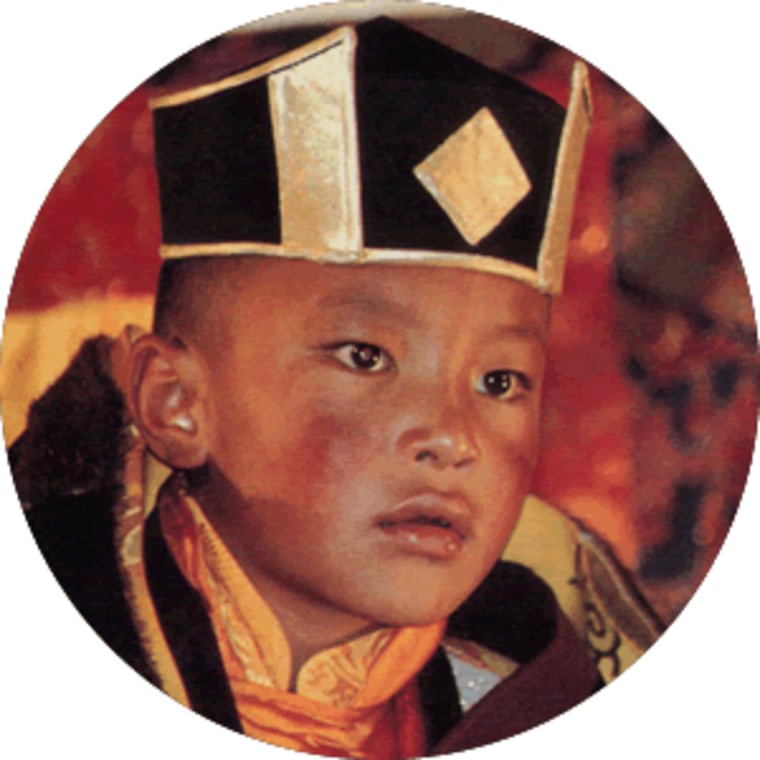 The Karmapa was born to nomadic parents in 1985, in the remote region of Kham in Tibet. He was discovered there at the age of 7 by a delegation searching for the reincarnation of the 16th Karmapa. All signs mentioned in a prophetic letter left behind by the late monk indicated that the boy was indeed his successor, and he was named the 17th Karmapa, and sent off to be raised in a monastery and trained in Buddhist texts and Tibetan culture.
Beijing sent an official delegation to Tibet to give the young monk the Chinese government's stamp of approval — as well as to take a hand in his upbringing. They installed him in a monastery near Lhasa under the watchful eye of Chinese government security. And as the boy grew older, he was treated as a VIP by Beijing, which trotted him around the country, and showered him with favors.
This too, was in line with tradition that goes back to Mao Zedong and beyond. China has long sought to project religious tolerance and control potentially rebellious areas by co-opting and controlling their religious leaders.
The Karmapa "was treated as a prince, albeit a prince in a gilded cage," said Robert Barnett, who teaches of Modern Tibetan Studies at Columbia University's Weatherhead East Asian Institute.
It took all parties by surprise when the teenage Karmapa disappeared from Tibet in December 1999, only to reappear in India after a dramatic 1,000-mile journey through the Himalayas by car, foot, horseback, helicopter, train and taxi. With his arrival in January 2000, he became the highest level defector from Tibet since the great exodus of lamas and lay people in 1959, when the Dalai Lama fled into exile.
'A stunning setback'
"It was a stunning setback for China's Tibet policy," said Barnett. "Nobody had any idea that he had any controversial views at all. People outside thought he had been reconditioned to support the Chinese view. … It had a huge impact on ordinary people inside Tibet."
By fleeing, the Karmapa gained credibility among Tibetans beyound his stature as head of Kagyu sect. Since then, he has emerged not only as a scholar of Tibetan religion and culture, but as an energetic and charismatic young man.
"Because he escaped from Tibet, and he's a strong personality … particularly among the young Tibetans there are some who would like to see him play a bigger role," said Thierry Dodin of TibetInfoNet, a nonprofit news service.
In a move that was even more surprising in historical terms, the Karmapa and the Dalai Lama forged an alliance that raised the possibility of a peaceful transfer of political power between different schools of Tibetan Buddhism — unheard of in Tibetan history.
The Dalai Lama's school of Buddhism, the Gelug, has held political power for hundreds of years, while the Karmapa's Kagyu school held sway in earlier centuries. China has benefited from this and other Tibetan rivalries by playing them off against one another, or just capitalizing on the disarray.
"The Dalai Lama made it very clear that he regarded this teenager as a leader," said Barnett. "And the Karmapa made it clear he fully supported the Dalai Lama. … We saw these two great religious figures signaling very clearly that they were not going to allow sectarian differences come between them."
For the first time, he said, "It was possible to imagine a succession that would allow leadership to pass from one school to another, without warfare as happened in the past."
The Karmapa's succession to the Dalai Lama remains a stretch, to be sure. Tibetans tend to unify when tensions with China are running high — which has consolidated political power in the hands of the Dalai Lama since the crushing of the 1959 uprising in Tibet. But that relative unity could still disintegrate under old rivalries that remain just under the surface.
Dueling Karmapas
Ugyen Trinley Dorje, while endorsed by the Dalai Lama and widely accepted among Tibetans as the true reincarnation of the Karmapa — also faces a challenge from an alternate Karmapa, who has a bigger following overseas. The backers of the latter — 25-year-old Trinley Thaye Dorje —argue that the Dalai Lama has no authority in this dispute and contend that Ugyen Trinley Dorje may be a Chinese agent.
Ultimately, it is this Karmapa's connection with Beijing government and the support of the Dalai Lama that gives some hope that he could help bargain for a better deal for Tibetans. Since Chinese forces invaded Tibet in 1951 — in communist terms to "liberate" Tibet from its feudal past — Tibetans have struggled to maintain their distinct culture and religion. In the turbulence of communist campaigns, thousands of Tibetan temples were razed and believers were persecuted, jailed, and killed. In recent decades, Beijing has encouraged economic development in Tibet — a process that has also flooded the region with ethnic Han Chinese, and brought resentment to a boil. The recent rioting in Tibet was the biggest challenge to Chinese domination in decades.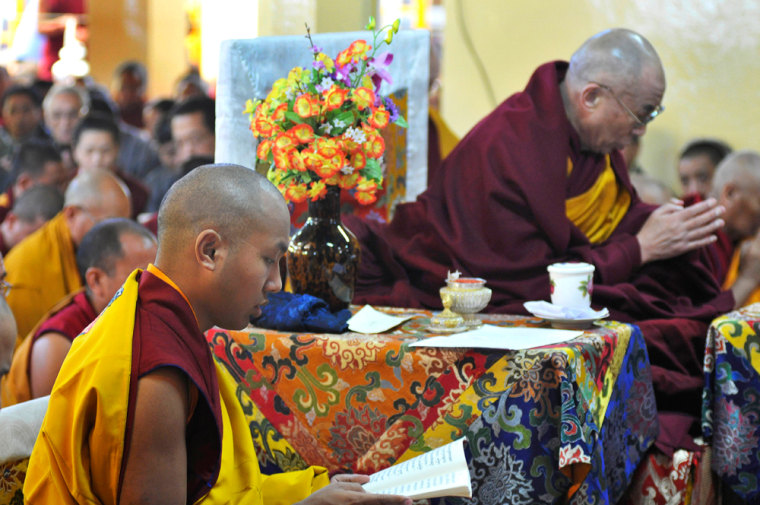 Beijing has never openly assailed the Karmapa, despite his flight to India and his close relationship with the Dalai Lama, who the Chinese government vilifies at every turn. Instead, Chinese officials have publicly minimized the incident by portraying his departure as a study mission, from which he will eventually return. Nor has the Chinese government sought to replace him as Karmapa.
"I think the Chinese government would be very keen on the Karmapa coming back," saidDodin of TibetInfoNet. "That would wash all the shame, loss of face from his departure. … I can't believe he would want to unless given something very substantial … some significant political change. Not just for a golden cage."
A deft diplomat
The Karmapa has proven a deft diplomat, aware of the delicate position he holds. Observers say he is well-spoken and willful, but chooses his words extremely carefully. That has so far ensured that there is a channel for communicating with Beijing if the right opportunity comes along. He is not expected to make unscheduled public appearances or issue political statements while on his maiden voyage to the United States.
All parties to the conflict are keeping their intentions ambiguous for the moment. Though the Indian government approved the Karmapa's travel, it declined to comment on the reason for its policy change. The Chinese Embassy in Washington took a request for comment on the Karmapa's visit to the United States, but did not follow up or respond to subsequent calls.
Representatives of the Karmapa, contacted in Dharamsala, declined to add anything to the information already available on a Web site, which says the Karmapa will be bearing "a very positive and hopeful spiritual message for these turbulent times" during his U.S. visit.
A videotaped statement by the Karmapa about his aspirations for the trip offers little more: "The United States is one of the world's most powerful countries," he says through a translator. "... By connecting with a powerful country such as the United States, I aspire that my own ability to bring peace the world in this new century will be enhanced. I'm confident that this visit will provide strong conditions for all sentient beings achieve outer and inner happiness."