/ Source: National Journal
National Journal's Linda Douglass spoke with Cindy McCain for the April 25 edition of "National Journal On Air." This is a transcript of their conversation.
Linda Douglass: I'd like to welcome Cindy McCain, the wife of Republican presidential nominee John McCain. Welcome, Mrs. McCain.
Cindy McCain: Thank you for having me. It's my pleasure.
Douglass: And thank you so much for joining us. So let me ask you a little bit about how the campaign is going so far. I'm thinking of the two of you out there many months ago, sort of in the wilderness of the Republican primary campaign, and now your husband is, of course, the nominee. How has it been different and what has been surprising about it to you?
McCain: Well, you know, last summer when things were at their darkest for us and everyone had kind of counted my husband out, that was one thing I never did do. I never counted him out. Because I've known him too long, been married to him too long, to know that he is not a guy that won't fight his hardest and make a comeback just like he did, and certainly go on to win this race. I can't say I never doubted it, but I certainly never gave up on him. I knew he could do this all along.
The difference is, perhaps -- if that's what you were asking -- the difference between the last race and this race is the 24-hour news cycle. This has added a whole new dimension to the coverage, and just to the pace of the campaign, that is far different from 2000. And, of course, you know, when you are on a two-hour news cycle versus something that was maybe once or twice a day, it's completely different.
Douglass: Wow, so you can never let down. You can never relax.
McCain: Well, that's pretty much the case anyway when you're running for president, but absolutely, the news cycle is different this time.
Douglass: So, how do you see your role as the potential first lady? Certainly, we always look back to the model of Hillary Clinton, who was very, deeply involved in making policy in the White House. How do you see your own role developing and playing out?
McCain: Well, first of all, it will be my own role. Every first lady is different. Everybody has their own interest and their own approach to things. I have stated for many, many years that if given this opportunity, I would not be involved in making policy. I would not be a woman who would attend Cabinet meetings or attempt to be a part of making legislation or encouraging legislation.
With that said, I have many, many, many interests out there, as you know, I have been very interested and very active in children's health care around the world. I have been active in many, many non-profits that have to do with -- one, particularly, that has to do with demining around the world, another that repairs cleft palates.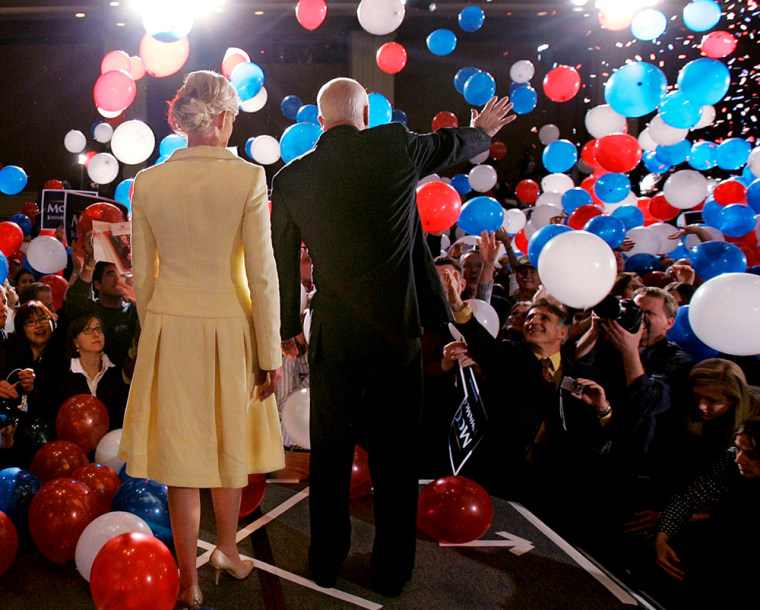 My overall theme in the beginning of all of this would be service. What I would like to do, and it's very evident particularly down where we are right now, we're in New Orleans -– the importance of people that are not in the government, getting active and being part of the process -- serving, volunteering, getting out. I want to encourage people to join me on Saturday afternoon and get up off the sofa, and let's get out and do something together. Because I can do it, and I want you to come with me and do it, and you don't have to cross the pond to do it. We can do it locally, statewide, nationally, however you choose, but I'd like to be a clearinghouse for all of that.
Douglass: Well, are you going to be pursuing any of these interests during the campaign, or are you just going to be campaigning mostly with your husband?
McCain: No, I'm still doing my things. I just returned from Kosovo with the Halo Trust. Halo has been able to go back into Kosovo, with their new independence, and begin to demine again. So I was there to see -- not only what they are planning on doing -- but see the start of it.
And I'm heading in June back out with Operation Smile. We're going back out to Vietnam in cooperation and conjunction with the USS Mercy and the United States Navy. We're going to be conducting surgeries on board. So that is a different way for Operation Smile -- a wonderful involvement with the United States Navy and with the Vietnamese. And so I'm continuing doing everything I did before, and people just have to run and catch up with me, I guess.
Douglass: It's interesting that you're doing this cause of yours -- going with the doctors who perform these surgeries on all these children who need them so much -- it's interesting that you're doing this in Vietnam, the place where your husband was held for five and a half years as a prisoner of war. Do you think about that when you go to Vietnam?
McCain: Well, absolutely, I reflect on his history in Vietnam and all the things that occurred during the time frame that he was there. But that's not what this is about. I mean, we have moved way on, and John McCain will be the first one to say -- because as you know he was part of the normalization process, a big advocate of it -- and he was the first one to say, we move on. And we are great partners now, Vietnamese and the United States, and it is my pleasure -- I've been going to Vietnam for years now -- and it is my pleasure to return and be part of Operation Smile.
Douglass: So, let's just talk a little bit more about the election here. So Hillary Clinton is behind, less likely to get the nomination than Barack Obama. At this point though, who knows?
McCain: Yeah, exactly.
Douglass: But, certainly, looking at the way the voters have been casting their votes, she's getting a lot of votes, very strong support from women, many of whom are voting for her because she has the potential to be a breakthrough, historic candidate -- the first woman in the White House, potentially. As a woman, do you think that gender should be considered when one casts a ballot for president?
McCain: Not really, no. And I mean, even in my own voting... I can speak personally -- there are many, many women candidates in the state of Arizona, and many, many women elected officials -- I voted for the person and what they stood for, what their issues were, what I thought they could do for the state of Arizona, not what their gender was, certainly not what their color was, and certainly not where they came from. It's about being part of the solution and making sure that we do the best we can. And I've never voted gender, and I don't think that should be a part of what people do. Nevertheless, I know it is with some, and that's certainly their right and their honor to do so.
Douglass: But it would be more, in your view, about how a candidate would handle women's issues -- or maybe women's issues per se are not necessarily separate issues. What do you think about that?
McCain: Women's issues are our nation's issues. They are all one. And, again, I'm sitting here in New Orleans -– there are women's issues here, but it takes the nation to make this happen. So I just think it takes someone who understands the broad spectrum of issues, that has solutions for it, that is reasonable in thought, and that has the experience, most importantly. And certainly, I believe my husband has all those qualities, but I think it truly does come down to the bottom line of experience, in my opinion.
Douglass: Which of the Democrats do you think would be easiest for John McCain to beat?
McCain: You know, I don't have an opinion on that. You know, we are certainly sitting back and running our campaign and moving on, making sure that the United States of America sees John McCain and what he does, what he believes in and what he stands for. Who knows? We have no opinion on who would be the best candidate at all.
Douglass: And finally, Mrs. McCain, it's probably not well known out in the country that you are a top executive with a company in Arizona that is a beer distributing company. How are you managing that? Are you still working while you are campaigning?
McCain: Well, as you know, my father passed away in 2000, and I became the chairman of the company after his death. And with the chairmanship brought my ability to be able to delegate, and to keep my great management team in place. So with the wonders of the Internet and cell phones these days, I do not have to be on site every day. However, I speak to my head guy nearly every day, and obviously I'm very involved and very interested in the industry, but I have a unique opportunity to be able to campaign with my husband and have good people on the ground in Arizona that take care of the day-to-day business for me.
Douglass: Well, thank you so much, Cindy McCain. Very interesting to hear how you are living your life out there on the campaign trail.
McCain: Thank you very much, Linda. It's a pleasure to talk to you.
Douglass: Thanks. Do come back and join us again.
McCain: Thank you.