Digital photo frames are high on the wish lists of many moms for Mother's Day, and there are more choices now than ever for delivering a picture-perfect gift.
Options include frames that have touch icons, as well as models that do double duty. One has speakers and room for an iPod; another comes with a built-in printer.
New services let you share photos wirelessly from Web sites such as Flickr and Picasa, two popular photo-sharing sites, as well as from Facebook and other social networking sites.
Industry pioneer Ceiva, which came out with the first digital photo frame in 2000, and is subscription-based, says it has improved its customer Web site to make it easier to upload photos and customize them for delivery to those who have Ceiva frames.
And, frames are getting bigger in size, as well as appeal. Last fall, 7-inch frames seemed to rule as the size most favored by consumers, largely because of their lower prices, generally between $60 and $100.
"We're certainly seeing larger frames enter the marketplace," said Ross Rubin, an analyst for The NPD Group research firm.
Now, "there are a lot of 8- and 10-inch frames being introduced, as companies seek to offer a more premium-priced product, and drive a bit more profit in a category that became very competitive last holiday season."
So popular are the frames as gift items — not only for Mother's Day, but for Father's Day and graduations in the weeks ahead — Circuit City is holding digital photo frame demonstrations at all its stores around the country on May 4.
Kodak and Pandigital were the No. 1 and 2 brands, respectively, in the digital frame market for the first quarter of this year, according to NPD. Next in order of ranking were Coby, Westinghouse and Smartparts, Inc.
There are many manufacturers now making digital photo frames. ViewSonic, known for its computer displays, also entered the field this year, and D-Link, known for its wireless routers, will do so shortly.
"This past year, I think we counted 67 different (manufacturers') frames out there," said Daryl Joslin, Ceiva vice president of marketing.
They have the touch
Both Kodak and Pandigital are offering touch controls on their newest frames this spring. The touch approach eliminates the need for a remote or fiddling with buttons on the top or back of frames.
"We did away with the remote control because it was kind of clunky, using a little, tiny remote with all the small buttons," said Nancy Carr of Kodak.
Kodak is using its "Quick Touch Border" on two frames so far, its 8-inch, EasyShare M820 ($180) and 10-inch EasyShare M1020 ($230).
The touch buttons are along the bottom and right side of the frames' borders. "You don't see the icons unless you activate them," Carr said.
"They pop up, and they close down again. You have the same functionality as with a remote, and you don't touch the screen, which could leave fingerprints on it."
Pandigital recently announced its PanTouch frames in three sizes: a 7-inch ($120), 8-inch ($170) and 10.4-inch ($250) frame, to be available this month.
Icon controls for touch and swiping are on the screen itself, and "the touch-operation matting resists fingerprints in the viewable area, so the frame always looks great," the company said in a news release.
Each frame will also come with a remote control, for those who don't want to go the touch route.
For novelty, Mustek offers a black, 7-inch frame with speakers and an integrated docking station for an iPod. The PF-i700 can be found at online retailers such as Amazon and Buy.com for about $110.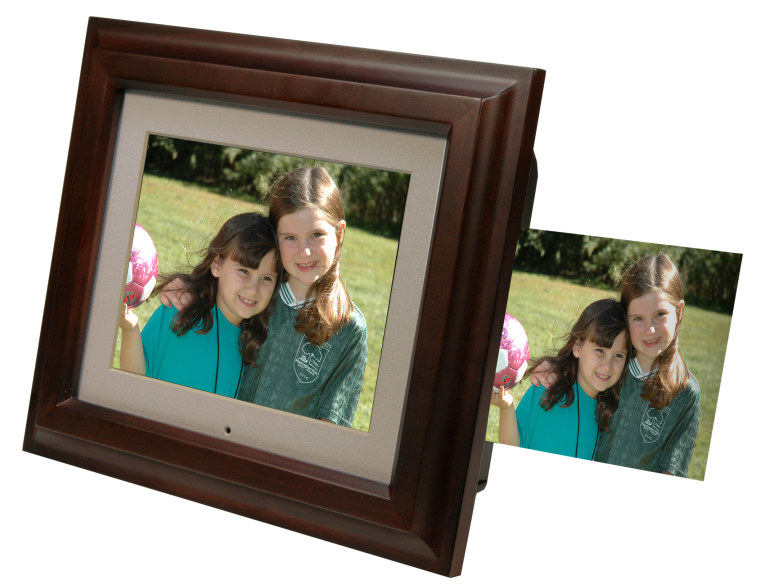 Meanwhile, Smartparts has an 8-inch, dark wood frame that comes with a built-in printer, and it retails for around $260.
The printer uses dye-sublimation technology, includes photo paper and can produce three dozen 4-by-6 prints with each cartridge. Replacement cartridges cost between $20 and $25.
Going wireless
Wireless frames, still the exception rather than the rule, started out as a way to quickly move photos from the home computer to the digital frame.
Some new services move photos from major Web social networking and sharing sites directly to wireless frames.
One of them, FrameChannel, owned by Frame Media, distributes digital content, including photos, from Facebook, Flickr, Webshots, Picasa, Photobucket and MSN to certain makes of frames, including those by Samsung, Momento, PhotoVu and Digital Spectrum.
There is no charge for the service, which does have advertising on the text-based channels of information, such as entertainment, news and sports, that it delivers to the frames if requested, said Alan Phillips, Frame Media CEO.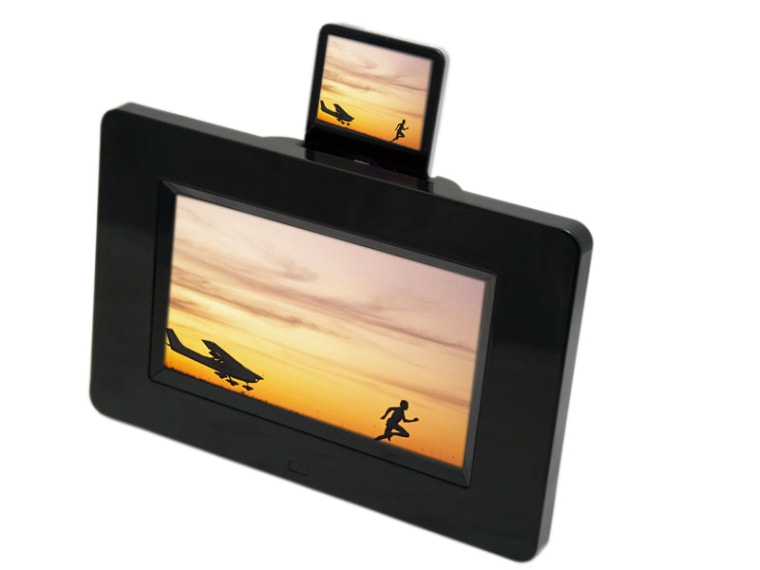 The company has 10,000 subscribers so far, and about one-third of them do not want commercial information sent to their frames, he said.
Last fall, another company, eStarling, Inc. started selling an 8-inch, Wi-Fi-enabled frame for $199.
Each frame has its own e-mail address so that photos from computers and cell phones, as well as social networking sites, can be sent directly to the frame for display.
Pandigital's PanTouch frames are wireless and can download photos from Picasa. Users can also sync the frame with a cell phone, using Bluetooth, to offload photos to the frame.
Phillips, of Massachusetts-based Frame Media, sees the wireless digital frame as ultimately becoming the "fourth screen" for consumers, with the first being TV, the second, the computer and the third, the cell phone.
"It will be an inexpensive form for information dissemination, whether it's for your personal content or commercial content," he said.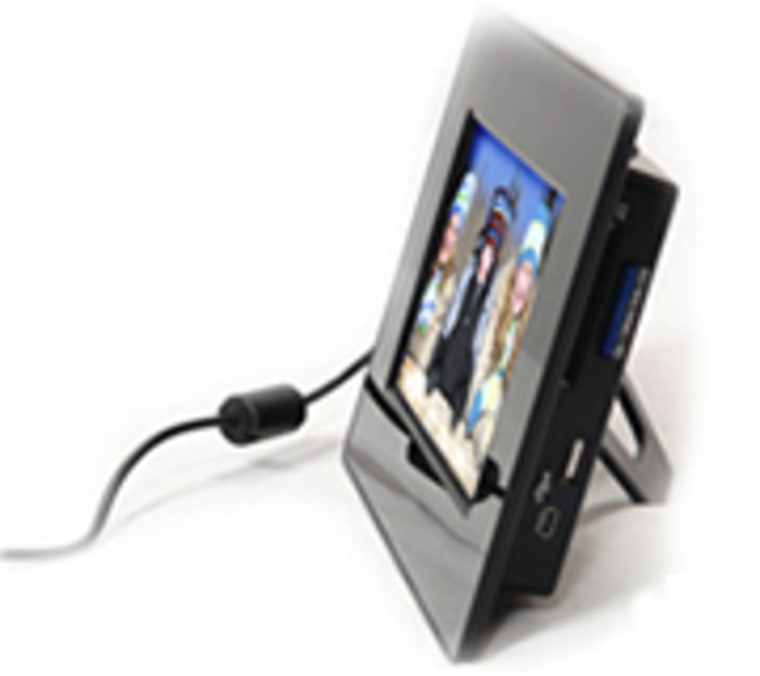 "These devices will sell for between $100 and $200. If you want your weather forecast, your stock portfolio information, the Red Sox score from last night, you come down and grab your cup of coffee in the morning. You press one button on the frame, rather than logging onto the PC, you pull up that content, and it's there waiting for you."
A hands-off approach
Wireless is not for everyone, though.
"Unless you really have wireless in the home and see the advantages of it, people are still mostly wanting to take their memory cards out of the camera, put them in the frame, and immediately start viewing photos," said Carr of Kodak.
The company does offers WiFi on some of its frames. Mass adoption of that feature, she believes, is probably "still a couple years out."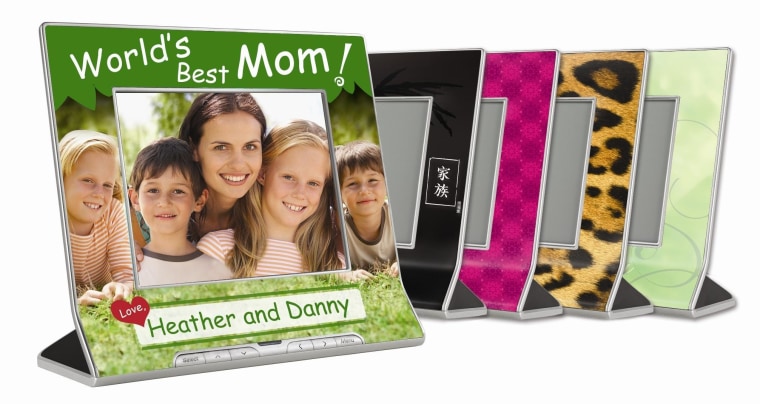 Ceiva, which charges $99 a year for its service, can be a good gift choice for those who don't want to fool with memory cards, wireless, remote or touch controls.
Its subscription service also includes delivery of weather, news and sports on the frame — if the customer wants that information.
"Basically, you can send your photos to your grandma," said Joslin of Ceiva.
"She doesn't have to have a computer. All she has to have is a telephone line and an electrical outlet.
"You can send photos to her from your computer, and you can invite your brothers and sisters to do the same thing. They do it for free. They get one subscription, which is for her frame, but then everybody can send their photos her."
Grandma, said Joslin, "never touches anything. She plugs the frame into the wall and into her phone jack — using a splitter we supply — and then every night, while she sleeps, the frame automatically dials up our phone lines and gets those pictures."