/ Source: Forbes Traveler.com
Another flowery card and a "World's Greatest Mom" coffee mug?
You can do better. This year, give the woman who raised you — or who's helping to raise your children — something that's tons more fun, a million times cooler and infinitely more memorable. Give her an adventure.
We asked Stephanie Elizondo Griest, author of "100 Places Every Woman Should Go," where, of anywhere on the planet, she would send her own mother for Mother's Day. "Hands down, I think the most profound and important place anyone could take their mother is back to her motherland," she says. "I was fortunate enough to have that experience with my mother."
Griest's family is from the village of Cruillas in the Mexican state of Tamaulipas. Getting there proved arduous for the pair, but well worth it. "We flew down to Mexico City and then took a bus and another bus and then rented a cab for the whole day and went out to the village, interviewed people and lit candles."
Not all of us can pinpoint exactly where we're from like Griest did, but more and more Americans are trying to find out. Because we're mostly a country of immigrants, the vast majority of those discoveries point to overseas. Hence the rising popularity of genealogy travel.
James Derheim and his wife Janean have been running European Focus, a travel service that helps armchair genealogists discover their European roots, since 1995.
"We do some research, but people get a lot more out of it if they do the discovery on their own," Derheim says. "We set up appointments with archives and historians, in advance of the trip." European Focus arranges for everything from airfare to sightseeing to shopping and will be as hands-on or hands-off as the client prefers. Because each trip is tailor-made, the groups can be as small as one person or as large as an entire family.
"One family from Ohio is coming back for their seventh trip," he says. "Mom is approaching 90, her six grown-up children are in their 40s through low 60s, and she brings all of them." This family has toured ancestral castles, traced their roots through historical documents and bonded as a family.
But not all mothers are cut from the same cloth — some want a little more action than strolling through a castle or thumbing through ancient manuscripts provides. Women-specific surf camps are one popular idea, and the fact that these camps are located on gorgeous beaches in places like Maui, Mexico, San Diego or Costa Rica make them that much more appealing. Valerie Frankel, a 43-year-old Brooklyn-based novelist said her ideal Mother's Day trip would involve "snorkeling along the Cayman trench, with the whole family. I want to see all there is to see before pollution and harvesting destroy what's left of our oceans."
Getaways with a conscience — green or otherwise — are also gaining popularity. Idealist.org matches participants with volunteer vacations; a good example being an orphanage in Nepal that will provide a few days of safari to people willing to help out with the kids from anywhere from two weeks to four months.
You can also look to pop culture to help you select a destination. The astonishing success of Elizabeth Gilbert's "Eat Pray Love" has inspired the Oprah generation to book culinary tours of Italy, and then burn off the calories with yoga in India. For swords 'n' sorcery mothers, several New Zealand packagers offer "Lord of the Rings" tours.
New mothers are perhaps the most difficult to match with a trip. Logistically, it's difficult to travel with a newborn, and most mothers aren't going to be comfortable leaving the baby behind, even with a close friend or relative. This means that the kid's coming along for the ride. And so, sir, are you. Because nothing is less relaxing than a wailing child drawing scowls from everyone else at the restaurant, you want to choose a place that caters to children. But because it's her day, you need somewhere that includes pampering. A getaway weekend at the Breakers in Palm Beach is the perfect choice. They'll baby-proof your room and even provide an experienced babysitter if you want to get away for a little romance.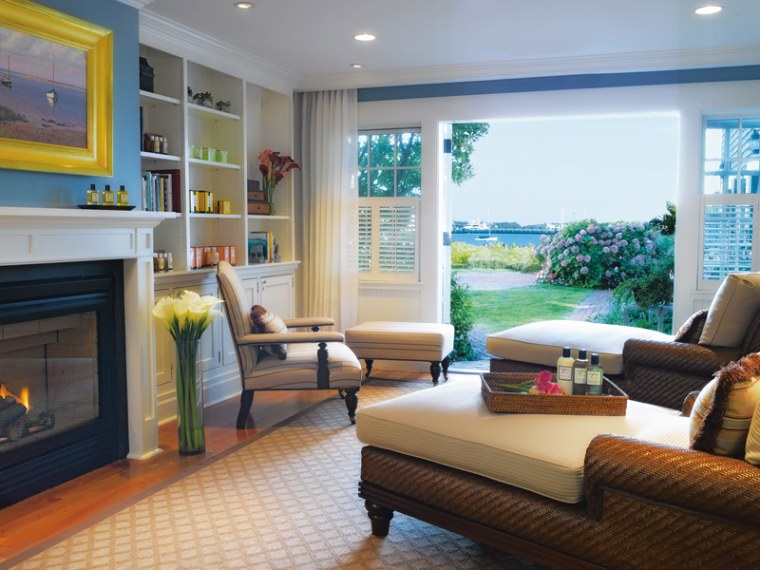 No matter your mother's interests, you can find a packager to put together a suitable trip. Abercrombie and Kent offers several different travel options — from group tours to solo travel with a guide. Their tour consultants will first interview your mother to find out where they think she'll have the best time.
"We'll find out where she's been and what kind of things she likes to do. We need to find out how adventurous and/or how pampered she wants to be," says Jean Fawcett, A&K's media relations liaison. "We want to make sure they're going to the right place." Once they determine her likes and dislikes, they'll work within the pre-arranged budget to arrange anything from a canal boat tour of Holland to a luxury African safari.
The most important thing you should consider is what kind of vacation your mother will enjoy —not one she needs. She may need to lose a few pounds, but a free week at the fat farm may get you kicked off the Christmas card list. The same goes for bad-cook mothers whose children chip in to give her cooking lessons. It's one thing if she requests a weight-loss spa vacation or week spent in Provence perfecting her bouillabaisse; it's quite another if you decide for her.