/ Source: Forbes Traveler.com
As befits the sultan of Brunei, if your digs were endowed with more than 1,700 rooms, merely venturing between wings could be considered a holiday of sorts. But your vacations are bound to get decadent when you can afford 531 Mercedes Benzes, 185 BMWs and a bevy of Lamborghinis in addition to your own private Boeing 747 decked out in gold-plated accoutrements. And that's just a peek at the Sultan's alleged material inventory.
As is the case with many a moneyed royal, the sultan's private life is so secretive that it's difficult to confirm where he unwinds when he's not busy bulking up his multi-billion dollar automobile collection.
A good bet, however, is Rancho Santa Fe, California—one of America's richest communities—where the sultan owns an abode. With a median home price of upwards of $2.5 million, the San Diego-area enclave is undeniably privileged. Crisscrossed with bridle paths, and home to six private golf courses and near perfect year-round weather, it's one of those otherworldly locales reserved for the high-net-worth set. (America's own royalty, Bill Gates, also has a Rancho Sante Fe address.)
According to Lisa Lindblad of Lisa Lindblad Travel Design, a luxury custom travel service based in New York City, royals don't necessarily opt for out-of-reach destinations when it comes to where they vacation. "I don't think royals are any different than anyone else, except that they need more security and more rooms for their retinue," she says. "They will vacation in places like Greece and Argentina."
Indeed, the entire Dutch royal family chose to ring in 2008 in Argentina's sublimely beautiful Lake District. Princess Máxima, who married Prince Willem-Alexander of Orange in 2002, is originally from Buenos Aires.
"When [the Dutch royals] were down in Villa la Angostura near Bariloche, they were very relaxed and took over what they needed and had a good old time," says Lindblad, who was visiting the area at the same time. " In general, royals don't stay any more high-end than my clients… What they do look for is security and privacy—and they seek places where they won't be ogled and can proceed with their vacation with a certain amount of quiet."
In Europe, Lindblad says, the attitude toward royals tends to be more relaxed than it is Stateside. "It's not such a big deal in Europe," she says, "You often see royals all over the place—I know that in Turkey, Princess Margaret used to come on a friend's boat and they would lunch together. She loved it, in particular, because she wasn't treated any differently."
Still, we Yanks can't help but get a bit starstruck at the idea of sharing a ski gondola or golf course with someone of princely ilk.
Not that skiing first tracks with Saudi royalty was ever a possibility in Jackson Hole, Wyo. in 2004, mind you, when the Four Seasons reportedly arranged private gondola service on the mountain for Prince Alwaleed Bin Talal Alsaud and his entourage of 35. Reportedly, the prince never partook; the Wyoming winter was too nippy for his tastes.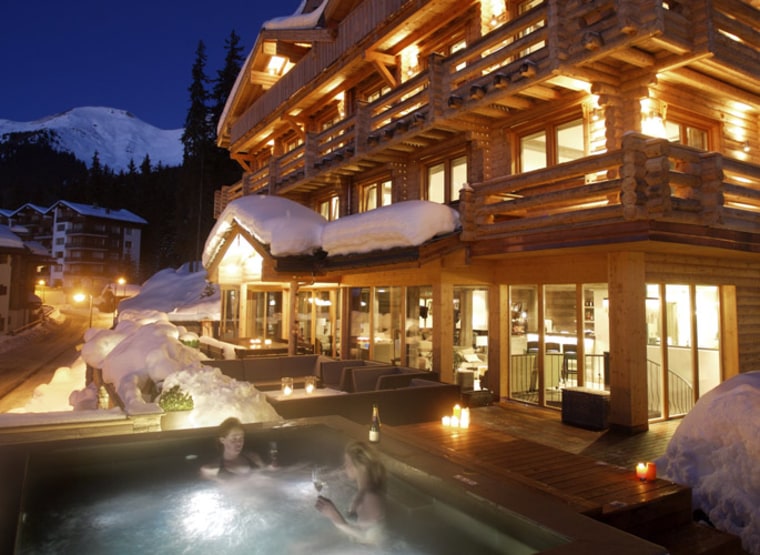 Whether or not royals actually make it up the mountain, ski holidays figure big on their itineraries. Prince Charles and his boys regularly hit the mountain enclave of Klosters near Davos in the Swiss Alps (as did Greta Garbo in her day). And Denmark's Crown Prince Frederik and his family also opted to do their schussing in Switzerland this year, in the posh Alpine burg of Verbier. Another Alpine locale big with royals is Lech, Austria, once frequented by Princess Diana and King Hussein of Jordan, is the preferred mountain address of Queen Beatrix of the Netherlands and other Dutch royalty.
For Saudi royalty, Lebanon and Syria are popular destinations due to the relatively freewheeling lifestyles they afford in comparison with life in the famously repressive kingdom. When fighting broke out between Israel and Hezbollah in Lebanon in the summer of 2006, Syria saw an even greater influx of Saudi Arabian royalty, who fled Beirut for Damascus.
But it's not just the Saudis who are drawn to Damascus. "We get lots of other gulf state royals coming to Damascus during the summer from places like Abu Dhabi, Kuwait and Qatar," says Julian Crane, director of marketing for the Four Seasons Hotel Damascus, which opened in 2006. "They go up into the mountains surrounding Damascus (the area is called Bloudan) for the cooler climate. It gets hot in Syria in the summer, but it's not the same sort of humid heat you get in Saudi Arabia or Dubai."
Of Damascus, Crane adds, "It's no surprise why royalty would want to come here, but it's also no surprise as to why anyone would want to come here… It's only in the last seven years that the country has really opened up, and it's such an unknown destination." For one, the centuries-old souks, or markets, provide a refreshing alternative to the glamorous shopping malls that dominate so many other Middle Eastern cities.
"There's this perception that Syria is a non-welcoming and highly religious country," says Crane, "and it's the complete opposite. Syrians are almost chivalrous in the way they treat foreigners." Americans included.
As to whether Arab royals let loose when they leave the confines of their home countries, Crane demures slightly. "They can and they can't let loose here," he says, conceding that royals are free to behave however they like in Syria. "They can let loose in the hotel, sure, they can run off to the old city and to a restaurant… There are no restrictions in Syria."
Another destination close to splashy Saudi hearts—and wallets—is the golf and sun seeker paradise of Marbella on the Costa del Sol in the South of Spain, where the House of Saud has been a permanent summer time institution since the Arab oil boom in the '70s. King Fahd once installed himself in Marbella for the season with an entourage of more than 3,000 people, while shopkeepers foamed at the mouth at the promise of royal expenditures of upwards of $5 million per day.
King Juan Carlos of Spain was known to visit King Fahd in Marbella. But a favorite annual pilgrimage for the King of Spain is actually to neighboring Portugal and the fishing-village-turned-chichi-marina-town of Cascais, just outside of Lisbon. During the annual King Juan Carlos Cup sailing competition, the Spanish King is purported to bed down at the super plush Grande Real Villa Italia Hotel & Spa in Cascais.
"There's a big link between old style Portuguese families and royalty in Spain and Italy," says Frederico Champalimaud, director of golf at Oitavos Dunes Golf Course in Quinta da Marinha, a wealthy resort community near Cascais. "The King of Spain, being an avid sailor himself, comes down for regatta every year—there's a close connection between yacht club members in Cascais and in Palma de Mallorca (in Spain)."