/ Source: The Associated Press
Lawyers representing the nation's first openly gay governor and his estranged wife ended the first day of their scheduled divorce trial reporting progress in settlement talks.
"We are happy to report on behalf of both of our clients that they have made progress toward settling their case," lawyers for Gov. Jim McGreevey and Dina Matos McGreevey said in a joint statement. "We continue to work to that end and will return to court tomorrow afternoon."
Testimony was delayed Tuesday as the two sides held nearly seven hours of closed-door meetings before Union County Superior Court Judge Karen M. Cassidy. Court Clerk Sandy Thaler-Gerber said the discussions involved custody of the couple's 6-year-old daughter — their only child together.
The first three days of the trial were scheduled to be held outside the glare of cameras and the media as Cassidy considered custody issues concerning the kindergartner.
McGreevey, 50, and his wife, 41, have been going at each other publicly for months about everything from his partner's financial assets to their daughter's birthday party.
The issues to be decided in the divorce settlement involve custody, alimony and child support, and whether McGreevey, now openly gay, committed fraud by marrying a woman.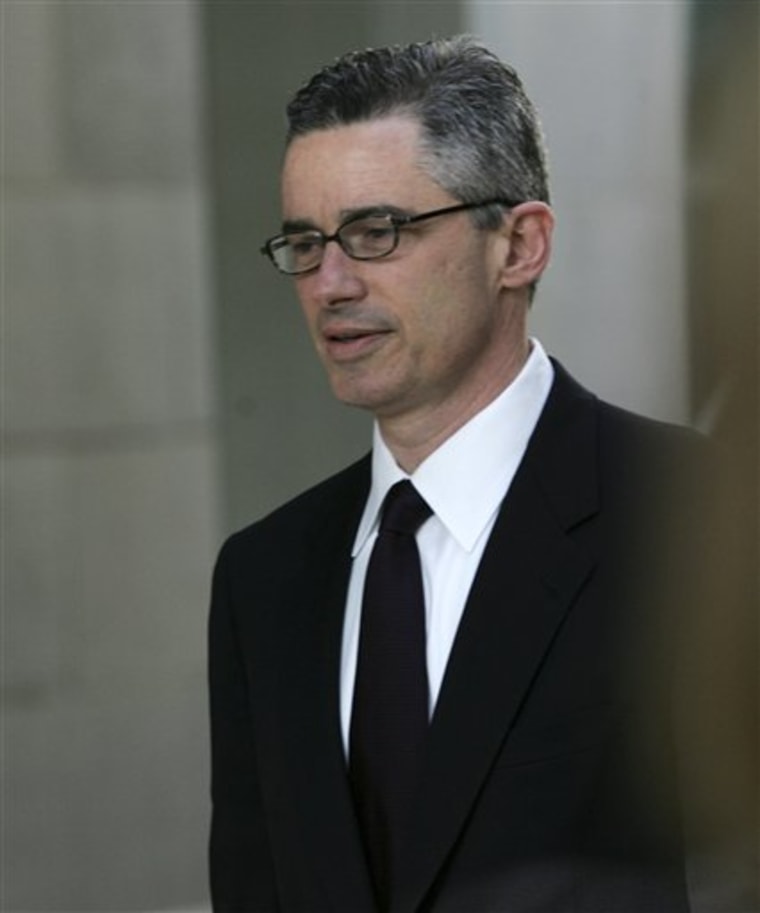 McGreevey stepped down during his first term in office after a nationally televised speech in which he acknowledged being "a gay American" and saying he had an affair with a male staffer. The staffer has denied the affair and claims he was sexually harassed by McGreevey.
Matos McGreevey claims she never knew her husband was gay until just before he told the rest of the world. He claims their marriage was "a contrivance on both our parts," but that he fulfilled the marriage contract by providing companionship and a child.
Matos McGreevey is seeking $600,000 for time she would have spent at the governor's mansion had her husband not resigned.
The dissolution of the McGreeveys' marriage has long been tabloid fodder, fueled in large part by the McGreeveys themselves.
Paul Talbert, a New York matrimonial lawyer, said both partners seem intent on revealing intimate details of their personal lives to hurt the other.
"The reason this is going to trial — there are not complex legal issues here — is because there are two very angry, embarrassed people looking to save face with a judgment in their favor," said Talbert. "I suspect neither party will be vindicated at the end of this trial."
Since splitting up months after his resignation in 2004, both McGreevey and his soon-to-be-ex wrote books about their lives together, including their sex lives. Both promoted their books during splashy appearances on Oprah Winfrey's show.
Neither has heeded stern suggestions from the judge that they settle the case rather than expend the emotional energy and significant money for a divorce trial.
The biggest bombshell in the case so far has been claims by a 29-year-old ex-campaign aide that he had regular sexual encounters with the McGreeveys.
Teddy Pedersen, 29, said the trysts began while the McGreeveys were still dating in 1999 and ended two years later, after they were married and McGreevey had been elected governor.
McGreevey said the encounters happened; Matos McGreevey denied them. Her attorney, John Post, is seeking to bar Pedersen's testimony on the matter.
McGreevey, who now lives with a male partner and is studying to be an Episcopal priest, wants joint physical and legal custody of their daughter. He currently has the child one night a week and every other weekend.
Matos McGreevey, who until recently worked at Columbus Hospital in Newark, can often be seen providing commentary on cable television shows, most recently providing analysis when New York Gov. Eliot Spitzer resigned amid a prostitution scandal.