/ Source: msnbc.com news services
Bodies floated in flood waters and survivors tried to reach dry ground on boats using blankets as sails, while the top U.S. diplomat in Myanmar said Wednesday that up to 100,000 people may have died in the devastating cyclone.
Hungry crowds stormed the few shops that opened in the country's stricken Irrawaddy delta, sparking fist fights, according to Paul Risley, a spokesman for the U.N. World Food Program in neighboring Thailand.
Shari Villarosa, who heads the U.S. Embassy in Myanmar, said food and water are running short in the delta area and called the situation there "increasingly horrendous."
"There is a very real risk of disease outbreaks as long as this continues," Villarosa told reporters. Some 1 million people were homeless in the Southeast Asian country, the U.N. said.
State media in Myanmar reported that nearly 23,000 people died when Cyclone Nargis blasted the country's western coast on Saturday and more than 42,000 others were missing.
But U.N. humanitarian chief John Holmes said that the cyclone's death toll may rise "very significantly."
Villarosa said 100,000 may have died and that 95 percent of buildings in the affected area are demolished.
The military junta normally restricts the access of foreign officials and organizations to the country, and aid groups were struggling to deliver relief goods.  
"Basically the entire lower delta region is under water," said Richard Horsey, Bangkok-based spokesman for the U.N. Office for the Coordination of Humanitarian Aid.
"Teams are talking about bodies floating around in the water," he said. This is "a major, major disaster we're dealing with."
Foot-dragging alleged
But internal U.N. documents obtained by The Associated Press showed growing frustrations at foot-dragging by the junta, which has kept the impoverished nation isolated for five decades to maintain its iron-fisted control.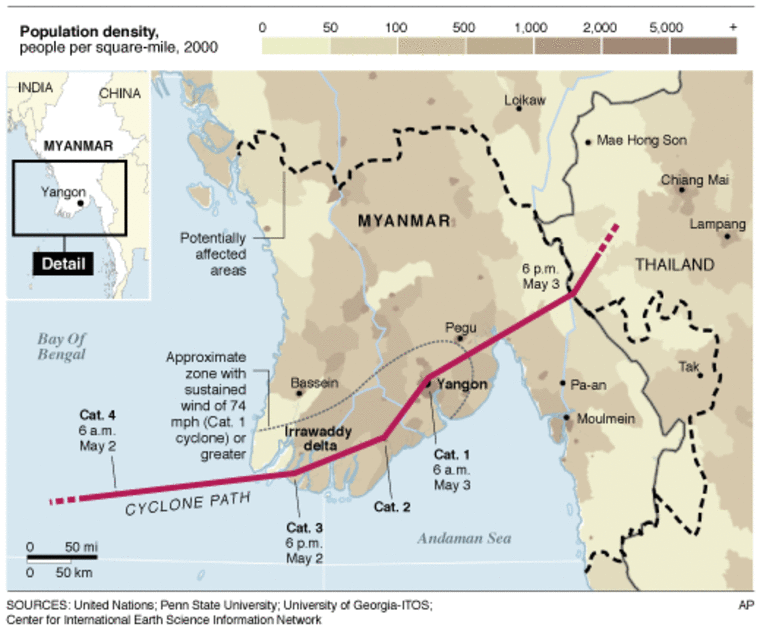 "Visas are still a problem. It is not clear when it will be sorted out," according to the minutes of a meeting of the U.N. task force coordinating relief for Myanmar in Bangkok, Thailand on Wednesday.
It said U.N. Secretary-General Ban Ki-moon "will contact Myanmar" Wednesday to arrange a meeting with high-ranking officials on the issue.
State television in Myanmar, though, said that the government would accept aid from any country and that help had arrived Wednesday from Japan, Bangladesh, Laos, Thailand, China, India and Singapore.
The storm is Asia's most devastating cyclone since a 1991 storm in Bangladesh that killed 143,000.
'Major logistical challenge'
"With all those dead mostly floating in the water at this point you can get some idea of the conditions facing the teams on the ground. It's a major logistical challenge," Horsey said.
The U.S. military has put people and airplanes into position to work on any relief effort, as officials awaited word on whether the Asian nation would accept American help.
Villarosa did not sound optimistic.
"It's a very paranoid regime," she said. "They are very paranoid about the United States."
Experts say Myanmar's ruling military must overcome their distrust of the outside world and open up to a full-scale international relief operation. Horsey said the government "recognizes this is an unprecedented emergency" that needed international involvement.
France suggested invoking a U.N. "responsibility to protect" clause without waiting for military approval to deliver aid. French Foreign Minister Bernard Kouchner told reporters on Wednesday the idea was being discussed at the United Nations.

The United Nations recognized that concept in 2005 to protect civilians, even if intervention violates national sovereignty.

Water purification tablets, plastic sheeting, basic medical kits, bed nets and food were priorities, U.N. officials said.

Most of the victims were swept away by a wall of water from the cyclone that smashed into coastal towns and villages in the rice-growing delta southwest of the biggest city of Yangon.


Military helicopters dropped food and water on Wednesday to survivors in the Irrawaddy delta, where entire villages have been washed away, officials said.

State television on Wednesday quoted Yangon official Gen. Tha Aye as reassuring people that the situation was "returning to normal" in certain areas of Karen state that were hit by the cyclone. He was shown thanking volunteers and visiting the village of Naungbo, outside Yangon, where locals were cutting apart downed trees and brush to clear the roads.
But nearby in Yangon, Myanmar's biggest city, cyclone victims faced new challenges as markets doubled the price of rice, charcoal and bottled water. Electricity was restored to a small portion of the city's 6.5 million residents, but most, who rely on electric wells, had no water.
At a morning market in the Yangon suburb of Kyimyindaing, a fish monger shouted to shoppers: "Come, come the fish is very fresh."
But an angry woman snapped back: "Even if the fish is fresh, I have no water to cook it!"
Prices double
Vendors sold bottled water at 500 kyat — about 50 cents — a liter, more than double the normal price. A standard 73-pound bag of rice had doubled in price to about $40 — an astronomical price in a country where many scrape by on $2 a day.
The U.N.'s World Food Program said late Tuesday it has begun distributing aid in damaged areas of Yangon, where 800 tons of food had arrived.
But some villages have been almost totally eradicated, and vast rice-growing areas were wiped out by Cyclone Nargis, which hit Myanmar early Saturday, the WFP said.
Images from state TV showed large trees and electricity poles sprawled across roads and roofless houses ringed by large sheets of water in the Irrawaddy River delta, which is regarded as Myanmar's rice bowl.
Buddhist monks and Catholic nuns wielding knives and axes joined Yangon residents Tuesday in clearing roads of ancient, fallen trees that were once the city's pride. Soldiers were out on the streets in large numbers for the first time since the cyclone hit.
Britain said it will contribute up to about $9.8 million in initial relief funds and will send an emergency field team to help with international relief efforts.
U.S. offers $3 million
The United States said it was giving $3 million to U.N. agencies to help with their efforts. The European Union will provide $3.1 million.
China is providing $1 million in aid, including relief materials worth $500,000, to help with disaster relief and rehabilitation efforts, a spokesman said.
Indonesia, the country hardest hit by the 2004 Asian tsunami, pledged $1 million in aid on Wednesday.
But the United States and France complained about Myanmar's reluctance to accept direct aid.
Kouchner said France minimized its aid to about $309,000. He said Myanmar officials are willing to accept aid but insist on distributing it themselves, which he said was "not a good way of doing things."
The cyclone came only a week ahead of a key referendum on a constitution backed by Myanmar's military leaders as an important step forward on their "roadmap to democracy."
State radio also said Saturday's vote would be delayed until May 24 in most of the townships in the Yangon area and seven in the Irrawaddy delta. But it indicated that the balloting would proceed in other areas as scheduled.
The decision drew swift criticism from dissidents and human rights groups who question the credibility of the vote and urged the junta to focus on disaster victims.
Military rule
On Wednesday, about 30 Filipino protesters demanded that Myanmar's junta postpone the constitutional referendum and allow the unrestricted entry of international relief.
Myanmar has been under military rule since 1962. Its government has been widely criticized for suppression of pro-democracy parties such as the one led by Suu Kyi, a Nobel Peace Prize laureate who has been under house arrest for almost 12 of the past 18 years.
At least 31 people were killed and thousands more were detained when the military cracked down on peaceful protests in September led by Buddhist monks and democracy advocates.