/ Source: Forbes Traveler.com
It's one of the highlights of the cultural calendar each year, a time for collectors, dealers, museum curators, and some of the biggest names in the art world to gather, gossip, buy, sell—or simply chatter about the mystery buyer who plunked down $70 million on a Rothko or Warhol.
Welcome to Art Basel, the prestigious contemporary art fair that, on June 4, will open its doors to inaugurate its 39th year. Each spring a who's who of art world movers and shakers descends on Basel, a bustling Swiss city on the Rhine. It's a chance for the François Pinaults and Larry Gagosians to gauge the climate of the art world today—and to celebrate another spectacular year. If the mood these days seems especially festive, it might have less to do with the Veuve Cliquot than the sky-high prices being shelled out from New York's Chelsea to China.
"Art is the new religion," says Milton Esterow, editor and publisher of ARTnews, who notes that collectors are buying in record numbers. "The churches are not crowded on Sundays, but the museums are packed."
It's a comment not likely to ruffle many feathers in either Basel or in Berlin, Beijing, Buenos Aires—anywhere that contemporary art has emerged as a major cultural force. The art scene is sizzling. "There's an enormous amount of collectors who have entered into the art market with phenomenal amounts of money," says Esterow, pointing to the emergence of new collectors in Russia, Asia and the Middle East.
"The universe of art collectors has expanded enormously," he says.
But the art world itself has started to feel a lot smaller. When London's Frieze fair or Madrid's ARCO are just a short flight away, collectors can brush up on the latest trends over the course of a long weekend. For critics like Esterow or high-profile buyers like Eli Broad, a certain amount of jet-setting goes with the territory. But even for casual collectors or curious newcomers, the worlds of art and travel are overlapping more and more.
"Not only in terms of dealers and artists being able to travel the world for exhibitions," says Andrew Maerkle, deputy editor of ArtAsiaPacific, "but also in terms of the cultural gaps between artists and collectors, [the world] is definitely much smaller." That might mean a Moscow mogul flashing his cash in the galleries of Mumbai, or "a collector in New York … willing to look at an artist in Tokyo or China."
The effect has been to energize art markets across the globe, spurring growth and investment—even in unlikely places. When Bilbao, a rough port town on Spain's northern coast, opened its Frank Gehry-designed Guggenheim in 1997, the city quickly became one of the country's top tourist tickets. Just as quickly, the Bilbao blueprint became a model for cities looking to put themselves on the cultural map. In Abu Dhabi, plans were unveiled last year for outposts of the Louvre and the Guggenheim, and an annual art fair in Dubai has already sought to make the Emirates an oasis of high art in the Arabian desert.
Of course, there's no guarantee that the gamble will pay off. "It takes more than money," says Maerkle. "It takes luck and it takes a vision."
But when that synergy is there, the results can be dramatic.
A decade ago, Miami Beach was best known for its sun-bronzed bodies and dilapidated Art Decos; today a rapidly growing art scene is one of its top selling points.
"In Miami, there wasn't that much going on until eight or ten years ago," says Maerkle, "and then the people from Art Basel decided to launch Art Basel Miami Beach." The annual fair—taking advantage of a mid-winter lull in the festival calendar—has become one of the hottest tickets on the contemporary scene. And today, says Maerkle, "Miami is much more a focus of the art world."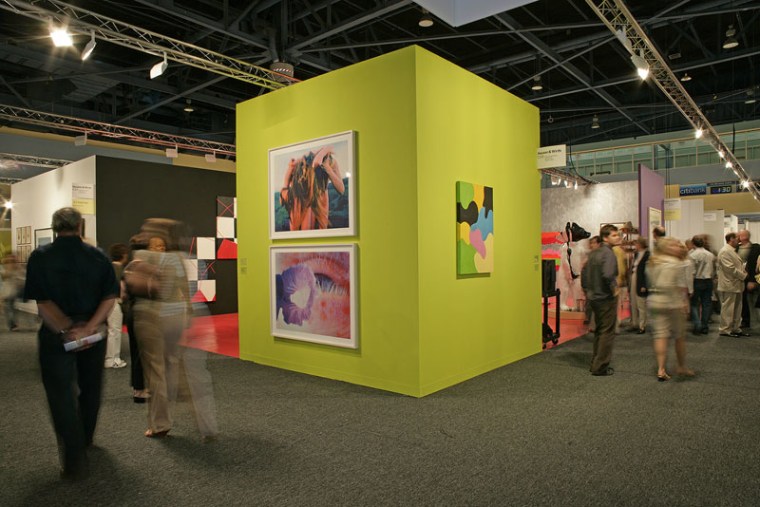 Not surprisingly, now that it has conquered the globe, the art world has also staked out a place on the Web. Brian McConville, Executive Vice-President of the online art database artnet, notes that more than 2,000 galleries from around the world have inventories for sale on the company's Web site.
"So much of the business is conducted via jpegs, e-mails back and forth," he says. "People are no longer feeling it absolutely necessary to go see a piece in person. Everything is digital."
A partnership between artnet and Art Basel has led to a "virtual fair" each year, where collectors can browse through a digital archive for two months after the official fair has closed. McConville notes that visits to the site during its virtual Art Basel last year were in the "hundreds of thousands."
"[It] allows people to go in and visit the fair from the comfort of their home," he adds.
If leaving the comfort of your home is part of the thrill, though, there might not be a better time to book a flight to Florence or spend a few days in Dubai. With contemporary art enjoying its moment as the latest luxury status symbol, art enclaves across the globe are flourishing, and keen-eyed collectors are digging up fresh finds in unexpected places.
Even newcomers are being tempted to pick up something for the living room wall. Esterow notes that with new collectors flooding the market, "more and more people are buying art for the right reasons. They buy art because they experience it, and they want to live with it, and they don't care who may have created it."
He adds, "And that's the only way that one should buy art."