/ Source: The Associated Press
Four-dollar-a-gallon gas is good for business — if you run a bike shop.
Commuters around the country are dusting off their old two-wheelers — or buying new ones — to cope with rising fuel prices, bicycle dealers say.
"Everyone that comes in the shop is talking about the gas prices," said Barry Dahl, who opened Barry's Bikes in Bismarck in April. He sold more than 50 bicycles in the first month, double the projections in his business plan.
Teacher Joyce McCusker of Herndon, Va., owns a bicycle for the first time in years. She bought it last month and uses it to make the eight-mile trip home from work. A friend drives her pickup to take McCusker's daughter home from school.
"I'm still using fossil fuel," she said. "In two years, my goal is to ride both ways, every day through the year."
About 18 million bicycles have been sold annually in the U.S. over the past few years, accounting for about $6 billion in annual sales, said Fred Clements, executive director the National Bicycle Dealers Association in Costa Mesa, Calif.
Bicycle shops across the country are reporting strong sales so far this year, and more people are bringing in bikes that have been idled for years, he said.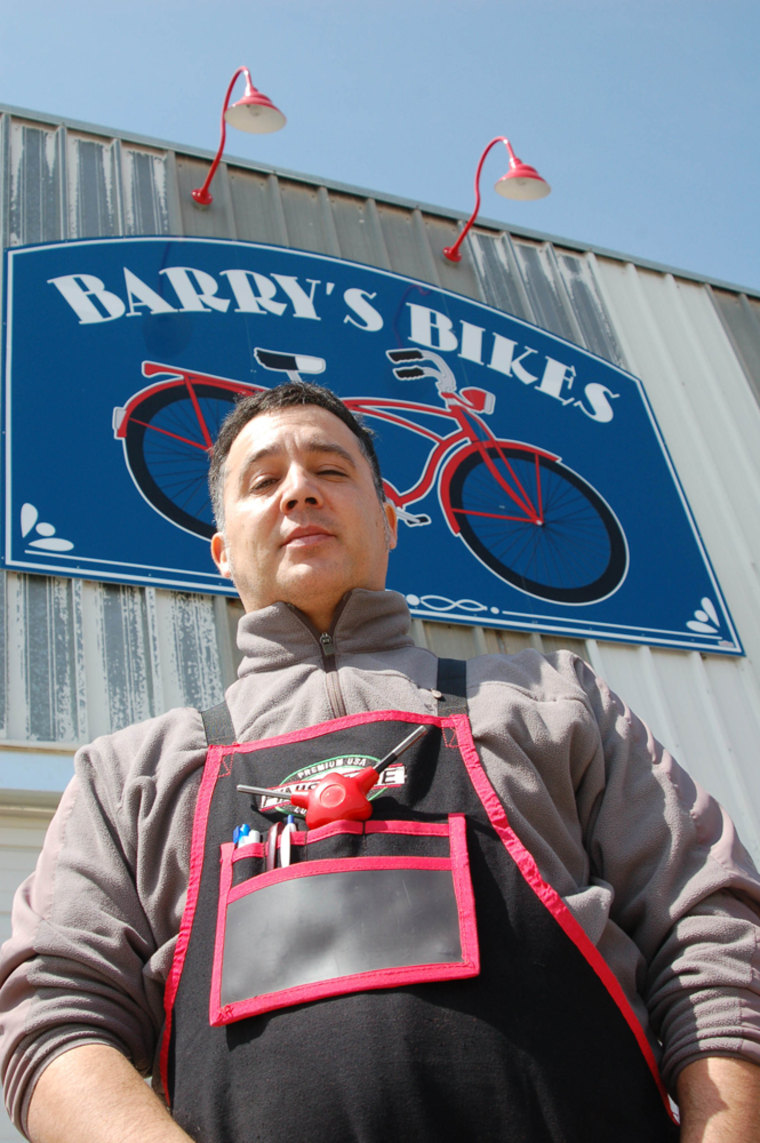 "People are riding bicycles a lot more often, and it's due to a mixture of things but escalating gas prices is one of them," said Bill Nesper, spokesman for the Washington. D.C.-based League of American Bicyclists.
"We're seeing a spike in the number of calls we're getting from people wanting tips on bicycle commuting," he said.
The League of American Bicyclists is promoting Bike-to-Work Week this week and Bike-to-Work Day on May 16. Nesper said he expects a record number of people will be pedaling this year.
There's almost nowhere for the numbers to go but up: The group says less than one-half of 1 percent of Americans ride a bike to work.
Mark Krenz, 48, is giving it a try. The Bismarck auto-parts store manager recently spent $750 on the 24-speed bike and is building up his mileage to prepare for his hilly commute.
"In this business, everybody is constantly talking about how to save gas," Krenz said. "I bought a bike because I figure it's a good way to save money, get in shape and save wear and tear on my pickup."
Rocky Schell, owner of Val's Cycle in Minot, said this may be one of the best years in the history of the shop, started by his father in 1960.
It's seeing a spike in the number of tuneups and repairs, which had been declining for the past 15 years. Schell said he's also selling lots of bike trailers designed to haul children — customers are using them for groceries instead.
A big percentage of Schell's customers haven't been on a bike in decades.
"I'm seeing more people my age or older coming in," said Schell, 51. "The college-age kids to 30-year-olds aren't the ones coming in. They still want to drive."
Dahl, the Bismarck bike shop owner, said he's worked several on "dusty and rusty" bicycles that hadn't been ridden in at least 25 years. He said many families have told him that that they intend to go on a bicycle tour this summer instead of driving somewhere for vacation.
"Millions of people have bicycles hanging in the garage and they're getting them down and riding them," said Rebecca Anderson, advocacy director for Trek Bicycle Corp. "People are looking at the bicycle as more than just a toy."
The Waterloo, Wis.-based company last year started a program called One World, Two Wheels to promote bicycles for transportation and recreation. Anderson said that about 40 percent of trips by car are 2 miles or less — "a habit for some people to get in a car and drive just a few blocks."
Clive Greenberg, a salesman at Metro Bicycles in New York City, said spin cycling classes at health clubs, where people use stationary bikes for a workout, also are spurring bicycle sales.
"It's pretty interesting, a good majority of middle-age people involved in that spinning craze at the gym used to come in and buy cycling shoes," he said. "Now they are getting on real bikes."
Engineer Dale Heinert said he's been seeing more fellow bicycle commuters on his daily trek to work in downtown Bismarck.
Heinert, 56, started cycling to work when the price of gas began skyrocketing — in 1973. But that isn't the only reason for choosing pedal power: "It's a stress-reliever," he said.
Steve Stelton, 47, of Bismarck, was inspired by Greg LeMond's 1986 Tour de France victory and has been commuting year-round ever since. He said he's physically fit because of it and has saved "a ton of money on gas."
Stelton, a printer, doesn't let North Dakota's cold, windy weather slow him down. He said he's ridden to work on snow-covered roads when the wind chill temperature was 40-below zero.
"If you waited for a bluebird day to ride to work in North Dakota," he said, "you'd never do it."