The recent trajectory of oil prices — a fairly steady increase followed by a much more vertical rise — has a familiar look to it. Remember those charts of tech stocks and housing prices? It's hard not to wonder: Are oil prices forming the next big "bubble?"
Those who see a bubble forming say you need look no further than the recent run-up in the cost of a barrel of crude to the current level of about $124.
"We were only trading at $86 about three months ago and not a whole lot has changed to move us to where we are now," said Addison Armstrong, Director of Market Research for Tradition Energy. "There's no doubt in my mind — and most other people I speak to — we are in a bubble. And it's going to deflate at some point."  
Many making the "oil bubble" argument cite the shape of a chart to make their case. For one thing, there's no shortage of oil; inventories rose a bit this week and remain at just about the middle of the five-year average range for this time of year. Now that the Federal Reserve has signaled it may soon end its yearlong rate-cutting spree, the dollar — whose fall had been a big factor in the run-up of crude prices — is showing signs of strength. And a sluggish U.S. economy and high gasoline prices have begun to make a dent in demand.
Overheated speculation, the most common cause of any investment bubble, has taken hold in oil trading pits, according to bubble theorists. Fearful that a cutoff in supplies could send prices skyrocketing, oil traders and their customers (hedge funds and industrial oil consumers) are willing to pay high prices to lock in supply at a predictable price. As long as those traders and industrial users think supplies are at risk, that "premium" is likely to remain.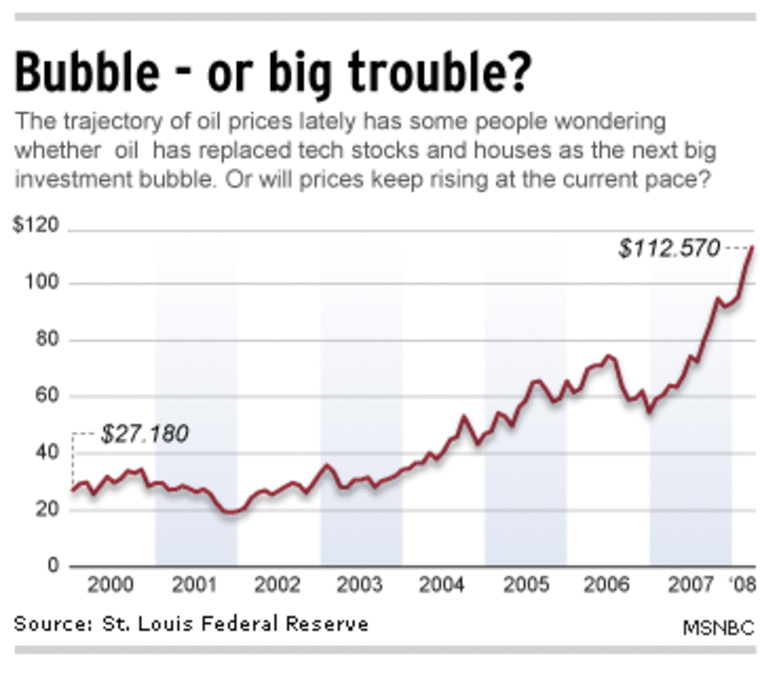 The fears of a supply cutoff aren't without merit. There is so little excess production capacity today that the loss of a major supplier could create a shortage of oil. That has led to worries that oil prices could jump even further. Last week, a Goldman Sachs analyst created a stir by advising clients that oil prices could reach $150 to $200 a barrel over the next six months to two years, though he said the outlook "remains a major uncertainty."  (His official forecast: oil will sell for $108 at the end of this year and gradually rise to $120 in 2010.)
Many analysts see prices moving the other way. According to the consensus forecast tracked by Thomson Reuters, oil prices are expected to end this year around $91 a barrel, falling to $90 by the end of next year and $82 by the end of 2010.
Bubble proponents argue that if demand for oil continues to ease and supplies hold up, the speculative fever driving up prices could quickly evaporate, and prices could fall sharply.
It wouldn't be the first time prices have crashed. In 1986, oil prices began the year at $26 a barrel. By March, crude was selling for $10.25. In 1997, prices peaked in October at nearly $23 a barrel only to fall below $11 a little more than a year later.
But the forces that caused those oil "crashes" aren't evident today. The 1986 slide was the result of heavy overproduction by OPEC, when Saudi Arabia opened the spigots after fellow cartel members cheated on their quotas. The 1998 pullback also resulted from a huge oversupply after the Asian economy unexpectedly slowed sharply as a currency crisis swept through the region.
Today, the world's oil producers have little extra capacity, and the Asian economy is booming. Bubble skeptics say that while oil prices may be due for a pullback, the longer-term trend is clearly higher.
"When I hear bubble, I'm thinking of a technology bubble where we spike up and we just never come back to it again," said Chris Jarvis, an energy analyst at Caprock Risk Management. "I don't think that's the case. I think if anything you're talking about more of a short-term pullback. What is short term? I don't know, nine months to a year. But the trend higher is still  intact. I would definitely not call it bubble."
The reason for that kind of thinking is that the world's "cheap" oil has been found and exploited. Even if producers continue to find new sources to keep up with growing demand, they're going to have to drill deeper in more remote parts of the world. And the same inflationary pressure on oil prices is being felt on the increasingly tight resources needed to find and produce new oil — from drilling rigs to skilled workers.
"It's now twice as expensive to start a new oil field as it was three years ago," said Cambridge Energy Research Associates Chairman Daniel Yergin. "All of these commodity prices are interacting with each other."
It's also less likely OPEC will slip up again and glut the world's markets. Some members, including Venezuela and Nigeria, are having trouble producing at capacity. Political instability in big producers like Iraq pose an ongoing threat to supplies. Even Saudi Arabia has far less excess capacity than it did in the 1980s and 1990s. That makes it much easier for OPEC to keep prices high.
"OPEC is now up to a level that they're willing, frankly, to defend oil  prices at," said Diane Swonk, chief economist for Mesirow Financial. "A long time ago they were defending $25 per barrel. Now they're willing to defend over $80 a barrel."
Since strong demand for oil has been a key factor in the run-up, a slowing economy should help reduce demand. But while the U.S. economy has slowed — and may have even slipped into recession — the rest of the global economy is still growing, especially in developing countries like India and China.
The growth of those developing economies also has sparked a longer-term trend of increasing wealth, which in turn increases demand for oil. As consumers buy more cars, for example, the overall base demand for gasoline rises — even if those economies slow down.
"In emerging markets, we're seeing a rise in real wages," said John Brady, who follows the oil market at MF Global.  "In China alone, in 2007's first-quarter auto sales were up on a year-over-year basis 27 percent. And there's little reason to see a trend like that come to an end, especially because China subsidizes the price of gasoline."
China isn't the only one. In Venezuela drivers can fill up for 19 cents a gallon, while in Iran drivers pay just 38 cents. Libya, Kuwait, Egypt, India, Nigeria, Malaysia, Indonesia and Iraq also subsidize gasoline to keep pump prices lower than the actual cost.
In those countries, higher gas prices have not discouraged consumption the way they have in Europe, Japan and, more recently, the United States, where consumption is declining slightly.
Longer term, the higher price of gasoline should encourage U.S. consumers to squeeze more miles out of each gallon. Despite big gains in efficiency after the surge in oil prices in the mid-1970s, the average fuel economy of cars and light trucks sold in the U.S. has remained pretty much flat since 1985. But overall mileage has fallen, as the share of lower-mileage light trucks and SUVs has risen from about 20 percent of the total fleet in 1980 to about half of all vehicles on the road today.
As suburbs have expanded, Americans are driving further to work, according to Federal Highway Administration surveys. In 1983, the average commute by car was 8.5 miles; by 2001 that had risen to 12.2 miles.
The good news is that those same surveys found that there's room for some conservation if gasoline prices do go through the roof. About a third of the vehicle-miles traveled in 2001 were work related: the rest were for family and personal business (35.4 percent) and social and recreation (24.4 percent).