Even the ancient Greeks knew that the world is round — but they probably couldn't have imagined just how hard it is to get to some of its most remote spots. Despite modern transportation methods, it still takes days — sometimes weeks — to get to certain destinations around the world.
And some people make it a part of their life's work to reach as many out-there destinations as possible.
Take, for example, 59-year-old Ronn Bailey, chief executive of security software company Vanguard Integrity Professionals. Bailey, an off-road racer, has traveled for rallies everywhere from the deserts of Tunisia in North Africa to eastern Russia's wilderness.
"There's a sense of adventure attached to the experience," says Bailey. "You're constantly thinking about survival."
Travel boom among boomers
Rally racing might be a bit excessive for some, but Bailey is not alone in his desire to explore relatively unchartered waters. There's such an appetite for out-there adventures — among Baby Boomers, in particular — that Oak Brook, Ill.-based luxury tour operator Abercrombie & Kent designed an entire program dedicated to extreme adventures, taking participants to the so-called ends of the earth.
"A large segment of the Baby Boomer population has a good amount of extra income, but they don't just want to take an ordinary vacation," says Peter Boese, who heads up Abercrombie & Kent's Extreme Adventures program, which launched in March 2008. "They're looking for something more — a unique, life-impact moment. These trips have been designed to afford them a challenge."
And some of these adventures will cost you, in large part because of insurance. On each of Abercrombie & Kent's 15 different trips, participants are insured up to $300,000 in case of a medical evacuation. (Fortunately, there have been no instances of evacuation in the program's short lifespan.)
The more expensive, dangerous and difficult-to-reach spots tour operators can take you include Essakane, Mali, which costs upward of $3,000; Spitsbergen in the Arctic Ocean, which runs $14,000; Russia's Sakhalin Island for $3,000; The Patagonia Wilderness for $11,000; and even the summit of Mt. Everest, which tends to cost about $25,000. And yet another summit, Mt. Kilimanjaro, rings in at a little over $5,000.
In Abercrombie & Kent's Conquering the Final Degree expedition, participants are taken all the way to the South Pole. For $42,000, amateur explorers are guided by an expert, beginning in Punta Arenas, Chile. The group flies to Patriot Hills, Antarctica, spending two days adjusting to the climate — which can reach 20 degrees Fahrenheit — and learning how to survive the icy, treacherous landscape. Then it's on to the Thiel Mountains to refuel, with a final flight to 89 degrees latitude, where participants begin a 69-mile trek to the South Pole on cross-country skis. Altogether, the trip takes about 18 days.
Warmer, but not easier to get to
For those who prefer a tough trek to warmer, dustier climes, there's Essakane, 40 miles north of Timbuktu in the West African country of Mali. Many Tuareg nomads travel as far as 3,000 miles by camel for the Festival au Desert each January. The festival, which attracted 800 Westerners and 6,000 nomads in January 2008, features traditional nomadic song, dance, poetry, ritual sword fighting and games.
If you prefer not to travel by camel, the best way to get there is to purchase a package through the festival itself, which runs about $1,000, not including airfare. After arriving in Mopti, Mali, which requires at least one layover in either Paris or Marseilles from the United States, guests take a boat up the Niger River to Timbuktu. The group camps for one evening in the city and then is escorted in an off-road vehicle, up and down sand dunes, to Essakane.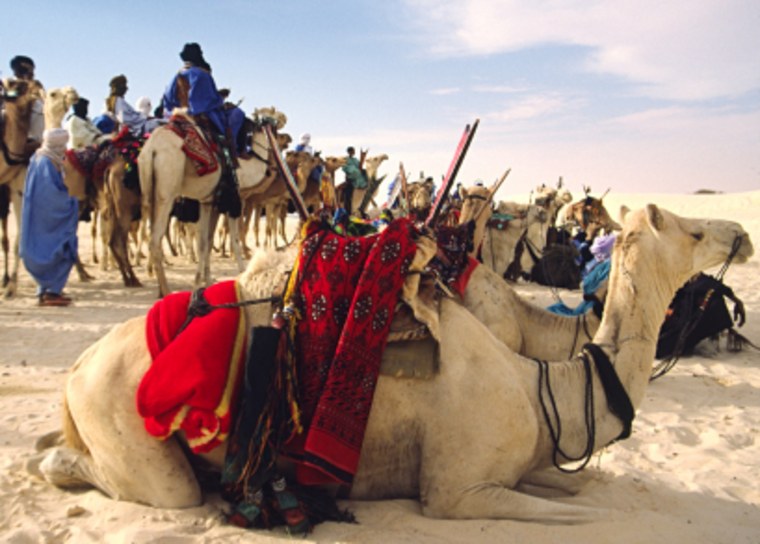 And if the African desert isn't desolate enough, there's always East Russia — Sakhalin Island, in particular. Originally a home for Russian convicts at the beginning of the 20th century, the far-off island has drawn investors with its abundant oil reserves, and subsequently, tourists (foreigners were not even allowed on the island before 1990). To get there, you must fly from Hakodate, Japan, or Moscow, or take a ferry from Wakkanai, on the northern tip of Japan. Once you arrive, snowboarding, fishing and dirt-bike racing are the most popular activities. Flights to Sakhalin run about $3,000. Upper-end hotels ring in at $300 per night, which is a deal compared to similar spots in Moscow, where the most basic room at the Ritz-Carlton is $1,094 per night.
Despite the appeal of the more accessible and luxurious, it's the far-off spots that pique our curiosity. Says adventurer Bob Kull, author of the upcoming "Solitude: Finding Wisdom in Extremes", who has traveled everywhere from Southern Chile to British Columbia, "It's great just being out on the risky edge of things."