/ Source: The Associated Press
Construction of new homes posted the biggest increase in more than two years in April. While it was a rare spot of good news for the housing market, analysts said it's far too soon to declare an end to the prolonged slump.
The Commerce Department reported Friday that housing construction rose by 8.2 percent in April to a seasonally adjusted annual rate of 1.03 million units. Building of single-family homes continued to weaken, however. The growth came from a big jump in apartment construction.
Analysts predicted the surprising rebound in April would be temporary given the headwinds builders are still confronting, from slumping sales to soaring home foreclosures.
"It is definitely too early to uncork the champagne on the long and winding road to more-healthy housing-market conditions," said Brian Bethune, an economist at Global Insight. He said he did not expect housing activity to stabilize until the end of this year.
The prolonged slump in housing has been a major drag on the overall economy, raising worries that the country is in danger of falling into a recession. A second report Friday showed that consumer confidence as measured by the University of Michigan/Reuters survey fell to a 28-year low of 59.5 in early May, down from 62.6 in April. The drop was blamed in part on rising concerns about higher gas and food prices.
The strength in housing construction in April came entirely from a huge increase in apartment construction, which can be extremely volatile from month to month. Building of apartments, defined as two or more units, jumped by 36 percent to a seasonally adjusted annual rate of 340,000 units.
The larger single-family sector dropped by 1.7 percent to an annual rate of 692,000 units. It was the 12th consecutive monthly decline and pushed single-family building activity to its lowest point in 17 years, since a severe housing slump in the early 1990s.
Applications for building permits, considered a good sign of future activity, also recorded an increase in April, rising by 4.9 percent to 978,000 units. It was the first gain in permits in five months.
But economists believe housing construction will remain under pressure until builders have more success in reducing a huge backlog of unsold homes.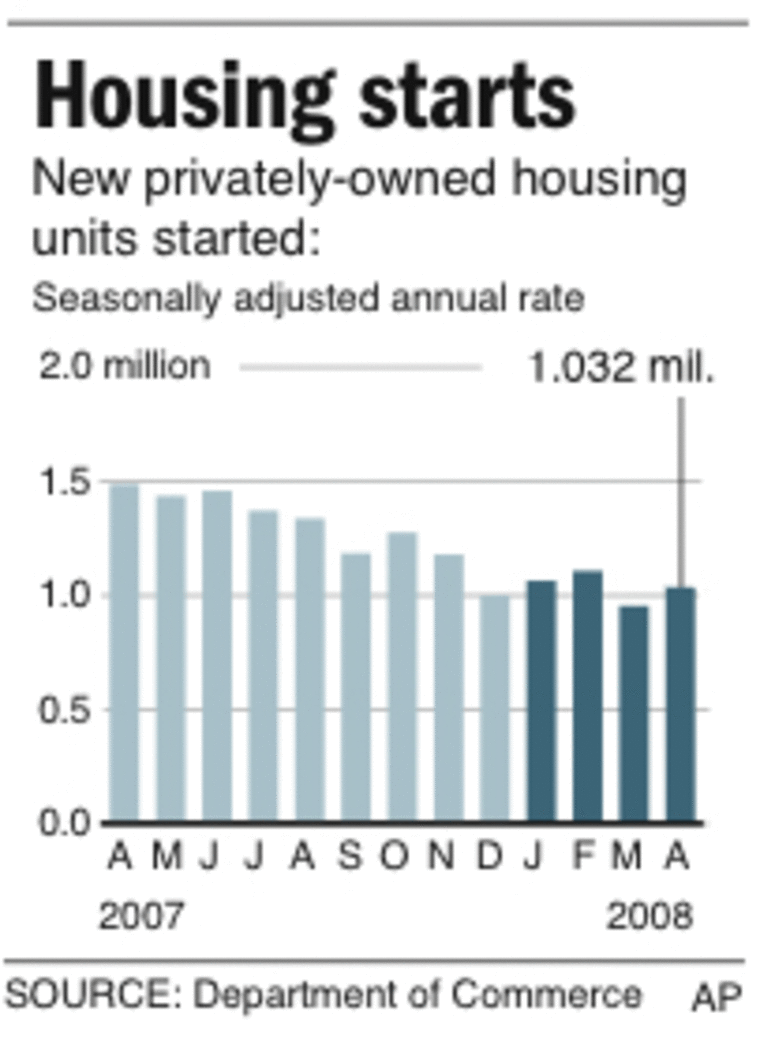 That effort is being made more difficult by a record wave of foreclosures as millions of borrowers lose their homes because they cannot keep up with escalating payments, particularly on subprime mortgages, loans extended to people with weak credit histories.
By region of the country, construction posted the largest gain in the Midwest, an increase of 24.4 percent when compared to March. Construction rose 18.5 percent in the West and was up 3.6 percent in the South. However, construction fell by 12.7 percent in the Northeast.
Even with the improvement, housing construction nationwide was 30.6 percent below the level of activity a year ago.
The National Association of Home Builders reported Thursday that its monthly survey of builder sentiment edged down in May to a reading of 19, just above the all-time low of 18 set in December. The survey had held steady at the low level of 20 from February through April.
David Seiders, the group's chief economist, said that conditions in the industry have continued to deteriorate.