/ Source: The Associated Press
What drought? Georgia's governor has given the go-ahead to fill up outdoor swimming pools. The five-ring fountain at Atlanta's Centennial Olympic Park is dancing once more. And some communities may soon allow homeowners to run lawn sprinklers again.
Weeks of rain have eased the drought that has gripped the Southeast for the past two years. But government forecasters warn that the crisis is far from over and could soon grow worse. And some worry that the spring rains have lured politicians into a false sense of security.
"We hope it turns around, but to assume it will turn around is dangerous. It takes time to recover, and with summer upon us, it's important for us to not move too quickly," said Mark Svoboda, a climatologist with the National Drought Mitigation Center. "We're still behind the eight-ball and we're going into high-demand season."
Most of the Southeast has gotten 10 to 20 inches of rain over the past three months. Some 8 percent of the region is now in "extreme" drought, and none of the region is in "exceptional" drought, the worst category. That is a welcome change from October, when 45 percent of the Southeast was locked in one of those two conditions.
Key lake still below normal
But most of the Atlanta metropolitan area of 5 million people is still in extreme drought, and the rain has not done much to recharge its chief source of water, Lake Lanier, because its watershed — the area that drains into the lake — is relatively meager.
Lake Lanier is still some 13.2 feet below normal — only a few inches from the lowest level on record for this time of year.
Forecasters say it will take monumental storms to bust the drought.
Despite the warnings, Gov. Sonny Perdue relaxed water restrictions in February to allow outdoor swimming pools to be filled. He also allowed the hand-watering of plants for 25 minutes every other day for three days a week.
In addition, state officials rescinded an order that utilities in northern Georgia reduce water use by 10 percent. And they agreed to allow some counties that do not rely on Lake Lanier to obtain exemptions from the outdoor watering restrictions.
"We are better prepared this year," explained Carol Couch, director of Georgia's environmental protection division. Georgians have become more conservation-minded, and communities know what to do if they have to start saving water again, Couch said.
Some suggest politics has prevailed over science.
"Nobody wants to be accused of implementing draconian conservative measures that would hurt businesses and close swimming pools," said Joe Cook of the Coosa River Basin Initiative, an environmental group.
As recently as November, state officials warned that Lake Lanier had less than 80 days of readily usable water left. Now the Army Corps of Engineers says there is easily more than 1,000 days remaining.
But that is mostly because the Corps is keeping more water in Georgia instead of letting it flow downstream to Alabama and Florida. And that policy is set to expire at the end of the month.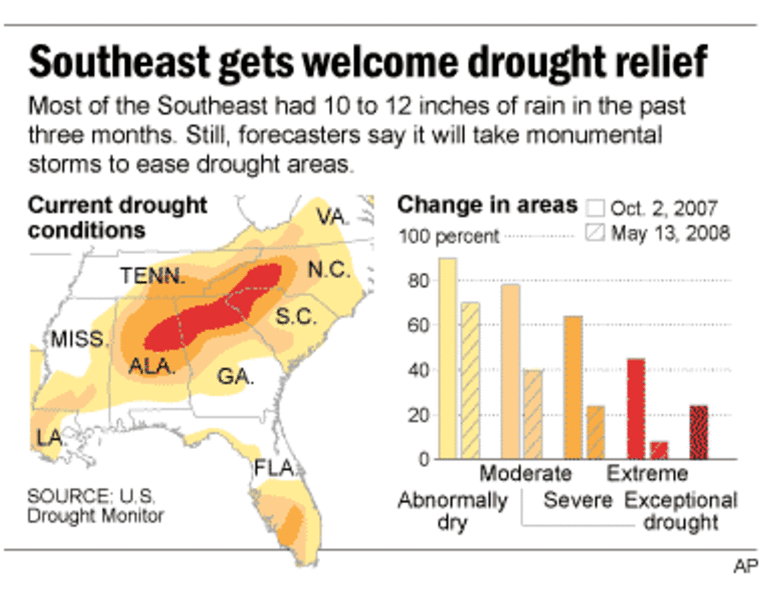 Other states see relief, too
The rain clearly has brought relief to other parts of the drought-stricken region, which includes most of Tennessee, Alabama, North and South Carolina, as well as parts of Kentucky and Virginia.
Officials in Alexander City, Ala., rejoiced when recent rains helped fill Lake Martin. It meant they no longer had to rely on an expensive pumping system to draw their water.
"Lord, lord, we've had lots of rain — thank goodness — and we're OK," said Alexander City administrative assistant Laura Oliver. "We are excited and everything's back to normal."
It's also given farmers a reprieve from wilting crops.
Stuart Sanderson, a northern Alabama farmer who raises wheat, cotton and soybeans, said he is worried about in June and July, when his crops will need the rain the most.
"It's just like feeding a baby: A little bit goes a long way. But once the baby gets a little older, you're going to need more," he said.
In North Carolina, which lost an estimated $500 million in crops to the dry spell last year, rains have pulled the eastern half of the state out of drought conditions. But not the western part of the state.
"We're definitely in a better situation than we were a couple months ago, but we still got the summer ahead of us," said Tony Young, a water control manager with the Army Corps of Engineers.