/ Source: The Associated Press
When Martin Barbre got his first look three years ago at a system that would drive his tractor for him, he didn't buy the device — or the premise that it would cut costs on his farm.
"When they first came out with them and we first looked at it, it seemed like a fancy gadget," said Barbre, a 53-year-old who grows corn and soybeans in southern Illinois.
But with the cost of fuel, seeds, fertilizer and just about everything else it takes to grow his crops rising fast, Barbre quickly came around after he started using the global positioning system to drive his tractor a year and a half ago. "As soon as we used it, we realized the benefits," he said.
American grain farmers are enjoying the highest crop prices of their lives, but they don't expect that to last forever. As a hedge against the inevitable downturn, owners of mid-size farms like Barbre's — and even some smaller-scale farmers — are investing that cash in technology that's increasingly integrated.
"These new economics have changed the whole landscape," said Dan Davidson, an agronomist with agricultural-data company DTN in Omaha, Neb. "They've got the money to spend; they're going to update. They know the (profit) margins we have today are not going to be around forever."
Large-scale farmers have used GPS-based automated steering for tractors, sensors that probe soil for nutrients and moisture and other gadgets since the late 1990s to cut their expenses and increase their production. It wasn't until the past five years or so, however, that the savings owners of smaller and mid-size farms could realize from using high-end technology would significantly offset their rising costs, said Davidson.
Sure, there were environmental benefits: spraying less fertilizer and fewer herbicides; not overwatering; cutting fuel costs and reducing soil compaction. And farmers could take the data that high-tech gear gathered in the field, download it to their computers and use it in planning.
But now fertilizer used by corn and soybean farms costs almost double what it did two years ago, while seeds and fuel cost almost 50 percent more, according to the U.S. Department of Agriculture.
'That adds up'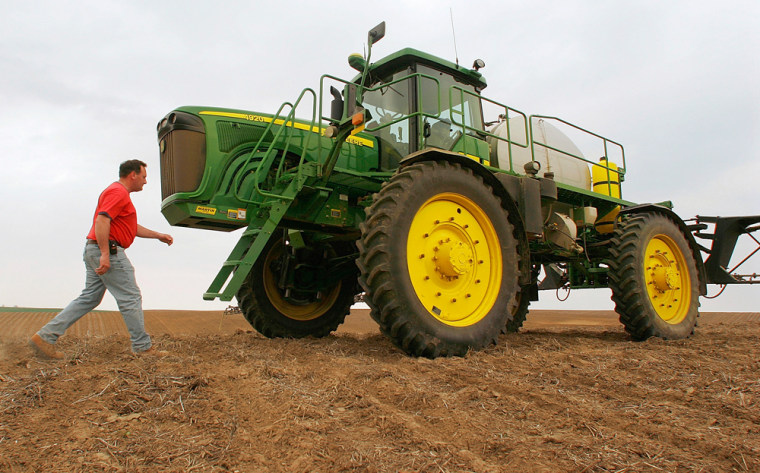 Meanwhile, the cost of auto-steering systems — among the most popular high-tech products — has remained relatively flat the past few years, and in some cases it has fallen. Systems that now typically cost from a few thousand dollars to $25,000 used to run as high as $40,000.
Look no further than Barbre's farm, he said, for examples of technology's payoff in the current farming economy — and of how important it may be if costs continue rising.
With auto-steering, a farmer manually drives the perimeter of a field to map its boundaries so the GPS gadget can then direct the tractor to carve near-perfectly straight rows. A few systems will even turn the tractor around at the end of each row. By cutting down on overlap, the system saves fuel, and it means the same ground won't be planted twice or sprayed unnecessarily with fertilizer or pesticides.
Barbre estimates that using auto-steering on his 4,000 acres — split about evenly between soybeans and corn — has cut his fuel costs up to 5 percent.
"That's maybe 30, 50 cents an acre," he said. "Over 4,000 acres, that adds up."
Like buying exercise equipment
Yield mapping — tracking how much corn or soybeans parts of his fields produce, which he's used for more than 10 years — brings him an extra $30 or $35 on every acre of corn. He figures he's spent about $14,000 on it over the years, buying and upgrading his hardware and software, for a net benefit of $60,000 to $70,000 or more per year on 2,000 acres of corn.
But technology has limits for Barbre. Some of his fields are cut into hilly terrain, while others are near-perfect squares and rectangles of flat prairie.
"This field I'm planting in right now goes all the way from flat, black ground to ridges with terraces in them," he said while taking a break from corn planting.
The auto-steering helps a lot more in fields like that and less on flat, relatively square tracts. Similarly, yield-monitoring can work wonders if you farm across different types of soil, but not so much if all your crops sprout from similar ground.
A lot also depends on how effectively a farmer uses the technology.
Iowa State University agriculture professor Matt Darr said buying and using high-tech gear is a lot like buying exercise equipment.
"Just because you have a treadmill in your basement doesn't mean you're in great shape," he said.
That's why equipment dealers are offering new services.
"They've had to hire consultants. They have to go out to the farm," said Barry Nelson, a spokesman for the agricultural equipment division at Moline, Ill.-based Deere & Co. "There are some extra expenses."
A robot that picks weeds
A 2007 survey of farm equipment dealers conducted by Purdue University and CropLife magazine found that 85 percent offered customers custom applications and someone to come out and put in-field technology to work. Only 45 percent reported making money on the services.
Companies like Deere now try to entice farmers to stick with their brand by making their various high-tech devices compatible so a farmer can get more use from data and high-tech parts, like GPS receivers.
"You can take the receiver off the tractor and plug it into the combine and, boom, you're off and running," said Nelson.
Just over the horizon, even more technology is coming to the farm.
Researchers at the University of Illinois are working on a small robot that can identify individual weeds in a field and spray them with herbicide so farmers don't have to spray an entire field as they commonly do now. The robot will move perhaps 2 mph picking out weeds by color, location and other characteristics, engineer Lei Tina said.
"Actually we have a prototype," he said. "We can identify the individual plant pretty well."
The technology is years from commercial viability, however.
Then again, Davidson said, what's expensive and far-fetched today may quickly become cost-effective if fuel and fertilizer costs don't drop back.
"All of these things are so tied to energy," he said. "I don't expect them to come back down."