Hybrid vehicles are hotter than ever thanks to astronomical gas prices, energy-saving bulbs are included in regular supply runs to Target or Ikea and being environmentally conscious is no longer the domain of extreme tree huggers and hippies — it's the norm.
Josh Dorfman, creator and host of satellite radio's "The Lazy Environmentalist," has his own ideas about what is driving the trend toward green living.
It's "a nasty cocktail of high energy prices, water shortages, and maxed-out credit cards, mixed with some good old-fashioned climate change," said Dorfman, who is also the founder and CEO of Vivavi, a company that makes sustainable furniture.
"Consumers are looking for products that help them save money. Lots of new product innovation is focusing on energy efficiency, which is a great strategy for saving cash while reducing greenhouse gas emissions."
Larry Groff, a Boston-based medical animator and fine art painter, often hears of interesting and eco-friendly finds through his blog, GreatGreenGadgets.
For him, environmentalism is a philosophy he lives by rather than making it his bread and butter.
"Many people feel powerless to change the big stuff that will slow global warming, the things only governments and industry can do like regulate the auto industry to be more fuel efficient," he said.
"They want to be able to do something right now to address the problems of global warming, reliance on fossil fuels, how massive overconsumption and overpopulation are ruining the environment and all the many other environmental problems we face. They may not be able to stop coal plants from belching carbon, but they can buy energy-efficient light bulbs."
Michael Graham Richard, who writes for TreeHugger.com and PlanetGreen.com, also thinks consumers are more interested in buying eco-friendly products more than ever.
"People now have more information than before," he said. "Being green is a mindset. It is noticing the impact of things on the environment. People who just switched to that mindset might start with small steps like buying a green gadget. But there's a good chance that they won't stop there, and the next step might be a more efficient car, a better-insulated house, switching to a green electricity source, etc. Green gadgets on their own are not enough, but they are a sign that people are more aware, and that's good."
If you are starting with gadgets, Dorfman, who is also the author of "The Lazy Environmentalist: Your Guide To Easy, Stylish, Green Living," says these are his top five green ones:
Cyber-Rain automated sprinkler system ($349) connects with weather satellites via the Internet to water only when the weather is dry. It's a smart idea that takes your brain and judgment out of the equation, especially if you don't live in a place where rain is the norm.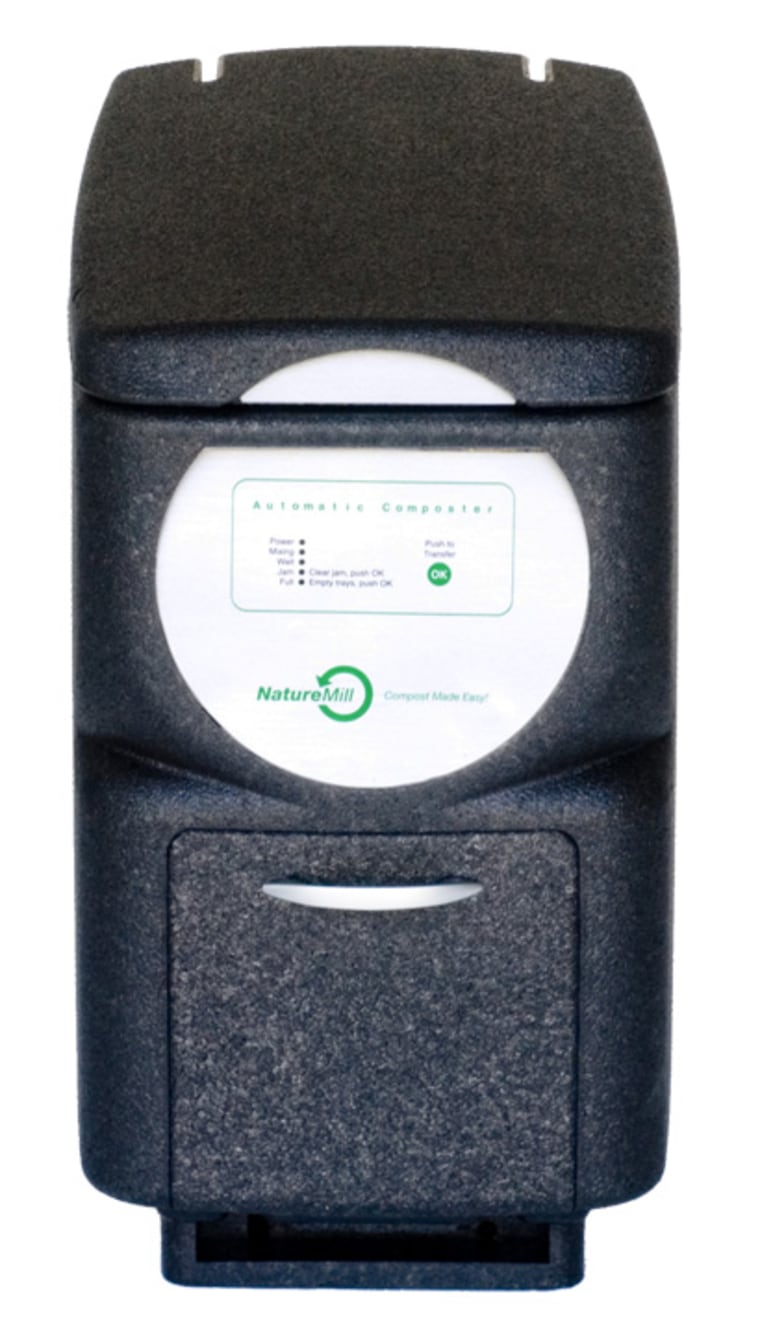 WattStopper Isolé power strip ($90) is not just any power strip or surge protector. It has a motion sensor that automatically shuts devices off when rooms are empty. Never feel guilty about the stand-by power suckage again.
Remington Cordless PowerMower ($400). If you have a bigger yard than I do, you might not relish the idea of pushing a manual mower and getting the half-hour to hour workout I do. Dorfman said gas-powered mowers are responsible for 5 percent of all air pollution in the United States. The Remington mower, he said, is "powerful, affordably priced," and runs on a rechargeable battery.
NatureMill Automatic Composter ($300). Doing good can sometimes be messy, but Dorfman said this device "does the composting without any worms or stinky smell." The NatureMill Plus model can take up to 120 pounds of food waste and the compost is ready every two weeks. Never throw another egg shell or banana peel in the garbage again.
Ecopod home recycling center (approximately $325) to consolidate recyclables. But the site's online store was not in operation when I checked recently.
Groff, through his blog, has come across products like Forever Flashlights, which don't need batteries, solar-powered "candles" that make great outdoor lighting, and energy-saving appliances, although not to the extent of Dorfman's The Lazy Environmentalist or TreeHugger.com.
"Many people also increasingly want to have their lifestyle identify with being positive," Groff said. "They want to show other people they are serious about caring about the environment by having as many aspects of their life that they have control over be as green as possible."
This fits in with my own need to do good and minimize my carbon footprint, one step at a time. I really need to start leaving my car at home, perhaps joining my colleagues in biking to work; I could also try having fewer gadgets. But I know it's a process, and seeing the wealth of products out there makes me feel like I'm on the right track.
"People are willing to change their products to the degree that they believe it's in their enlightened self-interested to do so," Dorfman said.
"Today choosing green products can help us save money and time, live healthier and look stylish. Many green products are smarter choices than the conventional ones. The more this trend gathers momentum, the more positive environmental change I think we can expect to see."