/ Source: msnbc.com contributor
Offering a library of original, downloadable games on the cheap is one of this console generation's biggest definers, and this month Nintendo joined Microsoft and Sony by finally debuting its own service: WiiWare.
The WiiWare lineup thus far shows that the Wii Remote is a gateway to unique games that simply would not work as well on the machines of Nintendo's rivals, but the service itself underlines one of the Wii's most serious shortcomings — an unfortunate lack of storage space that will quickly frustrate enthusiasts of WiiWare.
The initial salvo of WiiWare titles includes simple card games and puzzlers, as well as beefier games such as "LostWinds" and "Star Soldier D." Games are priced between $5 and $10, comparable to the cost of games in Nintendo's Virtual Console service, a destination for yesteryear titles from classic game systems. And just like the Virtual Console games, the quality of WiiWare games thus far is distinctly hit-and-miss.
The hits:
"LostWinds": This $10 adventure game is actually better than many full-priced games you'll find at retail for the Wii. "LostWinds" is a classic-style 2-D game, not entirely unlike the old "Mario" games for the NES. While moving your hero with the nunchuk attachment, you use the Wii Remote to create wind currents to invoke special jumps as well as attack enemies. It's an exceedingly pretty game, with nice art direction and colorful visuals. The music is even stronger — it's the kind of stuff you wish you had on your iPod. "LostWinds" is only a three-hour game, though, but the price-to-play ratio equals about $3 an hour, and that's a good value.
"Defend Your Castle": The quirky "Defend Your Castle" is an extremely simple game — but that's its greatest strength. This $5 download tasks you with protecting your onscreen castle from hordes of incoming villagers. Your initial defense is the Wii Remote, which lets you point at attackers and fling them into the skies. Over time, a little strategy comes into play as you fortify your castle with defensive measure such as archers or converting attackers into defenders via a paint bucket. This is the kind of game you can jam on for just a few minutes, perfect for a casual gamer that cannot roadblock entire afternoons for gaming.
"Critter Round-Up": Priced at $10, Konami's "Critter Round-Up" almost didn't make the cut, but the game's double-barrel cuteness and simple gameplay is just too winning. You must lay fencing across fields of animals to separate the carnivores from the herbivores. If the packs are not split apart in a relative hurry, appetites are satisfied. The game will remind old-school gamers of the classic arcade game "Qix," while younger gamers will just enjoy saving adorable little pigs from equally adorable bears. Sometimes simple pleasures are the best pleasures.
The misses: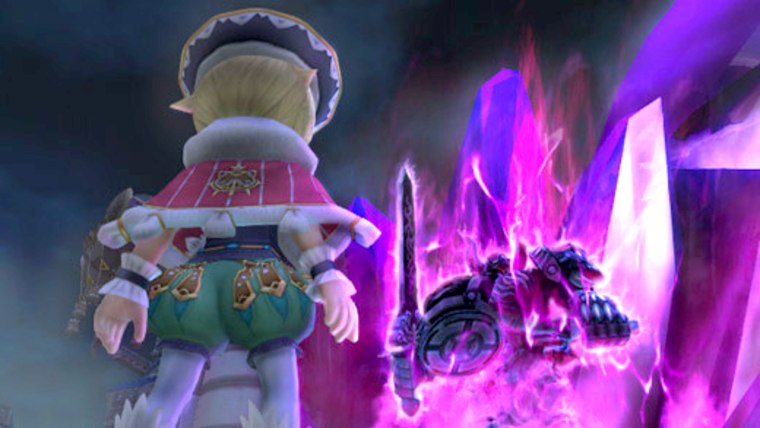 "Final Fantasy: Crystal Chronicles: My Life As a King": Square Enix's "Final Fantasy" franchise is one of the marquee names in video games, and its appearance on WiiWare lends the service immediate gravitas. But it is underserved. "My Life as a King" is not a swashbuckling role-playing game, it's a sim game — and a plodding one, too. As king, you remain on your throne build up a kingdom while sending subjects on the kinds of errands you would rather play instead. The game does look great, though, and the soundtrack is quite good. But at $15, this slow-moving sim is just not a worthy value for even the most devoted "Final Fantasy" fanatic.
"Pop": "Critter Round-Up" is lauded for being delightfully simple, but this trifle from developer Nnooo is entirely too undemanding for it's own good — especially for $7. The entire crux of the game is to point at onscreen bubbles and pop them. That's it. Some bubbles give you benefits, like extra points, but this casual game is as flimsy as a soap bubble and just as easy to flick away.
"VIP Casino: Blackjack": Another cheap game that's still too expensive at $7, High Voltage's no-frills blackjack game is just way too shallow. The title offers boring visuals that never change, repetitive voice samples and no way to compete online. That really takes the "I" out of "VIP." Pass on this one.
In that middle ground between success and failures exists other games such as the trivia-fest "TV Show King" and the space shooter "Star Solder D," which are good downloads for gamers that happen to enjoy those genres.
But what all of these games expose is that the Wii itself is ill-equipped to handle the WiiWare service itself. The big issue here is storage. The Wii ships with only 512MB of internal memory and that fills up fast, especially if you're hooked to the Virtual Console or play games with space-hogging save files like "Super Smash Bros. Brawl." You will waste time juggling games, deleting them to make room for new ones (you can always re-download purchased games again).
If Nintendo wants the WiiWare service to flourish, it needs to come up with a proper storage solution. All PlayStation 3s and the majority of Xbox 360s have a hard drive. The Wii does use SD memory cards like a digital camera, but you cannot copy WiiWare or Virtual Console games over to those cards and the boot the game from there. A casual Wii owner is likely to be frustrated with this speed bump when they encounter it ("Why doesn't it work like my PC?"), and that's the kind of thing that could unfortunately dampen enthusiasm over a service with such strong potential.