/ Source: Forbes Traveler.com
The music reaches a crescendo, the car slices through fog and plummets down a chute, then rushes through tunnels and secret passageways straight into flames shot from the mouth of a fire-breathing dragon, and ...
Into a watery splashdown!
Though it bears all the marks of the latest Indiana Jones movie, this attraction isn't on the silver screen. Rather, it's the Dragon's Revenge, a special-effects-laden ride that opened over Memorial Day weekend at Schlitterbahn Water Park Resort in New Braunfels, Texas.
Dragon's Revenge is just the latest in the theme-driven water park experience, which attracted 12.2 million people to the 15 most highly attended U.S. water parks in 2007. Four of the 10 most well-attended water parks in the United States are in Florida, and the top three are in Orlando: Disney World Typhoon Lagoon, Disney World Blizzard Beach, and the country's first water park, Wet 'n Wild.
Why Florida?
"We really don't go to the beach unless we live very close," explains Orlando resident Brian Szaks, "and even then some don't go." As a water park devotee, Szaks visits the local venues 20 times a year and another five or six new ones on his travels. "Water parks offer something that the beach can't: thrills, drops and a guarantee that you won't get sand in uncomfortable places."
For nostalgic reasons, Szaks' favorite is Noah's Ark in Wisconsin Dells — he went to camp every summer as a young boy. "On the way, everyone always talked about The Plunge," he says, describing a face-first slide with an 85-foot drop. "Only a few were brave enough to do it. It was straight down and had places that leveled out. You got air time; and if you could do that, you were 'the man.' It was almost like a bar mitzvah."
These days, the public expects more than an 85-foot drop (and even the current high of 120 feet at Blizzard Beach). Fortunately, the water park industry seems all too happy to oblige.
"We wanted to do something out of the box," says Steve Levine, president and CEO of Splashtacular Entertainment, based in La Quinta, Calif., "to combine the thrill of a water-slide experience, which are at all parks, with a multisensory 'wow' factor."
To that end, Levine sought the expertise of Technifex — a show and special effects company in Valencia, Calif., whose clients include Disneyland, Epcot Center and Hollywood studios — to develop what he coined "hydrotainment." He debuted the result, Alien Abduction, at the World Water Park Association trade show in Palm Springs, Calif., last October.
"Alien Abduction offers a pre-show, main show and post-show," Levine says. He's in negotiations to install the ride in other parks around the world. For $12 to $15 million, the lucky parks get Splashtacular's cutting-edge animatronics, fog, wind, rain, strobe lighting, video and audio effects that change so the ride is different each time.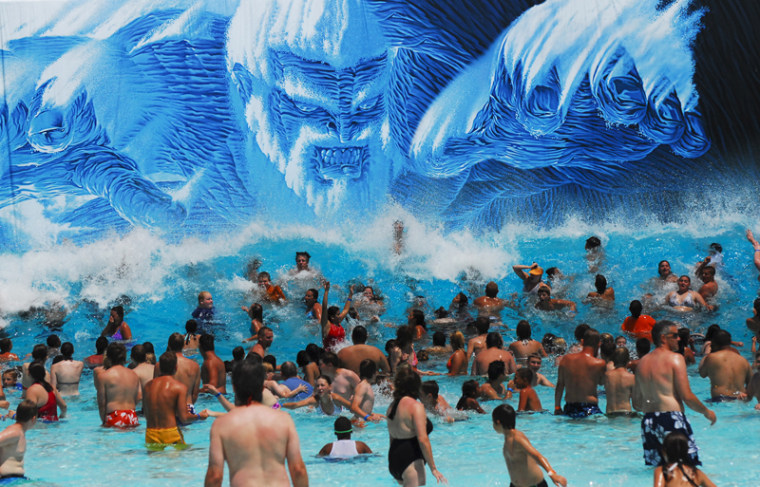 The Dragon's Revenge incorporates many of the same elements — as well as technology developed by Schlitterbahn's in-house engineering/manufacturing division, New Braunfels General Store. Previously, the General Store developed and patented Master Blaster — a water ride in which high-velocity jets of water push coaster cars uphill. The Dragon's Revenge uses Master Blaster technology (on eight uphill runs), original music, fiber optics, spin tunnels, faux fire, animation projected on a water screen, olfactory effects (the scent of burning) and even a story line.
"From the splash park to the fancy slides, it's all becoming more interactive, more energizing, more participatory," says Aleatha Ezra, director of park membership development for the World Water Park Association, based in Overland Park, Kan. And it's not necessarily just the high-thrill, single-rider attractions that are making a splash. "Family-oriented rides are a big part of new-ride development," she says.
Schlitterbahn operates three parks in Texas, and plans to open one of the world's largest tubing parks next summer in Kansas City, Kan. As part of the $750 million Vacation Village, the park will feature Schlitterbahn's innovation award-winning Transportainment — endless floating that carries guests from one ride to the next without having to "go ashore." They were first to open a "convertible water park" (Schlitterbahn Galveston Island in Texas): an indoor park with a retractable roof and walls that can be opened or closed in eight minutes. "It's amazing that people go to a water park to get wet, but they don't want to get rained on," says Jeffrey Siebert, director of corporate communications and sales.
According to Ezra, hotels with indoor water parks are the biggest trend in the water park industry, especially in the Midwest. Wisconsin Dells, Wis., has extended its Memorial-Day-to-Labor-Day tourism season by becoming the nation's water park capital with 21 parks; only three lack an indoor component.
In 2007, 33 hotels with indoor water parks (seven of them in Wisconsin Dells) opened or greatly expanded. There are now some 190 indoor water parks in the United States; 55 are opening this year, while another 33 are breaking ground.
"It's kind of a new industry," says Todd Nelson, president and owner of Kalahari Resorts, which operates the largest indoor water park under one roof in the United States (at Sandusky, Ohio), as well as Wisconsin's largest indoor water park in Wisconsin Dells. Nelson claims his newest project — Virginia's first indoor water park, scheduled to open in 2010 in Fredericksburg — will be "the best in the world."
"It's the next generation," he says. "We find that people can't stay in the water 10 hours a day, so they want to be entertained [in other ways]." To that end, Kalahari's Virginia property not only will include such water features as a Tornado Alley ride, but also a Ferris wheel, 24 bowling lanes, miniature golf, go-karts, golf simulator, dance floor and other attractions.
"Everybody's creating all the time," Nelson says. "The industry is really young."