/ Source: An msnbc.com Special Report
THEN
When a Palestinian immigrant, Sirhan Sirhan, walked up to Robert F. Kennedy early in the morning of June 5, 1968, and pumped three bullets into him, it seemed an open-and-shut case that he had committed the crime: The pantry at Los Angeles' Ambassador Hotel was full of witnesses (several of whom were wounded in the attack, while others wrestled Sirhan to the ground); his gun was easily traced by authorities; and there was a rambling document found at his home, apparently written about a month before, repeatedly outlining his desire to kill Kennedy — "R.F.K. must be assassinated," it said several times.
Conspiracy buffs, offering evidence of more shots fired than were in Sirhan's gun and other theories, continue to doubt the official version — that Sirhan, apparently angered by the 1967 Arab-Israeli war and Kennedy's support for Israel, decided to kill the burgeoning presidential candidate. They could do little, however, to refute the overwhelming evidence that Sirhan had been in the pantry that day and had fired at Kennedy, who died of his wounds just over a day later.
Sirhan, whose family had moved to the United States when he was 12 and lived in nearby Pasedena, was charged with first-degree and attempted murder. He claimed to have no memory of the shooting — in part because he had been drinking that evening — but he and his lawyers did not deny it. Instead, they entered a not-guilty plea by reason of "diminished mental capacity" that prevented him from "maturely and meaningfully" premeditating the crime as was necessary for a verdict of first-degree murder under California law. They hoped for a verdict of second-degree murder that would spare him the death penalty. They also attempted a plea deal along the same lines, but this was denied by the trial judge.
Sirhan's trial started in early January, 1969. After the nuts-and-bolts testimony of eyewitnesses, pathologists and ballistics specialists, a parade of expert witnesses testified for the defense, but to no avail, and on April 17, Sirhan was convicted of first-degree murder and sentenced to death.
NOW
Sirhan was sent to San Quentin State Prison to await appeals and his appointment with the gas chamber. Both became moot, however, when the sentence was commuted to life in prison in 1972 after the California Supreme Court invalidated all pending death sentences imposed in the state prior to that year.
RFK's assassin was then transferred to the state's Correctional Training Facility in Soledad, where he spent nearly 20 years before being moved to the California State Prison in Corcoran, near Fresno. At Corcoran, his prison mates include notorious killer Charles Manson and serial murderers Patrick Kearney and Juan Valejo Corona.
Sirhan lived in Corcoran's Protective Housing Unit until he was moved to a harsher lockdown at the same jail in 2001, following allegations that he was somehow pre-warned of 9/11. According the Pasadena Weekly, Sirhan was seen wearing a towel on his head around the time of the attacks and had also obtained a TV, having shown no interest in television previously. Sirhan's brother Munir told the paper that the towel was solely to keep him warm while the TV was an entirely a coincidental gift from a departing prisoner. He also pointed out that both he and his brother were devout Eastern Orthodox Christians (as opposed to the 9/11 terrorists, who were Muslim).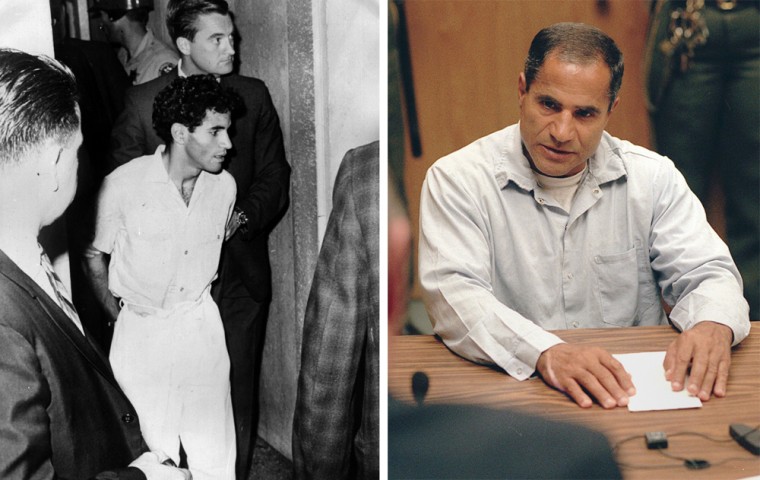 "He was thrown into solitary confinement for the next year until we were finally able to prove he was innocent of their claims and get him out," Munir Sirhan told the paper in 2006. "But now the guards have poisoned the thoughts of other prisoners against him, and they still think he is a Muslim and he's afraid they'll try to kill him.
"He's afraid to leave for anything except a shower twice a week," Munir Sirhan continued, "because he believes the guards either won't protect him or will be out for him themselves for filing complaints about this situation. He wants to transfer to another prison but they won't let him."
Sabrina Johnson, a public information officer for the prison, confirmed that Sirhan's status had changed in 2001.
"We took the September 11 issue seriously based on documentation we received and based on his safety and that of the institution," she told the paper. "He was eventually not deemed a threat, but he was disciplined for some things," Johnson said. "He's housed around other infamous inmates so we had him in solitary at the time for his safety too. But he's allowed to be out of his cell six hours a day, and if he chooses to lock himself inside instead we are not obligated to force him out."
Mostly, though, Sirhan is out of the headlines, save for the ritual of parole hearings, which are held every five years under state law.
From 1994 to 2005 he was represented by attorney Lawrence Teeter, who argued that Sirhan was in the wrong position and too far away to have fired the bullets that killed Kennedy and that, although Sirhan did fire a gun that night, he did so in a hypnotic trance, like the assassin in the fictional film "The Manchurian Candidate," induced either by the CIA or "the military industrial complex." Teeter, who died in 2005, also said the Los Angeles Police Department and others destroyed evidence that would have pointed to the real killer.
In January 2003, Teeter lost a U.S. Supreme Court appeal, with the justices refusing to consider claims that Sirhan's original defense lawyer secretly worked with the government to win his conviction.
In March 2006, Sirhan was denied parole for the 13th time.

Sirhan is "very hostile. He hates Americans. ... He continues to pose a risk to public safety," said state Board of Parole Hearings spokesman Tip Kindel at the time. According to The Associated Press, Sirhan did not attend the hearing at Corcoran State Prison or appoint a lawyer to represent him.

Sirhan also did not appear at his previous hearing in 2003. Periodic hearings are guaranteed by law and his next one is set for 2011.
_________________________________________________________
THEN
Ethel Kennedy already had endured much tragedy when her husband was mortally wounded at the Ambassador Hotel. Her parents had died in a plane crash in 1955, as did a brother, in 1966. And, of course, there was the death, also by an assassin's bullet, of her brother-in-law John F. Kennedy, in 1963. Perhaps that's why, just after the shots that killed her husband rang out, she was one of the most level-headed in the shabby pantry where her bloodied spouse lay on the floor.
"While trying to get to her husband, she heard a youth scream something about Kennedy," Time magazine reported in its issue immediately after the killing. "'Don't talk that way about the Senator!' she snapped. 'Lady,' he replied, 'I've been shot.'" And Ethel knelt to kiss the cheek of Erwin Stroll, 17, a campaign worker who had been wounded in the left shin.
"Finally she got to Bobby. She knelt over him, whispering. His lips moved. She rose and tried to wave back the crush. … Amid the swirl, the Kennedys appeared calm."
Ethel Skakel was to-the-manor-born to be a Kennedy wife. The daughter of a wealthy industrialist, she had a strict Catholic upbringing in tony Greenwich, Conn., and was a college roommate of Robert Kennedy's sister Jean. It was through this connection that she met her future husband during a skiing trip to Canada in 1945. They were married in 1950.
With the world watching and waiting, Ethel maintained a bedside vigil as her husband slowly died from his wounds.
"In the intensive-care unit after the operation," Time recounted, "Kennedy was never left alone with the hospital staff. Ethel rested on a cot beside him, held his unfeeling hand, whispered into his now-deaf ear. His sisters, Jean Smith and Pat Lawford, hovered nearby."
But all knew it was hopeless, and at 1:44 a.m. on June 6, Robert Kennedy died. Ethel, accompanied by members of the Kennedy family and two other recent political widows, Jackie Kennedy and Coretta Scott King, flew to New York City with the slain leader's body. It was then her task to rally the older of her 10 children (she was pregnant with her eleventh) to take part in the funeral service at St. Patrick's Cathedral on Fifth Avenue.
"Ethel … displayed yet again the steely grace that seems to sustain all women born to or married to Kennedys," Time reported.
NOW
Almost exactly six months later, Ethel Kennedy gave birth to the couple's 11th child, Rory Elizabeth Katherine.
With the wild late '60s and early '70s swirling around her, she tackled the task of continuing to raise her large brood.
It wasn't an easy job – and it was one she chose to pursue on her own. Despite gossip, mostly in the '70s, about possible romances – the names included Frank Gifford, Andy Williams and New York governor Hugh Carey – Ethel Kennedy did not marry again. Some speculated it was because of her deep Catholic faith; others, that no man could compete with the Kennedy legend and the memory of her husband.
"The whole Skakel family hoped she'd find someone and get married," brother-in-law George Terrien is quoted in "The Other Mrs. Kennedy," a 1994 biography by Jerry Oppenheimer. "But down deep we knew she never would. The Kennedy name meant too much to her."
And so she returned to Hickory Hill, the legendary mansion in Mclean, Va., that she and her husband had bought in the 1950s. With 11 children, and full of the freewheeling Kennedy spirit, it was a lively home.
It was also one visited by intense tragedy. First, in 1984, there came the news that the Kennedys' troubled fourth child, David, had died of a drug overdose in a Florida motel. Then, in 1997, after a scandal over an affair with a young babysitter, the family faced the death of fourth son Michael Kennedy, when he was killed in a New Year's Eve skiing accident in Aspen., Colo. There was also the murder trial of her nephew Michael Skakel, who was convicted in 2002 of murdering a teen girl in 1975.
Ethel Kennedy, though, carried on, throwing her energies into her remaining children and grandchildren as well as a busy schedule of public events, many of them connected with the Robert F. Kennedy Memorial Foundation, which she helped form soon after her husband's death and of which she is a board member.
Gradually, as her children moved into adulthood and followed their own lives, Hickory Hill grew emptier, and in 2003 it was reported that she was selling the antebellum home for $25 million. Five years later, according to the Wall Street Journal, it remains unsold and the asking price has been cut in half. The home, which served as a Union headquarters during the Civil war, is reported to be in need of a multimillion-dollar renovation.
Kennedy, who turned 80 in April 2008, now spends most of her time at the family's compound in Hyannis Port, a collection of residences on Cape Cod that has long been used for summer and holiday gatherings by the Kennedy clan.
She remains intensely interested in politics, and made headlines recently by declaring her support for Barack Obama in the Democratic presidential race.
It was not her first encounter with Obama. In 2005, according to the New York Times, when Obama had served only a year in the Senate, she predicted that he would be the next president.
"Ethel Kennedy asked him to speak at a ceremony for her husband's 80th birthday," the Times reported. "At the time, she referred to Mr. Obama as 'our next president.' "
"'I think he feels it. He feels it just like Bobby did,'" Mrs. Kennedy said in an interview that day, comparing her late husband's quest for social justice to Mr. Obama's. " 'He has the passion in his heart. He's not selling you. It's just him.' "
And in February 2008, she wrote an article for the Huffington Post, in which she threw her full support behind the Illinois senator.
"Barack is so like Bobby," she wrote, "who struggled for the rights of the poor in the Mississippi Delta and Appalachia, traveled to California to stand in solidarity with Cesar Chavez and farm workers and fought to end another war that cost so many lives….
"I am proud to support Barack Obama, and look forward to him leading this country toward a brighter, more hopeful future."
_________________________________________________________
THEN
The picture is one of the most iconic of all time: Dressed in a white waiter's jacket, a young man — he looks barely 13 — crouches over Robert F. Kennedy as the stricken senator lies on the floor of a pantry at Los Angeles' Ambassador Hotel. The photo, taken by Life magazine photographer Bill Eppridge, seemed to capture both the tragedy of the moment and Kennedy's place in history as an advocate for the poor and disadvantaged.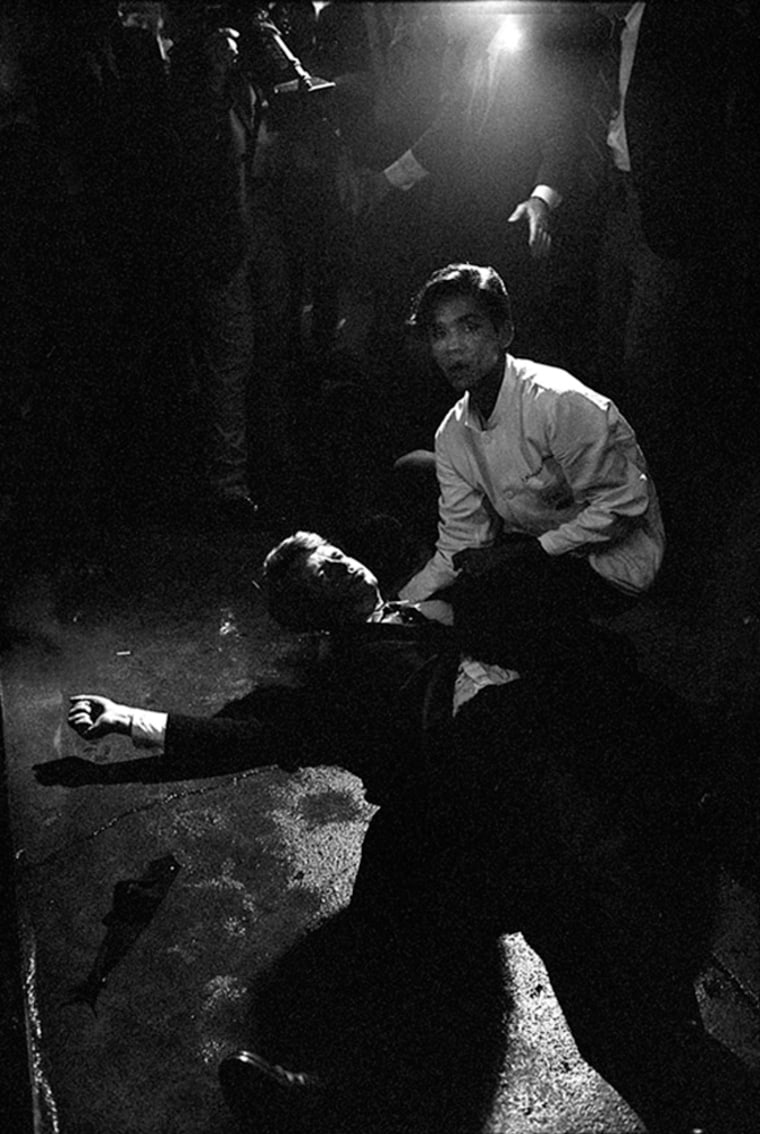 The young man in the picture, Juan Romero, certainly was the latter. Born in Mexico, he had moved to the United States seven years earlier, when he was 10. When he encountered Kennedy, he had become a busboy at the Ambassador.
"Juan had met Kennedy the night before," Time magazine recalled 30 years later. "Kennedy was campaigning in California's presidential primary, and Juan told the other busboy he'd pick up dirty trays all night in return for the chance to take a room-service call from the Kennedy suite. …
"Juan knew Bobby Kennedy as a Catholic and a family man, and John Kennedy had spoken of Hispanics as hardworking and family-oriented at a time when Juan was being called things like a taco bender."
The next evening, Romero decided to seek one more chance to see Kennedy. As the senator arrived to make his victory speech, he told the jury at the trial of Sirhan Sirhan in early 1969, he made sure he would be in the right position to meet him again.
"I wanted to see Rafer Johnson, Rosey Grier, Senator Kennedy and Ethel Kennedy," he told the court, sounding somewhat star-struck.
"When the senator arrived," the prosecutor asked, "did you shake hands with him?"
"I shook his hand," Romero replied.
As Kennedy concluded his speech, Romero was presented with another opportunity to meet the senator again — he had just finished a room service order and was in the area of the pantry where Sirhan Sirhan was waiting with his gun.
"I thought there was a person that couldn't wait to shake his hand," he told the court, "and I thought I was going to be interested to watch it, and so I was watching it and I … seen him put his — he put his arm like that and he shot two shots and then I saw a gun and then I turned around and I seen he was right in front of him (the senator) and I leaned down and put my hand to the back of his head and tried to give him some, whatever I could, aid, some aid; that is about all I could do."
"Did you say something to the senator?" the lawyer asked.
"I just said the first thing that came to my mind, 'Come on senator, you can make it; Mr. Kennedy, you can make it,' and he tried to talk back and what I understood he said is, 'Everything is all right, everything is OK.' "
NOW
Everything, of course, was not OK. Within 26 hours, Kennedy had died. Romero, who had worked at the Ambassador for about two years, decided to leave Los Angeles, and by the time the trial began he was working, again as a busboy, in Santa Barbara.
"After that night," Time magazine reported 30 years later, "staying at the hotel was impossible. Every day they'd hand him a bag of mail. He was something of a celebrity, but it felt all wrong. Reporters hounded him, and one offered college tuition in return for his story, but Juan's stepfather told him no honorable man profits from another man's tragedy. And so he left, wandering from town to town and job to job until 1974, when he and his fiancée Elda eloped to San Jose and started a family."
The interview with Time — conducted by then-columnist Steve Lopez at a restaurant near Romero's home  south of San Francisco, where he worked for a paving company in the booming Silicon Valley area — was one of the first times that Romero spoke publicly about the assassination. A father of three girls and one boy, he was now a grandfather.
"The very first thing Juan Romero wants you to know is that this isn't about him," said Lopez. " 'It's about Bobby,' he says with eyes so shy they seldom lock onto you. 'I'll do anything I have to if it keeps his name alive.' "
Five years later, Romero again was visited near his home in San Jose by Lopez, who was by this time working for the Los Angeles Times. Romero recalled how he placed some rosary beads in Kennedy's hands.
"I asked Ethel if I could give Bobby the rosary beads, and she didn't stop me. She didn't say anything.
"I pressed them into his hand but they wouldn't stay because he couldn't grip them, so I tried wrapping them around his thumb. When they were wheeling him away, I saw the rosary beads still hanging off his hand."
Attempts to contact Romero for this article were unsuccessful.
_________________________________________________________
THEN
Like fellow former athlete Rosey Grier, Rafer Johnson was so inspired by Robert F. Kennedy that he dropped everything — in Johnson's case a burgeoning broadcasting career — in the spring of 1968 and volunteered to work on the New York senator's presidential campaign.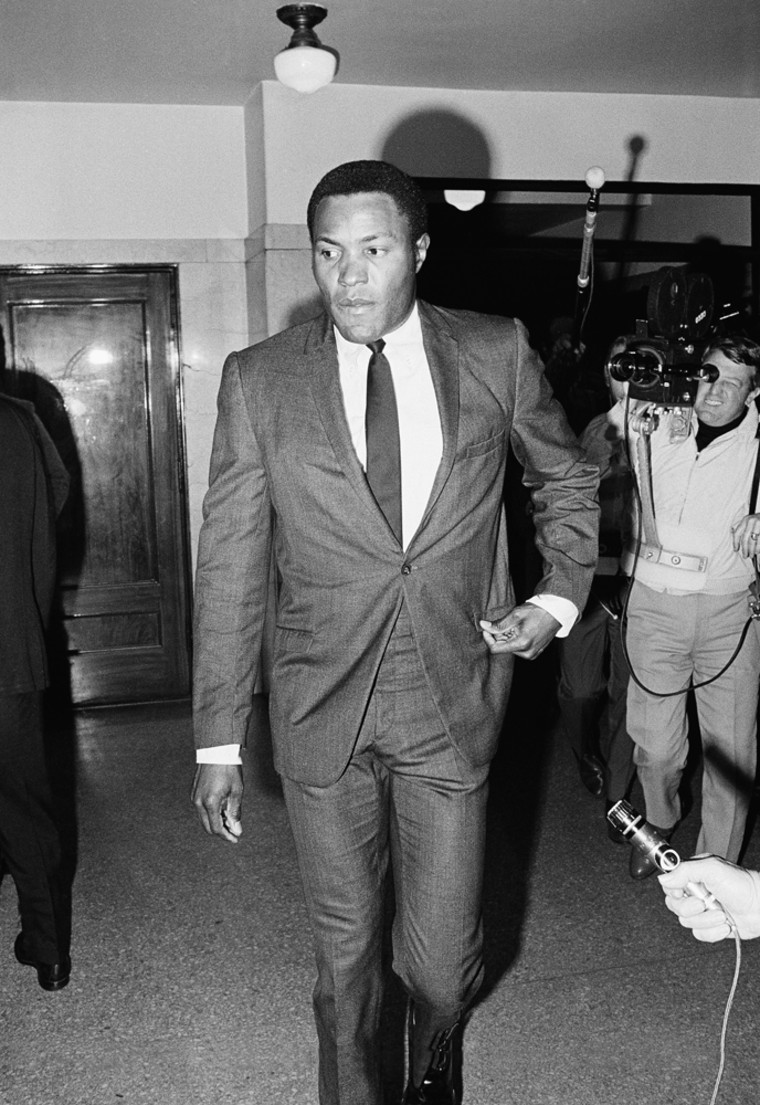 "They were great weeks," Johnson told London's Guardian newspaper in 2007 of his role as a bodyguard and fellow campaigner. "We travelled together as part of a team all over California. Senator Kennedy would be in a car in front and I would be with him or in a van behind. San Francisco, Riverside, Long Beach, San Diego — we went all over.
"What I liked about him was that he really connected with people. He cared about them. About young people and their education. About senior citizens and the help they needed. Folk responded to that."
The California primary was perfect for Johnson — he had spent most of his childhood in the Golden State and had become a sports hero at UCLA, where he competed on both the track-and-field and basketball teams. In 1956, despite being hampered by an injury, he still managed to win a silver medal in the decathlon, considered by many to be the toughest event at the games. It would be his last defeat, and he went on to win gold at the 1960 Rome Olympics.  He received the 1960 Sullivan Award for being the outstanding American amateur athlete of the year and was named the Associated Press Athlete of the Year.
After the games, he took up a career as a sportscaster and actor, appearing in several movies and TV shows, including "Lassie," "Dragnet" and "Tarzan."
But it was at Los Angeles' Ambassador Hotel, where Robert F. Kennedy was shot on June 5, 1968, that he may have had his finest hour.
He told what happened to the jury at Sirhan Sirhan's trial in early 1969:
"[I]t was at this point that I thought it was a balloon going off — two poppings and then I looked in that direction and then I heard some other popping and looked up and I saw the smoke. I saw some smoke and started toward that smoke. …
"I saw the senator was down…, but I didn't see much I could do (there) and I went toward the gun…. I went for it, grabbed the gun with my left hand and caught the gun, along with several others.
"A lot of people were grabbing at him," he told the Guardian," with four or five pairs of hands all pulling at the gun. We wrestled with him until I asked the others to let go and I took the gun away from him and put it in my pocket.
"I got home that night having followed Bobby to the hospital and fearful that he wasn't going to make it. I took off my jacket and there it was in my pocket: the gun. They sent a police officer 'round and took a statement and I handed it over."
NOW
After the trial, Johnson resumed his movie and TV career, appearing in  more than a dozen productions, such as "Roots," "Licence to Kill," "Mission Impossible" and "The Six Million Dollar Man." He wrote an autobiography, "The Best That I Can Be," which was released in 1998.
Most of his time, though, has been spent as a roving ambassador for education and sport. Johnson was a member of the President's Commission on Olympic Sports in the 1970s, and in 1984 he was chosen to light the Olympic flame during the opening ceremonies of the Summer Games in Los Angeles.
He founded the California Special Olympics in 1969 and remains involved today as coach, head of the organization's board of governors in California, and member of the International Board of Special Olympics.
Johnson married his wife, Betsy, a middle-school teacher, in 1971. The couple has two children, one of whom, Jennifer, competed in the 2000 Olympics in Sydney, Australia.
Rafer Johnson Junior High School in Kingsburg, Calif., is named after Johnson, as are Rafer Johnson Community Day School and Rafer Johnson Children's Center, both in Bakersfield.
"I don't waste my time thinking today about Sirhan," he told the Guardian. "What's the point? I do, though, think a lot about the havoc he caused. And that memory comes back often of staring up at him pointing the gun.
"I'm still bothered by that: seeing the smoke and the senator falling back."
_________________________________________________________
When the shots that mortally wounded Robert F. Kennedy rang out in a pantry at Los Angeles' Ambassador Hotel, a group of men immediately leapt at gunman Sirhan Sirhan, wrestled him onto a counter and grabbed his gun.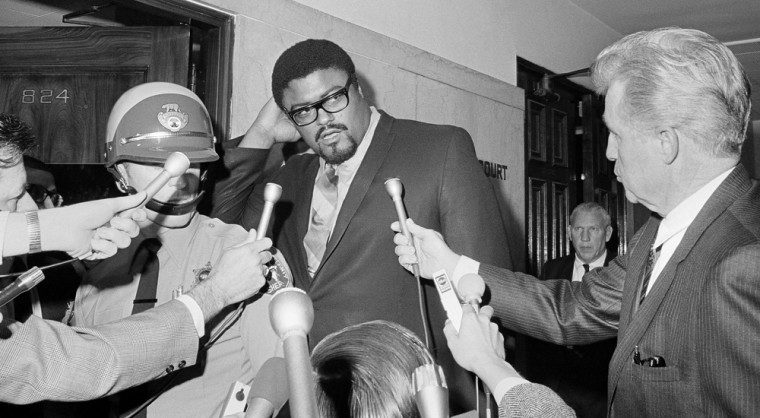 At the middle of the melee was just-retired football star Roosevelt "Rosey" Grier, who had ended his professional career the year before due to injury and had volunteered to act as a bodyguard for the 1968 Kennedy campaign.
"I had never been involved in any political campaign before," he told London's Guardian newspaper in 2007, "but when Bobby started to run for president, I decided to do all I could to help. This man meant so much to me. He was my hero.
"I admired his sensitivity when Martin Luther King was assassinated," Grier continued. "I was moved by the way Bobby told the folks in Indianapolis that King had been killed, sharing with them that his brother had also been assassinated by a white man and that color had nothing to do with it."
On the night of the assassination, Grier — a star college athlete before his stellar career with the New York Giants and the Los Angeles Rams — had been assigned to protect Kennedy's wife, Ethel.
Time magazine described what happened next in its issue immediately following the killing:
"The hotel men, Karl Eucker and Eddy Minasian, grappled with the assassin, but could not reach his gun hand. Author George Plimpton and Kennedy aide Jack Gallivan joined the wrestling match. The gun, waving wildly, kept pumping bullets, and found five other human targets. Eight men in all, including Rafer Johnson, an Olympic champion, and Roosevelt Grier, a 300-pound Los Angeles Rams football lineman, attempted to overpower the slight but lithe assailant.
"Johnson finally knocked the pistol out of the stubborn hand.  'Why did you do it?' he screamed. 'I can explain! Let me explain!' cried the swarthy man, now the captive of the two black athletes and spread-eagled on the counter. Several R.F.K. supporters tried to kill the man with their hands. Johnson and Grier fended them off. Someone had the presence of mind to shout: 'Let's not have another Oswald!' "
Grier, speaking to the Christian News Today earlier this year, remembers it slightly differently.
"Bobby had just made a speech and we were getting ready to go some place else but, somehow or another, Bobby jumped off the back of the stage and everyone was out of position by the time we caught up with him and the shots rang out.
"We were running to see if we could stop all the violence that was going on and then we saw Sirhan with the gun, so I went and pulled him up on … on a table.
"George Plimpton had been struggling with the gun hand and I just wrenched it out of Sirhan's hand and put it in my pocket. Later on Rafer Johnson asked me if I had it and I gave it to him."
"It was a tragedy for the world," he continued, "because here we all were trying to make our world a better place and then evil erupts like this."
NOW
Grier went on to testify at Sirhan's trial. He described hearing the shots that killed Kennedy and wounded five others.
"I don't know what it sounded like," he said, according to court transcripts. "Firecrackers, or it could have been some pops, but it didn't sound like a big heavy thing, something like a gun going off, so I looked and was trying to see what it was."
He also told the court of how upset he was and that he was crying after having seen the extent of Kennedy's injuries.
Grier, however, did not let the tragedy slow him down. Within a year he had his own weekly TV show on KABC-TV, in which he discussed community affairs with guests.  He also made many guest appearances on various shows during the 1960s and 1970s, including roles in "The Man from U.N.C.L.E.," "I Dream of Jeannie," "Daniel Boone," "Make Room for Granddaddy," and "The White Shadow." He also appeared in some low-budget movies, including 1972's "The Thing with Two Heads."
Perhaps his most surprising move, though, was his embrace of traditionally non-male hobbies such as macrame and needlepoint, interests that led him to author "Rosey Grier's Needlepoint for Men" in 1973. He also wrote a 1986 autobiography, "Rosey: The Gentle Giant."
Grier became an ordained Christian minister in 1983 and travels extensively as an inspirational speaker. In 1992, he co-founded American Neighborhood Enterprises, a nonprofit organization that serves inner-city youth and has since been renamed as Impact Urban America. According to the organization's Web site, he is also the founder and director of Giant Step, a federally funded program that provides job training to disadvantaged youth and housing for seniors.
Grier was back in the headlines in 1994 when prosecutors in the O.J. Simpson case tried to get him to reveal jailhouse conversations he had had with his fellow football legend when he visited him in his role as a pastor. Grier said the talks were confidential and protected by his role as a pastor. The trial judge, Lance Ito, agreed.
Married several times, he has one son, Roosevelt Junior, nicknamed "Big Daddy" Grier, who played ice hockey for Boston University.
_________________________________________________________
THEN
The name of  Los Angeles' Ambassador Hotel became engraved on people's minds as they repeatedly saw tape of  Robert Kennedy delivering his final speech there just a few moments before he was gunned down by assassin Sirhan Sirhan.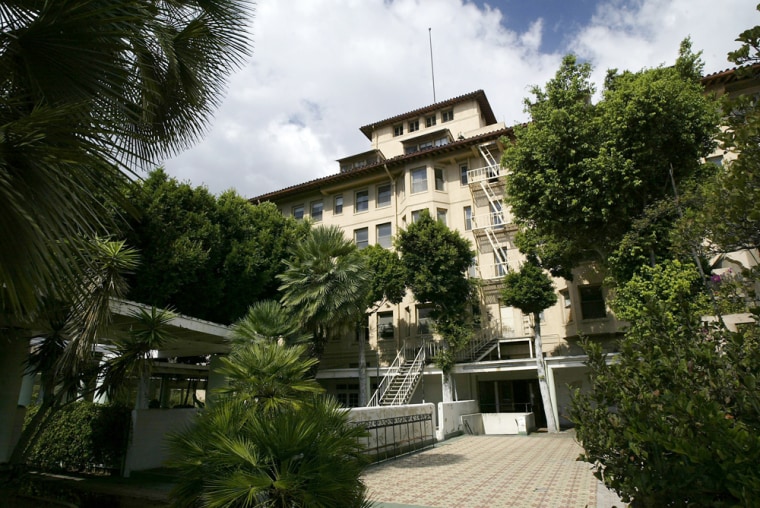 Standing in front of a podium emblazoned with the hotel's logo, Kennedy exulted in his unexpected victory in the California primary. Ending with the words, "And now, on to Chicago…," he stepped off the stage and into the pantry where he would meet his killer.
The 1,000-room Ambassador, located on Wilshire Boulevard, had been a landmark since its opening on New Year's Day in 1921. A playground for a roll call of Hollywood celebrities, it was home to the famed Cocoanut Grove nightclub, the location for the 1939 Oscars ceremony.
NOW
By the time Robert Kennedy was shot there, the Ambassador was beginning to hit hard times. Plagued by gang and drug problems, the area surrounding the hotel had become less than glamorous and the crowds that had once flocked there started to thin.
The hotel began a sad decline, and eventually closed in 1989. For a decade or so it was used as a backdrop for films ("Charlie's Angels," "Catch Me If You Can," "The Mask") before coming into the possession of the Los Angeles Unified School District, which decided to demolish it and use the land for a giant learning center for disadvantaged children.
The proposal sparked much protest, but in early 2006 the wrecking balls moved in. According to news reports, portions of the area where the Kennedy shooting took place were removed from the site. The section of Wilshire Boulevard in front of the hotel has been renamed as the Robert F. Kennedy Parkway; the new buildings on the site, which have yet to be completed, will also be named for the slain senator.
_________________________________________________________
When Robert Kennedy died on June 6, 1968, just over a day after he was shot at Los Angeles' Ambassador Hotel, his body was quickly taken to St. Patrick's Cathedral in New York City. There, millions around the world were moved by the sight of Kennedy's widow, Ethel, and many of their 10 children as they took part in the service. Compounding the tragedy was the fact that Ethel Kennedy was pregnant with their 11th child, who was born sixth months after her father's death. Like many families, Kennedy's children have had their share of triumphs and tragedies. Here is what has become of them since the tragedy of their father's death: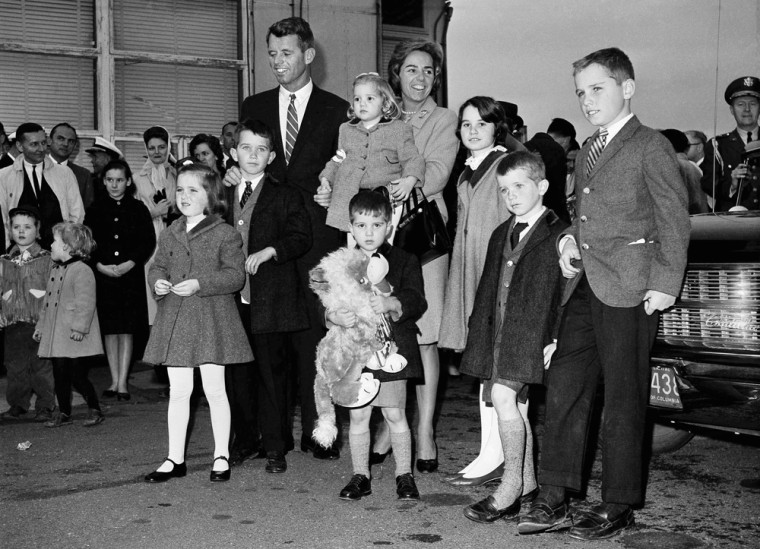 Joseph Patrick Kennedy II (born 1952)
After a turbulent early life, including a tragic car accident that severely injured the girlfriend of his brother David, Robert Kennedy's eldest son also followed his father into politics, being elected to the U.S. House of Representatives from Massachusetts in 1986. This followed his founding in 1979 of Citizens Energy, a non-profit that provides discounted heating oil to low-income people — an organization he returned to in 1999 after six terms in Congress. Kennedy's first marriage, which resulted in twin sons, ended in 1991; he remarried in 1993.
Robert F. Kennedy Jr. (born 1954)
Named for his father, Kennedy's second son has eschewed elective politics, making a career instead in environmental activism. After graduating from Harvard, Kennedy went on to study law at the University of Virginia; however, his life took a change in direction when he was arrested in 1983 for heroin possession, to which he pleaded guilty. As part of his sentence, he worked with the Riverkeeper organization, a non-profit formed to clean up New York's Hudson River, and after his probation was over he was hired as the organization's lawyer. As well as still working for Riverkeeper, Kennedy is an environmental-law professor at New York's Pace University and co-host of "Ring of Fire," a talk show on the liberal Air America Radio network.
David Anthony Kennedy (born 1955, died 1984)
A witness, a few days before his 13th birthday, to his father's assassination, David Kennedy's life seemed destined to end tragically. Reportedly distraught after his father's death, Kennedy soon became a recreational drug user, a condition that turned to addiction after he was injured in a 1973 accident in which his then-girlfriend, Pamela Kelley, was paralyzed when they were thrown from a Jeep being driven by David's eldest brother, Joe. Soon becoming addicted to painkillers, Kennedy began a long cycle of rehab and relapse that ended with a drug overdose in a Palm Beach motel in 1984.
Courtney Kennedy (born 1956)
Born Mary Courtney, Robert Kennedy's second daughter is probably the most private and unconventional of Robert Kennedy's children. After taking a pass on college, she went to work at the Children's Television Network, where she met her first husband, Jeffrey Ruhe, a marriage that lasted from 1980 to 1990. Her second marriage, in 1993, made many more headlines — it was to Paul Hill, an Irishman wrongly convicted for terrorism in the so-called Guildford Four case. The couple lived in Ireland from 2002 to 2006, when they separated and Kennedy returned to the United States to live in Maryland with their daughter, Saoirse (born 1997).
Michael LeMoyne Kennedy (born 1958, died 1997)
Like his brother Robert, Michael Kennedy attended Harvard and the University of Virginia law school. And then, like his brother Joseph, Kennedy headed Citizens Energy Corporation, the non-profit company that provides home heating fuel to the poor. But Kennedy's smooth career and glittering personal life — he married Victoria Gifford, daughter of NFL legend Frank Gifford — came to a screeching halt in 1997 when he was investigated for an alleged affair with his children's babysitter, a romance reported to have started when the girl was 14. After the scandal broke, he and his wife (with whom he had three children) separated. It was just a few months later, on New Year's Eve, that tragedy once again struck the Kennedy family, when, during a trip in Aspen, Colo., Michael slammed into a tree while playing ski-football on an icy slope.
Mary Kerry Kennedy (born 1959)
The second of Robert Kennedy's three daughters, Kerry Kennedy followed several of her brothers into the Ivy League (at Brown University) and law school (at Boston College), before embarking on a career as a human-rights activist. In the late '80s, she established the Robert F. Kennedy Memorial Center for Human Rights, an organization that gives support to activists throughout the world. In 1990, she helped join two political dynasties together when she married Andrew Cuomo, son of former New York Gov. Mario Cuomo. The marriage, though, wasn't to last and the couple, who had three daughters, separated in 2003 and later divorced.
Christopher George Kennedy (born 1963)
Like his sister Kerry, Chris Kennedy attended Boston College (where he met his future wife, Sheila) before heading to Northwestern University for a master's in management, an education that would set him on a successful career in business. One of the more low-key of RFK's children, Kennedy is president of MMPI in Chicago, which manages the huge Merchandise Mart, once the largest privately owned buildings in the world and owned by the Kennedy family from 1945 until 1998. He is also on the boards of several companies and involved in many charities. He and his wife have four children.
Matthew Maxwell Taylor Kennedy (born 1965)
Known as Max, RFK's ninth child is another graduate of Harvard and the University of Virginia Law School, the latter also being attended by his wife, Victoria, whom he married in 1990. They have three children. After getting his law license, Kennedy spent three years as an assistant district attorney in Philadelphia before going on to found the Watershed Institute in Boston, which introduces urban kids to the city's ecology, and the Urban Ecology Institute at Boston College, where he taught in the biology and English departments. In 2001, he flirted heavily with a run for Congress from Boston, but bowed out after he found he didn't have the taste for campaigning. Since then, he has turned to writing, turning out a book called "Make Gentle the Life of this World: The Vision of Robert F. Kennedy and the Words That Inspired Him." Kennedy has been actively campaigning for Barack Obama, a path also taken by several of his siblings and cousins.
Douglas Harriman Kennedy (born 1967)
The Kennedy family has always been a fascination for the press, particularly its tabloid division, which has not always cast the clan in a favorable light. So perhaps that's why — in a case of "if you can't beat them, join them" — Douglas Kennedy, RFK's last-born son, took a job at Rupert Murdoch's New York Post after graduating from Brown University. Working as an investigative reporter, Kennedy broke many stories, including inside information about Oklahoma City bomber Timothy McVeigh, as well as finding a body ahead of the police as they investigated a homicide case. In 1996, he joined Murdoch's Fox News Channel, where he is currently employed as a correspondent for "The Big Story With John Gibson and and Heather Nauert." He married Molly Elizabeth Stark in 1999; the couple has three children.
Rory Elizabeth Katherine Kennedy (born 1968)
Born six months after her father's death, Rory Kennedy followed several of her siblings to Brown University before starting a career as a documentary filmmaker. She formed two film companies with fellow Brown students, and has won several awards for her work, most particularly 1999's "American Hollow," a documentary about a struggling Appalachian family that was shown on HBO. In 1999, she married fellow filmmaker Mark Bailey. Tragically, her wedding had to be postponed for two weeks when John Kennedy Jr., his wife and her sister were killed while flying to the ceremony. The couple has three children.
_________________________________________________________
When Sirhan Sirhan emptied his gun in a pantry at the Ambassador Hotel in the early morning hours of June 5, 1968, his bullets hit six people. One of them was Robert F. Kennedy, who was to die of his wounds just over a day later. The other five were less seriously hurt and survived. Here is what became of them: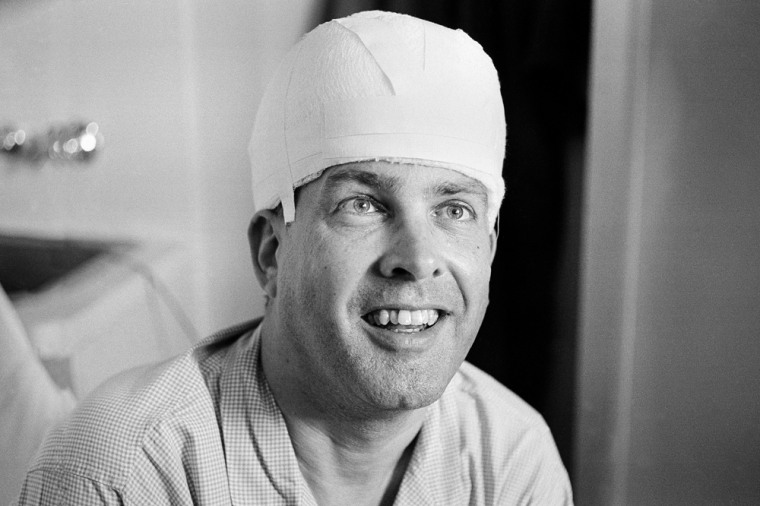 "I started shaking violently," he told London's Guardian newspaper in 2007. "I thought I must have been electrocuted. It felt just like that — an electric shock.
"In fact," he continued, "I was going into shock and I blacked out seconds later. When I came round, I was lying on the floor and it felt like I was being trampled on. A doctor came and said I was going to be all right.
"It was only the next night or following day — I forget which — that I learned Bobby had died.
"My wounds healed over time, but I felt anger and sadness after Bobby's death. I left LA soon after the shooting and went to live in a desert area — I was just filled with anger. Here was the best candidate we ever had. It was a terrible loss to his family, and the country, and to me."
According to the Los Angeles Times, Schrade lost his union post in 1972 and returned to the factory floor. He spent years helping farm workers and black leaders in South Los Angeles and campaigned, on behalf of the Kennedy family, for a school on the site of the Ambassador Hotel, which was closed in 1989 and demolished in 2006.
William Weisel
Thirty at the time, William Weisel, an associate news director for ABC, was injured as he trailed Kennedy through the pantry where Sirhan Sirhan was waiting with his gun.
"I was right behind Bobby," he told CNN's Larry King in November 2006. "We were following him to go downstairs and speak to another group of people. And I was going with our cameraman down to show him where to plug in. And so we followed Bobby, and the shooting started."

Weisel was hit in the abdomen. "I was not really critical," he told King, "but they didn't know it (at the time)."
After he recovered, according to the Los Angeles Times, Weisel returned to his job at ABC's White House bureau and became a fixture on the political social circuit.
"I was invited to parties where I didn't even know the people," he told the paper. "I'd notice people over in the corner looking at me, whispering ... 'You see that guy, he took the second bullet.' "
Eventually, it all proved too much, and 12 years later he moved to California's Napa Valley, where he went into the restaurant business.

Ira Goldstein
Only 19 at the time, Goldstein was a part-time radio reporter for the Continental News Service when he found himself at the center of one of the biggest stories of all time. He also found himself shot.

According to an interview in the Los Angeles Times, Goldstein had just shaken hands with Kennedy when a bullet hit him in the buttocks.
His injury proved to be non-serious, and like many others present, he testified at the early-1969 trial of Sirhan Sirhan.
"Somebody mentioned there were sandwiches for the press in the pantry and I was very hungry," he told the jury of his reason for being in the pantry.
A few minutes later, he found himself next to Kennedy. "I looked at him and I said, 'Hello, senator, congratulations.' " Seconds later, shots rang out.
According to the Los Angeles Times, a disillusioned Goldstein left the news business, returned to school and started his own business. He shuns publicity.

"I couldn't go anywhere without being asked questions," he told the paper. "I thought about it every day for 10 or 15 years ... After that, it sort of went away."
Irwin Stroll
Like Juan Romero, the busboy who came to Robert Kennedy's aid after he was shot, Stroll was just 17 when he witnessed the assassination. An idealistic young Californian, he had signed up to work on Kennedy's campaign and found himself in the jubilant melee that assembled after the senator's primary victory.
It was to cost him a bullet in the leg. "I thought someone had kicked me," he told the jury at Sirhan Sirhan's trial. The injury, just below his left knee, proved to be superficial, but, according to a report in the Los Angeles Times, his parents were nonetheless horrified to see their son on television, stumbling out of the Ambassador's kitchen, his pants leg stained with blood.
After the trial, Stroll continued his education, eventually becoming a successful interior designer, responsible for interiors such as the Melrose Bar and Grill in Los Angeles and private homes. "Irwin Stroll creates a jewel box from an empty nest through the bold use of art and accessories," said a 1988 review in Interior Design magazine.
His clientele, according to the Los Angeles Times, included such entertainment figures as Dustin Hoffman, Ray Stark, Regis Philbin and Jackie Collins.
He died in 1995 from complications associated with AIDS.
Elizabeth Evans
According to famed Los Angeles coroner Thomas Noguchi, it was the last bullet out of Sirhan Sirhan's gun that wounded Elizabeth Evans, then 43 and a sometime artist and political activist. Ricocheting off the ceiling, it hit her in the head. It proved to be a superficial wound.
According to the Los Angeles Times, she had supported Kennedy's opponent, Eugene McCarthy, but went to the Ambassador that night with her husband because she loved a party.
"I heard a sound like a firecracker … and I lost my shoe at that moment," she told the jury at Sirhan's trial. "As I was bending over my head was hit with something."
Evans spent four days in the hospital, and soon faded from the Los Angeles political scene. According to the Los Angeles Times, she was reportedly divorced. Her current whereabouts are unknown.
Compiled by Matt Diebel