/ Source: The Associated Press
Defense Secretary Robert Gates ousted the Air Force's top officials Thursday, holding them to account in a historic military shake-up for failing to ensure the security of sensitive materials, including nuclear missile warhead fuses that were mistakenly shipped to Taiwan.
Gates announced at a Pentagon news conference that he had accepted the resignations of Air Force Chief of Staff Gen. Michael Moseley and Air Force Secretary Michael Wynne — a highly unusual double firing.
Gates cited two embarrassing incidents in the past year. In one, a B-52 bomber was mistakenly armed with six nuclear-tipped cruise missiles and flown across the country without anyone realizing nuclear weapons were aboard.
In the other, four electrical fuses for ballistic missile warheads were mistakenly sent to Taiwan in the place of helicopter batteries. Gates said an internal investigation found a common theme in the B-52 and Taiwan incidents: "a decline in the Air Force's nuclear mission focus and performance." 
Trouble at the top
More than the other military branches, the Air Force in recent years has endured trouble at the top. Still, it is extremely rare for a service to lose its most senior uniformed and civilian leaders at the same time. There was no immediate word on who would be nominated to succeed Moseley and Wynne.
Gates last week told Wynne to fire Moseley but Wynne refused, sources told NBC News. As a result, Gates took the unprecedented step of asking both men to resign.
Word of the resignations was first reported by InsideDefense.com and the Air Force Times earlier Thursday.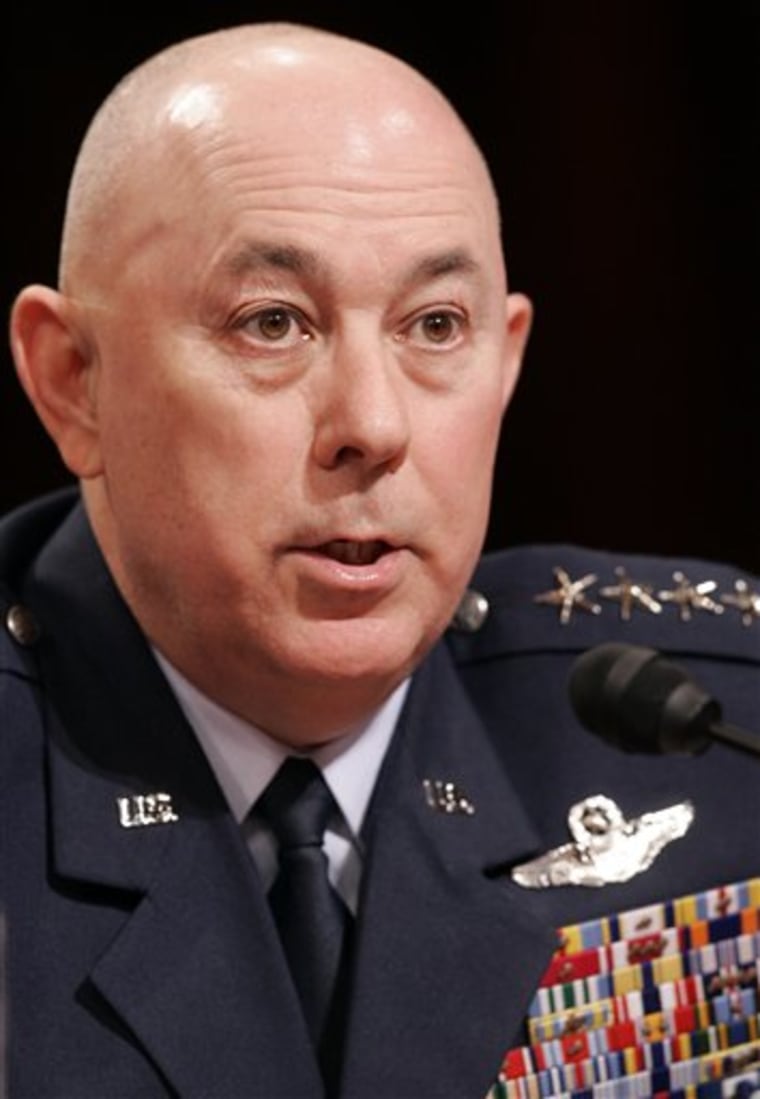 In another embarrassing setback, this one last August, a B-52 bomber was mistakenly armed with six nuclear-tipped cruise missiles and flown across the country. The pilot and crew were unaware they had nuclear arms aboard.
That error was considered so grave that President Bush was quickly informed.
Gates' Air Force decision is the latest example of his impatience with Pentagon leaders he deems to be out of line. In March 2007, three months into his tenure, he forced the Army secretary, Francis Harvey, to quit. Gates was unhappy with Harvey's handling of revelations of inadequate housing conditions and bureaucratic delays for troops recovering from war wounds at Walter Reed Army Medical Center.
Bush was aware of the new changes, but the White House "has not played any role" in the shake-up, said press secretary Dana Perino.
Moseley, who commanded coalition air forces during the initial invasion of Iraq in 2003, became Air Force chief in September 2005. Wynne took office in November 2005; before that he was the Pentagon's top acquisition and technology official under Defense Secretary Donald H. Rumsfeld.
In response to flaws exposed by the nuclear weapons error last year, Moseley said the Air Force would change the way bomber crews organize for their nuclear training mission. It was disclosed in recent days that the bomber unit, based at Minot Air Force Base, N.D., had failed portions of a nuclear security and safety inspection in May, although it did not lose its certification.
Gates seemed to be especially disturbed by the mistaken fuse sale to Taiwan. He was briefed last week on the conclusions of an internal investigation of the matter but the written results have not been released.
Four cone-shaped electrical fuses used in intercontinental ballistic missile warheads were shipped to the Taiwanese — instead of the helicopter batteries Taiwan had ordered. The fuses originated at F.E. Warren Air Force Base in Cheyenne, Wyo., but the mix-up apparently occurred after the parts were shipped to Hill Air Force Base in Utah.
Authority 'compromised,' senator said
After the March disclosure of that mistake, Gates ordered a full inventory of all nuclear weapons and related materials.
At the time the erroneous sale was disclosed by the Pentagon, Ryan Henry, a senior aide to Gates, said mistakes involving elements of the nation's strategic nuclear arsenal "cannot be tolerated."
In another incident, the Pentagon inspector general found in April that a $50 million contract to promote the Thunderbirds aerial stunt team was tainted by improper influence and preferential treatment. No criminal conduct was found.
Moseley was not singled out for blame, but the investigation laid out a trail of communications from him and other Air Force leaders that eventually influenced the 2005 contract award. Included in that were friendly e-mails between Moseley and an executive in the company that won the bid.
"It is my sense that General Moseley's command authority has been compromised," Sen. Claire McCaskill, a Missouri Democrat on the Senate Armed Services Committee, said at the time.