At the relief operations center in China's mountainous Qingchuan county, government workers are still in emergency mode nearly a month after the devastating May 12 earthquake. Powerful aftershocks, heavy rains and dangerous "quake lakes" keep them from devoting all their attention to their primary task: getting the county's residents into tents.
But even as they work to provide temporary shelter, officials are looking ahead to an even more formidable problem: When the ground stops shaking and the dust settles, this county alone will have 250,000 people who will need new homes.
It is not just a question of rebuilding what was here. Some towns lost not only their buildings but also the land they were standing on and scarce cropland when landslides hit from both sides, said Xiang Zhichun a young public affairs worker.
"A lot of crops were buried, polluted and spoiled," said Xiang. "After the earthquake there is not enough flat area to live."
Qingchuan is but one corner of a disaster area roughly the size of Kentucky. And its population accounts for just a fraction of an estimated 5.5 million people left homeless by the earthquake. The number of homes needed may go even higher, suggest some analysts, based on Beijing's announcement last week that some 15.5 million people have been "relocated" because of the quake — a number that the official Xinhua News Agency published without elaboration.
Officials in Beijing have promised to rebuild the towns and villages that were destroyed within three years, but they have not yet addressed some critical questions:
What will be done with those people whose land has literally disappeared?
Will towns be rebuilt in areas that clearly are not safe?
Will residents of villages that were impoverished before the quake be returned or resettled in cities?
Will Beijing oversee mass relocations to far-away cities, as some officials are discussing?
In a country that is still in transition from communism to capitalism — less than 5 percent of the population has property insurance, for example — the responsibility for rebuilding falls squarely on the government. But it is a task of mammoth proportions, even for Beijing, with its history of megaprojects. And unlike other major projects, there is little time to plan.
"Part of the problem is the tension between long-term planning and a temporary solution," says Oded Shenkar, a business professor at Ohio State University and author of "The Chinese Century." "This is part of the discussion right now. What are you going to do, keep these people in tents for three years? What are you going to do when the winter comes?"
Scramble to temporary housing
Since the disaster, officials have scrambled to get displaced people into tents. The government hasn't released the number of people who remain without shelter. Xinhua reported that as of June 3, 749,200 tents had been delivered to the region. Based on government figures released a week ago, this suggests about 3 million more are needed.
Even before that effort is complete, some cities began building villages of prefabricated housing units with capacity to house 10,000 to 20,000 people. Beijing has ordered that 1 million such temporary units be constructed by mid-August.
Even though the pace of building in these sprawling villages is impressive, it is a tall order to provide even short-term shelter for millions of homeless. Even upon completion, there will be an urgent need to start moving people out of these villages, which could otherwise become overcrowded slums. Up to five family members currently live in the unheated 10-by-12 units, which do not have individual kitchens. They share communal bathrooms with their equally crowded neighbors.
In some parts of the earthquake zone, there is no question of rebuilding at the same site. The town of Beichuan, county seat in an area that had a population of about 160,000 people, was crushed by landslides and has been written off as a ghost town. Now, officials are discussing relocating the town in a neighboring county, suggesting that Beichuan's former site should be designated a memorial to the disaster victims.
But the fate of Beichuan residents is generally assumed to be in the hands of the central government in Beijing, which has overseen relief and rescue operations.
A whole new city?
Among longer-term solutions being floated is the idea of creating a new city in a safe location in Sichuan to house populations from riverside towns that are at risk from earthquake-related landslides and flooding or are now unbuildable.
You Nuo, a veteran journalist and pundit for the official China Daily, endorsed the idea in the June 2 edition of the English-language daily, calling on the National People's Congress to fund a major redevelopment outside the danger zone in its next budget. "China should help Sichuan, much of whose economy is dangerously perched on quake-prone mountains, build a redevelopment zone in a geologically safer area," he said.
Beijing is experienced at mass relocation, though it has never moved this many people this fast. When the government decided in the 1990s to go ahead with the construction of the Three Gorges Dam despite the concerns of environmental and human rights advocates — as well as sporadic citizen protests — it removed about 1.2 million people from the Yangtze River area.
"It's one of those things where the negative aspects of the regime may sometimes turn out to be a blessing of sorts," said Shenkar, the Ohio State University professor. "This government is used to relocating people, sometimes against their will, as (it) did with the Three Gorges."
Another idea being discussed in official circles is the mass relocation of Sichuan residents to other parts of China. Xiang, the official in Qingchuan, said one destination being considered is the coastal port city of Ningbo, which is at least 1,000 miles from the terraced mountains of Sichuan.
"Ningbo is relatively developed," Xiang said, adding that the idea is only preliminary.
There would be cultural challenges to such a mass resettlement. Many farmers in Sichuan, for example, do not speak the same dialect as the people in Ningbo. And while China has not formally prevented the migration of rural people to the city, many migrants working in cities don't have access to benefits enjoyed by urban residents, such as health care and free education for their children.
Quake comes amid drift to cities
On the other hand, millions of young people and bread winners from Sichuan were already working outside the province before the earthquake, supporting families back home. In more prosperous urban areas of China, they work in child care, construction, restaurants and prostitution in order to send money to their children and elderly parents.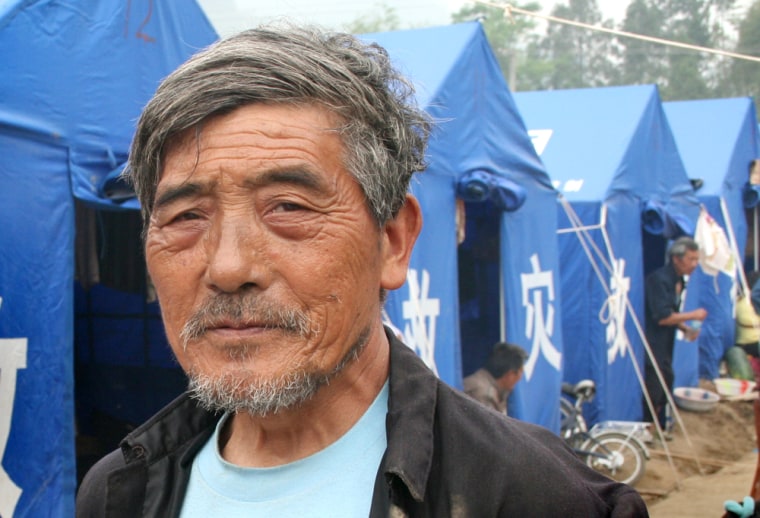 As a long term solution to rural poverty, the government supports the drift of the population from rural areas to cities. So in this sense, the earthquake comes at a pivotal moment.
"They are in the midst of this transition that other countries saw 100 years ago," Shenkar said. "Will the government ride on that trend? …  Many of these families (in Sichuan) are neither here nor there anyway."
Although Beijing will be in charge of the master plan for resettlement — including decisions such as where electricity and water will be provided — it is increasingly clear that the views of the victims will have to be considered. And not all are eager to move.
Yan Runqi, a former resident of the now devastated town of Yingxiu, at the quake's epicenter, said he plans to rebuild right where his house once stood. His wife survived the earthquake too, after jumping out of a window to avoid being crushed by her collapsing house. He's not waiting for a geological survey to determine whether it is safe. 
"We're not afraid," Yan said, speaking at a relief staging area near Yingxiu. "I'm almost 60, so I want to see my hometown rebuilt. That would make me happy."
Others in the Yingxiu area said they would like to return to their mountainside farms, but had doubts that the government would reconnect electricity and water for their tiny clusters of homes.
Still others assumed they would have to go elsewhere.
Wang Yuchang, a 70-year-old evacuee, fled his village in the mountains, where he used to farm potatoes, corn and wheat. Now he lives in a blue relief tent in Guanzhuang, a village in the lowlands of Qingchuan county.
"It's impossible to go back," he said of the land that had been worked by his family for at least six generations. "There are no fields, and the road was destroyed."
Asked where he thought he and his 11-member family would end up, Wang said he had no idea. "The government hasn't made a decision," he said. "But we want to stay together."