When John Orekunrin fell into bed Friday night, perhaps a little tipsy from end-of-the-work week festivities, his morning plans didn't extend beyond sleeping late into Saturday. At least that's what the 25-year-old Manhattanite claimed.
It was John's roommate, Steve Estes, also 25, who rousted John out of the sack, insisting they hop the train and head south to "Wiimbledon," the second annual Wii Tennis Tournament which took place 10 a.m. to 5 p.m.., Saturday, June 7, at Barcade in the Williamsburg neighborhood of Brooklyn.
"Women, free beer and video games," was the siren call that pushed a groggy John — and no doubt a good portion of fellow attendees — into the sun-scorched 98 degree day. No more than a casual home Wii player himself, or so John's story goes, he rose quickly through the tournament's rounds, handily trouncing last year's reigning champion, 24-year-old Russell Yagoda.
Wiimbledon is the puny brainchild of Brooklynites Steve Bryant and Lane Buschel. Bryant registered the domain" wiimbledon.net" with no specific plans soon after the Nintendo console took the game market by storm. On a whim, the video game aficionados decided to see if they could make it work. Certainly their neighborhood came with the perfect location — Barcade, a drinking establishment named for the impressive collection of vintage video games lining its walls.
A smashing success
Taking place a few weeks before its namesake, the Wimbledon tennis tournament, Wiimbledon 2007 was a smashing success, bringing in over 120 players and lots of positive press. While most attendees — both this year and last — traveled no further than across New York City's five boroughs, Wiimbledon's garnered attention from MTV, Wired magazine, ABC News and the New York Times, to name a few. It's no wonder sponsors such as Prince tennis gear are happy to help pony up the prizes.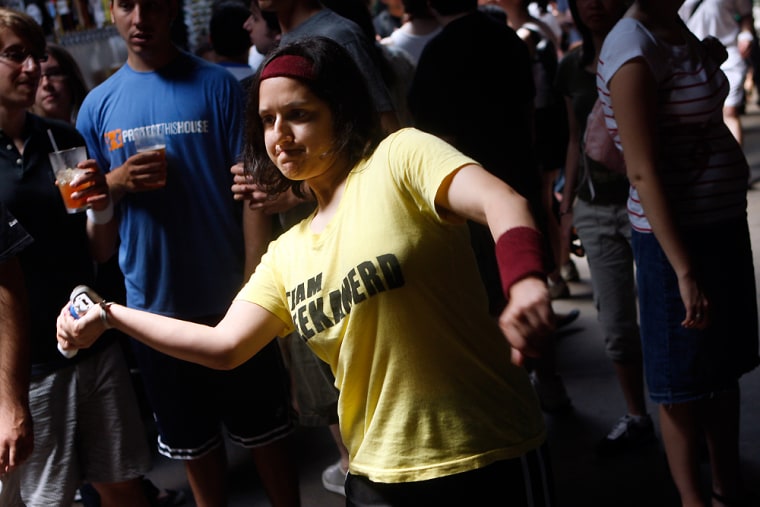 The swag worked out well for John, who received a complimentary white terry Prince headband that he stretched tight around his noggin to sop up the steady stream of sweat pouring down his shaved head. The stifling heat didn't affect his game, though. And while he claimed he didn't come prepared to compete, he also said he wasn't surprised that he'd made it to the tournament's Final Eight. "I mean, look at this place," John said, smiling. "It's full of nerds."
The Wii competitor sheepishly admitted that he runs an Internet startup, and does enjoy video games — but quickly emphasized, "I am not a geek."
Indeed, the chiseled guns emerging from John's drenched black t-shirt are somewhat of an anomaly among the Wiimbledon crowd, which was composed largely of 20-something males who wore hipster thrift store t-shirts and whose physiques suggested that video games are the extent of their sports experience.
Where fashions, forehands collide
Those who were dressed for the occasion donned cartoonish mockups of various decades of tennis togs — short pleated skirts for the women, tiny, shiny shorts for the guys. Plus one dude who dressed as a banana. But the hot day — New York's first of the season — seemed to put the kibosh on most costume plans, while at the same time inspiring brisk Barcade microbrew sales.  Last year, one guy came in a bear costume — nothing so insulated this year. After surveying the bar, John and roommate Steve concurred that they didn't see much competition among the unathletic-looking crowd.
"Let me tell you something about John," said Julie Ruvolo, one of the Wiimbledon officials running the tournament. "John's biceps are the size of my thighs." True enough, but for an outsider, Wii tennis doesn't seem to be a game that requires muscular fortitude, at least beyond hand-eye coordination. Competitors standing before the hodgepodge of Wiimbledon's various-sized TV screens stared intently at their avatars (called Miis) while flapping their Wii Remotes as if brushing away gnats. But Julie's arrived at Barcade at 9 a.m., and by midday, she'd gained some pretty good insight into everyone's game.
Hustled at Wii tennis?
"I think John's strategy is more calculated than he's letting on," she said. "Let me tell you what John did in round one. He played down his skill set. He asked for a practice warm-up round and he purposely, from what I gathered, played poorly. Shortly thereafter, he crushed the 2007 winner."
Both John and Steve handily climbed their way to the Final Eight. At this point, it's worth noting that not a single woman's made it to Wiimbledon's vaunted category — none made it last year either. This seemed odd since Nintendo's Wii, with its record-breaking sales, is heralded as the recreational wonder that brings games to the masses, beyond the male-dominated gaming demographic. The point wasn't lost on Julie and her fellow Wiimbledon curator, Esther Koo.
What, no women Wii champs?
"What is this, 2008 and women are still that bad at causal sports games?" Julie asked, rhetorically. "I thought Nintendo Wii was going to be the great gender equalizer."
"I think the most vicious women here are vicious fashion-wise, and that's a disappointment," agreed Esther. Both Julie and Esther wore matching white and baby blue tennis togs, their official Wiimbledon staff uniforms which they accessorized smartly with high heels and chunky jewelry.
Still, there were a few female attendees serious about competing, both on the Wii court and in the costume portion of the tournament. Stephanie Wortel, 23, arrived in a group of four returning competitors dressed as the Nintendo character "Princess Peach" — or at least what Peach would dress like if she were hitting the courts: all-pink tennis skirt, polo, high-top Converse, bunny socks and tiara.
Tall, blonde and blue-eyed, she seemed genetically predisposed to win, and notably did place last year when she, her significant other Adam Samtur, 23 and their friends, brother and sister, Jane and Matt Brogan (28 and 25 respectively) showed up in tennis whites in the guise of "snobby preppies."
This year, Jane, broke out the actual gear she wore when she played varsity tennis at Colgate University, complete with racket, knee brace and tennis balls conspicuously tucked into her tennis skirt. Brother Matt pretty much stuck with his preppy outfit from last year — bowtie, blue blazer and seersucker Bermudas. Alas, they were all outdone by Adam, who dressed as Professor Chaos, the evil alter ego of "South Park's" Butters. He took home the costume prize for his tinfoil helmet and gloves, and towel cape.
Heads up! Flying Wii-mote!
Meanwhile, there was no official tournament title for John even though he provided perhaps the most exciting moment of the sweaty seven-hour competition. While facing off against roommate Steve in the final rounds, John's Wii Remote flew apart on his swing, the battery door flying  dangerously close to the roof fan.
In the end, John and Steve were vanquished by twenty-something Dylan Romero who they both agreed had some sweet moves they never saw coming. Romero traveled across the country to compete, all the way from Eugene, Ore. where, it turns out, he's a marketing guy in the gaming industry.
Still, John and Steve were not discouraged.
"We'll be back next year," confirmed Steve.
Will they train in the interim?
According to John, "Probably not."